Miami's possible scenarios with, without Jansen
Marlins evaluating options while awaiting free-agent closer's decision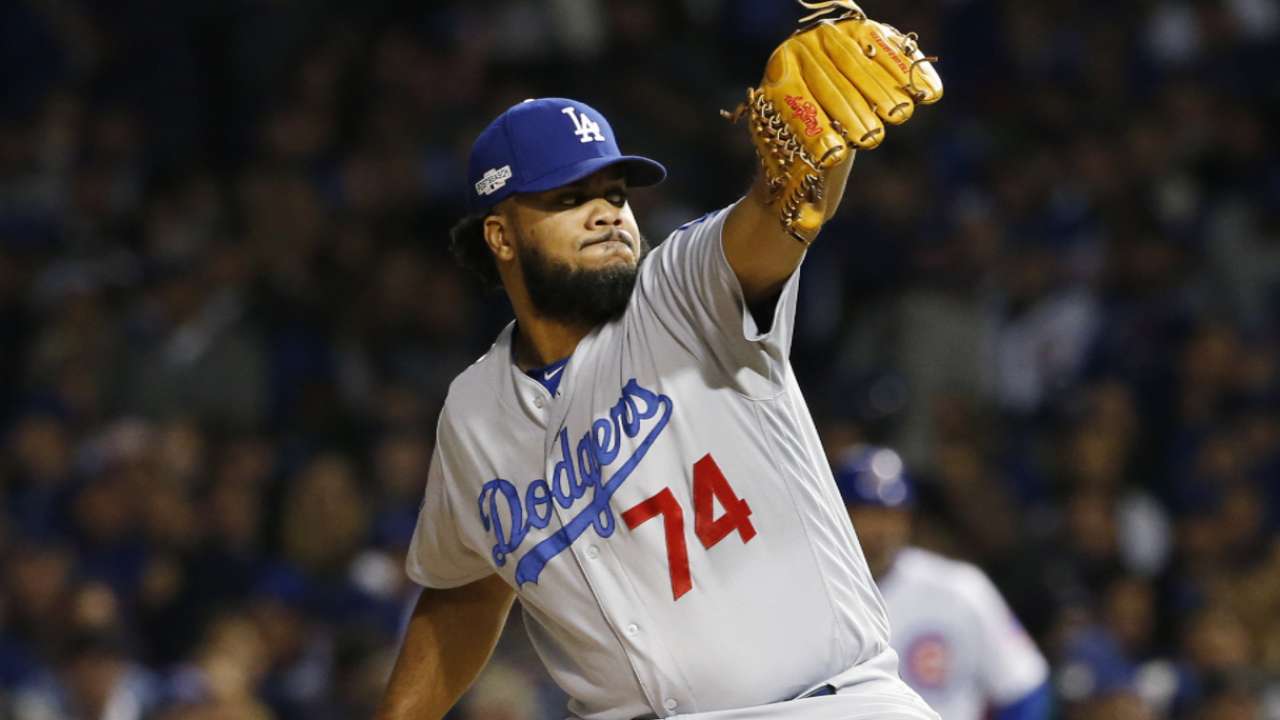 MIAMI -- The suspense continues.
After aggressively courting Kenley Jansen at the Winter Meetings, the Marlins now are awaiting a decision. It could be hours, a day, the weekend or longer, because the 29-year-old All-Star closer is making an even bigger commitment -- he's getting married in Curacao.
Third baseman Justin Turner, Jansen's teammate with the Dodgers and invited guest, has posted some images of the occasion. What's for sure is the scenery is breathtaking. What's foggy is which way Jansen is leaning.
The Marlins and Dodgers are believed to be the frontrunners, with the Nationals also in the mix.
Sources have confirmed Miami has a sizable offer on the table -- five years and more than $80 million. But will money buy happiness? The general feeling around the Marlins is that Jansen will follow his heart.
Until he makes up his mind, Miami is evaluating all its options. Here's a quick look at what may happen if Jansen selects Miami or if he goes elsewhere:
If Jansen signs
• The Marlins will achieve their goal of building a super bullpen. An All-Star in 2016, the right-hander converted 47 of 53 save attempts. Miami then would slide A.J. Ramos, an All-Star himself who saved 40 games in '16, into the eighth inning. Ramos would be the fallback closer option if Jansen were not available.
• A downside for Miami is it would have to forfeit its first-round pick -- 13th overall -- in the 2017 Draft. Because Jansen declined a $17.2 million qualifying offer, the Dodgers would receive Draft-pick compensation if Jansen signs elsewhere. Los Angeles might want that pick and look for other ways to address its closing. The Marlins are struggling over surrendering such a high pick, but for Jansen, it might be worth it.
• Having Jansen could also mean the Marlins look to trade Ramos. Perhaps Miami would explore dealing Ramos to a team with a surplus of starting pitchers. The Red Sox have Clay Buchholz and Drew Pomeranz, who may be available.
• If Ramos stays and the setup roles are Kyle Barraclough in the seventh inning and Ramos in the eighth before Jansen in the ninth, Miami may not feel the need to carry a lefty setup reliever. David Phelps also is in the mix for any of the late innings, and Dustin McGowan is returning. Lefty Mike Dunn is a free agent, and chances are he won't be back.
If Jansen doesn't sign
• With or without Jansen, the objective remains the same. But instead of a super bullpen, the Marlins may have to settle for strong and steady. Ramos likely would remain the closer.
• Miami would still pursue veterans who have big league closing experience. Neftali Feliz and Brad Ziegler would be among the top targets, as would Junichi Tazawa and Fernando Salas. But the club would have to move quickly. One of its potential candidates, Koji Uehara, appears to be off the board, reportedly close to joining the Cubs.
• Should Jansen opt for another deal, the Marlins likely will look to spread their resources over a wider net. Rather than pursue another big-ticket free agent, perhaps even a high-profile position player, the club would do a more modest buildup. The emphasis would probably stay on pitching, perhaps another low-cost starter.
Joe Frisaro has covered the Marlins for MLB.com since 2002. He writes a blog, called The Fish Pond. Follow him on Twitter @JoeFrisaro and listen to his podcast. This story was not subject to the approval of Major League Baseball or its clubs.