Birds of a feather: Fowler a perfect fit for Cardinals
Veteran center fielder, leadoff hitter will also contribute in clubhouse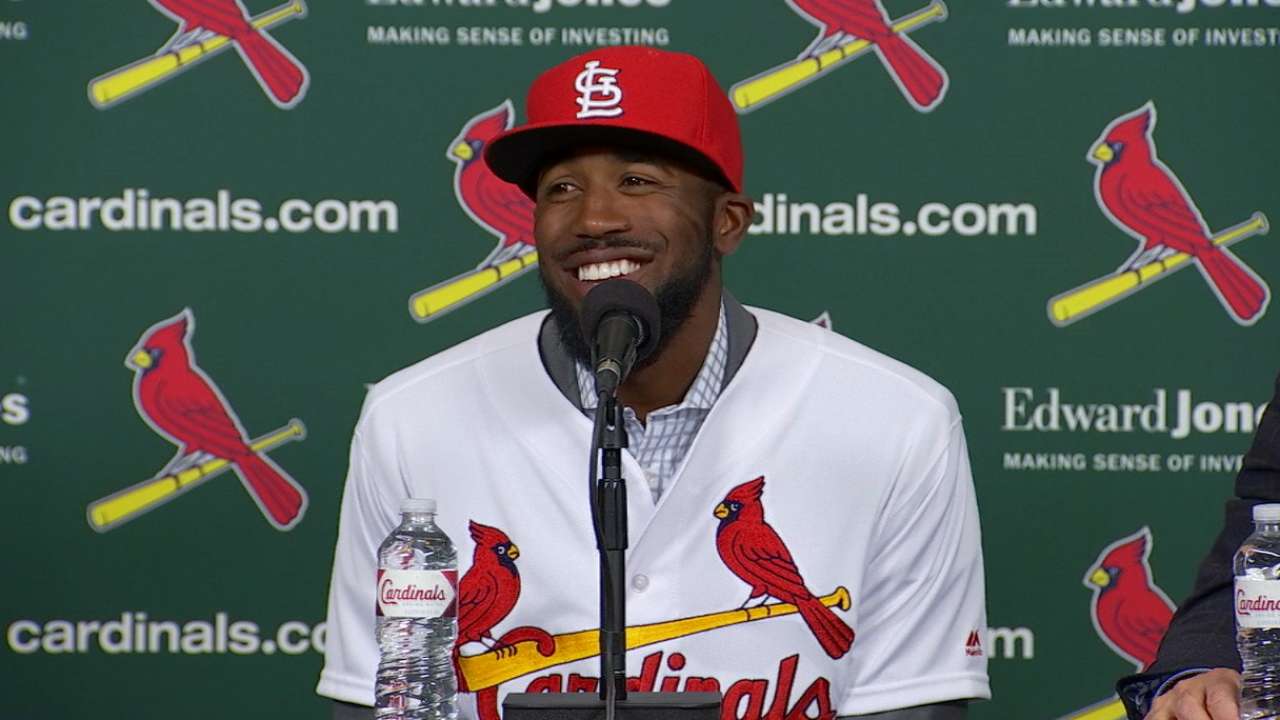 The negotiations between Dexter Fowler and the Cardinals were nearing the home stretch this week when general manager John Mozeliak wanted to call the center fielder he was courting from the Winter Meetings. Fowler did not answer his phone, however.
"We were on a two-hour time difference, and Mo actually wanted to get in touch with me, but I was actually in the dentist chair," Fowler explained Friday. "So I couldn't answer my phone. I actually showed [my agent] the picture and he showed Mo. So [Mozeliak] knew I wasn't lying."
I look pretty good in red pic.twitter.com/rKklmXZsNH

- Dexter Fowler (@DexterFowler) December 9, 2016
It would not take pulling teeth for Fowler to want to join the Cardinals, and the feeling was definitely mutual. The two sides finalized a five-year contract that was reportedly worth $82.5 million and includes a full no-trade clause. Fowler was introduced to the St. Louis media at Busch Stadium on Friday morning.
• Justice: Fowler should help Cards get back to strengths
Fowler, 30, batted .276/.393/.447 with 13 home runs and 48 RBIs in 125 games for the Cubs last season, and he was immediately targeted by Mozeliak to be the Cardinals' new leadoff man. Fowler, an eight-year veteran, helped the Cardinals' biggest rival win their first World Series championship in 108 years.
Thank you Chicago! https://t.co/xuPe0zysGe

- Dexter Fowler (@DexterFowler) December 9, 2016
Once it became clear the Cubs wouldn't bring the free agent back for 2017, Fowler didn't have to look far to find his next team. His motivation was pretty simple.
• Rogers: Rivalry more than transactions
"This is definitely a baseball city," Fowler said of St. Louis. "Every time you come here, you see red everywhere. That's awesome to see. We were going through our [World Series] parade, and you saw Cardinals fans out there. Just being a part of that and [the Cardinals'] winning culture -- they've won World Series. They're poised to be back in the World Series again. That was a big part of my decision.
"The year before, you get the taste of winning. Then you win a World Series. You want to do that again. You're excited. You want to get back."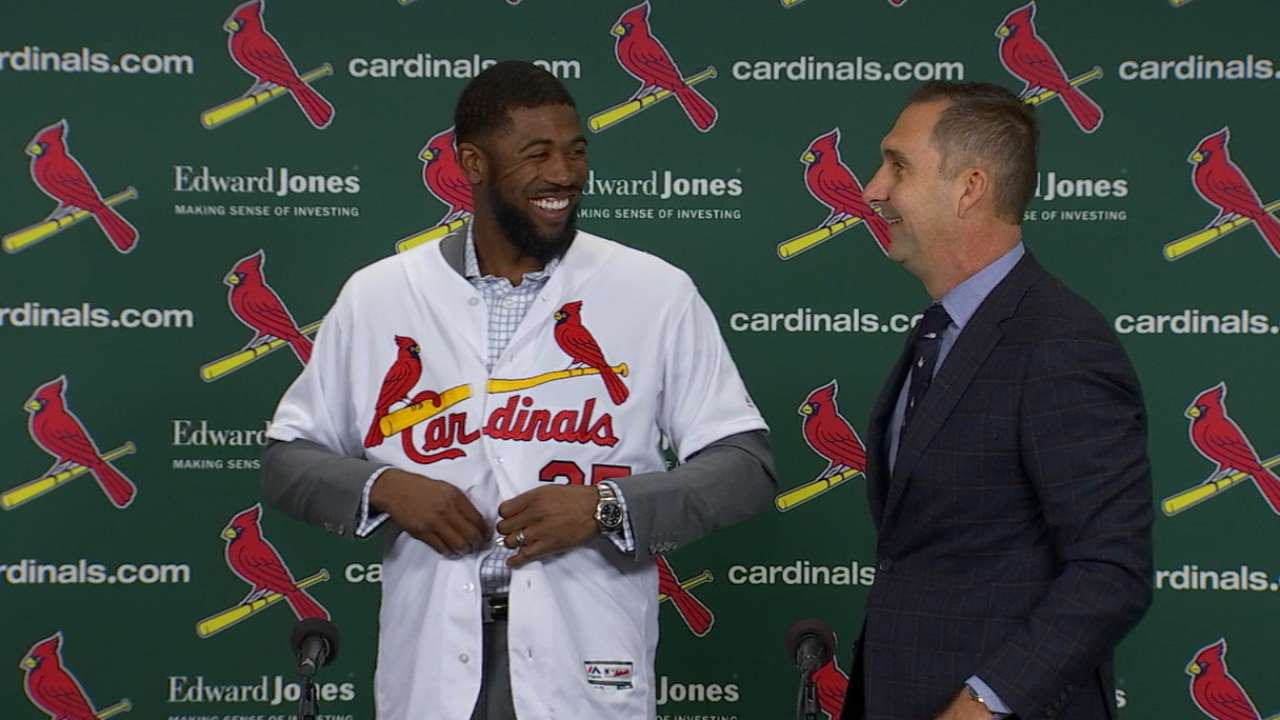 The Cardinals have won 11 World Series and 19 National League pennants, with their most recent title coming in 2011. Their five-year streak of reaching the postseason ended in 2016, despite an 86-76 record that placed them a distant second to the Cubs in the NL Central.
"Obviously we all have a collective goal," Cardinals manager Mike Matheny said. "Dexter has been talking about winning non-stop since he's been up here. It talks about the type of player that he is. There is more in the tank. Let's figure out how to make that happen. "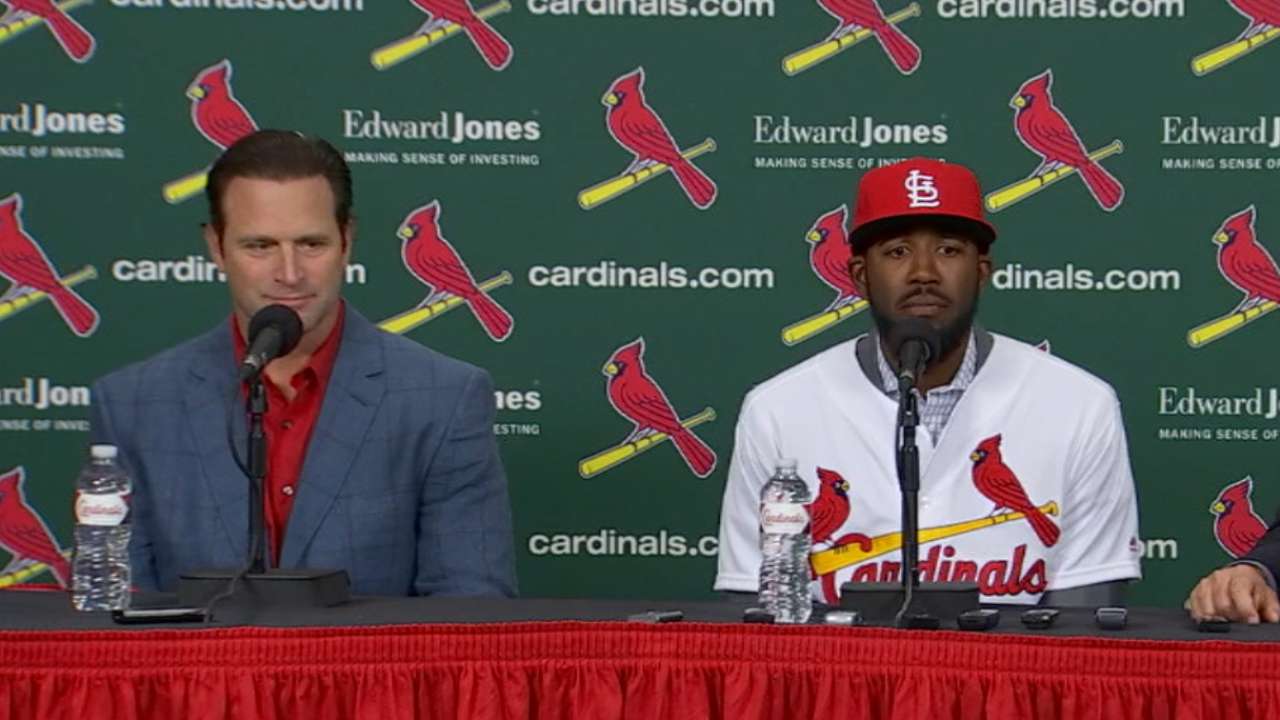 Because of the recent run of success in St. Louis, and with new teammates like Matt Carpenter, Adam Wainwright, Yadier Molina and others, Fowler won't have to worry about changing hearts and minds, and instead he can focus simply on winning.
All Fowler -- who chose No. 25 to honor mentor Barry Bonds since his usual No. 24 was retired by the Cardinals for Whitey Herzog -- has to do to fit in is spark things as the leadoff hitter, and the rest can likely take care of itself.
"I think it's important to read personalities," Fowler said. "You have to see what makes guys click. You've got to see who is outgoing, who is not. You've got to read people. That's walking into any situation. I like to sit back and observe first.
"My parents always taught me to never walk in a room and just be there. You sit back and observe. I have a personality. I don't mind talking. But to change a culture, I don't know. Just being there and offering what I have to offer, it helps guys. I never want to step on any fingers and hurt anybody."
"This was a guy we were hoping to be sitting up here with," Matheny said. "I couldn't explain to him how excited we are for how well we believe he's going to fit into our lineup and fit into our clubhouse."
Mark Sheldon has covered the Reds for MLB.com since 2006, and previously covered the Twins from 2001-05. Follow him on Twitter @m_sheldon and Facebook and listen to his podcast. This story was not subject to the approval of Major League Baseball or its clubs.