Rox exit Meetings with big bat, bigger questions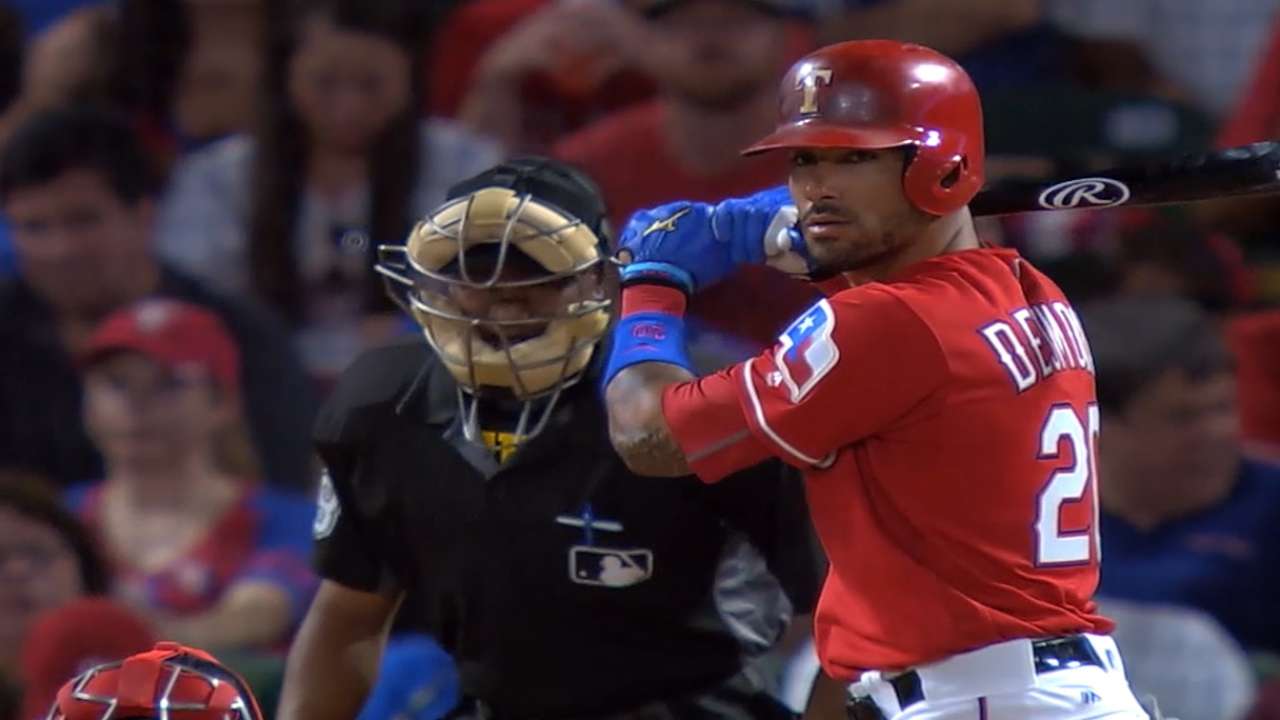 NATIONAL HARBOR, Md. -- It's a baseball holiday tradition. As the Winter Meetings ended Thursday morning with the Rule 5 Draft, the staff at the Gaylord National Resort & Convention Center gradually replaced baseball-themed placards with holiday decorations, and all the soft and hard sell that they entail.
Rockies general manager Jeff Bridich understands the spirit.
The Rockies leave this year's Meetings having landed -- unconfirmed by the club and pending a physical -- free-agent right-handed hitter Ian Desmond, but with their shopping incomplete.
They still need impact arms in the late innings, and it isn't clear whether the Rockies will plug Desmond into their void at first base or clear a spot for him in the outfield by making a trade.
"It's tough to know a time frame," Bridich said of when the Rockies' offseason moves will be complete. "There's still a lot of winter left. But we definitely have leads, we have ideas. We've certainly made contacts and had communications with teams, with agents. We are, for the most part, running some parallel courses in these Meetings and after the Meetings to address needs that we've talked about."
Desmond deal sparks Blackmon trade rumors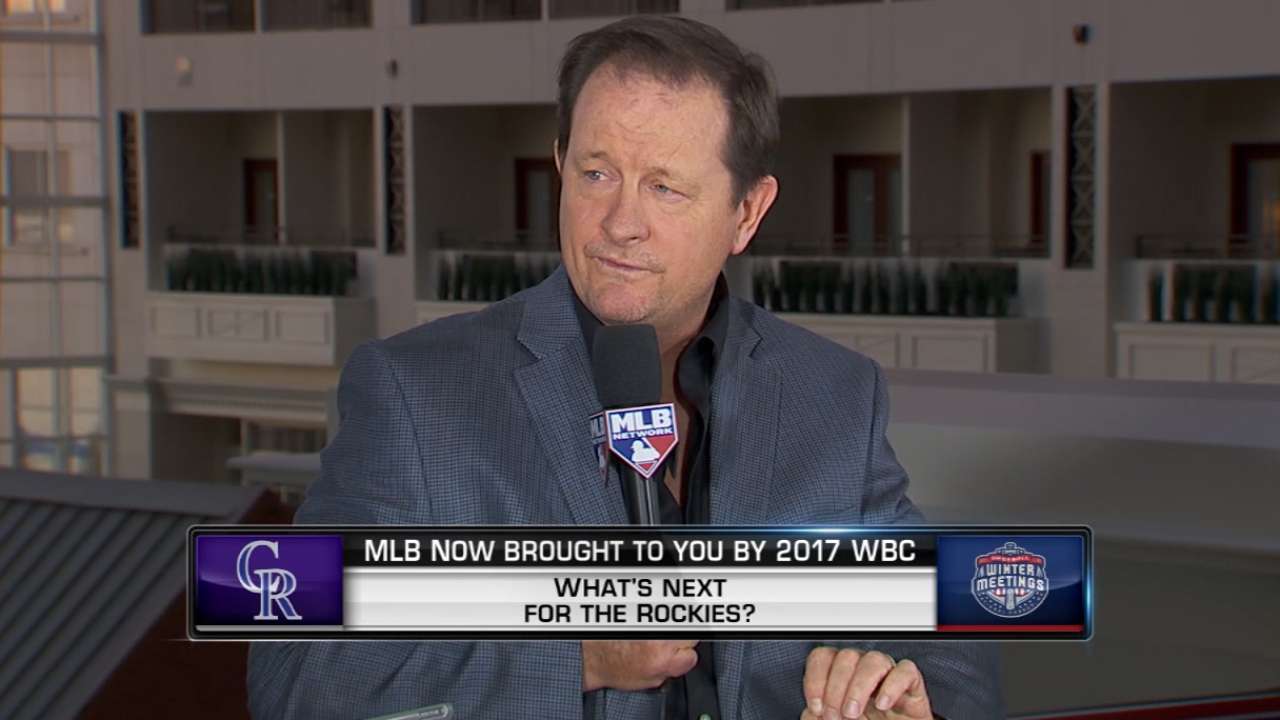 Deals done
Bridich came through on a pledge to increase the Rockies' payroll by signing the two-time All-Star Desmond, a shortstop for seven seasons with the Nationals and a center fielder last year with the Rangers, for five years at $70 million. It's the richest contract for a free-agent position player in club history, and the club's biggest free-agent deal since the eight-year, $121 million contract Mike Hampton signed at the 2000 Winter Meetings.
Rockies, Desmond reportedly agree to deal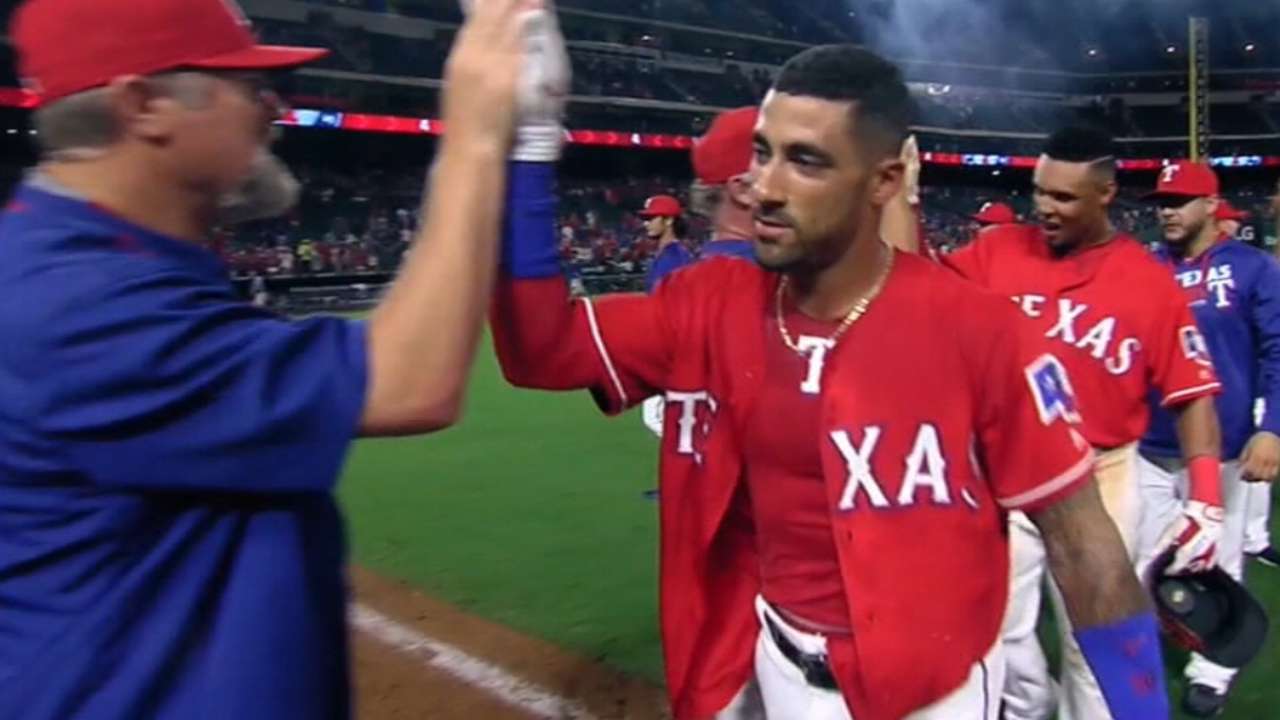 Rule 5 Draft
The Rockies reunited with infielder Josh Rutledge on a Minor League deal last month, but the Red Sox took him back Thursday with the 11th pick in the Rule 5 Draft. He could return to the Rockies if he doesn't stick with the Red Sox the entire 2017 season.
In the Triple-A phase of the Rule 5 Draft, the Rockies selected catcher Anthony Bemboom from the Angels. Bemboom, 26, hit a combined .222 at the Double-A and Triple-A last season. The Rockies -- relying partly on info from new manager Bud Black, who worked for the Angels as a special front-office assistant last season -- hope to have uncovered a gem.
"He's a catch-and-throw guy, but really his ability to handle the game, handle the staff, all those things, we feel he's got a chance to be a backup catcher in the big leagues," said Jon Weill, the Rockies' assistant general manager/player personnel. "In our focus on pitching, catching is just as much in our focus."
Red Sox take Rutledge in Rule 5 Draft
Goals accomplished
There are questions as to how Desmond profiles as a first baseman, but there's little doubt he's a valuable addition to the roster. He was an important leader as the Nationals went from a struggling club to postseason contenders, and the athletic ability that allowed him to become an All-Star outfielder with the Rangers last season is a plus for a Rockies club that values versatility.
Unfinished business
The rumor mill still has the Rockies in play for free-agent slugger Mark Trumbo, who according to reports is in line for a contract similar to Desmond's. Trumbo plays first base and the outfield, so that chatter has sparked speculation that the club could deal center fielder Charlie Blackmon.
Even if the Rockies sacrifice traditional first-base production for athletic ability and intangibles by going with Desmond at first, an offense that also includes Nolan Arenado, Carlos Gonzalez, DJ LeMahieu and Blackmon should provide runs, but that doesn't matter if the club can't protect a lead. That's where the bullpen comes in.
Familiarity could be a factor. Lefty Mike Dunn pitched for new Rockies bench coach Mike Redmond with the Marlins. Righty ground-ball machine Brad Ziegler hurt the Rockies for several seasons while pitching for the D-backs. Several others, such as ex-Giants Sergio Romo and Yusmeiro Petit and former Dodger Joe Blanton have track records in the division that can make the Rockies' evaluations easier.
The Rockies also have to complete their coaching staff with a first-base coach, a hitting coach and an assistant hitting coach. Additionally, Darryl Scott, last season's pitching coach at Triple-A Albuquerque, has been promoted to co-Minor League pitching coordinator alongside Doug Linton.
GM's bottom line
"We have to be realistic and somewhat creative about how we profile and about what's important to us at each position. The productiveness of a DJ LeMahieu [.348, 11 HR with the Rockies] is very different from the productiveness of a Brian Dozier [.268, 42 HR with the Twins]. They play the same position, but they're equally productive in their own ways. We've got to appreciate all those things, and we work very hard to do that." -- Bridich, on balancing his various roster needs, which may explain how they could incorporate lower-than-average production at one position with players who are above expected production at others
Thomas Harding has covered the Rockies since 2000, and for MLB.com since 2002. Follow him on Twitter @harding_at_mlb, listen to podcasts and like his Facebook page. This story was not subject to the approval of Major League Baseball or its clubs.