With no 'glaring need,' Braves quiet at Meetings
Atlanta filled holes with moves earlier in offseason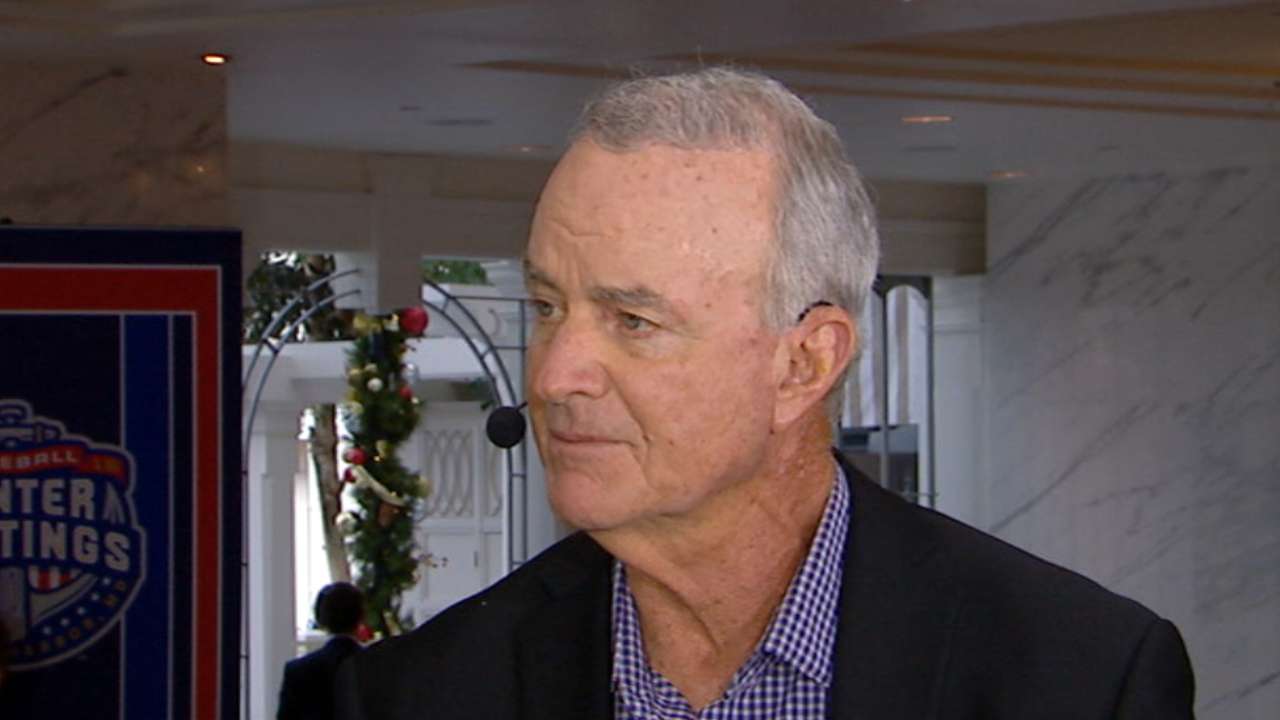 NATIONAL HARBOR, Md. -- The Braves exited the Winter Meetings on Thursday without having made any significant moves. But they are still drawing envy from teams who know they still have a lot of work to do to satisfy their offseason plans.
When the Braves arrived for the Meetings on Sunday having already been quite active over the previous few weeks, they said they wouldn't be upset if they simply celebrated their legendary leader John Schuerholz's election to Baseball's Hall of Fame. They did so after Schuerholz was unanimously elected, and then they spent the next few days keeping their eyes and ears open for potential ways to brighten both their immediate and long-term futures.
"There were a couple things we got close on, but nothing major," Braves general manager John Coppolella said. "We're always looking for incremental gains and ways we can get better. We're happy with where we are as a Braves franchise. Two years into [a rebuilding process], to be able to put a competitive and fun team on the field, we're very happy, and we held on to our kids. We're going to keep growing through young, homegrown talent."
The Braves addressed all of their glaring needs in November, as they added three short-term starting pitchers -- Bartolo Colon, R.A. Dickey and Jaime Garcia, who will bridge the gap toward the starting rotation's bright future -- and significantly added to their versatility by signing super utility man Sean Rodriguez.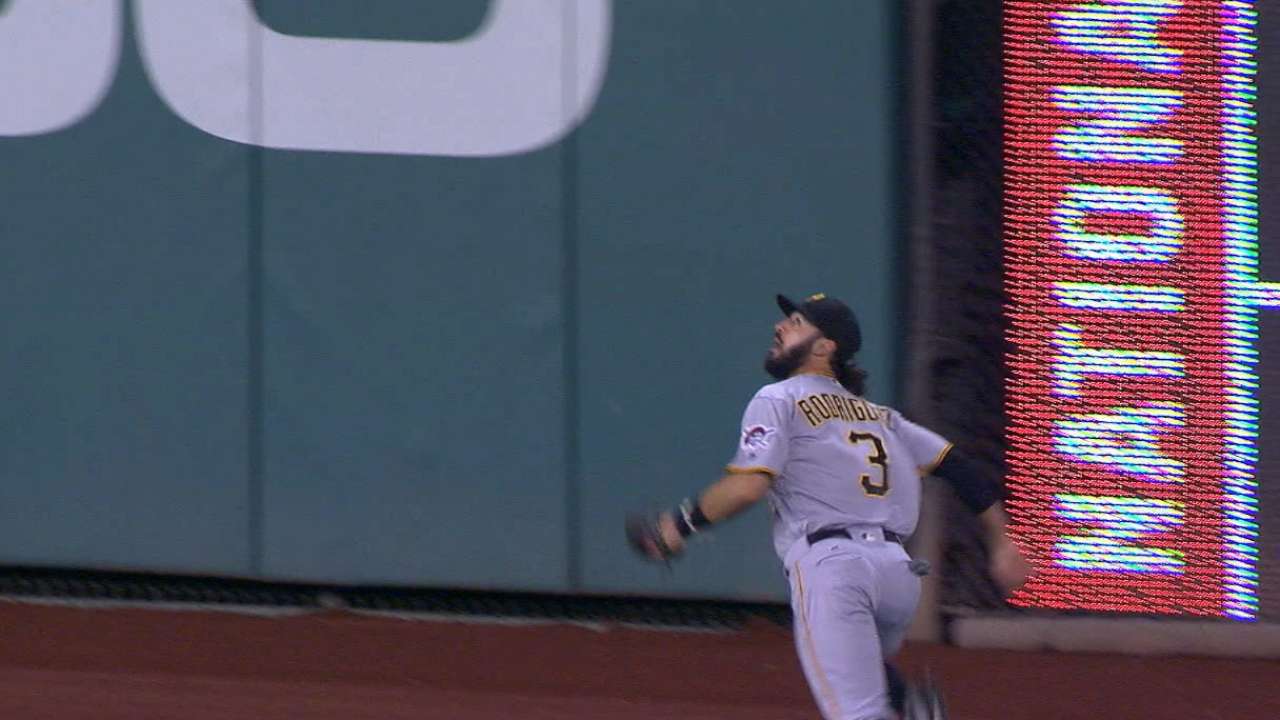 Atlanta came to the Meetings willing to remain players for Chris Sale, but it also knew it likely wouldn't get that deal done because it wasn't willing to include Dansby Swanson in the deal. The Braves also monitored the markets for other starting pitchers, such as Jose Quintana and Chris Archer. But they determined it was more prudent to not dip into their rich prospect pool, which includes some pitchers who could soon equal the potential value Quintana or Archer might provide.
"We can go to Spring Training with the team we have right now," Coppolella said. "Are there ways to get better? Absolutely, and we will look at those ways. But there isn't any glaring need that we feel we have to fill. We can kind of let things come to us. Obviously, we're really aggressive, but there's nothing wrong with sitting back sometimes and getting a lay of the land."
Deals done
As Coppolella prepared to fly to the Meetings on Sunday morning, he announced the signing of left-handed reliever Jacob Lindgren, who had been non-tendered by the Yankees. Lindgren will miss the upcoming season while recovering from Tommy John surgery, but he is a high-upside option who has produced impressive strikeout numbers at the Minor League level.
The Braves also signed Eric O'Flaherty to a Minor League deal. O'Flaherty struggled throughout this past season for Atlanta before being shut down in August with left elbow neuritis. The veteran southpaw will provide depth as he comes to Spring Training hoping for a roster spot.
Goals accomplished
The Braves resisted any temptation to trade Ozzie Albies, Sean Newcomb, Kolby Allard, Max Fried or any of their other highly regarded prospects who were frequently asked about by other teams over the course of the week.
Over the past two years, Atlanta has fast-tracked its way through a rebuilding process that transformed its previously weak farm system into one of the game's strongest. The acquisition of Ender Inciarte, Swanson and Aaron Blair for Shelby Miller highlighted last year's Winter Meetings and helped allow the Braves to enter this season with hope to be competitive.
Still, while there's reason to be optimistic about what this season might bring, Atlanta recognizes it's more than one piece away from becoming a World Series contender. Now is not the time to weaken the strong prospect crop that could soon provide the Braves a chance at sustained success on an annual basis.
Unfinished business
The Braves haven't completely ruled out the possibility of adding a catcher, but they are unlikely willing to pay the price it would take to sign Welington Castillo, who became a free agent last week. Most of their conversations about catchers this week centered around prospects who could begin the upcoming season at an upper Minor League level and potentially be ready to satisfy a glaring need that could exist over the next few seasons.
"I use this line a lot," Coppolella said. "We're like 7-Eleven. We're always open. We might not be doing business, but we're always open."
Rule 5 Draft
Atlanta released right-hander Williams Perez just before Thursday morning's Draft to create a 40-man roster spot and allow for the selection of righty reliever Armando Rivero from the Cubs' organization. Rivero's 14.0 strikeouts per nine innings led all Minor Leaguers who completed at least 65 innings this past season. The 28-year-old Cuban will have a good shot to enter the upcoming season as a member of Atlanta's bullpen.
In the Minor League phase, the Braves selected left-handed reliever Cesilio Pimentel from the Pirates' organization. He caught the eyes of Braves scouts as he pitched in the Dominican Republic this offseason, and he will likely begin the 2017 season at the Class A Advanced or Double-A level.
GM's bottom line
"Sometimes you have a chance to make a big deal like we did last year [with the Miller trade], and sometimes it's better to stand pat," Coppolella said. "One thing [president of baseball operations] John Hart and I talk about a lot is we don't want to make moves just to make moves. You get here and you want to justify the reasons for being here. We all get excited and want to have a feeling of a deal being done and high-fives around. But it's about what's best for the Braves long term."
Mark Bowman has covered the Braves for MLB.com since 2001. This story was not subject to the approval of Major League Baseball or its clubs.