Mariners covet more pitching after Meetings
Dipoto eyeing trade market to help bolster club's rotation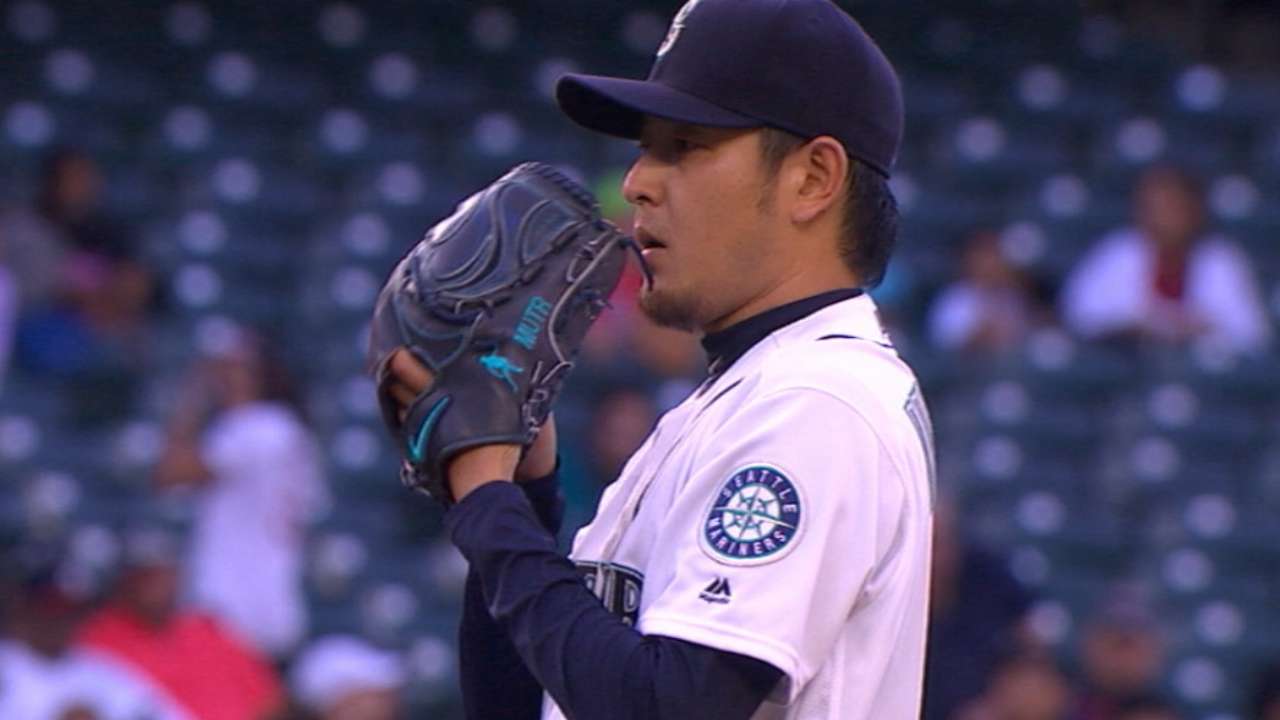 NATIONAL HARBOR, Md. -- Mariners general manager Jerry Dipoto still has one big unchecked box on his wish list after a fairly quiet four days at the Winter Meetings.
Like many teams, the Mariners are looking to add an experienced starting pitcher to beef up their rotation. And while Dipoto did a lot of talking and surveying of the marketplace, the only deal done at the Gaylord National Resort & Convention Center was a minor swap with the Giants that brought right-hander Chris Heston for a player to be named.
Dipoto still has some more experienced arms on his radar and vows to get something done in the coming days, though he'll be patient while looking to make the best move possible to boost a team poised to compete for the American League West title after going 86-76 last season.
Dipoto, who has already engineered seven swaps this offseason, would prefer to go the trade route again, but he isn't shutting the door on signing one of the remaining veterans in a thin free-agent class.
"We've just checked in on and expressed some level of early interest or just finding out what the pulse is and where their market might be, because you never know what might happen next," Dipoto said. "We have a pretty direct idea of what our needs are, but you never know how you're going to fill those needs."
And don't shut the door on other moves once a starter is obtained. Dipoto made 25 trades in his first season with the Mariners, and while he says this year might be a little less hectic, he'll never stop tinkering with ways to upgrade.
"Our needs are a little more clear than they were a year ago," he said. "But you're always looking to get better and we'll continue for as long as I'm here. All the depth moves will be constant. We'll always do things like that."
Deals done
Acquired right-hander Heston from Giants for a player to be named.
Goals accomplished
Added some depth to the pool of starting pitchers, with the 28-year-old Heston a year removed from a strong rookie season.
Unfinished business
Dipoto still wants to upgrade his rotation with a proven veteran who can be an innings eater and help solidify a group topped by Felix Hernandez, Hisashi Iwakuma and James Paxton. Nathan Karns and Ariel Miranda would currently line up to battle for the fourth and fifth spots, along with new additions like Rob Whalen and Max Povse from the Braves and now Heston.
Rule 5 Draft
For a second straight year, the Mariners didn't choose anyone in the Major League portion of the process, though they did lose right-handed reliever Kevin Gadea to the Rays.
Seattle selected lefty reliever Paul Paez from the Mets and center fielder Chuck Taylor of the D-backs in the Triple-A phase of the Rule 5 Draft, while losing outfielder Austin Wilson to the Cardinals.
GM's bottom line
"Our present Major League needs are starting pitching. The rotation is something we will address in some form. Whether that's now or January or as we get closer to Spring Training, I don't know. With that, we'll wait for the market to unfurl." -- Dipoto
Greg Johns has covered the Mariners since 1997, and for MLB.com since 2011. Follow him on Twitter @GregJohnsMLB and listen to his podcast. This story was not subject to the approval of Major League Baseball or its clubs.