Other clubs' closer search may lead to Robertson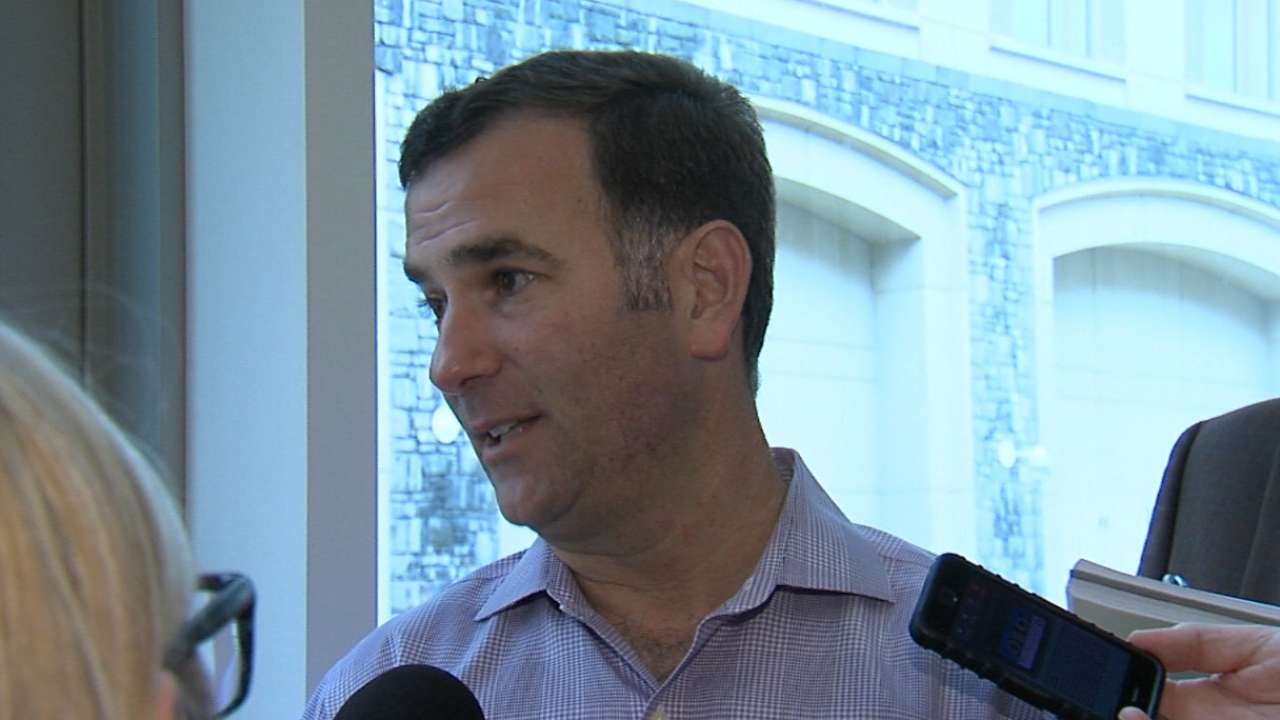 NATIONAL HARBOR, Md. -- Those teams on the outside of the free-agent closer pursuit of Kenley Jansen, Aroldis Chapman and Mark Melancon quickly could turn to the White Sox, with potential interest in David Robertson.
"We've had a lot of interesting conversations on a number of different fronts involving our players," White Sox general manager Rick Hahn said. "And yes, we still have reliever pieces and starting pieces that are appealing to various teams throughout the league. Still thoroughly engaged, deeply engaged on a number of different fronts."
Robertson, 31, has amassed 71 saves over two seasons with the White Sox. He had arthroscopic surgery on his left knee early in the offseason, but it was a minor cleanup procedure involving a meniscus issue. He's also owed $25 million over the next two years.
Even if the Dodgers bring back Jansen, Robertson still could be in play as part of a bigger deal that could help create a deep Dodgers bullpen and involve White Sox third baseman Todd Frazier.
"Look, as we've talked about, it's not easy to move the high-caliber talent we've moved," Hahn said. "We valued it extremely high internally, especially with extended periods of control on guys especially with the length we would be back in position to win. To move those types of players, you need to be motivated by what the return might be.
"As a result, we -- not necessarily here, but the weeks leading up when it's calmer and you can perhaps be more objective -- we try to value what we feel is appropriate packages for our guys, and we've aimed high in that process. We feel we were able to convert on the first two, and if we move additional players, hopefully we'll come as close to our projected [goal] was entering this offseason."
Reinsdorf supports rebuild
Hahn has the complete support of White Sox chairman Jerry Reinsdorf in this rebuild process, even if it means taking a step back in the next year or two.
"He's as competitive as anybody in this building," said Hahn of his boss. "He wants to bring another championship to Chicago as badly as all of us, if not more so. At the same time, he knows it's going to take time and that it may be painful along the way.
"But he's fully supportive of what we're trying to do. He's been part of all the conversations about which packages are available and why we favor one versus the other. He feels some excitement about the future, but he knows it's going to be a little bit away."
Minor news
Right-handed pitcher Carson Fulmer, the White Sox No. 5 prospect, will work as a starter during Spring Training. Hahn made that point clear on Thursday.
Michael Kopech, the hard-throwing right-hander acquired from Boston as part of the Chris Sale trade, most likely will start the '17 season at Class A Winston-Salem. But Hahn expects Kopech to reach Double-A Birmingham during the campaign.
Scott Merkin has covered the White Sox for MLB.com since 2003. Read his blog, Merk's Works, follow him on Twitter @scottmerkin, on Facebook and listen to his podcast. This story was not subject to the approval of Major League Baseball or its clubs.