Red Sox reunite with Rutledge in Rule 5 Draft
Club loses Haley, Tavarez in Major League phase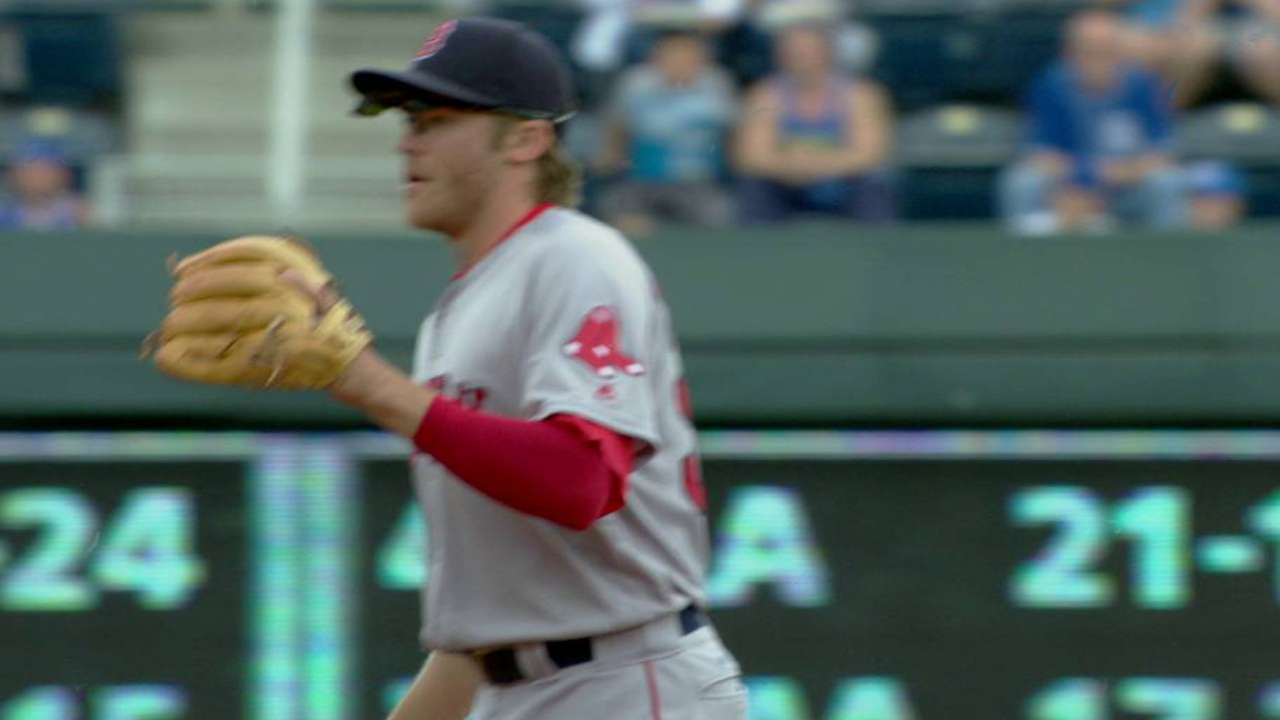 NATIONAL HARBOR, Md. -- When the Red Sox couldn't reach a new agreement with Josh Rutledge in November, they granted him his release, and he wound up signing with the Rockies 20 days later. As it turns out, Rutledge wasn't gone from Boston for long.
With the 14th overall pick in Thursday's Rule 5 Draft, the Sox selected Rutledge, a right-handed-hitting utility infielder.
The way Boston's roster is constructed, the bench will consist of a backup catcher, outfielder Chris Young and either Brock Holt or Pablo Sandoval, depending on who becomes the starting third baseman.
That leaves one more opening, and Rutledge will likely compete with left-handed-hitting Marco Hernandez for the 25th spot.
"It was interesting, because we did try to re-sign him and we always had a good relationship with him and we liked him," said Red Sox president of baseball operations Dave Dombrowski. "It was a situation for us, we looked at our club, we thought we might need a right-handed utility infielder and we like what he can do for our ballclub and he was an obvious choice for us."
The Red Sox originally acquired Rutledge from the Angels for Shane Victorino in July 2015.
Rutledge's '16 season was limited to 28 games due to a right knee injury. He produced a line of .265/.345/.388 with six doubles, no homers and three RBIs. The versatile 27-year-old can play second, short and third.
"Well, of course we have Marco Hernandez, too, but when we sat down and I asked [manager] John Farrell to take a look at it, he said we really could use a right-hand-hitting guy," Farrell said. "Now, Deven Marrero can also do that, but he's more of a defensive-type guy. I said, 'I'd rather have somebody who can swing the bat a little bit more.' We think it lines up for him to be with our club. Of course, we'll see what happens in Spring Training, but we know him, we like him and it looks like there is a path for him."
The Red Sox lost two Minor Leaguers in the Major League phase of the Rule 5 Draft. The Angels took righty Justin Haley, while the Orioles selected outfielder Aneury Tavarez.
Haley split last season between Double-A Portland and Triple-A Pawtucket, going 13-10 with a 3.01 ERA. Tavarez spent nearly all of the season at Portland before moving up to Pawtucket for the final five games. He hit .253 with a .715 OPS and hit seven homers while stealing 18 bases.
Under the new CBA, Major League Rule 5 Draft picks will cost the selecting team $100,000, which is double the $50,000 that had previously been the amount. Minor League Rule 5 Draft picks will cost the selecting team $24,000, which is also double the previous amount.
Players selected during the Major League phase must spend the season on the selecting team's 25-man Major League roster, or the team the player was selected from can have the player returned for $50,000.
Ian Browne has covered the Red Sox for MLB.com since 2002. Follow him on Twitter @IanMBrowne and Facebook. This story was not subject to the approval of Major League Baseball or its clubs.