Atkins pleased with Meetings progress; still work to do
Blue Jays sign Pearce; OF depth, bullpen, backup catcher remain needs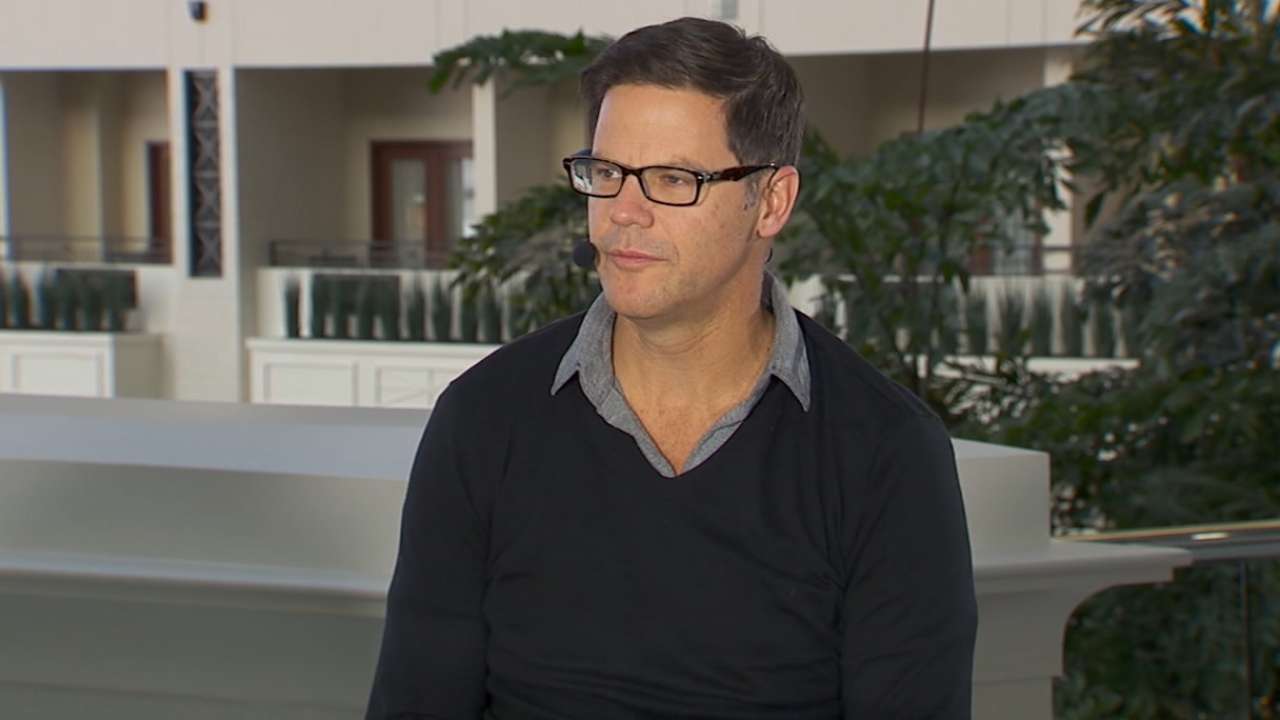 NATIONAL HARBOR, Md. -- The Blue Jays did not make a major splash at this year's Winter Meetings, but even so, general manager Ross Atkins is pleased with the progress that was made.
Toronto's biggest move came on Monday morning, when it signed Steve Pearce to a two-year deal worth $12.5 million. That filled one hole, but multiple upgrades are still required, and the work will continue in the coming days and weeks.
In addition to another outfielder, Toronto also needs a backup catcher, a couple of arms for the bullpen and additional depth for the rotation.
"We're excited," Atkins said Thursday morning. "The Meetings are definitely a time when things pick up, and we feel like we made progress. [We're] excited about adding Steve Pearce at the beginning, excited about a lot of the dialogue on trade fronts and on free-agent acquisitions that could occur. It's always a good time of the year for momentum to pick up, and [we] feel like we're in a good position."
• Pearce brings gritty all-out style to Toronto
Most of the talk this week centered around the supposed dwindling markets of free agents Edwin Encarnacion and Jose Bautista. Toronto appears to have moved on from both players, and at this point, it would come as a shock if either slugger returned to the ballclub in 2017.
That development is hardly surprising, but it still won't come as welcome news for a fan base that also saw Boston load up at the Winter Meetings by trading for Chris Sale, setup man Tyler Thornburg and reportedly signing Mitch Moreland to a one-year deal. The Yankees also were busy by agreeing to terms with elite closer Aroldis Chapman on a five-year deal.
Atkins understands, but he stressed that his team is not done yet.
"We start the offseason with the strategy to win as many games as possible given our resources and given our opportunities," Atkins said. "So other teams' moves or transactions couldn't increase that any more. The needle is already pointed at what can we do to win. The other transactions couldn't possibly make our desire or our strategy or our view more significant to try to win."
Deals done
In addition to signing Pearce, Toronto also agreed to terms with lefty Brett Oberholtzer on a Minor League deal. Oberholtzer began his big league career as a starter, but he transitioned to the bullpen last season and posted a 5.89 ERA over 37 appearances. He is expected to compete for a spot in the 'pen alongside fellow lefties Aaron Loup, Chad Girodo and Matt Dermody.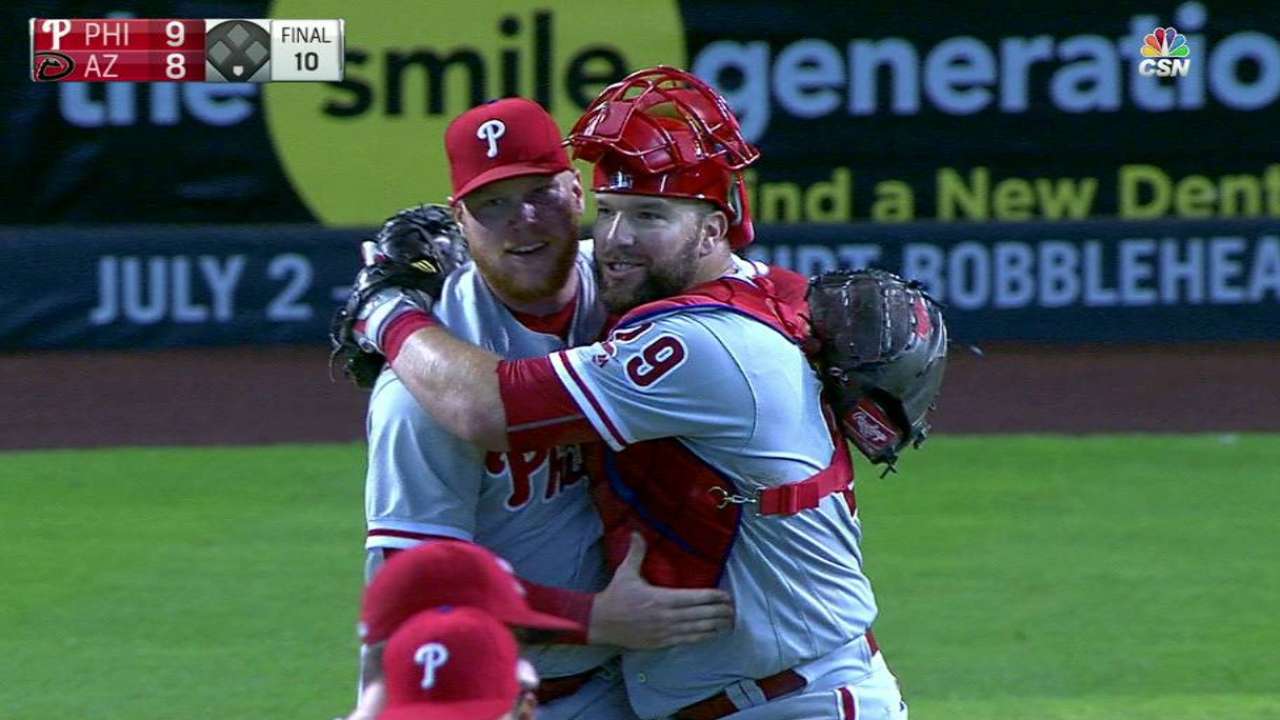 Goals accomplished
Atkins expressed a clear desire at the start of the offseason to build a roster that is more versatile than the one the Blue Jays had in 2016. He managed to do that by acquiring Pearce, who can play first base, left field and occasionally even other infield positions. Pearce's presence also should help improve the Blue Jays' production against left-handed pitching, but his addition can't be the end of what Toronto does this offseason if it hopes to contend in 2017.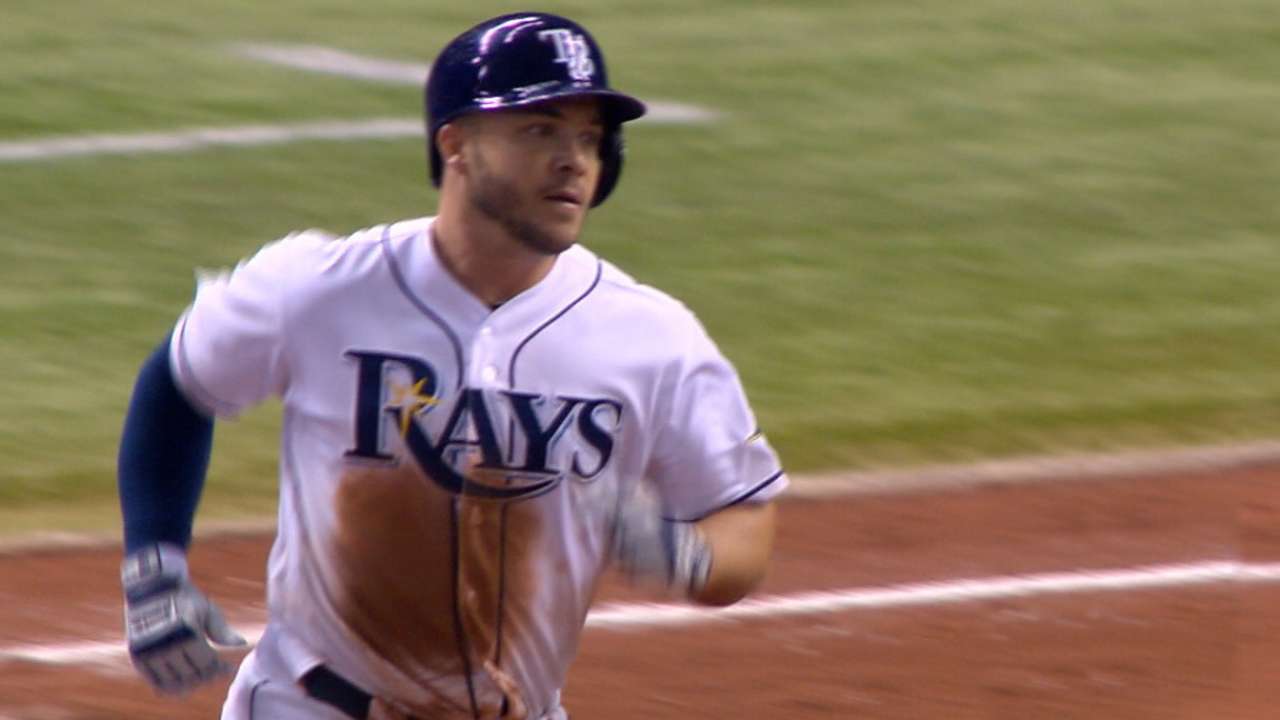 Rule 5 Draft
Toronto selected right-hander Glenn Sparkman from the Royals in the Major League portion of the Rule 5 Draft. Sparkman returned from Tommy John surgery last season and posted a 5.22 ERA over 16 starts, but the Blue Jays will give him a chance to make the team out of the bullpen.
The Blue Jays did not lose anyone in the Major League portion of the Rule 5 Draft, but they did lose three prospects in the Minor League portion. The Phillies selected shortstop Jorge Flores, catcher Jorge Saez Jr. was taken by the Yankees and lefty Matt Smoral was picked up by the Rangers. Toronto selected right-hander Philip Walby from the Nationals in the Minor League portion.
GM's bottom line
"We'll be busy every day," Atkins said. "I'm excited about the opportunities, feel good about our chances to make this team a very good one and a contending one. The plans are to continue to build our outfield depth, and if there's a way to build into the 'pen and backup catcher and then even into Triple-A starting, we'll do it."
Gregor Chisholm has covered the Blue Jays for MLB.com since 2011. Follow him on Twitter @gregorMLB and Facebook, and listen to his podcast. This story was not subject to the approval of Major League Baseball or its clubs.