Left-field continuity a challenge for Giants
Next season will be 10th straight with different Opening Day starter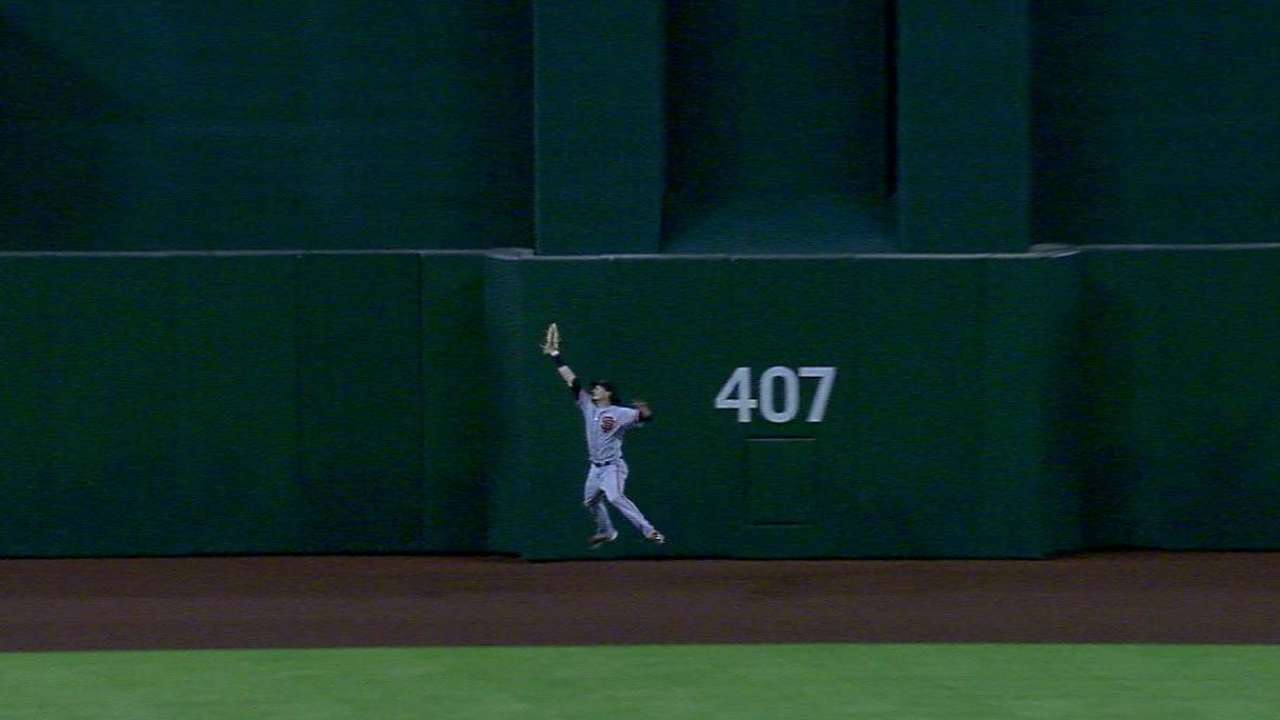 NATIONAL HARBOR, Md. -- Call it the Curse of Barry Bonds. Call it a hazard of roster management. Or consider it a very real issue that the Giants must keep addressing to bolster the long-term strength of their roster.
Settling upon an adequate left fielder has remained an annual concern for the Giants since they declined to offer Bonds a contract at the end of the 2007 season. In nine seasons since then, they have employed nine different Opening Day left fielders: Dave Roberts (2008), Fred Lewis (2009), Mark DeRosa (2010), Pat Burrell (2011), Aubrey Huff (2012), Andres Torres (2013), Mike Morse (2014), Norichika Aoki (2015) and Angel Pagan (2016).
The Giants will leave baseball's Winter Meetings on Thursday destined to lengthen this streak to 10 when they open the coming season April 2 at Arizona. General manager Bobby Evans is fully prepared to begin 2017 with either Jarrett Parker or Mac Williamson in left. Gorkys Hernandez and rookie Austin Slater are expected to provide competition.
Developing a capable left fielder within their Minor League system has escaped the Giants. Even veterans acquired as stopgap performers don't last long enough to be stopgaps.
However, the changing cast of characters in left doesn't reflect any particular weakness within San Francisco's organization. The Giants long ago dispelled the notion that they're incapable of drafting and nurturing productive position players. Catcher Buster Posey, first baseman Brandon Belt, second baseman Joe Panik, shortstop Brandon Crawford and departed third basemen Pablo Sandoval and Matt Duffy proved the Giants can shape World Series-winning level talent within their system.
General manager Bobby Evans pointed out that any team would be challenged to establish longevity at each position.
"Certain parts of your roster are going to turn over," Evans said Wednesday. "The more continuity you have at one place, it's going to create turnover in another."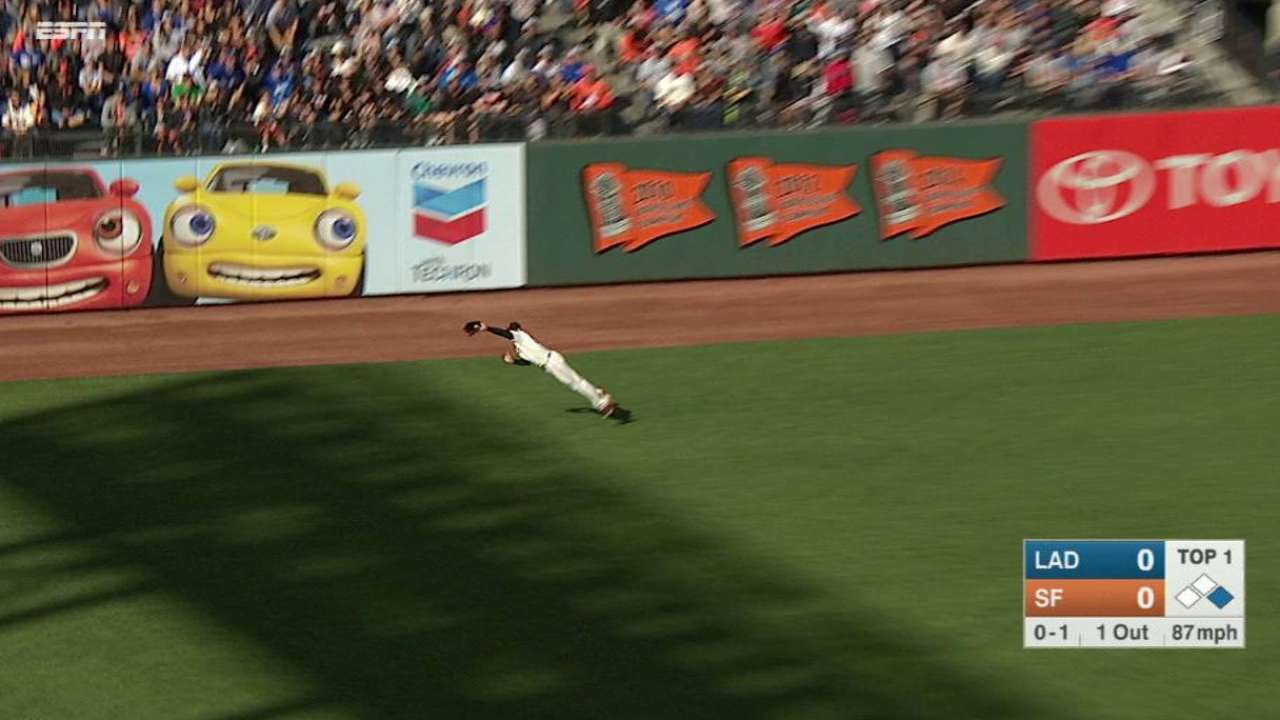 Evans noted that due to the nature of AT&T Park in particular and the ballclub's makeup in general, left field is the position where the Giants can best accommodate revolving personnel. Center field is challenging due to its considerable acreage. Right field is even more troublesome, given the wall's multiple nooks and crannies. Moreover, the Giants' emphasis on pitching and defense demands they achieve steadiness with their infield and catching.
It can be argued that the Giants' temporary occupants in left field have not hampered the team's success. From 2008-16, San Francisco's left fielders batted .258 -- a team low, excepting pitchers. Yet they also accumulated 209 home runs and 969 RBIs, eclipsed on the club only by first basemen (231 homers, 995 RBIs). Left fielders recorded a 37.6 WAR during this period, outdone among the Giants only by catchers (38.3) and right fielders (37.8).
The Giants received significant contributions from left fielders during their championship years. Burrell's slugging helped propel the team toward the 2010 postseason. Melky Cabrera ranked among the team's top performers in 2012 before a suspension linking him to performance-enhancing drugs ended his season. Travis Ishikawa, manager Bruce Bochy's surprise choice to play left throughout the 2014 postseason, belted a three-run homer in Game 5 of the National League Championship Series against St. Louis that sent the Giants to the World Series.
Citing an example similar to the one involving Bonds, baseball's all-time home run leader, Evans compared the left-field phenomenon to what the Giants endured after first baseman J.T. Snow's nine-year tenure ended following the 2005 season. San Francisco tried to fill Snow's void with Ishikawa, Lance Niekro, John Bowker, Dan Ortmeier and several veterans before Belt claimed the position in 2012.
Nevertheless, Evans acknowledged the left-field revolving door has spun somewhat excessively for the Giants.
"Wow," he said. "That is crazy."
Chris Haft has covered the Giants since 2005, and for MLB.com since 2007. Follow him on Twitter at @sfgiantsbeat and listen to his podcast. This story was not subject to the approval of Major League Baseball or its clubs.