Blue Jays add pitching depth with Oberholtzer
Atkins says left-hander could work in relief or as starter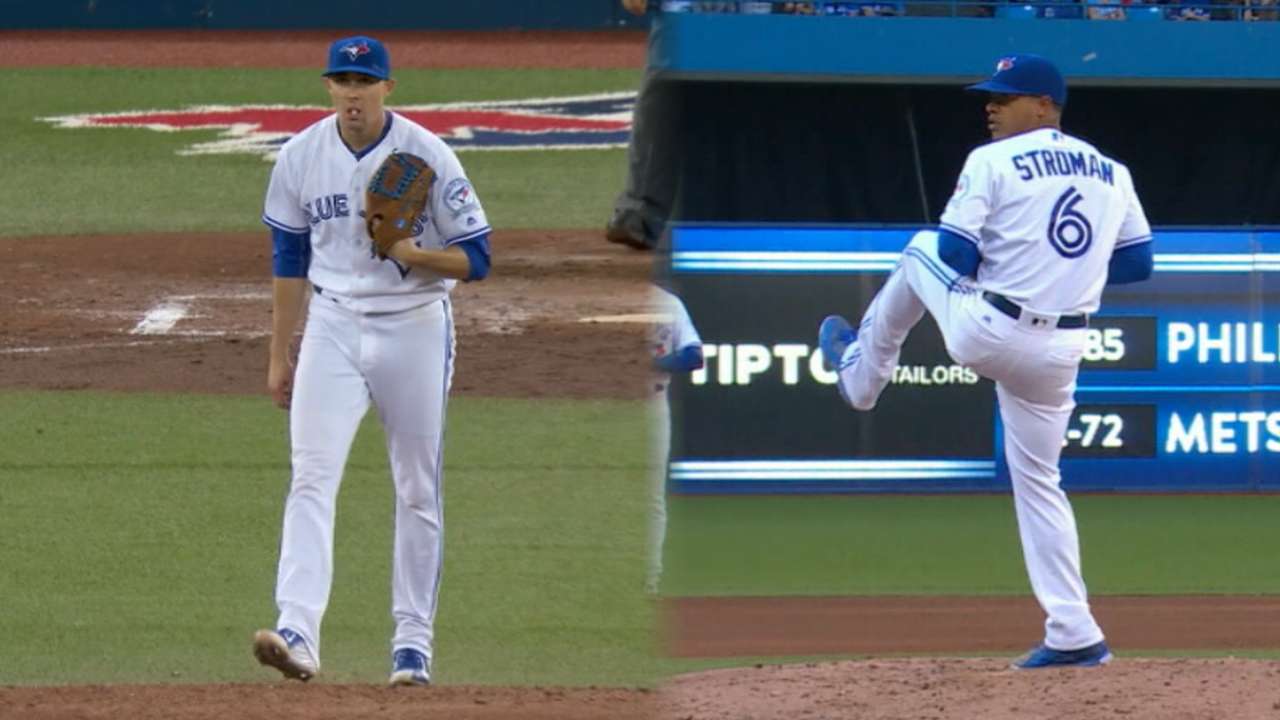 NATIONAL HARBOR, Md. -- The Blue Jays added a potential piece to their bullpen on Wednesday afternoon by signing left-hander Brett Oberholtzer to a Minor League deal with an invitation to Spring Training.
Oberholtzer spent the first three years of his Major League career as a starter, but he transitioned to the bullpen in 2016. He pitched for the Angels and Phillies, but he struggled with a 5.89 ERA over 70 1/3 innings, with all but two of his 37 appearances in relief.
"Experience, his desire to be here," Blue Jays general manager Ross Atkins said when asked what sparked his club's interest. "It was a guy that we targeted early. We were aggressive in going after him and got on the phone with him, explained our opportunity. We feel like we have a good one for a guy in a situation like his."
Oberholtzer is expected to compete for a bullpen job alongside fellow lefties Matt Dermody, Chad Girodo and Aaron Loup. The Blue Jays have four or five spots up for grabs in the 'pen, which is one reason why the situation is so appealing for a guy like Oberholtzer, who is looking to rebound from a rough year.
The 27-year-old Oberholtzer has pretty even splits throughout his career. Righties own a career .769 OPS against him and lefties own a .786 OPS over four seasons.
"I think he will come into camp and mostly be focused on his chance to make the team in a relief role," Atkins said. "If he doesn't, he'll be starting for us and be starting depth. That versatility ... it's certainly something that could happen."
Trading spaces
The Blue Jays are expected to do most of their work through free agency instead of trades because teams keep asking for big league players in return for any deal. The main reason for that is the club's upper levels of the Minor Leagues do not contain very many high-end prospects.
The Blue Jays have a lot of work to do before their Minor League system can become a strength, and it likely will take at least a couple of years. Minor deals are always possible, but there's a reason they did not make a run at players such as Chris Sale and Adam Eaton. They simply don't have the prospects to get it done.
"When we've been engaged in those types of trades, Andrew Miller, [Aroldis Chapman], we tried, we're in," Atkins said, in reference to the 2016 non-waiver Trade Deadline. "Teams have asked for players from our Major League team. Our system just isn't good enough yet to land that type of deal. The teams that have more depth, and we'll get there, we'll be there, that's part of our strategy is to get to that point where we could land that caliber of player without taking away from our Major League team."
Sanchez doing work
Aaron Sanchez has been reporting to the club's Spring Training complex on a daily basis this offseason to continue a rigorous workout routine that he began prior to 2016. The goal last offseason was to gain additional muscle, and that's a goal this time around as well -- except this winter it's more focused on lower body.
"I think overall lower-body strength is what he has committed to, putting on more muscle," Atkins said. "He has done an incredible job with his vertical jump, with his overall range of motion, his overall power. ... It's just the maturation of a young professional baseball player."
Gregor Chisholm has covered the Blue Jays for MLB.com since 2011. Follow him on Twitter @gregorMLB and Facebook, and listen to his podcast. This story was not subject to the approval of Major League Baseball or its clubs.