MLB.com Columnist
Jonathan Mayo
In span of day, White Sox system skyrockets
Organization's Minor League depth among Top 10 in game after 2 blockbusters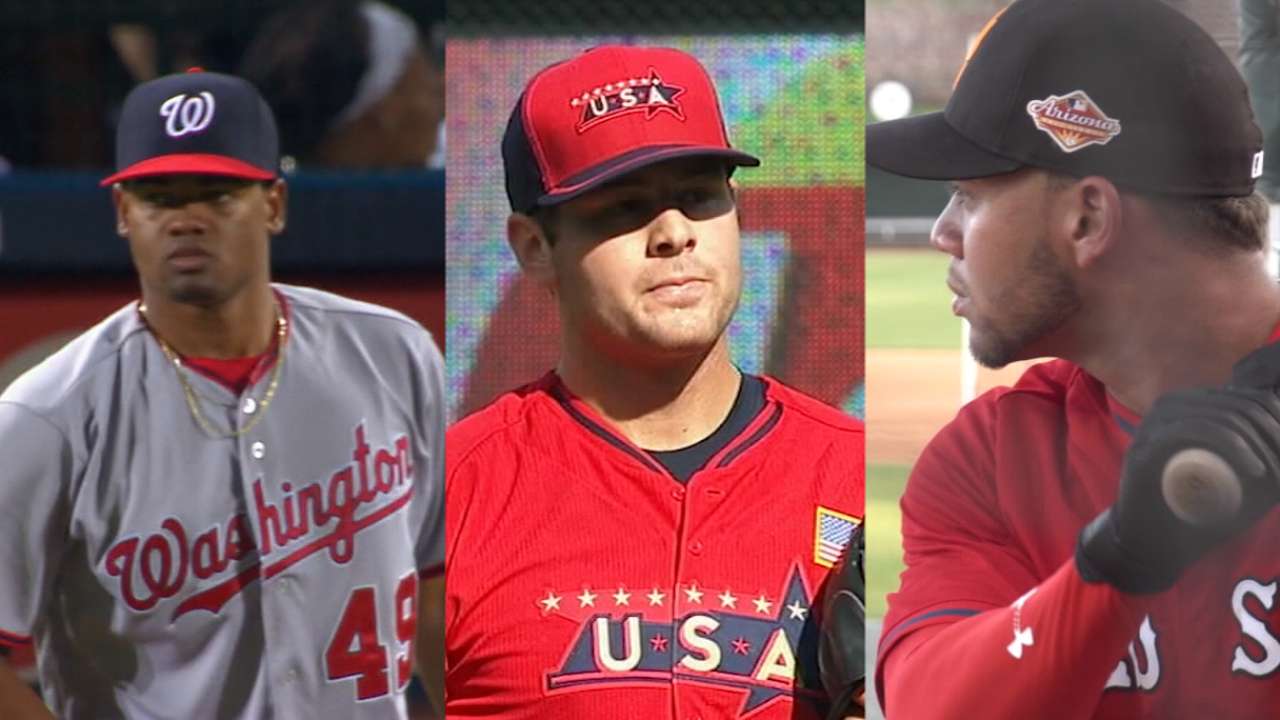 NATIONAL HARBOR, Md. -- For the second time in as many days, the Chicago White Sox seriously upgraded their farm system by unloading an established Major Leaguer. On Wednesday, it was outfielder Adam Eaton getting shipped to the Nationals for a trio of right-handed pitching prospects.
Not just any pitching prospects. Lucas Giolito is the highest-ranked pitching prospect on MLBPipeline.com's Top 100 at No. 3 overall. Reynaldo Lopez isn't that far behind, at No. 38 overall. Dane Dunning was a first-round pick from the 2016 Draft who, while having a lower profile than his trade-mates, has the chance to be a very good big league starter.
If it seems like the White Sox did well in this deal, it's because they did. Yes, Eaton is a very solid player with an extremely team-friendly contract. But the prevailing thoughts around baseball were very positive in terms of Chicago's haul.
• White Sox land Giolito, 2 more prospects for Eaton
In terms of pure stuff, Giolito is still considered to be the best pitching prospect in the game. His fastball has sat in the mid- to upper 90s in the past, though his velocity dipped at times in 2016, due mostly to some mechanical issues he seemed to address by season's end. Giolito's breaking ball, a true power curve, has also routinely been graded as the best among all pitching prospects in baseball. His changeup has improved and is his third above-average pitch. More often than not, Giolito has very good command, though he struggled with that at times in 2016, particularly in the big leagues.
• White Sox acquire Moncada, 3 others for Sale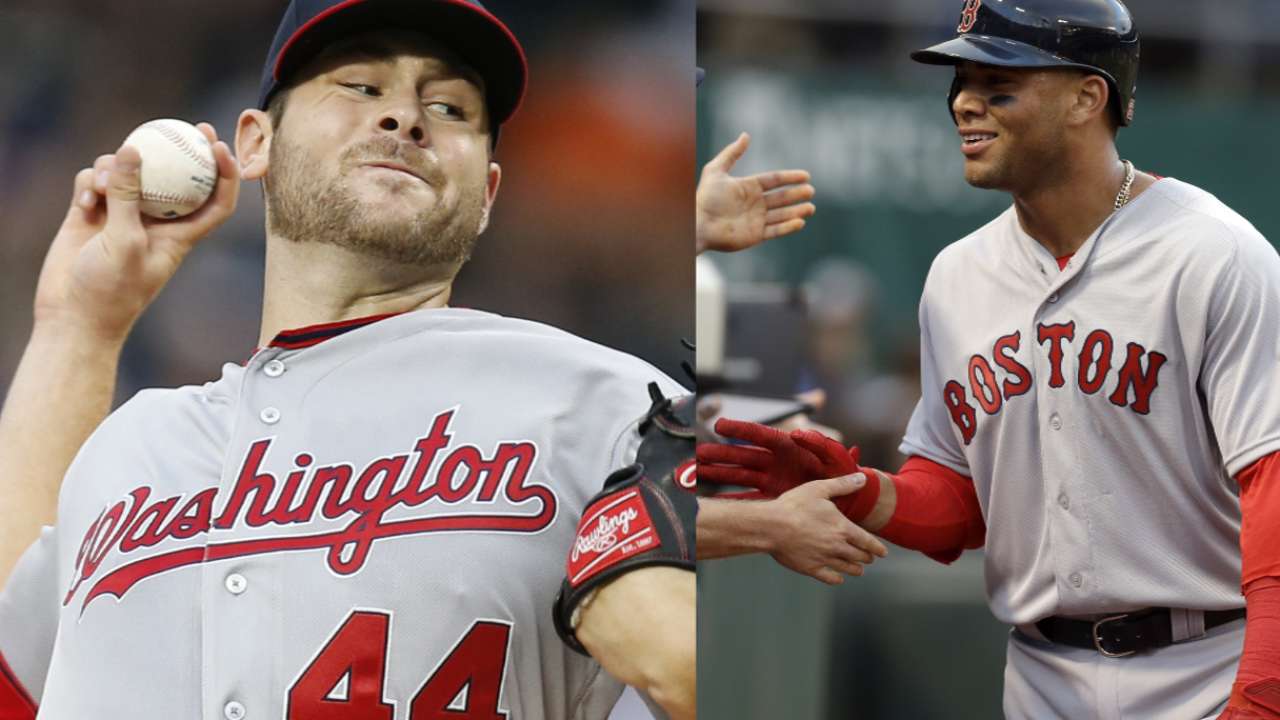 Giolito's Major League struggles to maintain his elite velocity and his command, which came in a small sample size, led some to believe that perhaps the right-hander's star had faded a bit. But one evaluator from an organization not involved in the trade said he didn't believe that to be true and couldn't believe what Chicago had gotten in return for Eaton.
This is v nice pic.twitter.com/rOARgYodbI

— Chicago White Sox (@whitesox) December 7, 2016
In many ways, Lopez was a more effective pitcher than Giolito in 2016. At one point, there were concerns Lopez might end up in the bullpen because of some cross-fire in his delivery. Those worries have greatly been assuaged, as he's made effective adjustments and filled the strike zone well with his plus fastball, excellent curve and improved changeup. Both he and Giolito should make major contributions to Chicago's big league rotation in 2017.
December 7, 2016
Dunning was part of a 2016 Florida Gators staff that was so deep that he couldn't crack the rotation, though he would have been a weekend starter in just about any other college program in the country. While he pitched largely out of the 'pen as a junior, Dunning absolutely profiles as a starter, and the White Sox definitely coveted him as the third piece in this deal. Not as overpowering as Giolito or Lopez, Dunning nonetheless has the chance to have three pitches that are at least Major League average, with more than enough stuff to be a middle-of-the-rotation type in the future.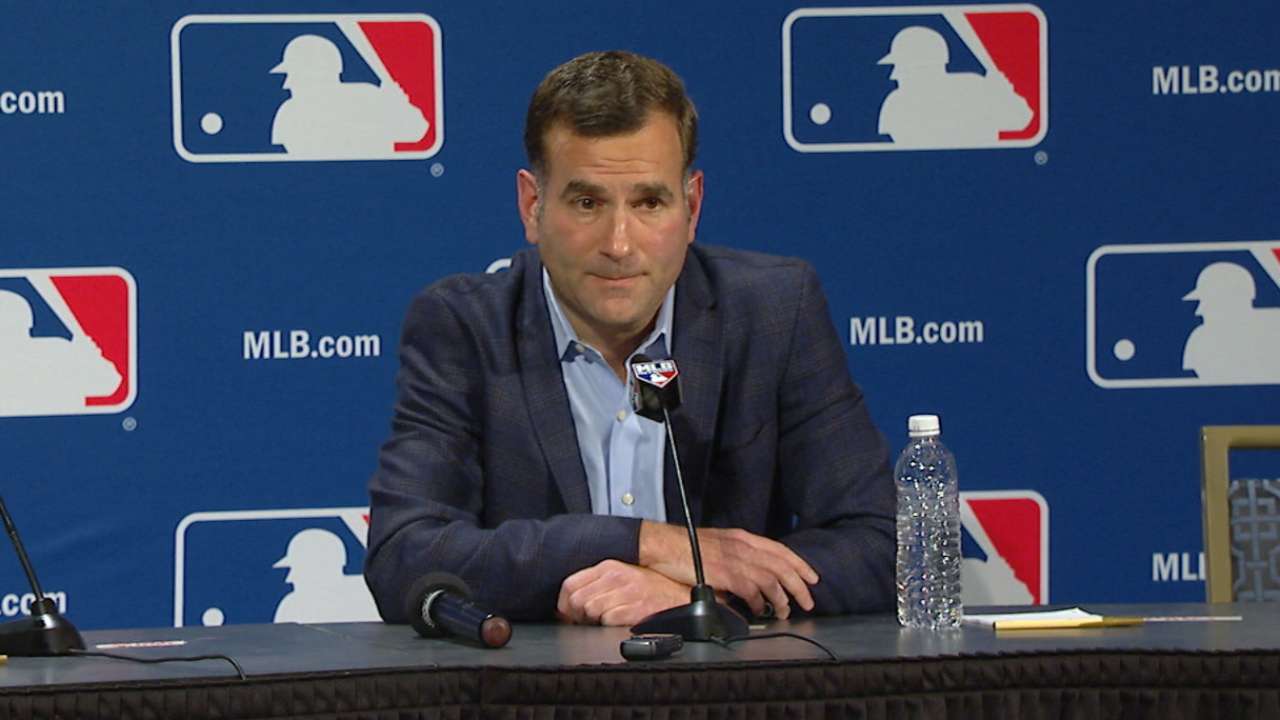 In a span of slightly more than 24 hours, the White Sox have pulled off a renovation that would make the producers of "Extreme Makeover" extremely jealous. The organization has added four players currently in the Top 40 among all prospects in the game, thanks to the Eaton and Chris Sale deals, and now has six new members on its own Top 10 list. The first four -- Yoan Moncada, Giolito, Michael Kopech and Lopez -- are as good as any organization's top four.
• Rogers: Kopech next in long line of Texas fireballers
For years, the White Sox had been perceived as having one of the weakest farm systems in baseball, often using prospects to bring in big league talent in an attempt to compete in the American League Central. Sure, the team has developed and produced big leaguers, but there has been a lack of impact-level talent and depth, keeping the franchise in the bottom third among the game's 30 farm systems, if not the bottom five. With two trades, there is no question Chicago now has a top-10 system.
Hey, @whitesox ! pic.twitter.com/Vbp5AkrAMg

— Lucas Giolito (@LGio27) December 8, 2016
The talent is also distributed throughout the organization's system. Moncada, Giolito and Lopez all figure to spend much, if not all, of the season in the big leagues, perhaps along with 2015 first-round pick Carson Fulmer. Kopech is a year away, with Luis Alexander Basabe perhaps not too far behind him, while 2016 first-rounder Zack Collins could be on the same path. Dunning might be ready by the start of 2019.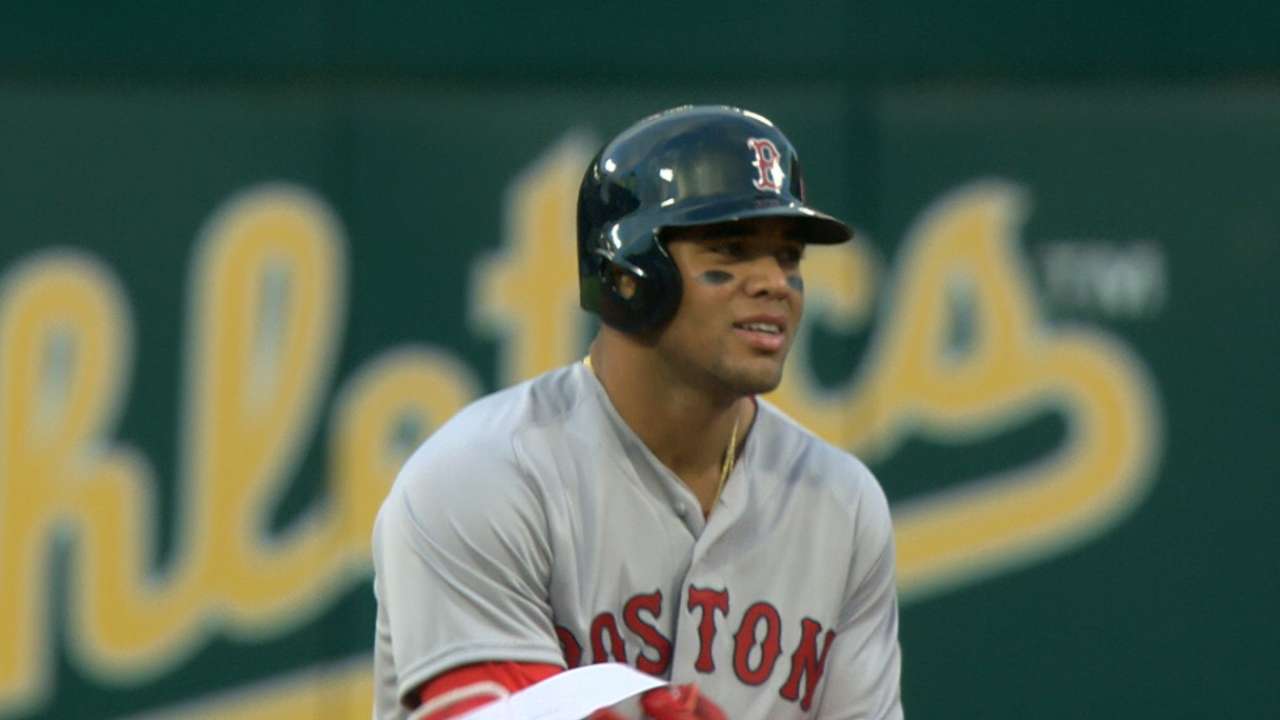 As is always the case with prospects, such promise is meaningful only if they perform at the highest level. But at least on paper, this reboot gives the White Sox the chance not only to be competitive in the future, but to have prolonged success as the pipeline continues to feed this talent up to Chicago.
Jonathan Mayo is a reporter for MLBPipeline.com. Follow him on Twitter @JonathanMayo and Facebook, and listen to him on the weekly Pipeline Podcast. This story was not subject to the approval of Major League Baseball or its clubs.