MLB.com Columnist
Jim Callis
Corrigan, Creech, Cruz, Schroeder honored as Scouts of Year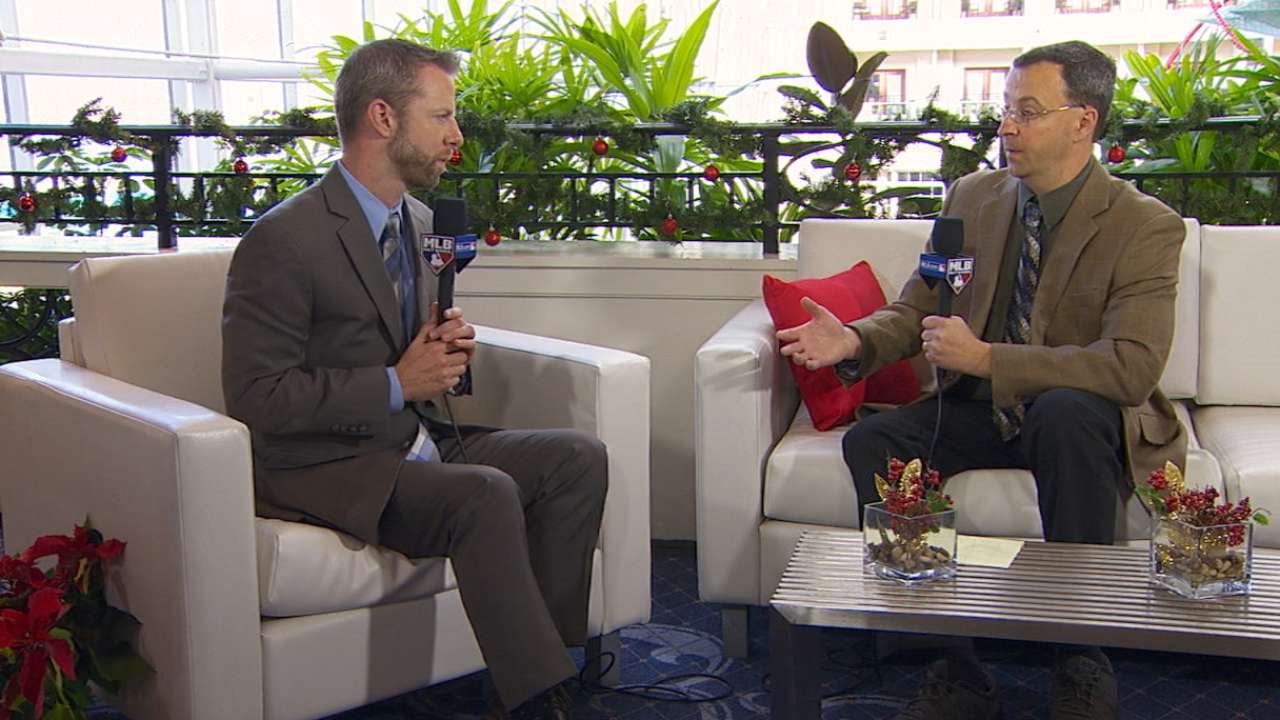 NATIONAL HARBOR, Md. -- Before he presented Larry Corrigan with an award at the Scout of the Year reception Wednesday night, Twins general manager Thad Levine took a moment to address the audience.
"I truly believe as an industry that we're always chasing the next competitive advantage," Levine said. "I've always believed that the competitive advantage is the people in this room. It's the scouts. You people are the lifeblood of this game."
Scouts were celebrated at the 33rd annual event, a staple of the Winter Meetings. Corrigan (Twins) was the Midwest Scout of the Year. Other honorees were Ed Creech (East Coast) of the Giants, Pablo Cruz (International) of the Blue Jays and Rick Schroeder (West Coast) of the Rangers.
The award was especially significant for Corrigan, 66, who's recovering from a stroke suffered in May. He thanked several friends in the crowd who have assisted with his recovery.
A Minor League pitcher and catcher, Corrigan was a college coach (head coach at Iowa State, assistant at Cal State Fullerton) before breaking into scouting with the Athletics in 1987. He went to the Twins in 1988 and swiftly rose in the organization, becoming a crosschecker and then scouting director for the 1992 and 1993 Drafts. He served Minnesota in a variety of scouting roles, including as a special assistant to the GM from 1999-2007, before taking the same job with the Pirates, spending two years as a special assignment scout with the Angels and then returning to the Twins in that capacity in 2013.
Corrigan is best known for drafting Torii Hunter with the 20th overall pick in the 1993 Draft. The five-time All-Star and nine-time Gold Glover said Corrigan was instrumental in his career.
"He's a guy that taught me to throw," Hunter told MLB.com in 2012. "He taught me in batting practice to hit no foul balls down the left-field line, the right-field line, just keep all of your balls in play. He's done a lot of things that when you're young, you're like, 'What is he doing?' But when you get older, you need it. … I never knew that when I was 17 and 18, but now I realize this man has actually developed me."
A second-round pick of the Expos in 1973, the 65-year-old Creech managed in the Montreal system when his playing career ended and became a scout in 1985. He signed Marquis Grissom and Rondell White as an area scout before launching a 14-year run as a scouting director with the Expos (1994-97), Cardinals (1998), Dodgers (1999-2001) and Pirates (2002-07). His clubs signed 71 big leaguers from his 14 Drafts, including Javier Vazquez, Milton Bradley, J.D. Drew, Shane Victorino, Neil Walker and Andrew McCutchen.
After leaving Pittsburgh, Creech became a senior advisor of scouting for the Giants and contributed to the drafting of first-round picks Buster Posey and Joe Panik, among others. He described being a part of three World Series championships as the highlight of his career and gave special thanks to legendary scout Gary Hughes, one of the directors he served under in Montreal.
"If I have touched people in my life the way you touched my life and my family's lives, then it has truly been a success," Creech told Hughes.
Before his 14-year career as a Minor League infielder had concluded, Cruz began scouting under the guidance of famed scout Howie Haak -- the recipient of the first Scout of the Year award in 1984 -- with the Pirates. He signed 20 big leaguers for Pittsburgh, including Tony Pena, Pascual Perez, Jose Lind, Carlos Garcia, Jose Guillen and Aramis Ramirez.
Cruz, 66, left the Pirates after 2000 and since has worked for the Padres, Expos/Nationals, Mets and Blue Jays. He's currently a Latin America field coordinator for Toronto.
"Howie Haak, I called him the Shark of the Caribbean, he taught me so much," Cruz said. "He helped baseball in the Caribbean because he went everywhere to find players."
Schroeder, 67, played one season professionally before an 11-year career as a college assistant coach that included being part of University of Arizona's College World Series championship in 1976. He entered scouting in 1982, with stints with the Rangers (1982-91), Astros (1992-97), Angels (1998-2000), Rangers again (2001-06), Royals (2007-10) and Cubs (2011-12). He rejoined Texas a third time in 2013 and currently works as a special assignment scout.
Schroeder kept the crowd laughing as he recalled how many times he had been fired, and how several of his former clubs made the World Series soon after he left. But on a serious note, he signed 14 big leaguers as an area scout, including Steve Buechele, Darren Oliver, Derek Holland and Danny Duffy.
"He's a scout's scout," Rangers GM Jon Daniels said. "He loves beating the bushes, he loves players, he loves the independent leagues and the small colleges, he loves to compete. There are stories of Rick climbing trees with binoculars to check out his competition for a player. He was one of the first scouts to use cameras back in the 1980s."
Jim Callis is a reporter for MLB.com. Follow @jimcallisMLB on Twitter. This story was not subject to the approval of Major League Baseball or its clubs.