Tribe taking patient approach in 1B search
Cleveland emerges as potential landing spot for Encarnacion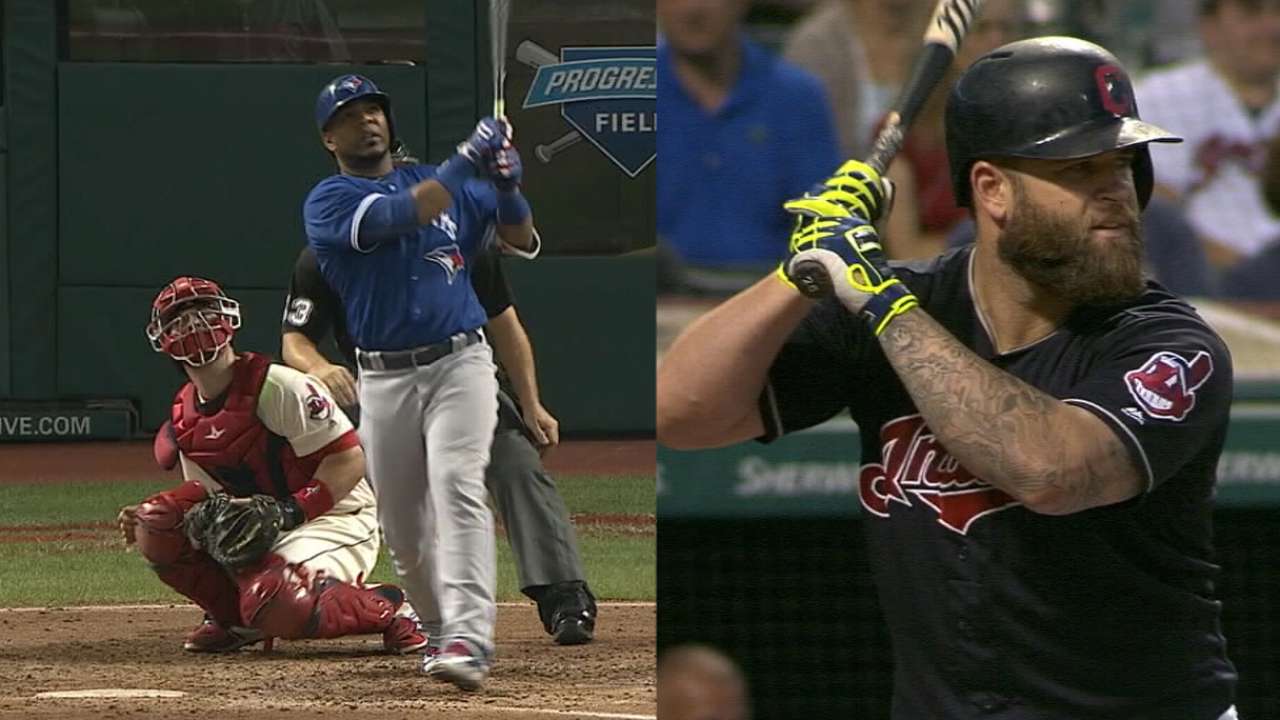 NATIONAL HARBOR, Md. -- The Indians are sitting back and waiting. Heading into this offseason, Cleveland knew that might be the most prudent approach for this winter's crop of first basemen. It is the approach that has helped the club emerge as a surprising contender for free-agent slugger Edwin Encarnacion.
When Encarnacion's name was linked to the Tribe on Monday, it seemed like a pipe dream for the Indians. By Day 3 of the Winter Meetings on Wednesday, Cleveland signing the first baseman still felt improbable -- given the way the team typically operates -- but it no longer seems impossible. Given the way the market has developed, the Indians look more and more like a realistic landing spot.
"Patience is the right word," Indians general manager Mike Chernoff said. "We're focused on getting the best players that we can, and we certainly go after our targets. But, at the same time, we know who we have to be in free agency. We're never going to be the team that is building an entire roster through free agency."
As Cleveland has waited, the market for hitters who play first base or can serve as a designated hitter has become more supply than demand. In light of a handful of signings, the number of options for the hitters has diminished. That is the kind of situation the Indians need to even have a shot at a free agent like Encarnacion. It explains why the Indians are not in a rush to use a two-year offer to re-sign Mike Napoli.
Last offseason, the way the market shook out, Cleveland was able to sign Napoli to a one-year, $7 million contract that wound up being worth $10 million after he hit all his incentives. Napoli belted 34 homers, led the Indians with 101 RBIs, hit career highs in games (150) and plate appearances (645), and was a leader for the team behind the scenes. It was a team-friendly contract, and one that helped the Indians forecast this winter's market.
After that experience, Cleveland felt it could once again get a good hitter on a cost-effective contract.
"We experienced that last year when we signed Napoli," Chernoff said. "Having been through that and gotten a great player that was a perfect fit for our team, I think you could see that a lot of the same players were going to be back out on the market this year. You never know where a market is going to go. Free agency is all about what teams and players are willing to do.
"Having been through that last year, we felt confident that there would be enough good players where we could hopefully get somebody."
According to a variety of reports, the Indians have checked in with free-agents Napoli, Encarnacion, Mark Trumbo, Jose Bautista, Chris Carter, Adam Lind, Michael Saunders and others this week. Cleveland reportedly offered Matt Holliday a one-year deal before the veteran took a one-year, $13 million contract with the Yankees. The Tribe also was reported to be in on Carlos Beltran, who signed for one year and $16 million with Houston.
Earlier this winter, Encarnacion reportedly turned down a four-year, $80 million offer to re-sign with the Blue Jays, who have since signed Kendrys Morales and Steve Pearce. The Red Sox signed first baseman Mitch Moreland -- another Cleveland target -- and the Rockies added Ian Desmond as an option for first base and outfield.
As players have come off the board, the primary suitors for Encarnacion over the past three days have included the Rangers, Blue Jays and Indians. Texas is reported to be tight on the cash it would take to sign the slugger. Toronto, meanwhile, may no longer be a serious contender for his services.
"There really is no news on that front," Blue Jays general manager Ross Atkins told reporters on Wednesday. "If there's a way, I don't see it. I don't think [Encarnacion's agent, Paul Kinzer] sees it, either, but we haven't stopped trying."
One of the problems is that the Blue Jays have a logjam of players after the additions of Morales and Pearce.
"There are several challenges to do it," Atkins said. "Maximizing every position on your roster is one. So getting the most out of Kendrys Morales, Steve Pearce and Justin Smoak and Edwin Encarnacion would be very difficult to do. That would be challenge No. 1."
Meanwhile, the Indians are sitting back, monitoring the marketplace.
Cleveland is not in a position to break the bank with a huge deal, but the reigning American League champions want to capitalize on their contention window. The team does not have a lot of wiggle room financially, but the Tribe's deep postseason run did help the bottom line. Beyond the potential dollars spent, the Indians must also weigh losing their first-round pick (27th overall) in the MLB Draft by signing Encarnacion.
"Especially for a smaller-market team like us," Chernoff said, "we have to at least be patient and try to find good deals with players that fit for us."
Jordan Bastian has covered the Indians for MLB.com since 2011, and previously covered the Blue Jays from 2006-10. Read his blog, Major League Bastian, follow him on Twitter @MLBastian and listen to his podcast. This story was not subject to the approval of Major League Baseball or its clubs.