Crew continues to mine market for bullpen help
NATIONAL HARBOR, Md. -- Francisco Rodriguez to the Tigers, Jeremy Jeffress to the Rangers, Will Smith to the Giants and Tyler Thornburg to the Red Sox. After trading all of those closer-types within the past 12 months, the Brewers are suddenly a solid landing spot for late-inning relievers seeking a home.
"There are a lot of relievers who like our opportunity, who like the potential to pitch in high-leverage innings," Milwaukee general manager David Stearns said Wednesday at the Winter Meetings.
"We'll leave here having a very firm sense of what that market looks like."
Since completing Tuesday's trade of Thornburg to Boston, Stearns has had what he called "productive conversations" with representatives of a number of available relievers, including former closers.
No, the Brewers are not going to sign Aroldis Chapman or Kenley Jansen, but there are plenty of options in the next tiers: Santiago Casilla, Neftali Feliz, Greg Holland, Sergio Romo, Fernando Salas, Drew Storen, Koji Uehara, Brad Ziegler are all free agents, as is Joe Blanton on the heels of a career year as a setup man for the Dodgers.
Holland, a two-time All-Star who missed 2016 following Tommy John surgery, reportedly met with teams in person on Wednesday at the Winter Meetings. It was not immediately known whether the Brewers were on his itinerary.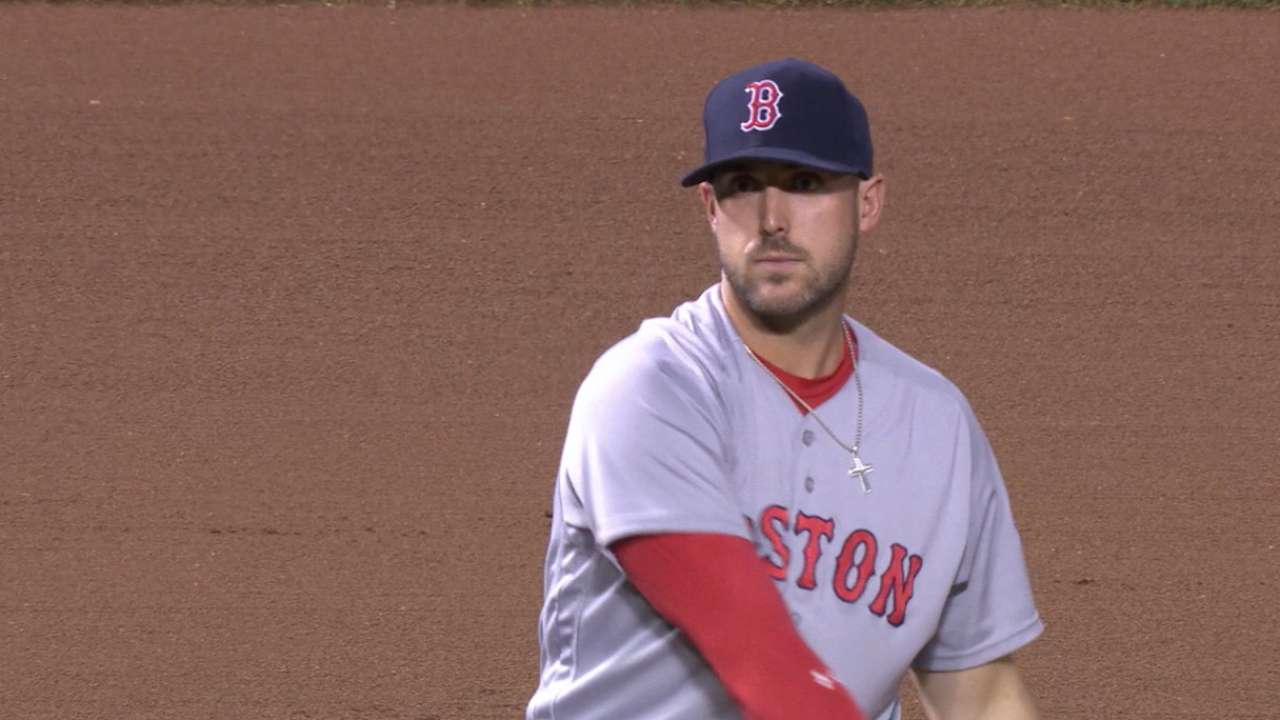 "I think there are a number of options, both guys who have performed that role in the past and guys who haven't, but would like to," Stearns said. "We're talking to a wide variety of those types of relief pitchers and I think we'll likely bring some of those guys into the fold and maintain a level of competition at the back end of our bullpen."
The Brewers do have room to make multiple additions. Their current depth chart includes a couple of potential future closers in Corey Knebel and Jacob Barnes, and durable veteran Carlos Torres earned higher-leverage opportunities as last season progressed.
Stearns this week did not rule out giving the right reliever a multi-year contract.
Crew mulls Rule 5 pick
Brewers officials met Wednesday night to formulate a plan for Thursday's 8 a.m. CT Rule 5 Draft. The Brewers essentially own the sixth pick, since three teams ahead of them in the draft order have full 40-man rosters.
By rule, players selected must stick in the Majors next season or be offered back to their original team. Generally, the easiest spot to stash a Rule 5 pick is the bullpen, which could prove convenient for the Brewers.
"Every year, there are guys you can dream on in the Rule 5 Draft," Stearns said. "It leads to some of the more enjoyable conversations we have. We have some fun with it, we debate."
Among the Minor Leaguers left unprotected by Milwaukee who could be drafted by other teams is left-handed pitching prospect Wei-Chung Wang, a former Rule 5 Draft pick himself.
Geltz picks free agency
Reliever Steve Geltz elected free agency on Wednesday, capping a series of transactions that began when the Brewers used a 40-man roster spot that might have been used to protect Wang to claim 25-year-old, Milwaukee-born, power-hitting prospect Adam Walker on waivers from the Twins on Nov. 18. Walker briefly ranked 29th on MLBPipeline.com's list of the Brewers' top prospects, but was designated for assignment 10 days later when the Brewers claimed Geltz, 29, from the Rays.
On Friday, the Orioles claimed Walker off waivers, and the Brewers outrighted Geltz to clear a spot on their full 40-man roster. Five days later, Geltz was gone, too.
Medical matters
Stearns confirmed Wednesday that one of the prospects acquired in Tuesday's trade with the Red Sox, right-handed pitcher Josh Pennington, had surgery about eight weeks ago to remove a bone chip from his right elbow. Pennington had Tommy John surgery on the same elbow as a senior in high school.
"Obviously, we were aware of this as we went through the process and it's our expectation that he will be able to come back healthy and pitch just fine," Stearns said. "We certainly expect him pitching off a mound in Spring Training. Obviously, he is a young prospect so we will proceed with some caution. Whether he is able to pitch on April 1 or April 30, we'll take it as needed."
Brewers outfielder Kirk Nieuwenhuis also had surgery after the season for an abdominal injury, as expected, according to Stearns. It was a nerve release surgery, which requires a shorter recovery than the sports hernia procedure that Nieuwenhuis anticipated.
Adam McCalvy has covered the Brewers for MLB.com since 2001. Follow him on Twitter @AdamMcCalvy, like him on Facebook and listen to his podcast. This story was not subject to the approval of Major League Baseball or its clubs.