'Joy in Wrigleyville' to air on Network tonight
Documentary highlights Cubs' World Series win from fans' perspective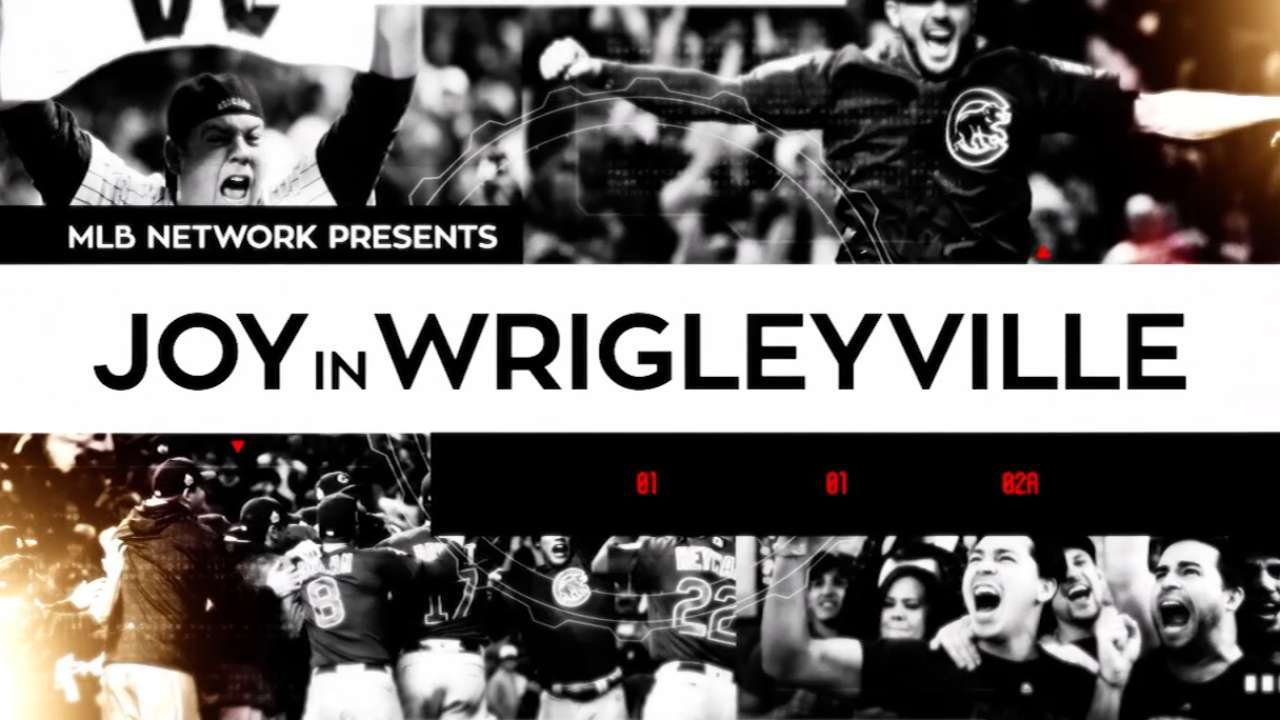 NATIONAL HARBOR, Md. -- Fans are, unwaveringly, a loyal, constant presence during a team's march toward a World Series, regardless of the size of the city or the age of the franchise.
But in 2016 it seemed as if the fans rooting for the Cubs had a starring role during the team's championship run, becoming as much of the story as the players whose responsibility it was to play near-perfect baseball in an effort to shed more than 100 years of city-wide angst.
That fan experience is the sole focus of the newest installment of the "MLB Network Presents" series. Titled "Joy in Wrigleyville," this documentary, airing on MLB Network tonight at 7 CT, features several groups of fans, from all walks of life and all corners of Chicago, as they experienced the white-knuckle moments of an epic postseason that ended with a 10-inning Cubs win over the Indians in Game 7.
This isn't just another garden-variety documentary about a team winning a championship. In fact, no players were interviewed. "Joy in Wrigleyville" is all about Cubs fans -- those who celebrated the team's fortunes with friends and family in present times, and those who viewed the Fall Classic as a chance to reflect and remember loved ones who had passed on and couldn't revel in this particular feat.
"That was our goal -- not to interview [Anthony] Rizzo, [Kris] Bryant and Joe Maddon, but to focus on the fans that are not known, that have compelling and emotional stories and connections to the team," said MLB Network senior producer Andrew Brenner.
MLB Network crews were seemingly everywhere -- at the bars in and around Wrigleyville; outside Wrigley Field, where fans etched messages in chalk to their loved ones; inside a fire station that sits across from the ballpark on Waveland Ave.; and inside the Felician Sisters Convent, where the residents rooted for their beloved Cubbies with chants of "Hey, sisters, whattaya say, the Cubs are gonna win today."
One sister bragged of a picture she took decades ago with a shirtless, 23-year-old star third baseman named Ron Santo.
"He was bare-chested," she beamed. "And he had his arm around me."
"Joy in Wrigleyville," narrated by actor and loyal Cubs fan John Cusack, takes viewers through every nail-biting play of every inning, in a very personal manner.
Cusack, who attended approximately 60 Cubs games during the regular season and celebrated on the field with the team when it clinched the World Series, embraced the opportunity to retell the Cubs' story.
"It was a truly historic sports event, and a joy to relive it through the eyes of [the] Cubs faithful, spanning generations," Cusack said.
Viewers will get to know North Carolina native Wayne Williams, who made a pact with his dad shortly before his father's death in 1980: If the Cubs ever did have the chance to win the World Series, they would watch it together.
Williams made the 11-hour, 620-mile drive to his father's gravesite in Indiana to listen to Game 7 on his phone and share the moment with his father's memory.
Lighter reflections are featured, too. Smashing Pumpkins lead singer Billy Corgan, a life-long Cubs fan, recalled leading the team in "Take Me Out to the Ball Game" from the broadcast booth with the Cubs losing to the Marlins in Game 7 of the 2003 National League Championship Series, one day after the infamous Bartman game.
"It was like a funeral," Corgan recalled of the performance.
In that respect, the 2016 postseason was cathartic, in that it finally gave Cubs fans reason to let go of the remnants of heartbreak still felt from that series 13 years ago. And it was probably only fitting that Game 7 of the 2016 World Series was stressful and angst-ridden, down to the very last moment, when Rizzo squeezed the final out.
And then, unmitigated happiness -- in Wrigleyville?
"What it made it so special was that when it actually did happen, [Cubs fans] had endured so much heartbreak over the years, and it has bonded families for generations upon generations," Brenner said. "It's kind of what makes Cubs fans maybe different from other teams' fans; that they have this unique generational aspect to their team, and a big part of that has been the suffering and the losing."
That narrative, obviously, has changed forever. Cubs fans showed, time and again, that some of the best stories were told far from the playing field.
"The different fans we found through stories -- we wanted the show to be their show and what it meant to them," Brenner said.
Alyson Footer is a national correspondent for MLB.com. Follow her on Twitter @alysonfooter. This story was not subject to the approval of Major League Baseball or its clubs.