Red Sox getting calls on starting pitchers
Sale addition means club could make deal, but Dombrowski not in a rush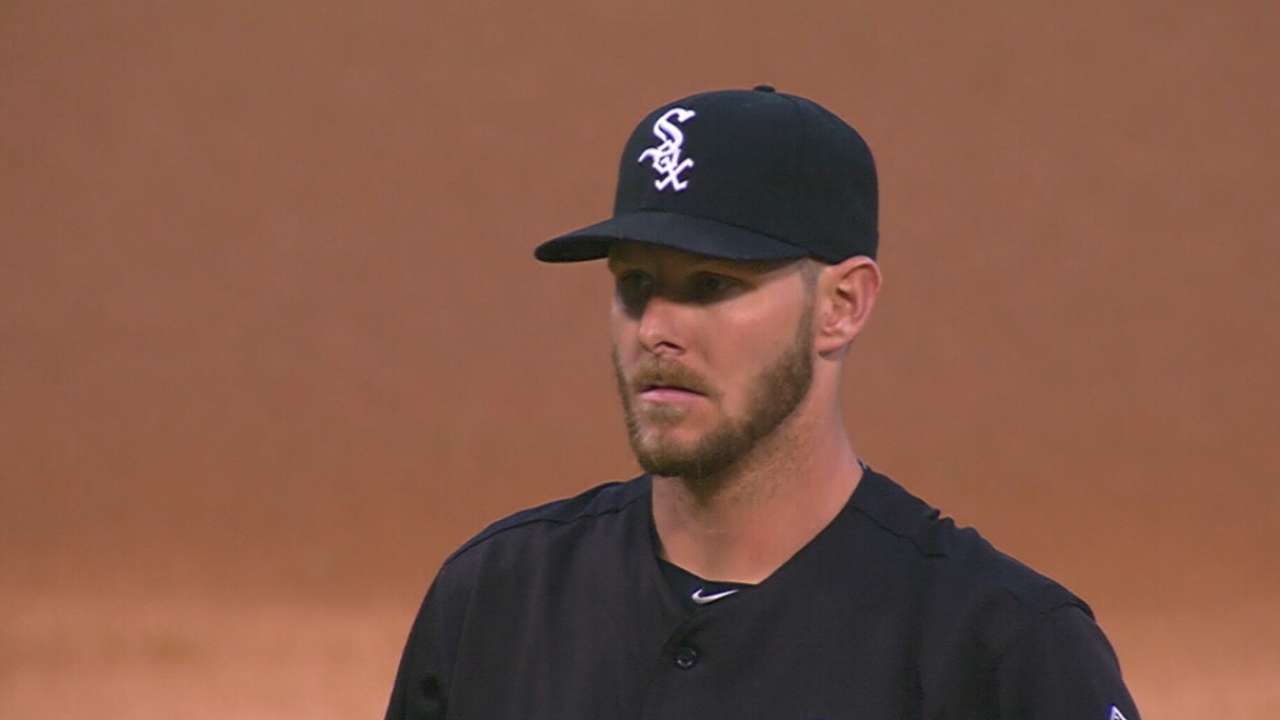 NATIONAL HARBOR, Md. -- A day after securing the stud pitcher on the trade market in Chris Sale, Red Sox president of baseball operations Dave Dombrowski found a common theme in the phone calls he was receiving from other teams.
"We have had a lot of phone calls on our pitchers today, and different ones," said Dombrowski. "But we're just kind of sitting back at this point and kind of collecting thought processes. But I can't say we're aggressively looking to do something. We're really more digesting what's taking place. I think if we wanted to aggressively make a deal, we could definitely do that."
The Red Sox have seven starting pitchers for five rotation spots. Steven Wright, Drew Pomeranz and Clay Buchholz are pitchers who could be moved if the right offer came along. It's doubtful Boston would part with Eduardo Rodriguez, given his upside, remaining Minor League option and the fact that he isn't arbitration-eligible until 2019.
More likely, the Red Sox will let the rest of the market play out, and offer up one of their pitchers later in the winter when their value is higher.
"I don't really have a big hole on our Major League club to address at this time, in our opinion," Dombrowski said. "So I think it's really important to gather all the information. Some teams have guys available. There are some free agents out there. So I think some of that stuff, as it clears, we may find that even more clubs are aggressive. I think our philosophy is, let's just kind of see what happens. We're not going to rush out and do anything."
After dealing a collection of well-regarded prospects over the last year, Dombrowski's play would likely be to seek Minor Leaguers in return if he trades a starter.
"I can't really answer that question at this point. We have traded a lot and wouldn't mind replenishing some that we've traded," Dombrowski said.
Pomeranz and Buchholz both have bullpen experience and could wind up there again. But that would create a log-jam of relievers. Boston has Craig Kimbrel, Tyler Thornburg, Matt Barnes, Joe Kelly, Robbie Ross Jr., Heath Hembree and Fernando Abad in line for bullpen roles.
Could Dombrowski bring all those pitchers to camp and try to make a trade during Spring Training?
"Could we? Maybe," Dombrowski said. "But you also start counting, and there's not enough spots for everybody on the team. It sounds -- when you start looking at seven starters and the guys we have in the bullpen, options available, all of those things, it adds up to more than 12.
"But a lot of times, I've been in Spring Training when you're saying, 'OK, I'm going to wait until then to make a move,' and it seems like there's not many big moves that are made during Spring Training nowadays. I'm not saying it won't happen. I'm not saying we couldn't figure it out. You could end up optioning somebody or trading somebody that you didn't want to do that to at the particular time. But my instincts tell me there's a chance it could happen before that. It may not."
Ian Browne has covered the Red Sox for MLB.com since 2002. Follow him on Twitter @IanMBrowne and Facebook. This story was not subject to the approval of Major League Baseball or its clubs.