Twins gauging interest on more than Dozier
Club fielding offers, comfortable holding on to star 2B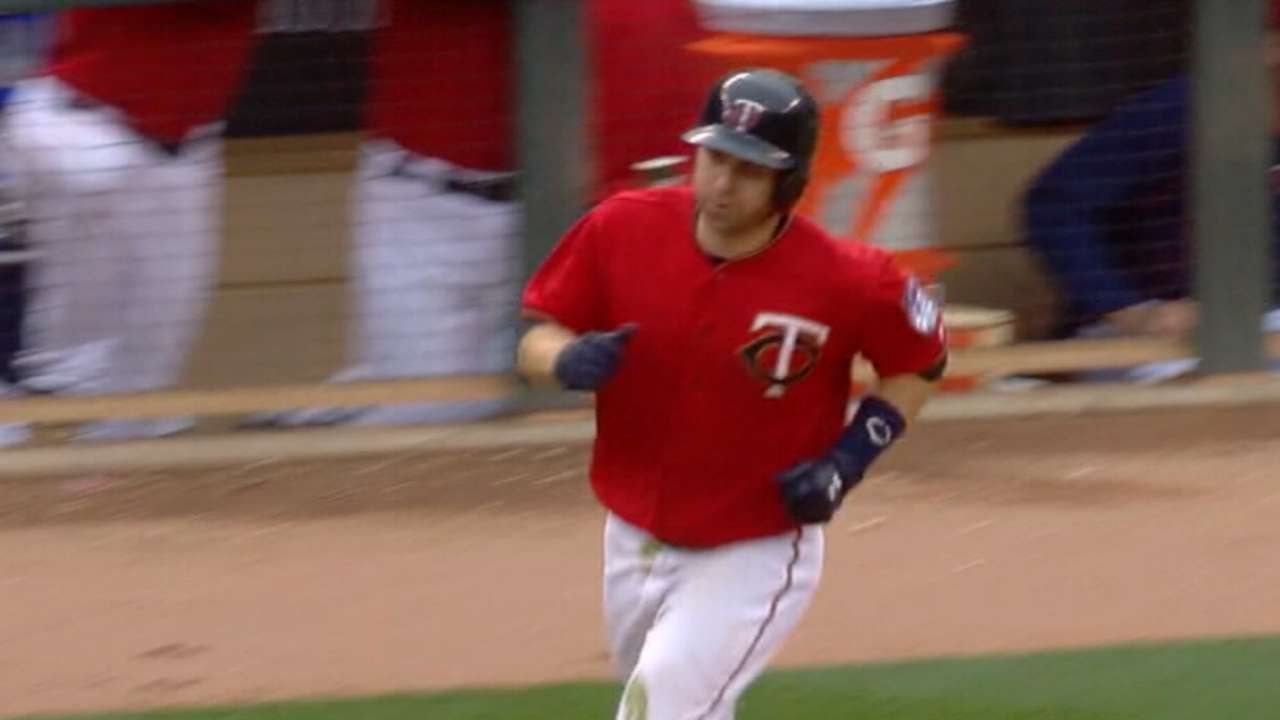 NATIONAL HARBOR, Md. -- While the division-rival White Sox initiated their rebuild with two major trades at the Winter Meetings, the Twins continue to listen on their veterans such as second baseman Brian Dozier.
A day after trading Chris Sale to the Red Sox for a haul that included MLBPipeline.com's No. 1 overall prospect Yoan Moncada, the White Sox sent Adam Eaton to the Nationals in a deal headlined by No. 3 overall prospect Lucas Giolito on Wednesday.
The three-player return for Eaton surprised many in the industry, but the outfielder is one of the game's more underrated players because of his elite defense, and he remains under team control through 2021 for $38.4 million. Dozier, who posted a similar WAR to Eaton last season despite hitting 28 more homers than Eaton, is only under control for the next two seasons at $15 million, which means the Twins aren't expected to receive a package comparable to the one Chicago received for Eaton.
The Dodgers remain the most obvious trade partner, given their need for a second baseman and their strong farm system, led by right-hander Jose De Leon and first baseman Cody Bellinger. The Twins, though, continue to talk to other clubs, and if they can't find the right deal, they appear comfortable keeping Dozier, which would please manager Paul Molitor.
• Molitor on relationship with new execs, desire to keep Dozier
Things can happen quickly, however, and general manager Thad Levine said Dozier isn't the only Twins player teams are asking about.
"We've had a lot of interest in players outside of Brian," Levine said. "I think he's drawing the most national interest so far."
Levine added that clubs are interested in both their young talent and their established veterans, and that they'll listen to all offers. He said the heavy interest in players outside of Dozier has also shown that the organization has better players than its record showed last year.
"I think when we look at this team, the talent didn't indicate it was a team that won 59 games," Levine said. "With these Meetings, it further substantiates our feeling that the industry doesn't look at us as a 59-win team."
The Twins are also fielding trade offers for the No. 1 pick in Thursday's Rule 5 Draft. Levine said they plan to keep the pick but will continue to evaluate trade offers up until the Draft, which is scheduled for 8 a.m. CT on Thursday, with MLB.com providing live streaming coverage from the Gaylord National Resort & Convention Center.
It's not considered a particularly strong Rule 5 crop, as hard-throwing Padres relief prospect Yimmi Brasoban has been generating buzz as the top player available but has been dealing with an elbow injury that could require Tommy John surgery.
"We spent more time today talking about [the Rule 5 Draft], and we have a better idea of the potential players in the mix," Twins chief baseball officer Derek Falvey said. "Given our selection number, it's led to interest from other teams and I'm sure that'll continue tonight until tomorrow morning."
Worth noting
• Right-hander Ervin Santana has reconsidered his stance and isn't expected to pitch for the Dominican Republic in the World Baseball Classic. Dozier has indicated his interest to Team USA but hasn't been officially added to the roster.
• The Twins re-signed right-hander Yorman Landa to a Minor League deal after removing him from their roster on Friday. The hard-thrower will receive an invite to Spring Training.
• Minnesota officially announced the signing of shortstop Eduardo Escobar to a one-year deal worth $2.6 million to avoid arbitration. They agreed to the deal on Friday when it was originally reported.
• The Twins aren't expected to announce the hiring of their final coach this week, Falvey said. It could come as early as next week, though. It's expected to be a coach familiar with analytics.
Rhett Bollinger has covered the Twins for MLB.com since 2011. Read his blog, Bollinger Beat, follow him on Twitter @RhettBollinger and listen to his podcast. This story was not subject to the approval of Major League Baseball or its clubs.