Hurdle hopes Bucs don't part with Cutch
With a diminished market, former NL MVP could stay put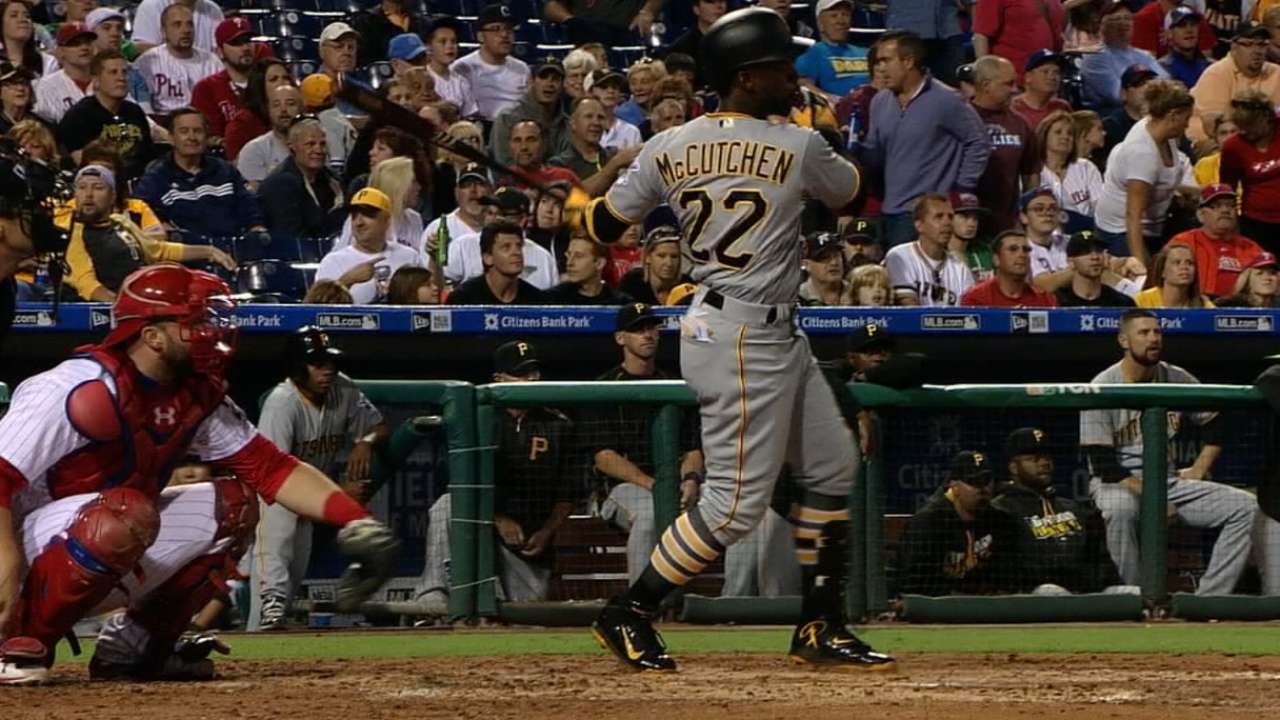 NATIONAL HARBOR, Md. -- The list of potential suitors for Andrew McCutchen has shortened this week, and the Pirates may leave the Winter Meetings with their franchise player in tow.
First came the Giants, who reportedly checked in on McCutchen but appear to be committed their internal options in left field. Then came the Rangers, who agreed to a deal with free-agent center fielder Carlos Gomez. The most intriguing landing spot fell off the board Wednesday, when the Nationals filled their outfield vacancy in a prospect-laden trade for Adam Eaton.
Who's left? The Dodgers have expressed interest and could use a right-handed hitter, but they're already loaded with outfielders and may have higher priorities. So, what about the Pirates?
Pittsburgh has maintained that McCutchen doesn't have to be moved. Despite reports that McCutchen was being shopped, manager Clint Hurdle said Wednesday at the Winter Meetings that the Pirates have not been the "aggressors" in any trade talks involving the five-time All-Star and former National League MVP.
"People are contacting [general manager Neal Huntington] and talking to Neal about what would it take to secure the privilege of having Andrew on their team," Hurdle said. "I don't have one expectation. Crazy things happen in the winter, and I know we're a really good team when Andrew plays for us and has played for us. He's been a big part of everything we've done.
"I love the guy, and I know at the end of the day, he's going to be a real good ballplayer next year -- and I hope it will be with us."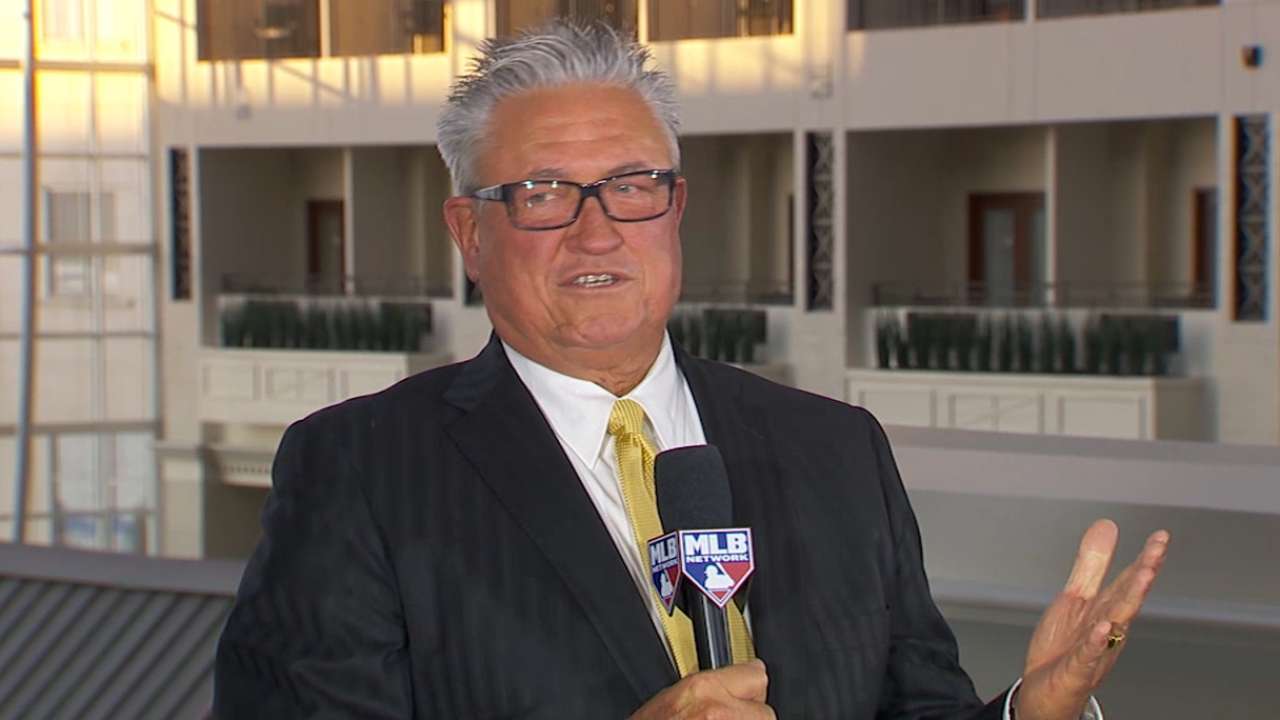 The Pirates still could trade McCutchen if they're blown away by an offer. They are said to be aiming high, asking for a young starting pitcher and a top prospect in return.
Huntington admitted he may have contributed to the national conversation about McCutchen -- that a trade is a matter of when, not if -- by openly discussing the Pirates' need to consider trading players near the end of their contracts, like McCutchen.
But it has always been a matter of if, not when, at least until McCutchen's contract expires. Hurdle said McCutchen was "in a good place" emotionally when they spoke recently, potentially easing concerns about any awkwardness that might ensue if he remains in Pittsburgh.
"I know how we value him, and we believe he's a great player. He's been an amazing player and amazing person with us," Huntington said. "For however long he's a Pirate, we're going to appreciate that -- if it's for two more years, for longer than that or shorter than that.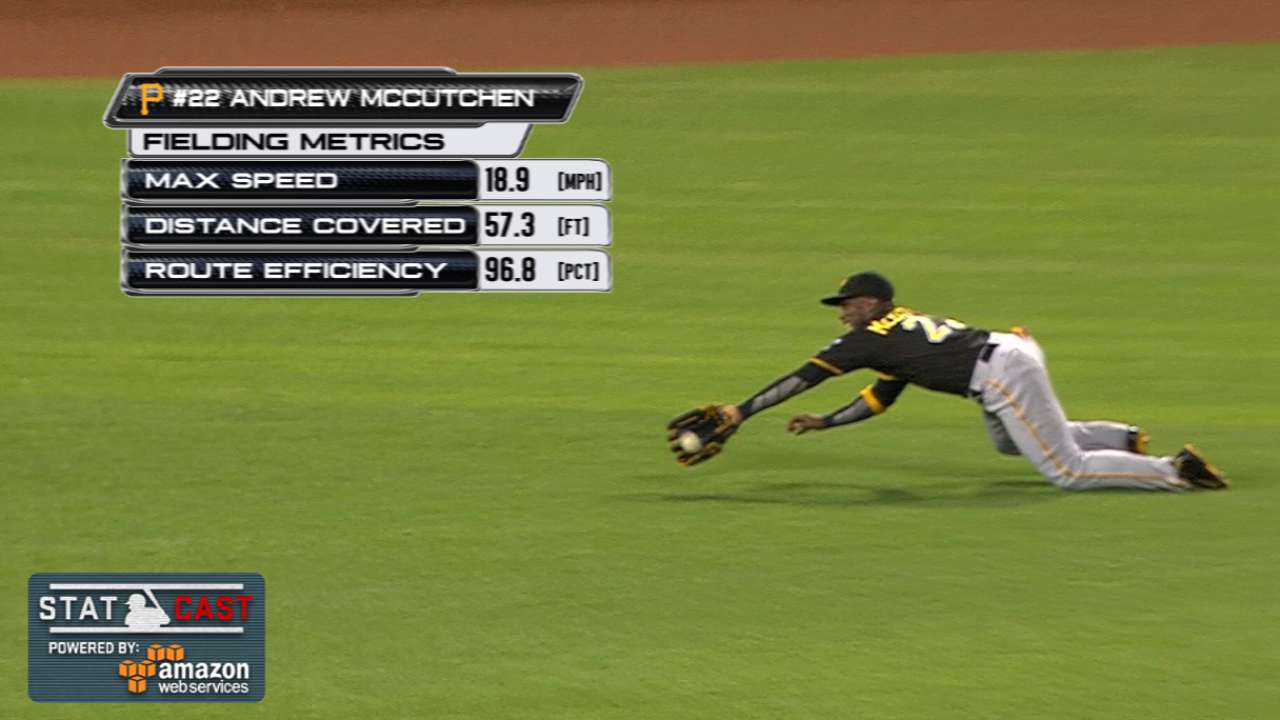 "He's been a special player for this organization. He's a special man. It sounds like a lot of people are writing him off, but we're still pretty excited to have him in a Pirate uniform."
Even if McCutchen isn't traded, he still might move -- to an outfield corner. Hurdle confirmed he discussed the idea with McCutchen before the end of the season, and McCutchen seemed receptive to it. The Pirates haven't made a final decision on the matter yet, however.
"We've had that conversation, and we want him to think about it. We're going to think about it," Hurdle said. "We said we would reconnect over the winter and collect our thoughts and come up with a plan of attack."
Adam Berry has covered the Pirates for MLB.com since 2015. Follow him on Twitter and Facebook, read his blog and listen to his podcast. This story was not subject to the approval of Major League Baseball or its clubs.