Rays prepare for 'suspenseful' Rule 5 Draft
Club is considering making a pick, but could also lose players to other teams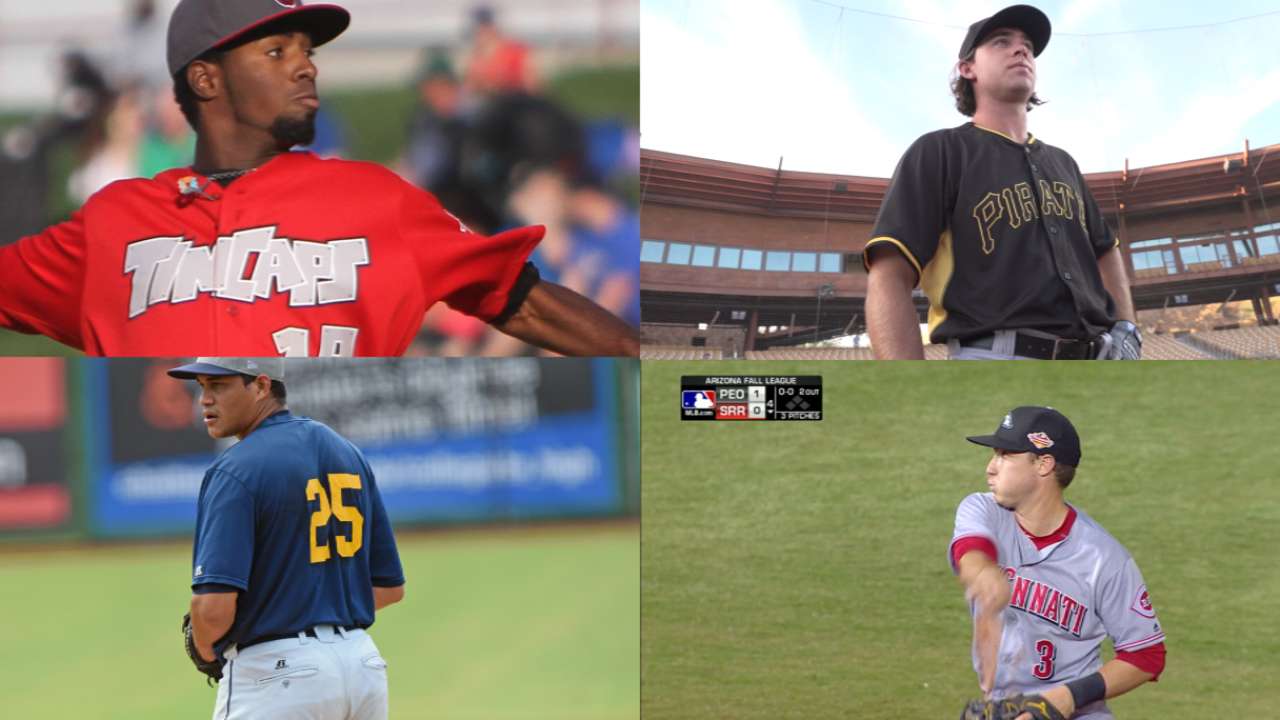 NATIONAL HARBOR, Md. -- Major League Baseball's Rule 5 Draft takes place Thursday at 9 a.m. ET, and the Rays have prepared accordingly.
The Rays' 40-man roster currently has 39 players on it, which means they can select any unprotected player on another club. They will have the fourth selection of the Draft.
• Clubs dig for diamonds: Rule 5 Draft preview
MLB.com and MLB Network will have coverage of the Draft, which is the final event at the 2016 Winter Meetings from the Gaylord National Resort & Convention Center outside Washington, D.C.
Erik Neander, Rays senior vice president, baseball operations/general manager, was asked if he had a feel for what the team might do with the fourth pick.
"We do," Neander said. "It's something we're going through and we'll likely spend more time on it this evening to determine if there's someone there we want to take. Nothing's been decided yet. It's something we are spending some time on."
The Rays added eight players to fill their 40-man roster when rosters were set, then lowered that number to 39 on Friday when infielder Ryan Brett was not tendered a contract. Still, given the talent level in the organization, there's a good chance the Rays could lose a player. Last year the Orioles plucked outfielder Joey Rickard from the Rays in the Rule 5 Draft.
Neander managed a smile when asked if the Rays would be surprised if they lost a player.
"If history's any guide, I probably shouldn't be," Neander said. "You never know. We feel as an organization now that we've developed a lot of depth that's coming through our system right now. We're excited by that, but in doing so, you have to make some tough decisions.
"We added as many guys to the roster as anyone. So there are a lot of guys we felt like deserved to be on the roster, and there were a few tough decisions even on top of that group."
Added Chaim Bloom, senior vice president, baseball operations: "We thought this year we just had a large crop of players that merited being on the 40-man. And that doesn't mean that there aren't still players in the system that might be attractive to other clubs. So I would say we feel good about the decisions that we made. But still, you don't know how the Draft is going to fall."
One player the Rays might lose is right-hander Yonny Chirinos, 22, who went 12-4 with a 3.36 ERA in 29 games (17 starts) for Class A Bowling Green, Class A Advanced Charlotte and Double-A Montgomery.
One player the Rays might select is shortstop Zach Vincej, 25, who hit .281 with three home runs and 47 RBIs while playing mostly shortstop for Double-A Pensacola (Reds). Said one insider: "He catches everything. Has sure hands."
Under the new Collective Bargaining Agreement, Major League Rule 5 picks will cost the selecting team $100,000, which is double the $50,000 that had previously been the amount. Minor League Rule 5 picks will cost the selecting team $24,000, which is also double the previous amount.
Players picked during the Major League phase must spend the season on the selecting team's 25-man Major League roster or be offered back to their former team for $50,000.
"You know, we're proud of the depth we've been able to accumulate," Neander said. "With that, tomorrow will be a suspenseful day."
Rumor mill
• Chris Archer rumors were less prominent on Wednesday, though the general sentiment is that the price for the right-hander has gone up in the wake of the haul the White Sox received from the Red Sox for Chris Sale on Tuesday.
• Erasmo Ramirez is said to be drawing some interest. The reliever is arbitration-eligible after posting a 3.77 ERA in 64 games. Particularly attractive is Ramirez's 52.5 percent ground-ball rate.
• According to a tweet from MLB.com's Jon Morosi, the Nationals have been in contact with the Rays about a possible trade for closer Alex Colome.
#Rays, #Nationals have discussed closer Alex Colome in trade talks, sources say. @MLB @MLBNetwork

- Jon Morosi (@jonmorosi) December 7, 2016
Bill Chastain has covered the Rays for MLB.com since 2005. This story was not subject to the approval of Major League Baseball or its clubs.