Showalter addresses rumors tied to Orioles
Manager not ruling out Trumbo, Alvarez and Wieters re-signing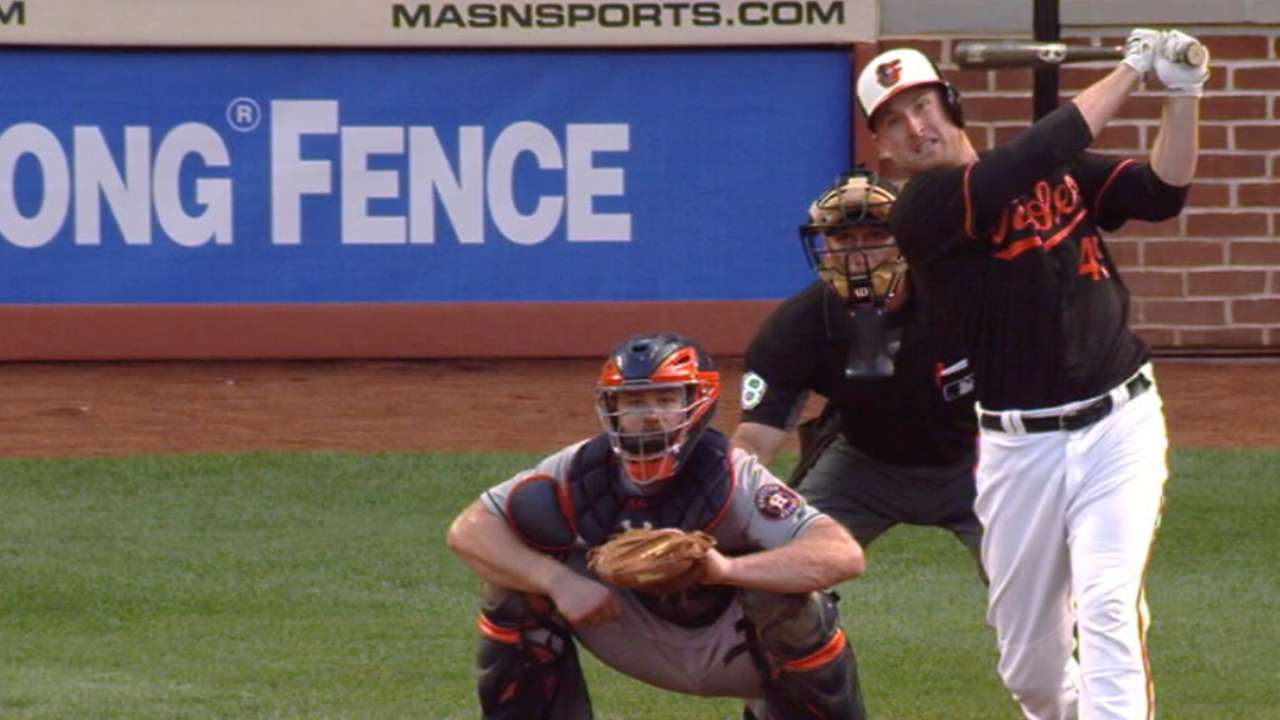 NATIONAL HARBOR, Md. -- Orioles manager Buck Showalter provided updates on rumors during Wednesday's managerial session at the Winter Meetings as a quiet Baltimore club continues to sift through the catching and outfield markets.
Chris Carter? Seth Smith? Showalter said he hadn't heard those names discussed while he's been present this week.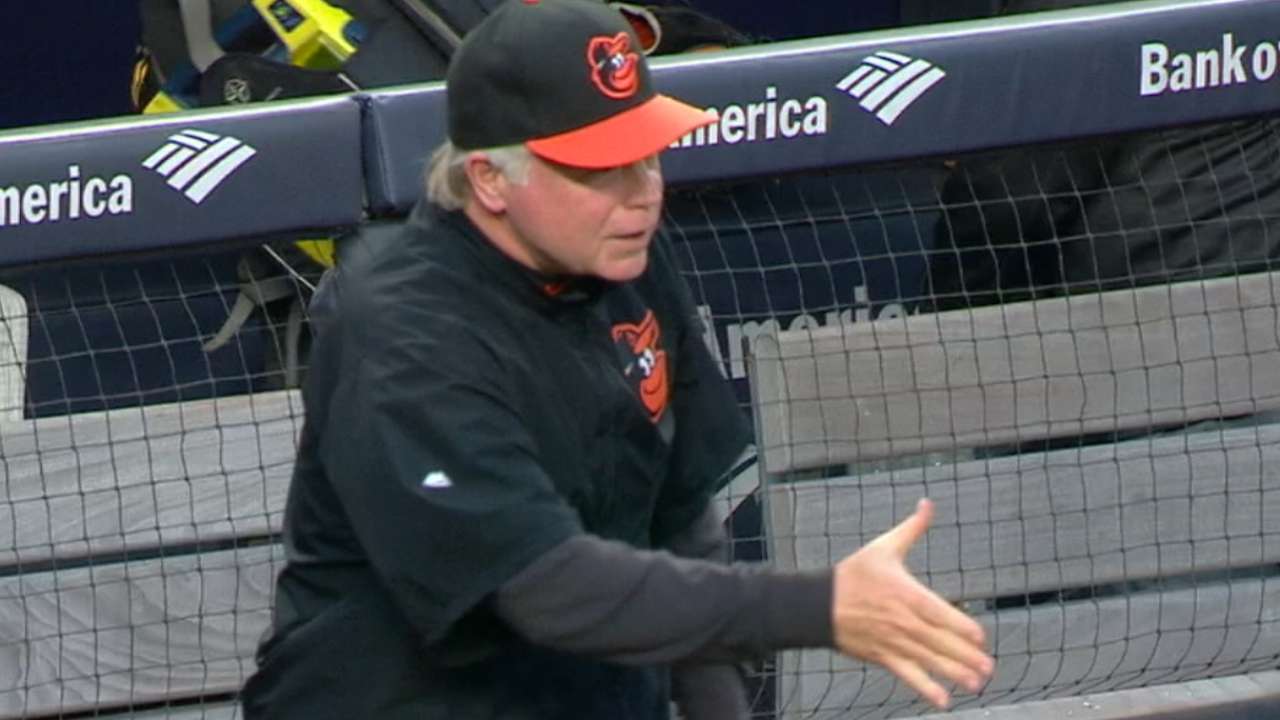 "That's a name," Showalter said. "Definitely from a notable standpoint, he should be fine. Someone will end up with a good player there."
Catchers Nick Hundley and Welington Castillo and outfielder Michael Bourn? Also on the O's radar.
And what of the rumblings regarding a potential Yankees-Orioles swap, with New York garnering interest in left-handed-hitting outfielder Brett Gardner?
"I haven't heard that one at all. They wouldn't trade with us," Showalter said of the Yankees. "Unless it was somebody they wanted to pass off on us. Tried that before."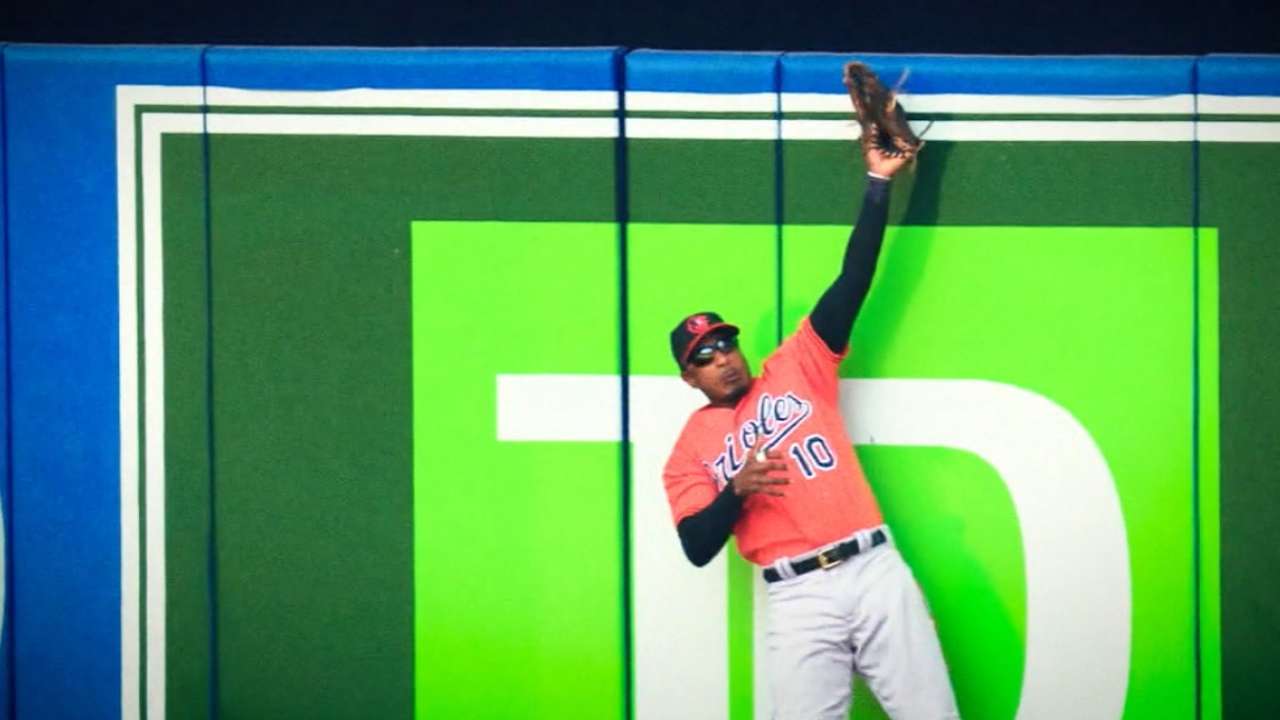 Yankees general manager Brian Cashman, however, appeared to leave the door open later Wednesday night.
"If I can trade with the Red Sox and the Mets, I can trade with the Orioles. I can trade with anybody," Cashman said. "If it's in our best interest, whether it's short- or long-term, it doesn't matter what the other teams get. Does it make sense for us? If it happens to be them, I don't really care."
Os preparing to be active in Rule 5 Draft
Executive vice president of baseball operations Dan Duquette had mentioned that the club will be active in Thursday's Rule 5 Draft, and Showalter noted there's been a lot of preparation for that this week.
"I'll take the best one that impacts us," he said, when asked if he'd prefer a pitcher or position player. "I know that's cliche. But the offensive player has got to be able to defend and/or run. He's got to bring something. Probably the defensive part of it is going to be big.
"Pitcher, you look at a bunch of them, they all have different risks and rewards. Some have performed at higher levels, some of them you roll the dice. For sure, we'll take somebody."
Trumbo, Wieters and Alvarez could all return
Showalter said he's not ruling out the return of any of the Orioles' free agents quite yet. While the club's interest in Mark Trumbo is well known, it's the first real mention of Pedro Alvarez. Matt Wieters' agent, Scott Boras, spoke at length Wednesday to the media and said that a Wieters reunion with the O's remains "a possibility."
Worth noting

• All-Star closer Zach Britton declined an invitation to pitch in the World Baseball Classic for Team USA.
• Duquette noted on Wednesday that the Orioles were engaged in several trade talks, but didn't like the high price of prospects involved in the discussions.
Brittany Ghiroli has covered the Orioles for MLB.com since 2010. Read her blog, Britt's Bird Watch, follow her on Facebook and Twitter @britt_ghiroli, and listen to her podcast. This story was not subject to the approval of Major League Baseball or its clubs.