MLB, Under Armour ring opening bell at NYSE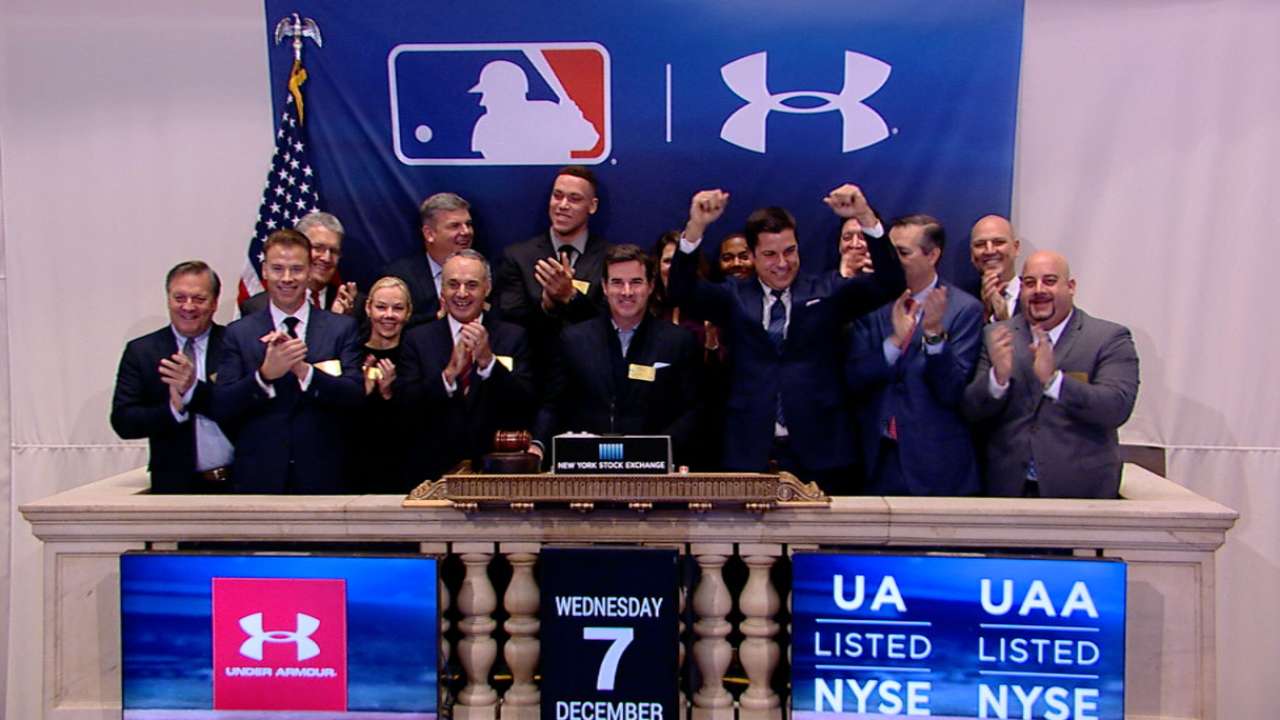 NEW YORK -- Kevin Plank has a sign on a whiteboard back at his Under Armour headquarters in Baltimore that reads: "Makes big bets with big partners." On Wednesday morning at the New York Stock Exchange, it was as big as the big leagues.
The Under Armour founder and CEO rang the opening bell there along with Commissioner Rob Manfred, Yankees rookie outfielder and UA athlete Aaron Judge, Cubs chairman Tom Ricketts and others involved with the just-announced 10-year deal that will make that global performance brand the official uniform provider for Major League Baseball starting in 2020.
• Under Armour, Fanatics, MLB strike uniform deal
"The word that comes to my mind is energy," Manfred said of the NYSE bell-ringing event. "It's one of the reasons we got into the partnership with Under Armour. We think it's a young brand, an energetic brand, and we think it's going to be great for the game."
As for the response so far within the industry, Manfred said, "Unbelievably positive. Players in particular. Under Armour has relationships with 400 players, and obviously those players are all-in on this deal."
Under Armour is a well-established partner of MLB, dating back to 2000 as an official base-layer supplier. The brand took the field with its first baseball cleat collection in 2006 and became the official performance footwear partner of MLB in 2011.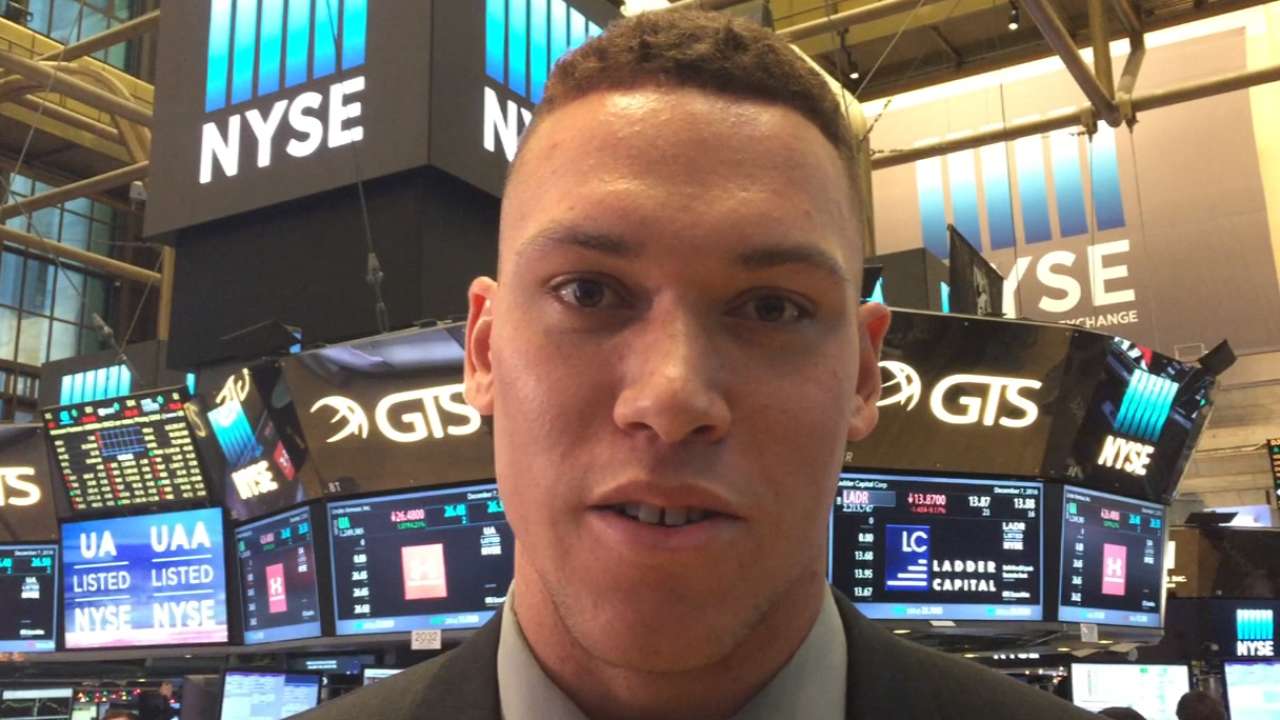 "We are taking a massive swing -- forgive the pun -- with this one," Plank said of Under Armour's first such deal with a major North American pro sports league. "And it really, really is defining not only of the first 20 years of history that we've had, our first 11 as a public company, but really the company that we're going to be.
"Our job, part of the ambition we have for this deal -- and part of what you've seen in Commissioner Manfred driving and getting this to happen -- is taking this game global and what that means. The best way for us to take this game global is truly finding a way for us to bring it back home, and making America love this sport every day of the week, and really allowing baseball to continue to shine in that way."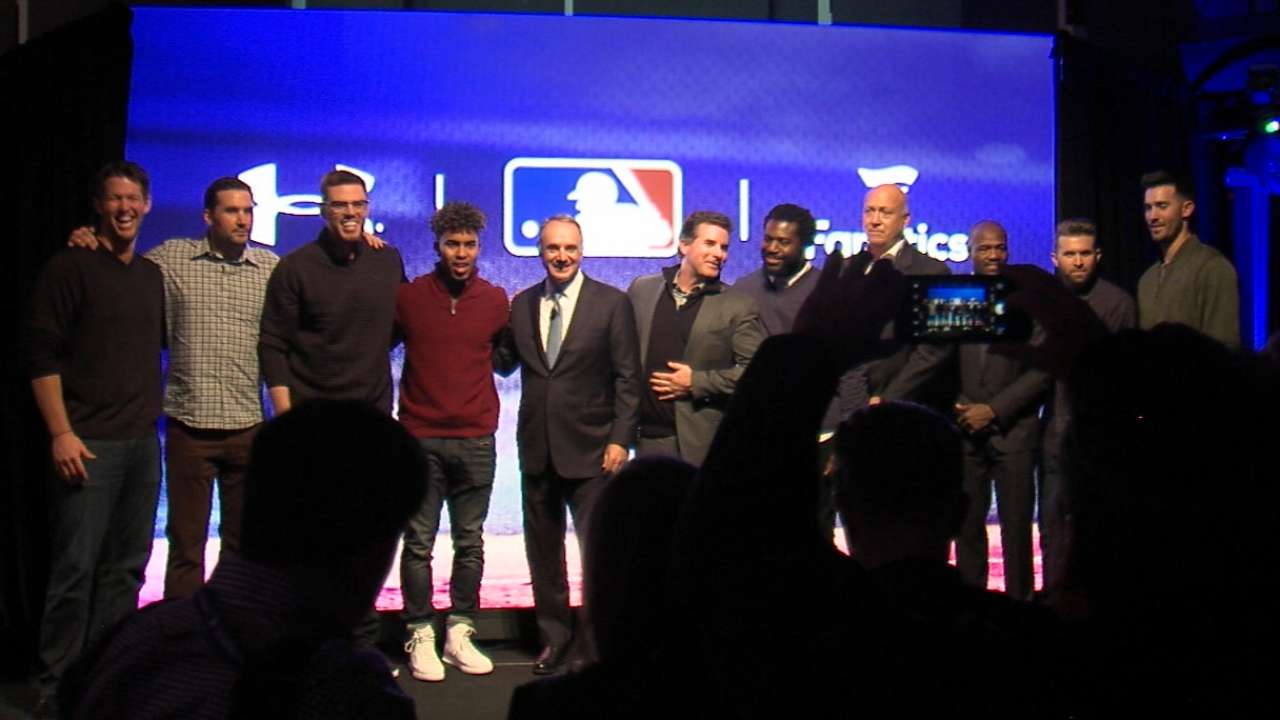 In 1995, Plank was the special teams captain on the football team for the University of Maryland when he noticed that the cotton T-shirts players wore underneath their pads were always soaked and heavy with sweat. Out of that recognition, he created the beginning of the performance apparel industry. A quarter century after that first realization, Under Armour will be the exclusive MLB provider of all on-field uniform components, including jerseys featuring prominent Under Armour branding, base layers, game-day outerwear and year-round training apparel for all 30 clubs.
During the floor visit on Wednesday, a CNBC anchor asked Plank what his favorite sport is.
"Baseball," Plank said without hesitation. "It didn't used to be."
• Stars come out to celebrate Under Armour deal
Commissioner Manfred thanked him for the response, two days after their big announcement at the Winter Meetings.
Judge walked through the NYSE for the first time, standing 6-foot-7 and wearing size 17 street shoes. One Under Armour executive said he will wear one of the biggest pairs of Under Armours in MLB, if not the biggest among all of its professional athletes. Steph Curry is the most acclaimed UA athlete in the NBA, and at 6-foot-3, he is more average among pro athletes in size. Other UA athletes in MLB include Clayton Kershaw, Bryce Harper, Buster Posey, Dee Gordon, Brandon Phillips and Wil Myers. Michael Phelps is a size 14.
"It's just a historic day," Judge said, surrounded by Yankees fans seeking his autograph. "What an opportunity. I've been with Under Armour for three years. They're such a class organization -- on and off the field. Whenever I've asked for anything, they've always come through. They treat their players with respect and dignity, so I love it. It's such a great brand to be a part of.
"The players are excited. Getting a little change in baseball. Everyone's looking forward to it."
The honor of ringing the opening bell also coincides with Under Armour announcing a change in ticker symbols on the NYSE. Effective at the start of trading, the ticker symbol for Under Armour's Class C Common Stock changed to "UA." The ticker symbol for Under Armour's Class A Common Stock will change to "UAA." Why would that matter to baseball fans?
"When we came out and went public in November 2005, we actually went public on a different exchange," Plank said. "We couldn't get the ticker symbol UA. It wasn't available to us. So we went to a different exchange, and what happened, they came back, then one day we got a call from [former NYSE CEO] Duncan Niederauer, and Duncan said the symbol was available. We could give you this great big financial model that was run about our specialists and everything else, when you think about the heart and soul of what makes this great economy run, but we were here essentially because the ticker symbol matched our brand, and we thought it was something that would matter.
"I say that in a way that speaks to what's so powerful about our company, our business, our brand -- that leads to watershed moments like we were able to have just two nights ago down in Washington, D.C. You think about that road ... how markets move, and understanding the very small role we play in that, which hopefully continues to become a bigger and bigger one."
Mark Newman is enterprise editor of MLB.com and a baseball writer since 1990. Read and join other baseball fans on his MLB.com community blog. This story was not subject to the approval of Major League Baseball or its clubs.