MLB.com Columnist
Mike Petriello
Finding 9 possible new homes for Bautista
Slugger's 249 homers since 2010 are most in baseball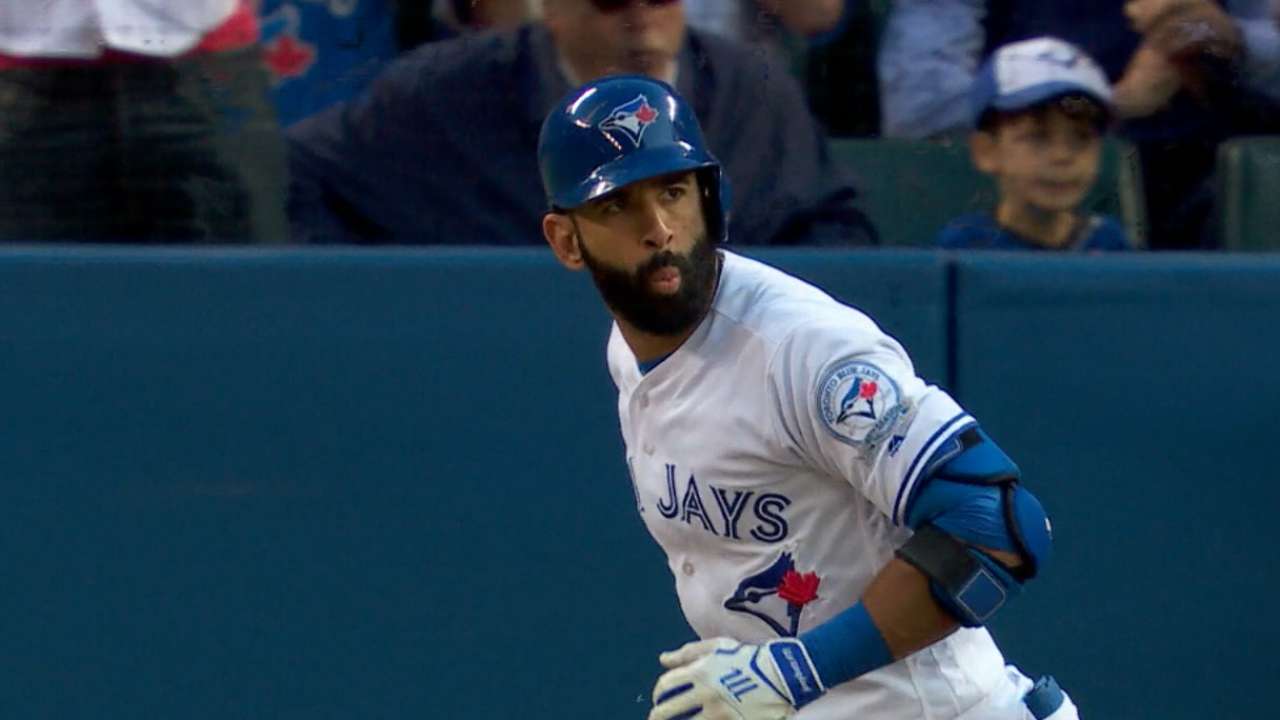 Ten months ago, Jose Bautista reportedly asked the Blue Jays for a contract extension well in excess of $100 million. It didn't happen, and after an injury-plagued year and with a qualifying offer pick hanging over his head, he's likely to end up signing a deal for half of that or less. That might not be great news for Bautista, but it's fantastic news for a variety of teams who now find themselves in a situation where they might actually be able to get one of baseball's biggest sluggers. Where could he end up?
Briefly, on what Bautista is and will be headed into his age-36 season: No hitter in the Majors has more homers since 2010 than his 249. Though 2016 was Bautista's least productive season since becoming a regular in 2009, his .234/.366/.452 (122 wRC+) line was still above average and about as valuable on an offensive basis as seasons from Carlos Correa and Mark Trumbo. That said, his once-strong throwing arm has become a weakness (average of 84.4 mph per Statcast™, among the lowest in baseball) and his defensive value is no longer positive (-8 DRS in 2016).
So what you have is an older player, best suited to at least part-time DH duty, who will cost a Draft pick, yet with a 2017 Steamer projection of .250/.371/.475 (128 wRC+) that's still likely to make him an above-average regular. Let's find 9 places that might make for a happy new home.
Countdown time!
Good baseball fits, poor clubhouse fits
9. ORIOLES
On paper, Baltimore is a pretty good landing spot. Like Nelson Cruz and Trumbo before him, Camden Yards has been a fantastic place for righty power hitters to go in order to try and rebuild their value. With free agents Trumbo and Pedro Alvarez unsigned, there's natural openings in right field and designated hitter, and surely the O's wouldn't mind taking away a bat from a division competitor. It'd be a fantastic fit, except...
Duquette: "We told (Bautista's) agent that we are not interested because our fans don't like him." #Bluejays #Jays #Orioles

— Mike Wilner (@Wilnerness590) December 7, 2016
...OK. Moving on.
8. RANGERS
Speaking of rosters that could use a hitter like Bautista, the Rangers have lost Carlos Beltran, Prince Fielder, Mitch Moreland and Ian Desmond. Shin-Soo Choo is in the midst of a long-term deal, yet he's been seriously injury-prone, so there's playing time to be had for a righty power bat who can play first, right, and DH. With the No. 29 overall pick in the Draft, the qualifying offer wouldn't even hurt that much. It feels like there's a reason this might not work, though. We just can't place a finger on it.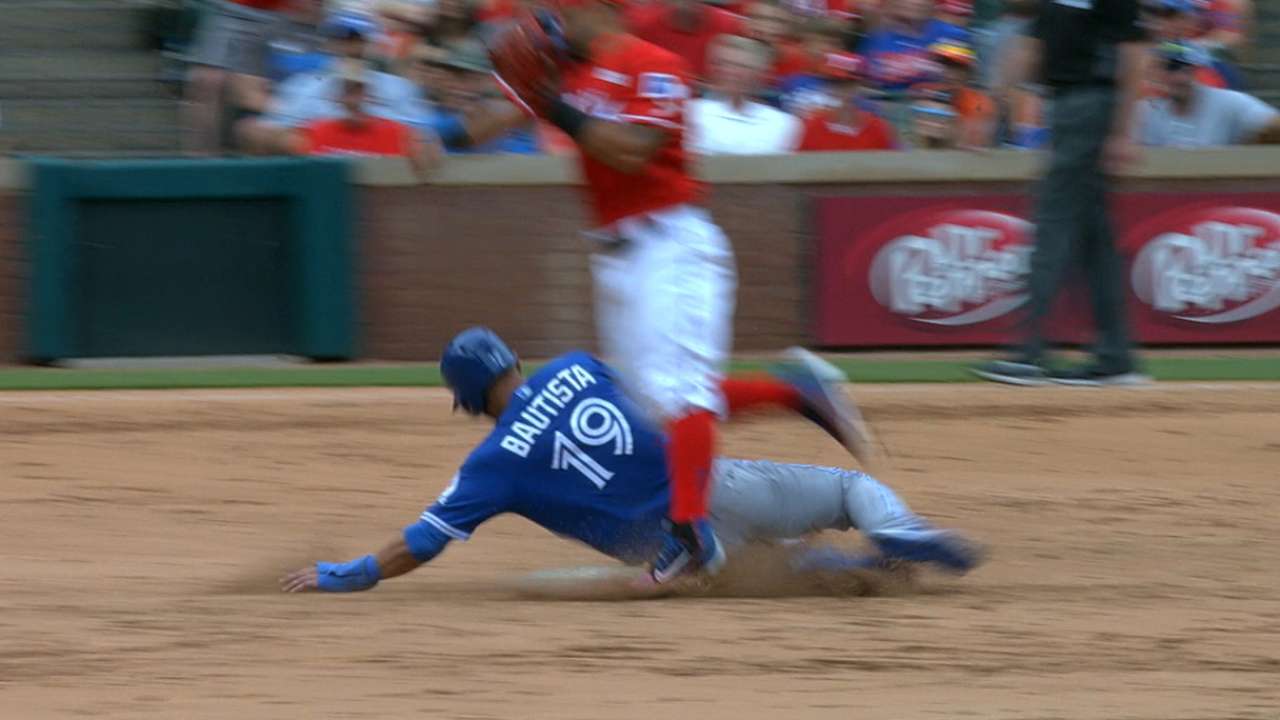 Right. Next!
National League teams that could carve out roles
7. GIANTS
Even with Mark Melancon in town, the Giants have a serious outfield hole next to Denard Span and Hunter Pence, and they'll need to fill it if they plan to make some noise. Now, it's true that Bautista's defense isn't a fantastic fit for San Francisco, but then realize that they've been widely reported to be in on J.D. Martinez -- another righty slugger with incredibly questionable fielding. Bautista would require money and a Draft pick, while Martinez would command a high cost in prospects from Detroit. It's a decent fit, but not a perfect one. Let's move on.
6. DODGERS
Toronto media has reported that the Dodgers have reached out to Bautista's agents, so we'll acknowledge the interest and include them here, despite an uncertain fit. The Dodgers have also been in on Pittsburgh outfielder Andrew McCutchen and Ryan Braun, so their desire for a righty power-hitting outfielder seems clear, but they'd have to make some moves first. Joc Pederson is the center fielder, but beyond that there's a glut of righties (Yasiel Puig and Trayce Thompson) and lefties (Andrew Toles and Andre Ethier).
5. METS
The Mets have had the same need for years, and it never seems to get filled. They're heavily left-handed at first base (Lucas Duda) and in the outfield (Jay Bruce, Curtis Granderson and Michael Conforto), and yet they've never really been able to find the right-handed platoon partner that would fit so perfectly. This is how you end up with Eric Campbell pinch-hitting in big spots in the Wild Card game. It's possible that Yoenis Cespedes tapped out the budget, but then realize that they'll likely save some cash in a Granderson or Bruce trade and that the offense scored the fifth-fewest runs in baseball. If Bautista -- who was acquired and then dealt by the Mets over the course of a few hours before the 2004 Trade Deadline -- can be had on a short-term deal, it's a fit.
Teams that don't have to care about the Draft pick
4. ANGELS
With the No. 10 overall pick in the 2017 Draft, the Angels don't have to worry about losing their top pick, and therefore shouldn't shy away from qualifying offer players like other teams do. Now, it's true that with Albert Pujols at DH and Kole Calhoun there may not be an obvious fit. However, it's easy to see either one sliding to left -- no, Cameron Maybin is not a roadblock -- and Pujols is coming off another foot surgery. If the Angels want to build around Mike Trout, it's time to start doing so. Besides, they can always flip Bautista at the Trade Deadline for young talent. There's lots of ways to improve.
3. RAYS
Tampa Bay may not be looking to spend in this range, but again, the point is that Bautista's market has fallen to the point that additional teams could be in the mix. The Rays have the fourth overall pick, so they wouldn't lose that, and as they've yet to make any move involving Chris Archer, Evan Longoria, or anyone else, while signing Wilson Ramos, they still seem like they want to win this year. With a ton of moving parts on the roster, Bautista could share RF/DH time with Corey Dickerson and Steven Souza Jr. -- and, like the Angels, could be trade bait later.
The actual best fits
2. BLUE JAYS
Despite signing Steve Pearce and Kendrys Morales, the Blue Jays have reportedly still been in contact with Bautista's agent, so the door remains open. Though the fit is now a little odd, it's still easy enough to make it work; the Jays don't really have any starting outfielders around Kevin Pillar, and Morales may end up playing more first base than we're accustomed to. (Yes, Justin Smoak is around as well, yet he should not be an impediment to improvement.) Toronto would have to forgo the compensation pick it would receive, but it would get an above-average hitter the club knows well.
1. INDIANS
We know Cleveland needs to replace Mike Napoli, that they can't rely on Michael Brantley's health, and that Lonnie Chisenhall is a decent option in right field but not a stellar one. We know they've expressed interest in Edwin Encarnacion, and they have the No. 27 Draft pick, so they'd be on the very low end of the loss. Plus, we know that the White Sox are blowing it up and the Royals seem to be right behind them, and with the Twins rebuilding and the Tigers trying to cut salary, Cleveland's in a great position in the AL Central. Now's the time to go for it. This is a particularly interesting way to do so.
Mike Petriello is an analyst for MLB.com and the host of the Statcast podcast. He has previously written for ESPN Insider and FanGraphs. This story was not subject to the approval of Major League Baseball or its clubs.