White Sox, Sale bid 'bittersweet' goodbye
GM, ace reflect on left-hander's legacy, 7 memorable seasons in Chicago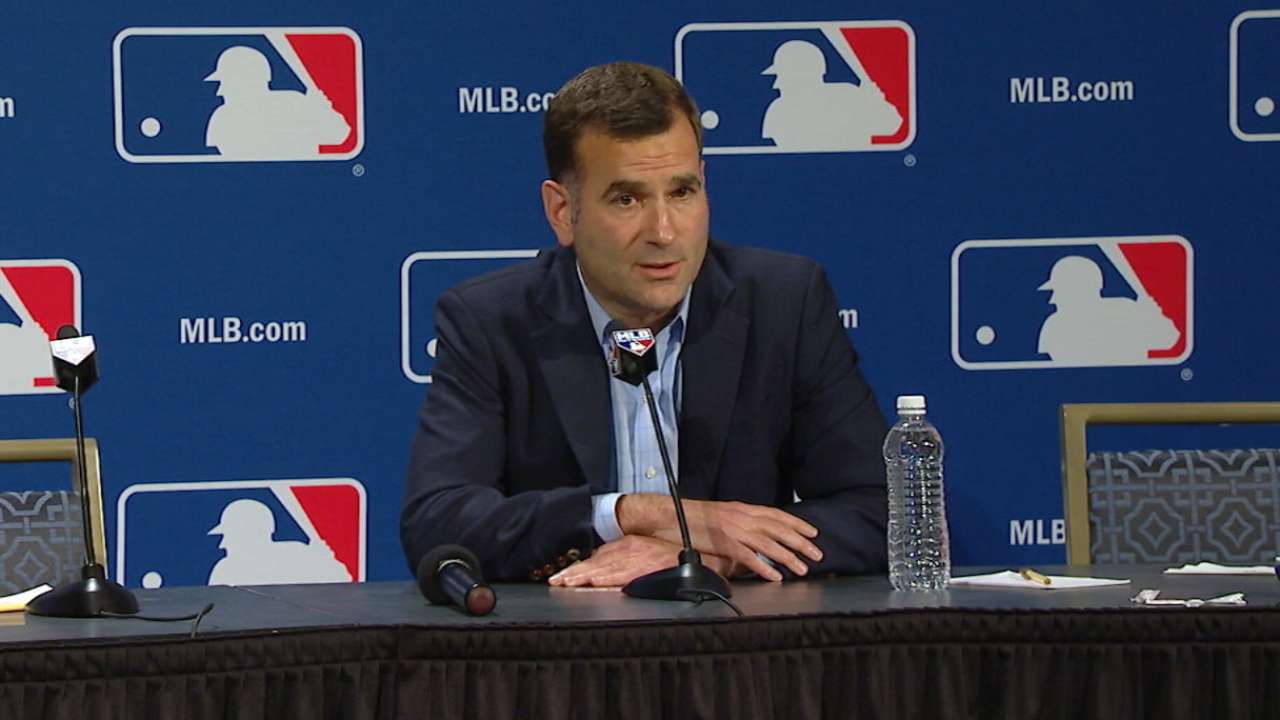 NATIONAL HARBOR, Md. -- On a wall in Rick Hahn's suburban Chicago home, in the bedroom of one of his two sons, resides a picture featuring his son with Chris Sale. It hangs next to a picture of his son with Mark Buehrle.
So rebuilding a team certainly isn't earning Hahn major dad points.
Trading away a five-time All-Star and quite possibly the American League's best pitcher to Boston stood as the right thing to do for both the White Sox and Sale, given the direction of the organization. But that doesn't make it any easier for Hahn to give up the face of his franchise.
"It's hard. It's real. He is one of our own. Or was one of our own," said Hahn of Sale. "A homegrown guy who made his way to five All-Star Games and was controllable and projected to be damn good going forward. And it's tough to give that up. At the same time we have to be realistic about where we are."
• Sale expresses appreciation for White Sox fans
Sale praised White Sox fans' support via a text message to MLB.com Tuesday night. He did the same for his White Sox teammates, coaches and the player development staff during a Wednesday morning conference call to introduce the left-hander to the Boston media.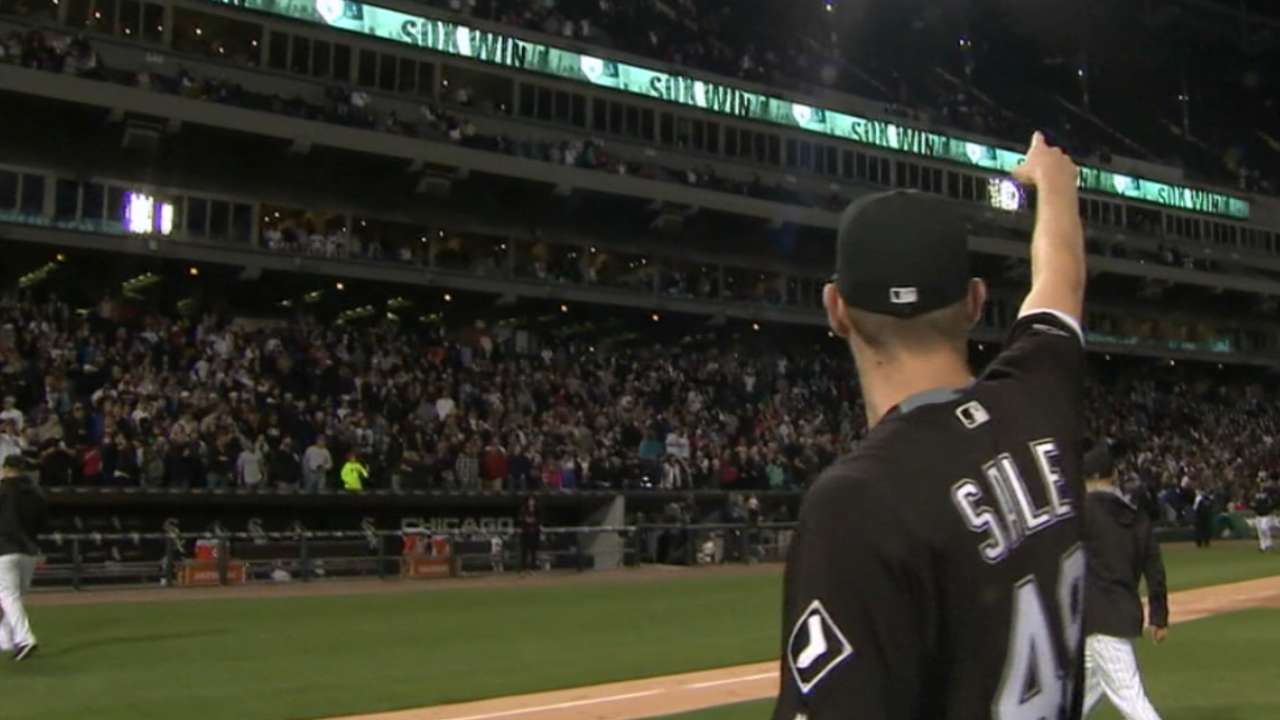 His seven years in Chicago, which made him the longest-tenured active White Sox player before the trade, established Sale as one of the franchise's greatest pitchers. It didn't work out exactly as he wanted, as his teams never made the playoffs, but there were still plenty of good moments, beginning with Sale pitching in the Majors out of the bullpen two months after he was drafted 13th overall from Florida Gulf Coast University.
"How many teams would have done what they did? It's hard to say now, but probably not very many," Sale said. "They drafted me in the first round when people had questions. They brought me up to the big leagues really fast, and people probably had questions. They threw me in the rotation, and people clearly had questions. They had my back a lot and they gave me opportunities that not a lot of other people would have given me. I'm very thankful for that.
"It didn't work out. I really wish it did. I have nothing but really good things to take from that, and I appreciate my time with the White Sox, but I'm looking forward to the next chapter."
Describing the situation as bittersweet, Sale went on to talk about the friendships his wife, Brianne, formed with other White Sox players' wives, and the bond his son, Rylan, formed with other players' kids.
"You build a relationship with these guys and they are like family," Sale said. "You are around these guys probably even more during the year than you are around your family. It's tough. But knowing what lies ahead makes it a little bit easier for that transition."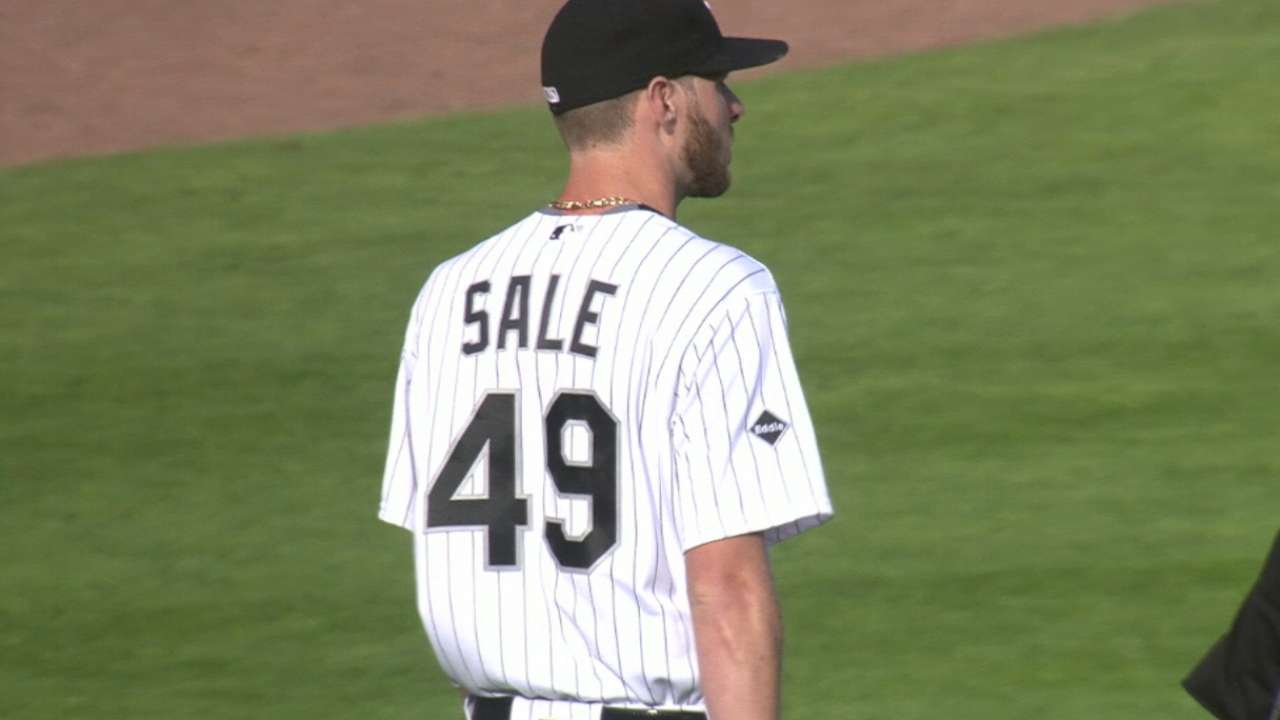 The same can be said for those in the White Sox organization like director of amateur scouting Nick Hostetler, who watched a fiery young left-hander in the Cape Cod League turn into a perennial Cy Young contender.
"There's always going to be a soft spot in my heart for Chris and what he's done and our ability to identify, sign and develop him," Hostetler said. "It's tough, but at the same time you have to do what's best at the organization. I'm excited for the guys we got. But I'm also excited for Chris."
Scott Merkin has covered the White Sox for MLB.com since 2003. Read his blog, Merk's Works, follow him on Twitter @scottmerkin, on Facebook and listen to his podcast. This story was not subject to the approval of Major League Baseball or its clubs.