Rockies, Desmond reportedly agree to deal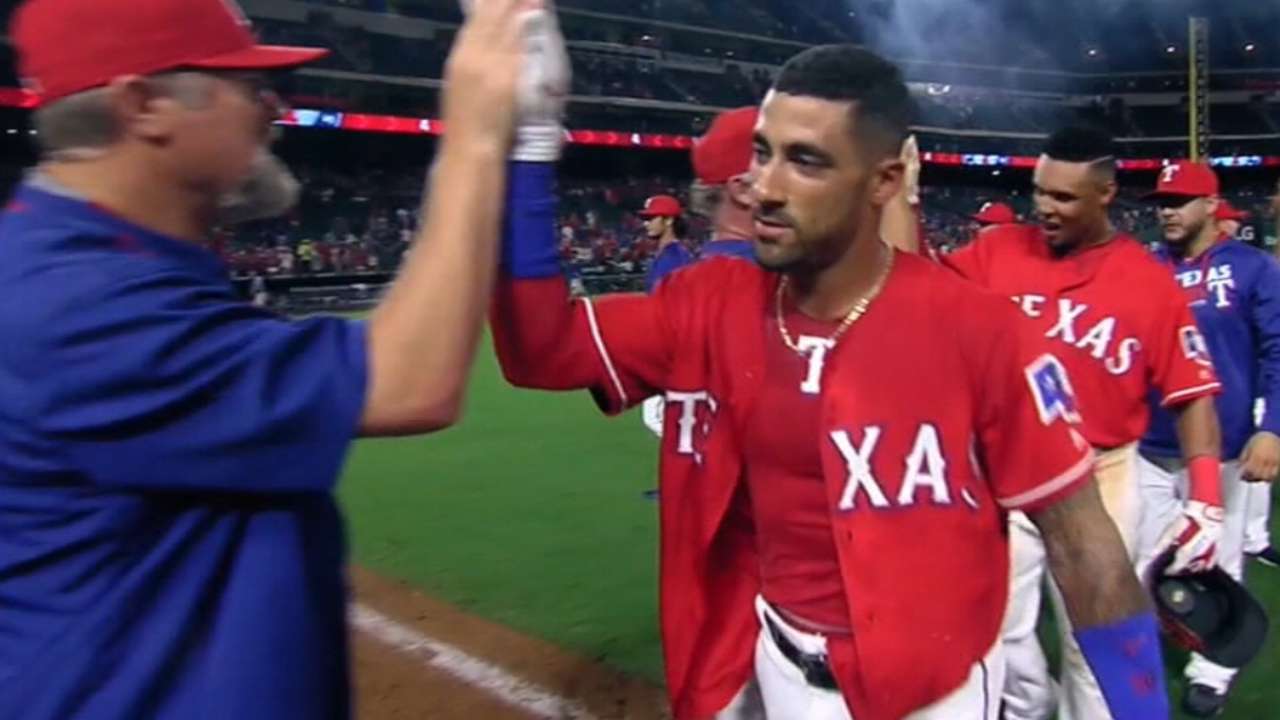 NATIONAL HARBOR, Md. -- In a Winter Meetings surprise, the Rockies on Wednesday agreed with free-agent slugger Ian Desmond to fill their first-base opening -- or make other deals possible -- for five years and $70 million, according to multiple reports. The deal, which is pending a physical, has not been confirmed by the club.
Desmond, who played center field for the Rangers last season and hit .285 with 22 home runs and 86 RBIs while making the American League All-Star team, received a qualifying offer from Texas, so Colorado will forfeit the 11th overall pick in the 2017 MLB Draft.
Desmond's signing comes against the backdrop of a vow from owner Dick Monfort and general manager Jeff Bridich to increase the payroll from last season, which was a club-record $120.58 million but still just 19th in MLB.
Bridich would not discuss the pending deal, nor would he close the door on future dealing regarding the lineup. Rumors sprouted that the Rockies could deal regular center fielder Charlie Blackmon and obtain a first baseman through a trade or free agency so Desmond could play primarily in center.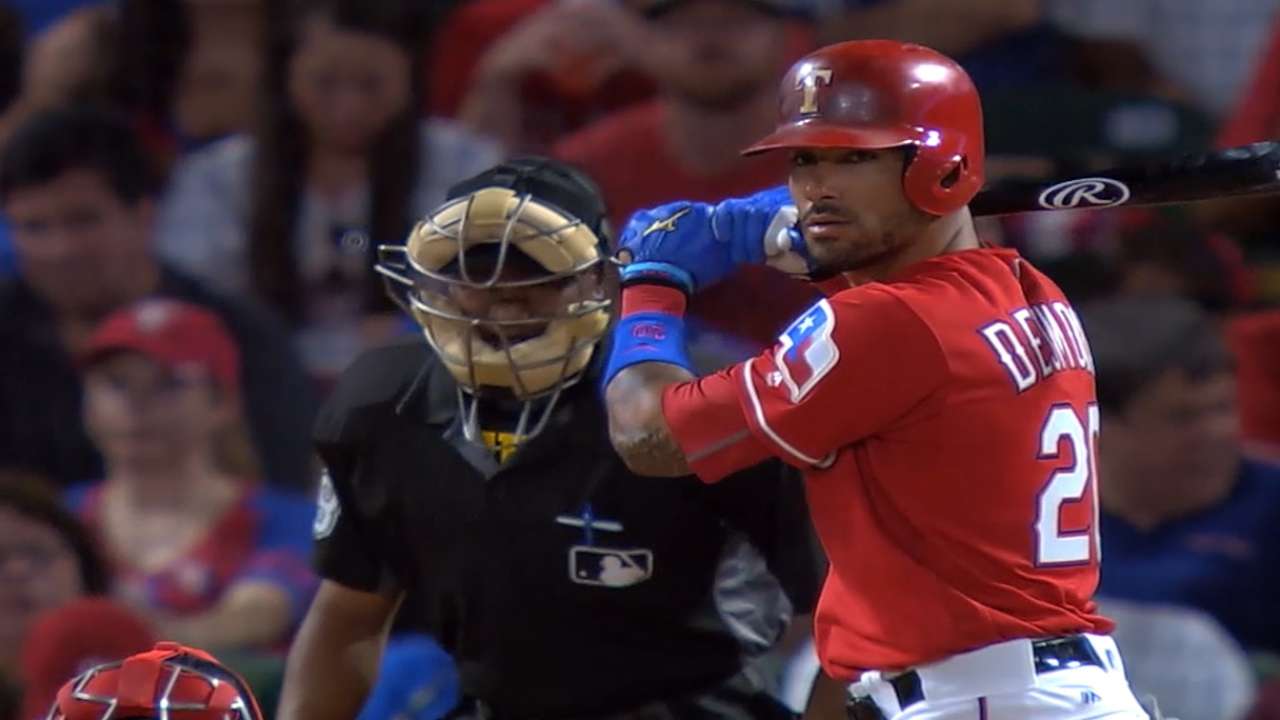 The team also seeks what Bridich has called "impact" relief pitching.
"Our goals are still the same," Bridich said. "We came here in this Winter Meetings setting with priorities. … Those priorities are still the same. We're still very active in what we are doing. It's tough to gauge what's going to happen over the next day or what this whole situation leads to after the Meetings are done.
"That's a lot of it. Sometimes things get done. Sometimes things are set up to get done. You gather enough information in this setting to help understand things that can be done in the future."
Desmond adds right-handed power to a lineup that already includes third baseman Nolan Arenado, who has 83 homers over the past two years; Trevor Story, who had a National League rookie shortstop record of 27 homers in 91 games before sustained a season-ending left thumb injury; and second baseman DJ LeMahieu, this past season's NL batting champ. Additionally, power-hitting prospect Tom Murphy, ranked No. 10 in Colorado's system per MLBPipeline.com, could be part of catching tandem.
The Rockies have lefty power in Carlos Gonzalez and Blackmon, if he's not dealt. Gonzalez has homered 65 times over the past two years, and leadoff man Blackmon is coming off a career-best 29.
Gerardo Parra and late-season callup David Dahl are lefty batters who will compete for playing time in left field.
The Rockies' first basemen had the third-lowest run production in the Majors with a Weighted Runs Created Plus (wRC+) of 82, or 18 points below the MLB average. As a comparison, the Tigers, led by Miguel Cabrera, had a 158 wRC+. Mark Reynolds was the Rockies' primary first baseman last year. Reynolds' .282 batting average and .356 on-base percentage were career highs, but he was limited to 118 games because of two left hand fractures. Colorado has had kept in touch with Reynolds, a free agent.
Desmond played shortstop with the Nationals before signing a one-year free-agent deal with the Rangers to be their center fielder last season. Those familiar with Desmond believe his athletic ability will allow him to easily make the move to first, a position he has never played in the Majors. But his offensive career pattern suggests his value could be better either in center or in a super-utility role where he plays multiple positions.
According to Statcast™, Desmond's 53.4 percent ground-ball rate last season would have ranked among the highest 10 in Rockies history. Of the players at 50 percent or above since the stat began being tracked in 2002, the only seasons with an above-average wRC+ belonged to LeMahieu in 2016 (128) and Larry Walker in 2003 (121). That's not prime first-base run production, but the ability to hit 20 homers and steal 20 bases make him valuable other ways.
This could be the second position change in two years for Desmond, 31. The last switch, however, worked for him.
As a shortstop, Desmond represented the Nats in the All-Star Game in 2012, when he hit .292 with 25 home runs and 73 RBIs. He hit .280 with 20 homers and 80 RBIs in '13.
Before the 2014 season, Desmond turned down the Nationals' reported seven-year, $107 million extension offer that would have bought out the final two years of arbitration eligibility. He hit .255 with 24 homers and a career-high 91 RBIs that season. Desmond dipped to .233 with 19 homers and 62 RBIs the following year before becoming a free agent.
Desmond was left with a one-year, $8 million offer from Texas, switched positions, and rebuilt his value with a solid offensive season.
The possible continued pursuit of a first baseman and the need to improve relief pitching would add to Colorado's payroll. But dealing Blackmon, who in his second year of arbitration is due for a raise from his $3.5 million 2016 salary, would add some flexibility.
According to a tweet from Jon Paul Morosi of MLB.com, the Rockies have shown interest in Blue Jays starting pitcher Marcus Stroman, however, multiple Major League sources said the idea is more rumor than fact. Toronto could use Blackmon in right field, but it may not be comfortable parting with Stroman.
Colorado has looked at a number of players with greater history at first base, including high-dollar free agents Mark Trumbo and Edwin Encarnacion; Mitch Moreland, who agreed to a one-year deal with Boston, per a source; Chris Carter, Mike Napoli, Adam Lind and Logan Morrison.
The Rockies had preliminary trade talks with the White Sox about slugging first baseman Jose Abreu, and the idea of trading for third baseman Todd Frazier and converting him to first base was floated in reports.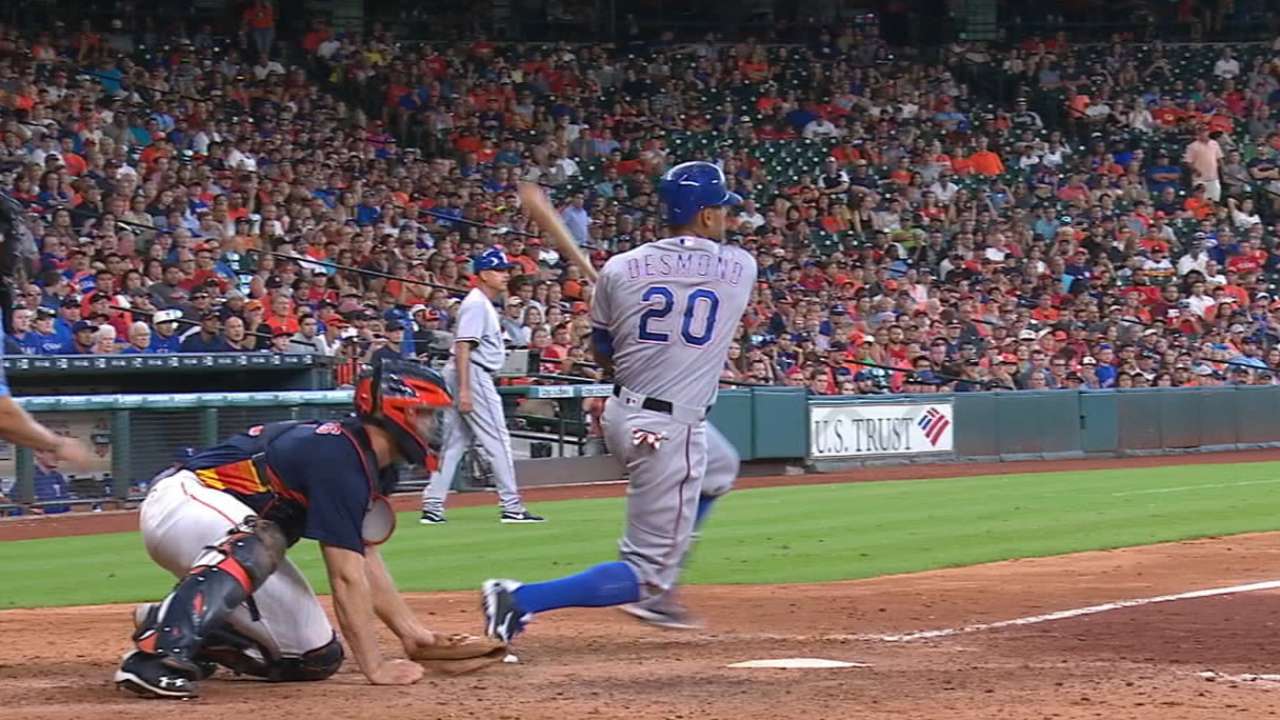 Fantasy spin | Fred Zinkie (@FredZinkieMLB)
Slated to play home games at arguably the most offense-assisting park in baseball, Desmond is a strong candidate to repeat his 2016 bounceback campaign. True, the strikeout-prone slugger may experience some batting-average regression (.285 in '16) if last year's career-high .350 BABIP moves toward his lifetime .326 mark. But with his new attachment to Colorado's hitter-friendly home venue and high-scoring lineup, Desmond will likely produce at least 25 home runs, 20 steals, 85 RBIs and 85 runs scored in '17. Having added the veteran to an offense with an already-impressive collection of bats, the Rockies could prove to be a club owners avoid when determining which hurlers to start on a day-to-day basis next season.
Thomas Harding has covered the Rockies since 2000, and for MLB.com since 2002. Follow him on Twitter @harding_at_mlb, listen to podcasts and like his Facebook page. This story was not subject to the approval of Major League Baseball or its clubs.