'Excited' Sale eager to win ring with Red Sox
Lefty ready to pitch in front of Fenway faithful, likes proximity of camp to home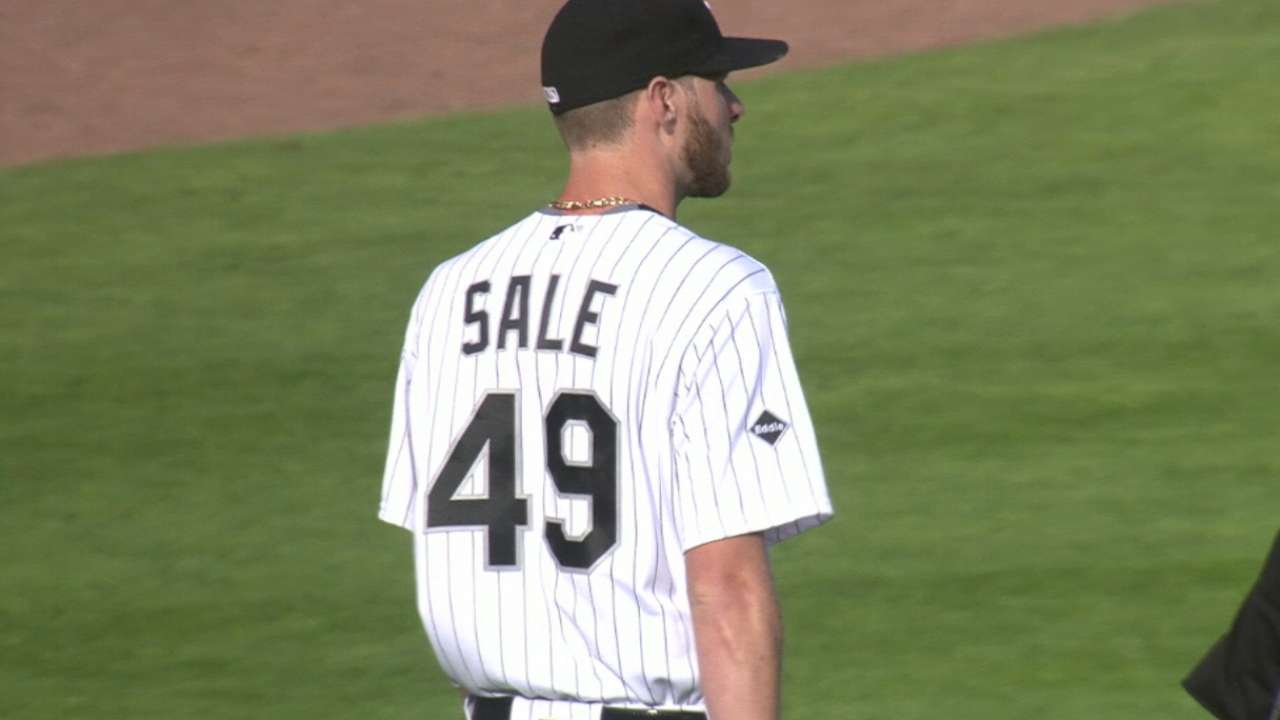 NATIONAL HARBOR, Md. -- The newest Red Sox pitching star won't worry about being called "ace" on a staff that already includes reigning American League Cy Young Award winner Rick Porcello and five-time All-Star and 2012 AL Cy Young Award winner David Price.
Instead, Chris Sale is ecstatic to join forces with his new team and put everything he has into trying to win a World Series for the first time in his career.
• Red Sox acquire Sale for Moncada, 3 others
Speaking on a conference call Wednesday, Sale could not have been any more enthusiastic about the next chapter of his career.
"I'm not going to sit here and say this or that about the 'ace' tag," said Sale. "I don't think that matters. I think when you have a group of guys that come together that believe in the same thing and fight for the same purpose, nothing else really matters. We play for a trophy, not a tag."
Less than 24 hours after being the centerpiece of one of the biggest Winter Meetings blockbuster trades in recent memory, Sale expressed relief that the trade rumors that surrounded during his final months with the White Sox are over.
"It's kind of like being the monkey in the middle. You're just glad when you finally get the ball," said Sale. "It's hectic. There's a lot of speculation, there's story after story. I'm obviously getting flooded with text messages from family and friends. Just to have the whole process out of the way and get back to some kind of normalcy will be nice."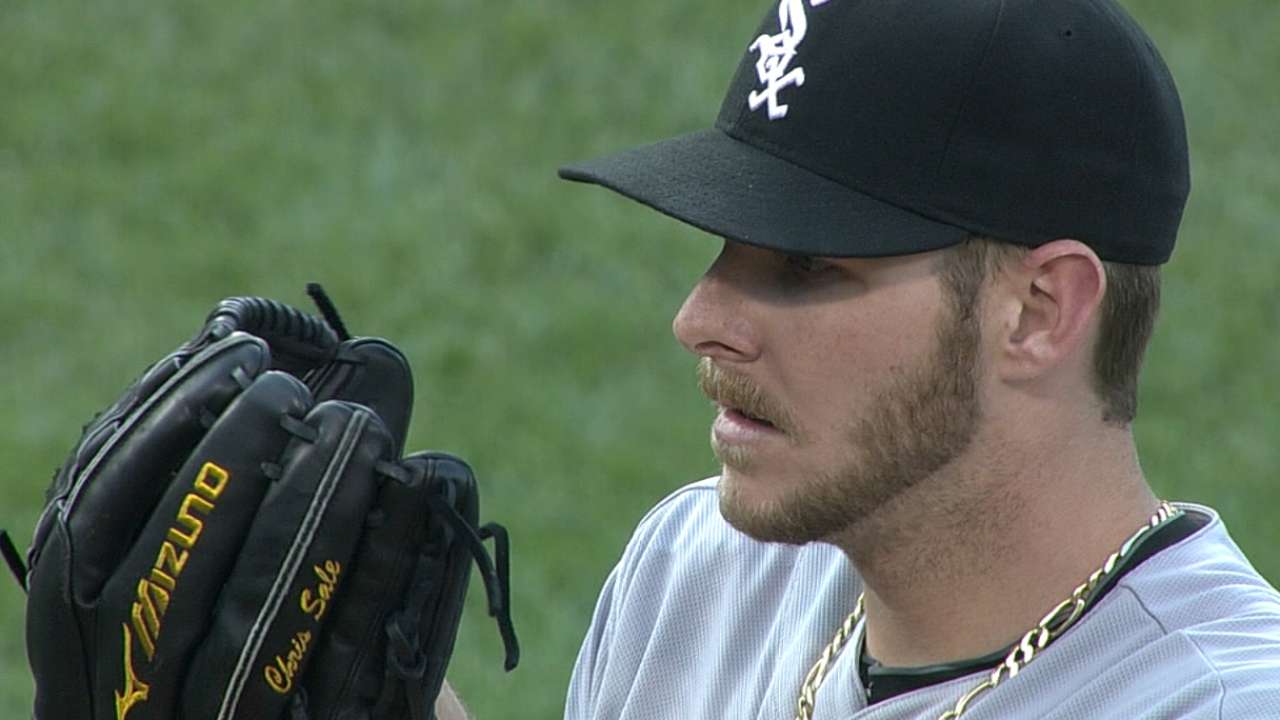 It was at roughly 11:30 ET on Tuesday morning -- about an hour and a half before the rest of the world knew -- that Sale learned he was Boston-bound.
Not long after that, Sale heard from Price.
"He was actually the first one to reach out to me, welcoming me and saying, 'Hey, let's go, welcome to the Sox and let's get it rolling.' It's an honor," said Sale. "You look at these guys, Porcello, he lives down here in Southwest Florida as well, so that's nice. Not only the guys that they are, but heck, David Price won the Cy Young a few years ago, obviously Porcello this year. Being in that company is nice."
You got the sense that Sale wished Spring Training would start this week. But once it does, he won't have far to go. The left-hander lives in Naples, Fla., roughly a half-hour south of the Red Sox's complex in Fort Myers.
"You're talking about one of the greatest baseball franchises ever. It's also going to be nice to spend more time down in Southwest Florida as well for Spring Training," Sale said. "That was big for us as well. My wife is a couple weeks away from delivering our second son. We're having another baby. That helps us out tremendously."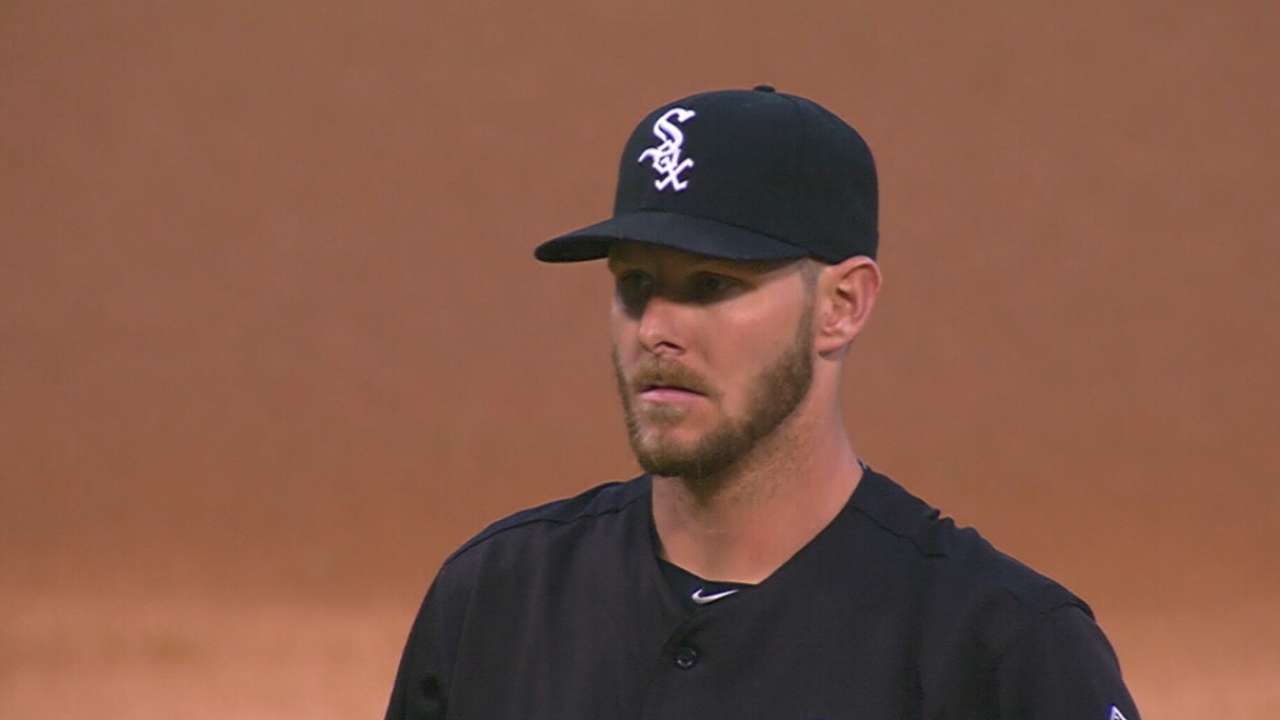 To get Sale, the Red Sox traded four Minor Leaguers, including two of their top prospects in Yoan Moncada and Michael Kopech.
While the White Sox hope to build into an eventual champion with those prospects, Sale has the immediate opportunity in front of him to reach the postseason, something he wasn't able to experience in his first seven seasons.
"I'm as excited as anybody, honestly," said Sale. "I don't know how you couldn't be. You're in the annual running for making the playoffs and have a realistic chance for winning the World Series. I've always heard great things about the guys on this team, the front office. You have dedicated ownership and front-office guys dedicated to winning annually. I've always, always loved going to Boston, pitching in Boston. It's a trip my wife comes on every year as well. We both really like the city and the stadium. Obviously, it's a very special place."
Pitching with the Monster at his back and having roughly 37,000 fans roar with his every pitch is something Sale looks forward to.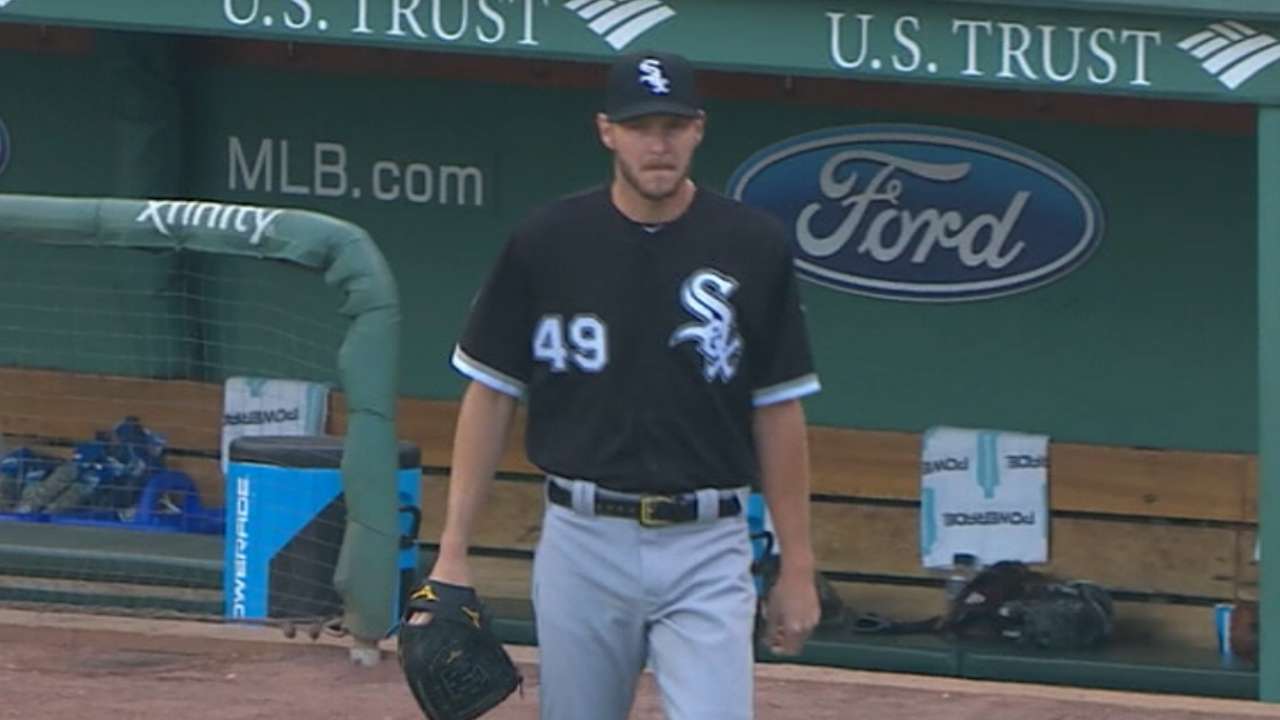 "I'm a firm believer that energy can be created in ballparks," Sale said. "When you have a packed house and everybody is on their feet and they're screaming in the eighth inning, there's no doubt that gives every player on either side a little bit of a jolt. That will be very, very exciting."
Of course, that excitement comes with pressure. You might have heard that Boston can be a tough place to play. But Sale looks forward to all that comes with it.
"It's fine. That's part of it, really. I knew that going into it. I'm not a big media guy," Sale said. "I don't have Twitter. I'm not going to be reading as much about everything as probably the next guy. I'm really more focused on the between-the-lines stuff. That's what I signed up for. That's what I look forward to. That's what I live for, playing the game of baseball. Everything else, it'll take care of itself, it'll shake out. The good outweighs the bad. You've got to roll with it."
Ian Browne has covered the Red Sox for MLB.com since 2002. Follow him on Twitter @IanMBrowne and Facebook. This story was not subject to the approval of Major League Baseball or its clubs.