Marlins getting aggressive in bullpen pursuit
Miami has talked to Jansen, Chapman and others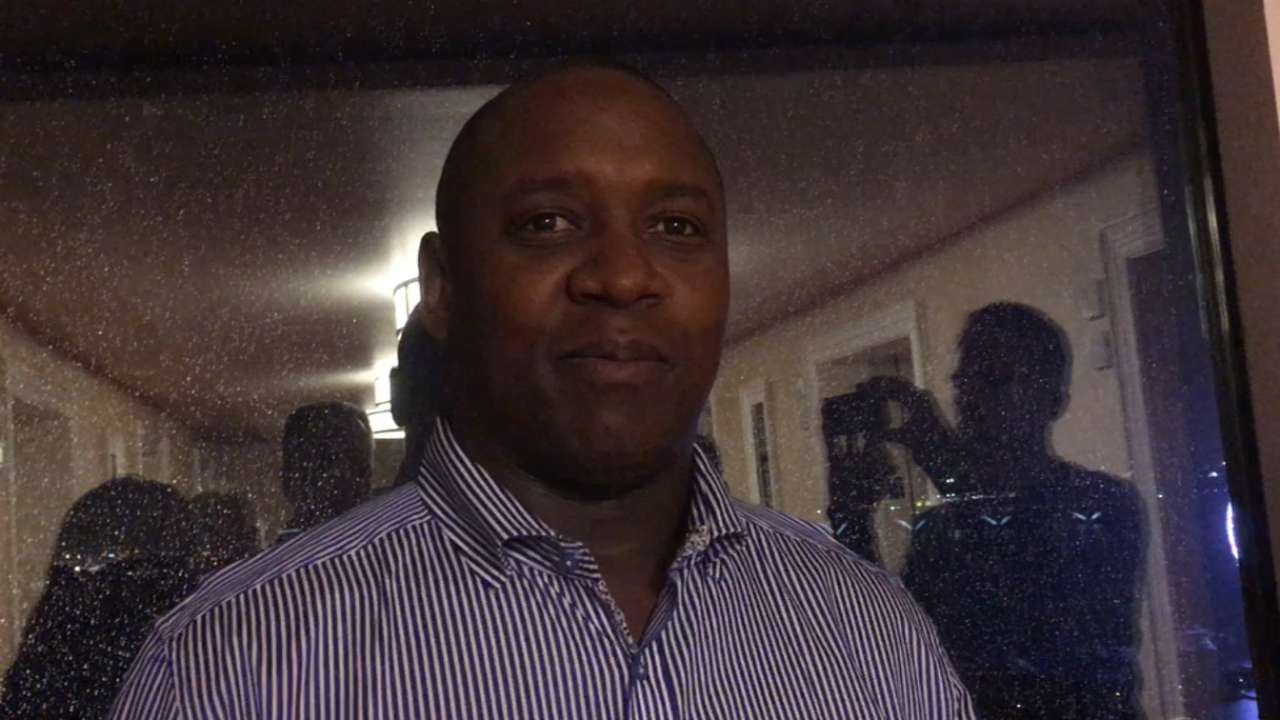 NATIONAL HARBOR, Md -- After conversing much of the day with agents, the Marlins are ready for action. The club is moving aggressively trying to sign at least one late-inning reliever before the Winter Meetings conclude on Thursday.
As of early Tuesday night, the Marlins were in the mix for either Aroldis Chapman or Kenley Jansen. If they are unable to acquire either hard-throwing closer, they're prepared to allocate their financial resources on one or two durable relievers with closing experience. Free agents Koji Uehara and Brad Ziegler fit the profile.
Marlins president of baseball operations Michael Hill on Tuesday night did not name specific reliever candidates. But speaking generally, he confirmed the search continues for back-end bullpen help.
With the Winter Meetings in full swing, deals are starting to happen throughout the league. Miami hopes to make at least one significant move before the meetings wrap up.
"There's been a number of meetings, a day full of meetings," Hill said. "Various back-end options. I'm not sure how fast it will go. But our goal has not changed. We're still trying to find ways to improve the club. We're looking at it front to back and back to front."
Miami is pursuing multiple paths to achieve its bullpen objective.
Chapman and Jansen will require a significant financial commitment, and Miami appears to be willing to offer deals of at least four years and $80 million.
In Jansen's case, because he declined a qualifying offer from the Dodgers, the hard-throwing right-hander would come with more than just a high salary. The cost to acquire also means Miami would lose its first-round Draft pick.
Jansen pitched for Marlins manager Don Mattingly in Los Angeles. So there is familiarity from both sides.
Hill didn't speculate on Jansen, but did note the possibility of having to lose a Draft pick is factoring into the equation.
"It's a very tough decision," Hill said. "You know the trades that we've made over the past few years. The depletion of our system. We're trying to keep as many assets as we can. That's obviously something that goes into the process, but ultimately, we're trying to field the best Major League team that we can, and get this team back to the playoffs, and bring a championship back to South Florida. That is part of it."
The Yankees also are pursuing Chapman and Jansen.
Uehara and Ziegler each were with the Red Sox in 2016, and both have experience closing.
The other Marlins' option is to take a more modest-spending approach. Rather than offer a record-setting salary figure to one reliever, instead, spread the dollars on a couple of different relievers. The plan would be to sign not one, but both, Uehara and Ziegler.
Their salary demands for each could be more in the $5 million range.
Miami hopes to have some answers soon.
"We're all in one place, so you're filtering information," Hill said. "We're just trying to see what makes the most sense."
Joe Frisaro has covered the Marlins for MLB.com since 2002. He writes a blog, called The Fish Pond. Follow him on Twitter @JoeFrisaro and listen to his podcast. This story was not subject to the approval of Major League Baseball or its clubs.