Hinch feeling bullish about Astros' bats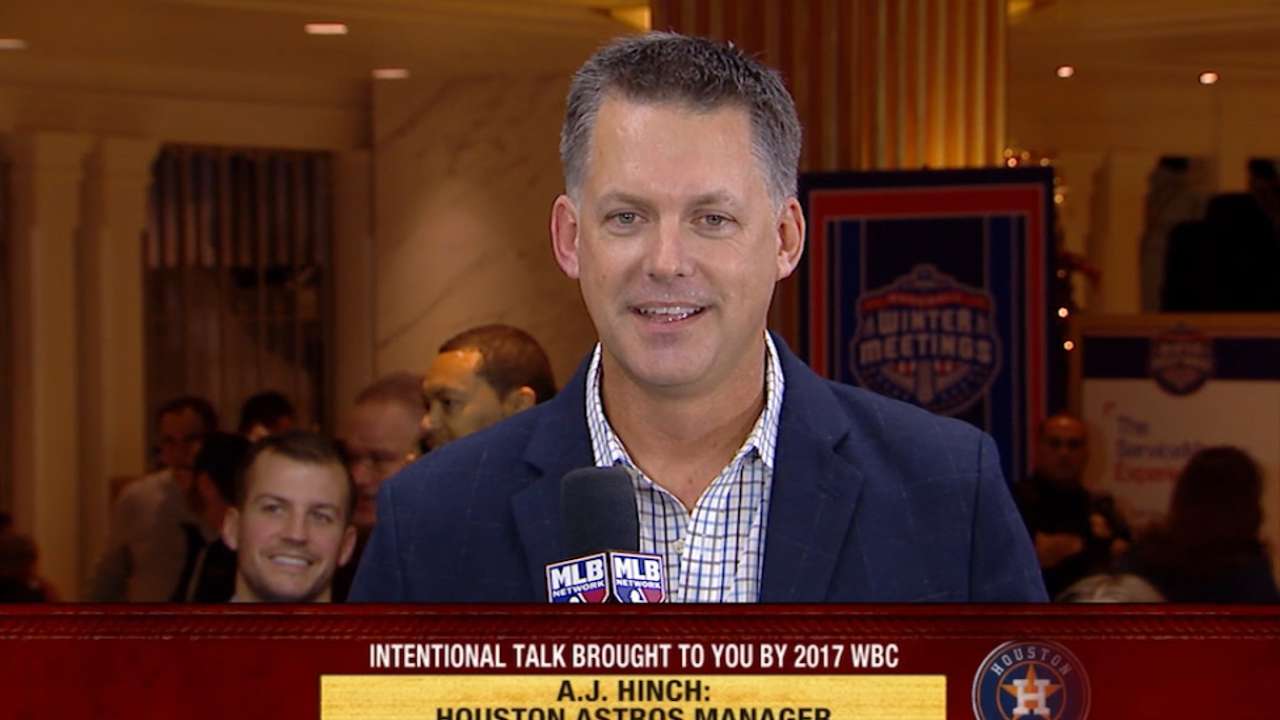 "It's been exciting, because it felt like leading up to the [Winter] Meetings, we were the most active team with the most success at getting to the finish line," Hinch said on Tuesday during his media session at the Gaylord National Resort & Convention Center. "We've got to be one of the [deepest] teams, position-player-wise, in our league."
Indeed. All four of the hitters the Astros acquired fill the team's need for left-handed bats and give Hinch flexibility. The lineup has speed, switch-hitters and power and should strike out much less than it has in recent years.
"I think we have guys that may hit at the bottom of the order that have never done it before, and that's a great luxury to have as a manager," Hinch said. "I have got the chance to mix and match our lefties and righties, [put a] couple of switch-hitters in there where it's going to be difficult for the opponent to match up.
"We've got to go out and do it on the field, but we've got the makings of a pretty good run-scoring group. As the batting order evolves, as the playing time is sorted out, I'm likely to have an angry guy next to me on the bench, which is a good problem to have. Maybe I'll have two. I hope all of them are mad and want to play. It's a luxury -- if we stay healthy."
And health remains key when it comes to the team's pitching. The Astros are trying to land another starting pitcher, but their 2017 fortunes likely depend on the health of Dallas Keuchel and Lance McCullers, both of whom had their seasons cut short by injury.
"I guess there is a little bit of anxiousness given that they're coming off injuries," Hinch said. "But, you know, for us, getting those two guys back -- not only healthy but also in good form -- will make everyone, including ourselves, view the rotation a little bit differently."
The Astros, having missed out on the postseason in 2016 following their unlikely run in 2015, will hit camp next year with their highest expectations since perhaps 2005 -- the year of their only appearance in the World Series. Those are expectations the Astros will embrace.
"I will trust our players to understand you can't just rely on any sort of hype or set of predictions," Hinch said. "We don't have to be the favorite or the underdog, we just have to be a good team. I'll tell that to our players; we've got to play every day against our opponent."
Brian McTaggart has covered the Astros since 2004, and for MLB.com since 2009. Follow @brianmctaggart on Twitter and listen to his podcast. This story was not subject to the approval of Major League Baseball or its clubs.