Teheran fit to handle WBC, season prep
Braves right-hander to pitch for Colombia in March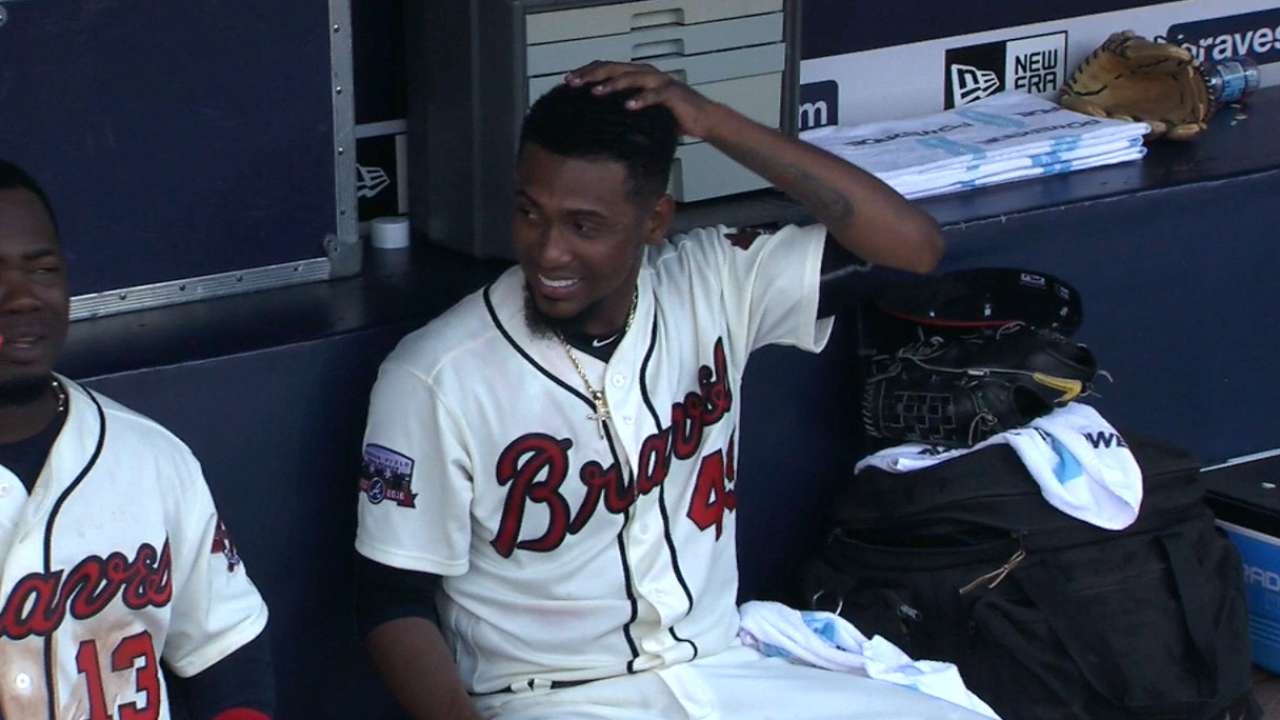 NATIONAL HARBOR, Md. -- While every Major League team will have some level of concern about any of their pitchers who choose to participate in the upcoming World Baseball Classic, the Braves are confident Julio Teheran has been around long enough to know how to make the most of this experience and also properly prepare for the regular season.
"Julio is a veteran, he kind of knows what to do," Braves president of baseball operations John Hart said. "He'll be with us [at the start of Spring Training] and then be back and forth. It's not as tough for a pitcher [as opposed to a position player] to sort of miss time in camp. You've got a pitching coach that knows the schedule, and Julio knows when to throw his [side sessions] and how to work in between starts. The only real problem is these guys have to ramp up earlier."
? World Baseball Classic tickets
Teheran's preseason preparations will be slightly altered as he is set to pitch for his native Colombia, which will open Pool C play against the United States in Miami on March 10 -- one month after the start of Spring Training and 24 days before Teheran could take the Citi Field mound to make his fourth consecutive Opening Day start for the Braves.
Team USA and the Dominican Republic will be the favorites to advance out of this pool, which also includes a Canadian team that might eventually add Braves first baseman Freddie Freeman. Thus, there is a chance Teheran will make just one start, which would include a workload that should at least be comparable to the one he would complete at the same point of Spring Training during a Grapefruit League game.
But there will certainly be additional adrenaline involved as patriotic pride creates a little more motivation than a normal Spring Training start.
"I would rather not have him pitch," Braves general manager John Coppolella said. "At the same time, [the WBC] is a great event and we fully support MLB; but at the same time, you worry about guys getting hurt."
ODDS AND ENDS
The Braves have united once again with Eric O'Flaherty, who will come to Spring Training on a Minor League contract. O'Flaherty pitched for Atlanta from 2009-13 and again this past season before being shut down with left elbow neuritis in August. The 31-year-old southpaw was one of the game's best relievers before he underwent Tommy John surgery in 2013.
There's also a chance Kelly Johnson could return to Atlanta's roster again next year. The Braves have had some recent contact with Johnson, a free agent who has been traded by the Braves to the Mets during each of the past two seasons.
Mark Bowman has covered the Braves for MLB.com since 2001. This story was not subject to the approval of Major League Baseball or its clubs.