Needing OF depth, Tribe could re-sign Davis
'He's obviously a guy that we're in touch with,' GM Chernoff said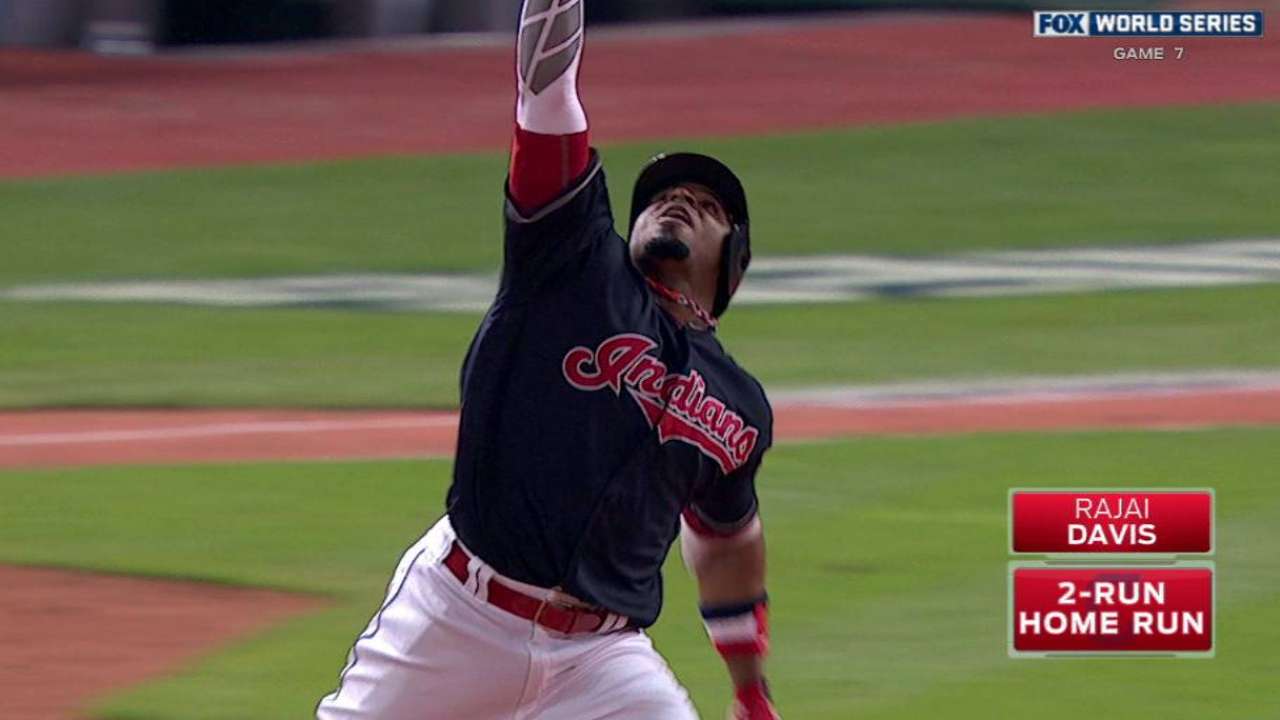 NATIONAL HARBOR, Md. -- Adding a first baseman is a priority for the Indians this offseason, but Cleveland is also exploring the market for added depth in the outfield. Versatility and speed are the main attributes sought by the Tribe, which received just that from veteran Rajai Davis last season.
As things currently stand, the Indians project to have Michael Brantley in left field, Tyler Naquin in center and Lonnie Chisenhall in right. Brandon Guyer offers depth in the corners and Abraham Almonte can provide protection for all three outfield spots. Davis, who led the American League with 43 steals and played left and center in 2016 for the Tribe, is a free agent again this winter.
The Indians have maintained an interest in re-signing first baseman Mike Napoli and Davis.
• Length of deal sticking point for Napoli, Tribe
"I'm not going to go into specifics on any one player," Indians general manager Mike Chernoff said. "[Davis] was a big part of our team last year and that remains a need for us. You take him and Napoli off the team, we have two holes in those spots. We continue to target guys in those spots. Much like Nap, given what he gave us, he's obviously a guy that we're in touch with."
Also like Napoli, the Indians' preference would be to limit such talks to a one-year contract.
Other items of note from Tuesday:
• Yandy Diaz, 25, was in the mix for a promotion to the Majors before the Indians traded for veteran Coco Crisp for the final month of 2016. This offseason, Diaz (Cleveland's 10th-ranked prospect by MLBPipeline.com) has hit .356 with 10 extra-base hits, 12 walks and 13 RBIs in 26 games for Caracas in the Venezuelan Winter League. Diaz came up as a second baseman, learned to handle third and began trying his hand as a corner outfielder at Triple-A this past season. Diaz could be in the mix for a bench job in 2017.
"He has a huge amount of versatility," Chernoff said. "I think the focus is how does he, especially at this age and stage of his career ... how does he get more consistent at each of those positions where he hasn't had a lot of time? He has the versatility to do it, but how does he become a great defender at each of those positions?"
• The 2016 postseason shares were announced on Tuesday. For winning the AL pennant, the Indians' share of the players' pool was $18,390,678.50. Cleveland issued 60 full shares at a value of $261,804.65 apiece. The Indians also issued 8.75 partial shares and 16 cash rewards. A full share for the world champion Cubs was worth $368,871.59.
• Chernoff noted that shortstop Erik Gonzalez, who is ranked as Cleveland's No. 8 prospect, will compete for a utility job during Spring Training. The Indians also secured a fourth option year for Gonzalez, so he can be sent to Triple-A Columbus without being exposed to waivers. In 2016, Gonzalez hit .313 in 21 games for the Indians and .296 with 43 extra-base hits in 104 games at Triple-A. He can play multiple infield and outfield spots.
Jordan Bastian has covered the Indians for MLB.com since 2011, and previously covered the Blue Jays from 2006-10. Read his blog, Major League Bastian, follow him on Twitter @MLBastian and listen to his podcast. This story was not subject to the approval of Major League Baseball or its clubs.