Atkins: Blue Jays want to give Gibbons extension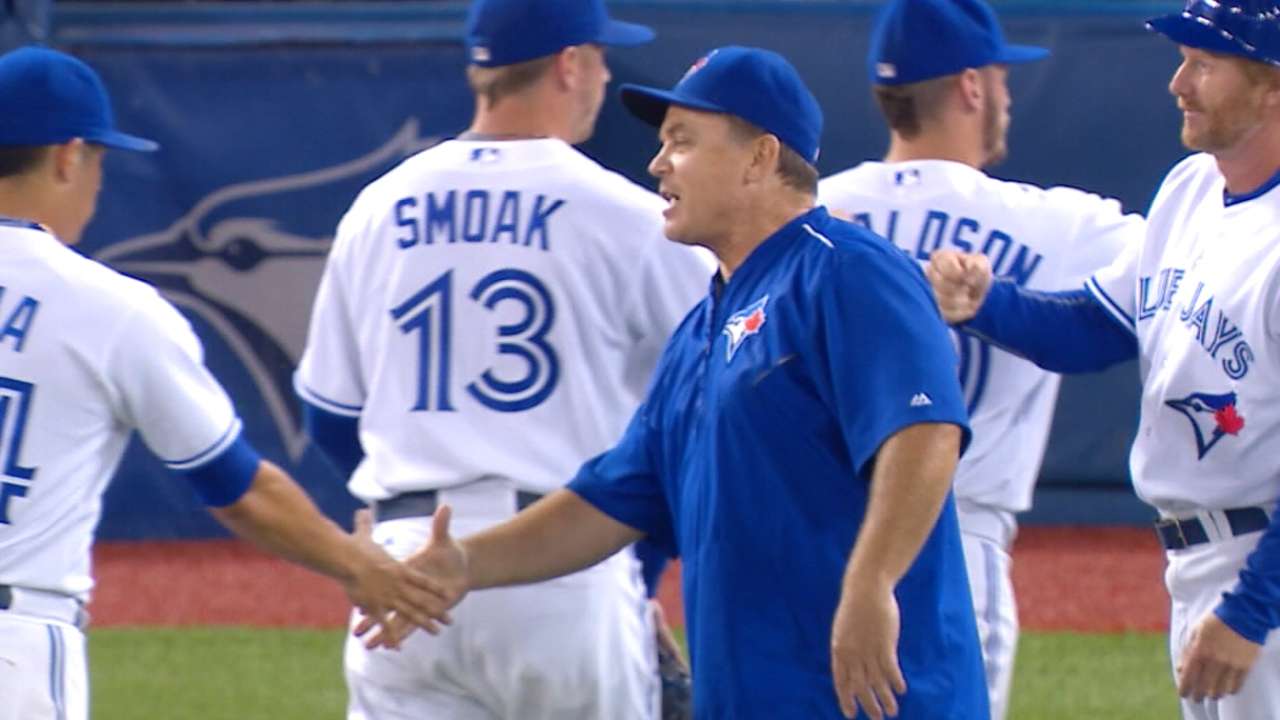 NATIONAL HARBOR, MD. -- General manager Ross Atkins reiterated his stance on Tuesday afternoon that the Blue Jays intend to sign manager John Gibbons to a contract extension.
Gibbons is set to enter the final year of his contract, but Toronto remains committed to extending the deal beyond 2017. Atkins said on Tuesday afternoon that the talks initially were scheduled to take place this week, but Gibbons had to miss Major League Baseball's annual Winter Meetings because of the flu.
The 54-year-old Gibbons led the Blue Jays to the American League Championship Series during each of the last two seasons. He owns a 644-614 career record for Toronto in two separate stints as manager of the ballclub.
"We were planning on having that dialogue here to just reopen it while we were together," Atkins told a group of reporters. "We'll make sure that happens."
Gibbons was brought back as Toronto's manager prior to 2013 under the guidance of former GM Alex Anthopoulos. At the time, Gibbons' deal contained a unique clause that added another season to his contract if he was still employed on Jan. 1 of each year. The goal was to make sure that Gibbons' contract never became a distraction and that he would never be at risk of becoming a "lame-duck" manager in the final season of a deal.
The clause was removed during Spring Training earlier this year by Atkins and president Mark Shapiro. Gibbons instead received a bump in pay over two years, but it does come with the risk of his deal eventually expiring. That's something both likely would prefer to avoid, which is backed up by Atkins' vocal desire to get something done.
For his part, Gibbons doesn't seem overly concerned about the entire situation. He knows there are more pressing issues at the moment for a team that is still looking for at least one outfielder, a backup catcher and a couple of relievers.
"We discussed it briefly at the end of the season and I talked to Ross a couple of times," Gibbons said. "I couldn't tell you yet how things are going to play out before the start of next season, but it's not something I've been obsessed with.
"We restructured my deal at the last Winter Meetings. We took away the Jan. 1 option, and I was fine with that, I was behind that, it got me a small little bump in salary, and if nothing changes, I can live with going into the season with it being my last year under contract. I've got no problem with that."
Gregor Chisholm has covered the Blue Jays for MLB.com since 2011. Follow him on Twitter @gregorMLB and Facebook, and listen to his podcast. This story was not subject to the approval of Major League Baseball or its clubs.