Dombrowski has extensive history of blockbusters
Sale deal is latest in long line of aggressive trades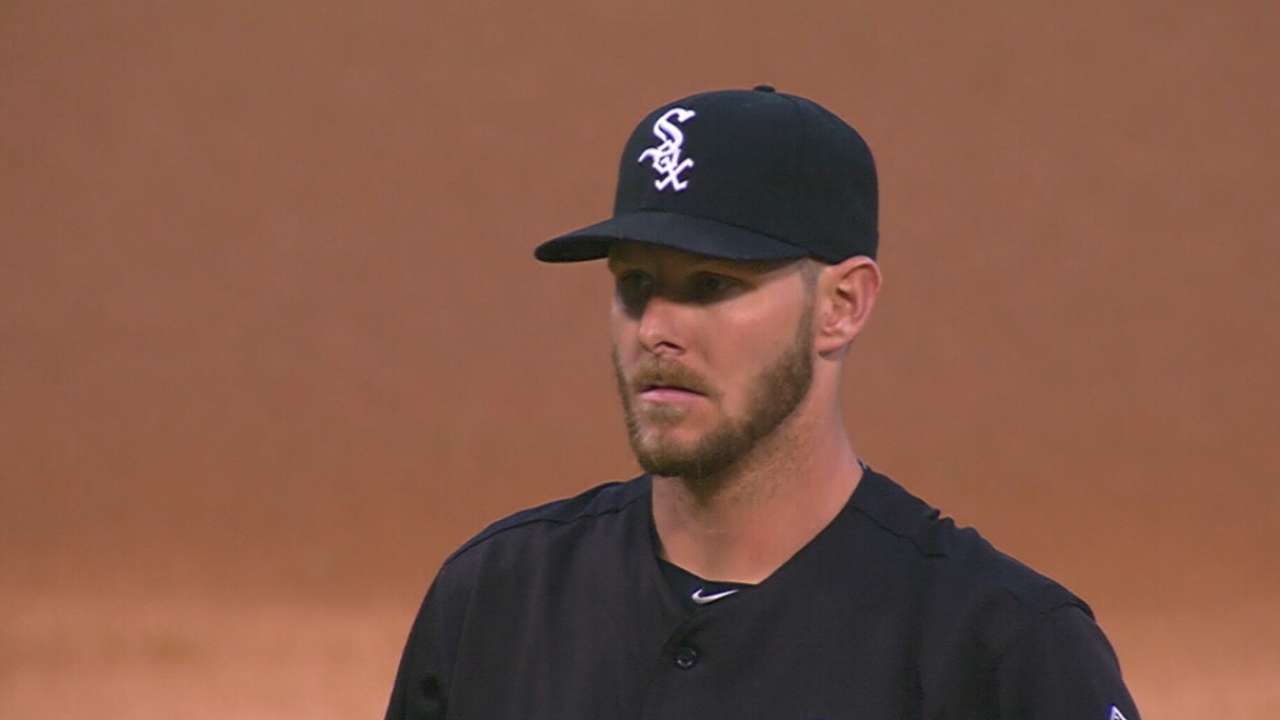 Dave Dombrowski has never been afraid of making a big splash.
Over his nearly 30 years running front offices for four organizations, Dombrowski has pulled off one blockbuster trade after another, whether he's been buying, selling or swapping established players. The latest came on Tuesday at the 2016 Winter Meetings in National Harbor, Md., as Dombrowski's Red Sox acquired ace left-hander Chris Sale from the White Sox for four highly regarded prospects, including Yoan Moncada, MLB's top prospect per MLBPipeline.com.
Dombrowski's aggressive ways first emerged as the general manager of the Montreal Expos from 1988-91. They continued with the expansion Marlins from 1992-2001, the Tigers from '01-'15 and the Red Sox since Aug. '15, as the president of baseball operations.
Dombrowski's expansive portfolio makes it difficult to narrow down his list of trades, but here is a look at 10 of his most significant, beginning with Sale and moving back through time.
Dec. 6, 2016: Red Sox acquire Sale from White Sox
Dombrowski already had a solid rotation, led by two of the last five American League Cy Young Award winners, in David Price (2012) and Rick Porcello ('16). That didn't stop him from striking for Sale, a 27-year-old, five-time All-Star with a 3.00 career ERA and three affordable seasons of club control remaining. As was the case in Boston's previous trades for closer Craig Kimbrel and starter Drew Pomeranz, Dombrowski showed a willingness to part with top prospects to get the job done. Along with Moncada, Boston shipped out outfielder Luis Basabe and right-handers Michael Kopech and Victor Diaz, all among the organization's top 30 prospects, according to MLBPipeline.com.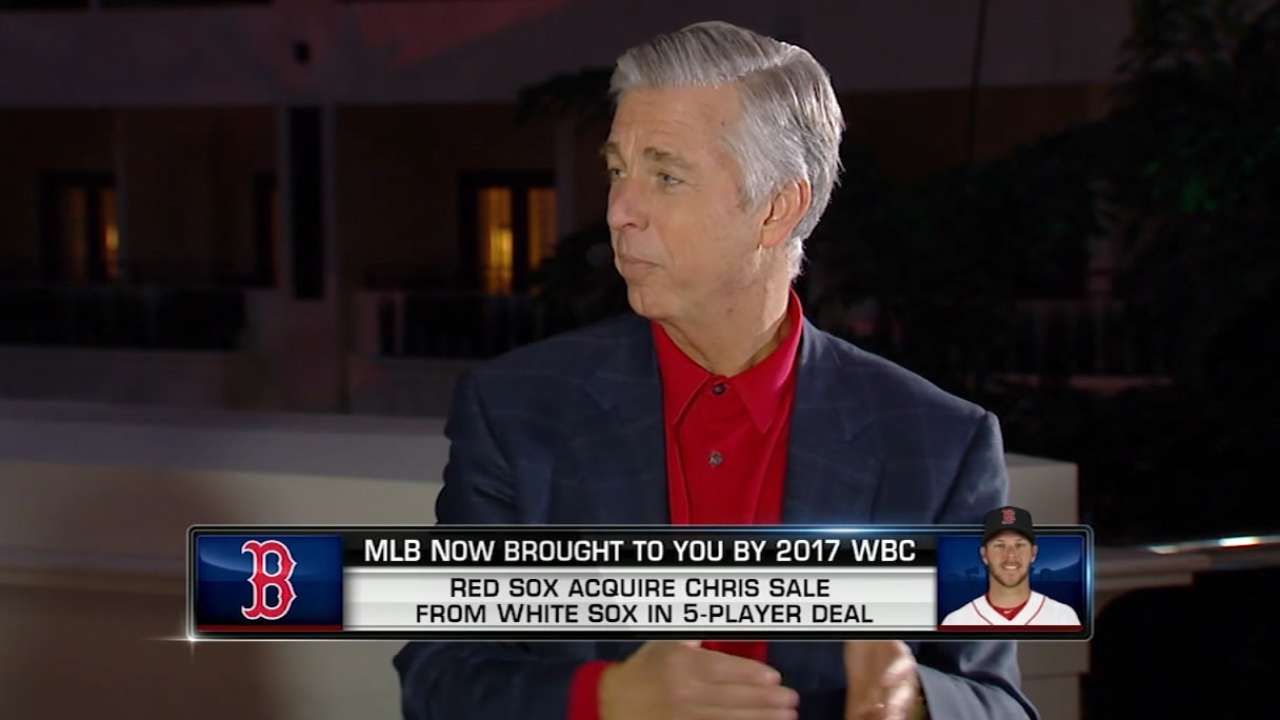 July 31, 2015: Tigers trade Yoenis Cespedes to Mets
Shortly after trading Price to the Blue Jays and shortly before his ouster in Detroit -- and subsequent move to Boston -- Dombrowski made a Deadline deal that worked out great for both sides. The Mets got Cespedes, whose hot stretch run helped boost the club to the postseason and eventually the World Series. The Tigers, who finished 74-87, got pitching prospect Michael Fulmer, who became the 2016 AL Rookie of the Year after posting a 3.06 ERA over 26 starts. They also picked up pitcher Luis Cessa, who was used in a deal for Yankees reliever Justin Wilson that December.
Dec. 11, 2014: Tigers acquire Cespedes from Red Sox for Porcello
At the end of the 2014 Winter Meetings, Dombrowski acquired Cespedes from his future employer. Cespedes had gone from Oakland to Boston at the 2014 non-waiver Trade Deadline, but disappointed with the Red Sox, hitting .269/.296/.423 over 51 games for a last-place club. Dombrowski bet on a rebound and got one (.293/.323/.506 over 102 games with Detroit in '15), also receiving pitchers Alex Wilson and Gabe Speier in exchange for Porcello. Though he had a tough debut season in Boston, Porcello rebounded to take Cy Young honors in '16.
July 31, 2014: Tigers acquire Price from Rays in three-team trade
Dombrowski upgraded an already stacked rotation (sound familiar?), adding Price to fellow Cy Young winners Max Scherzer and Justin Verlander at the Trade Deadline. To do so, he sent center fielder Austin Jackson to the Mariners, and left-hander Drew Smyly and infield prospect Willy Adames to the Rays. The Tigers went on to win the AL Central, but despite starting their Big Three, they were swept in the AL Division Series by the Orioles. One year after Detroit landed Price, it shipped him to Toronto.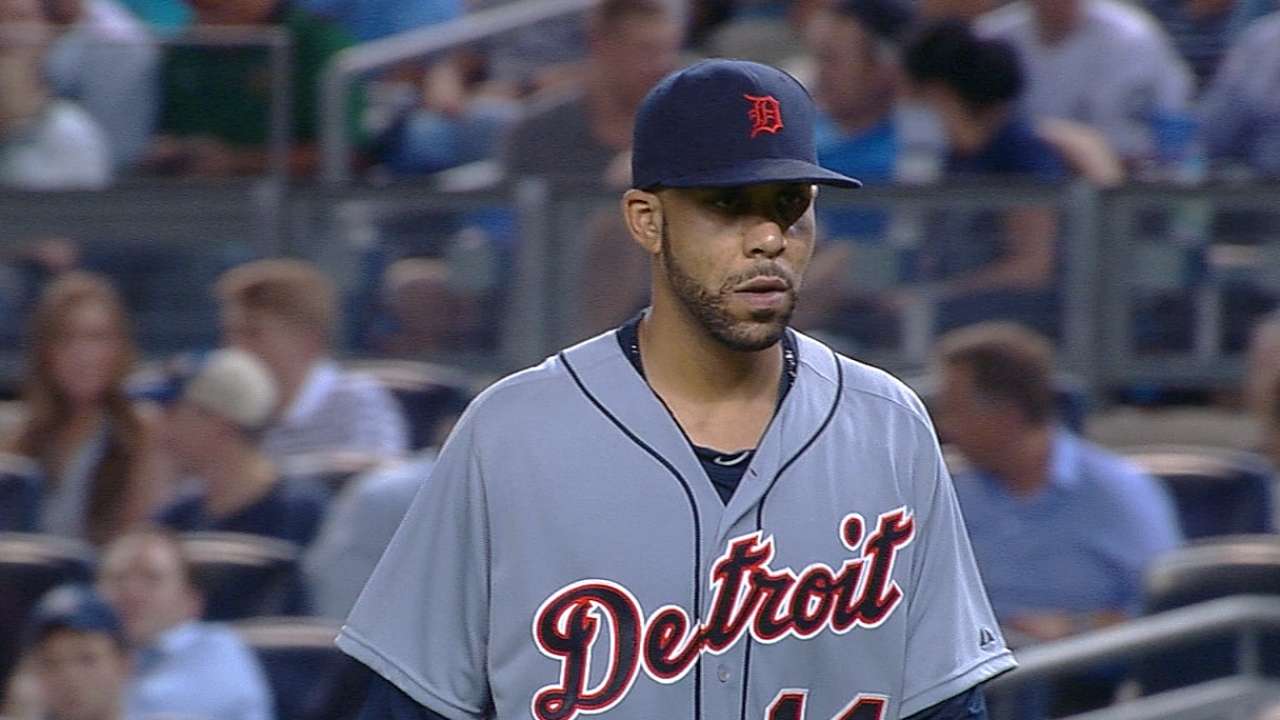 Nov. 20, 2013: Tigers acquire Ian Kinsler from Rangers for Prince Fielder
It's not too often that two All-Star players are traded straight-up for each other. But Dombrowski pulled off a "challenge trade" that both landed Detroit the second baseman it needed and provided relief from the $168 million left on Fielder's contract, which was signed in January 2012 (though the Tigers sent $30 million to the Rangers in the deal). Since then, Kinsler has produced three strong seasons in the Motor City, while Fielder played fewer than 300 more games before neck surgery ended his career at age 32.
Dec. 8, 2009: Tigers acquire Scherzer, Jackson in three-team deal
After missing the playoffs for the third straight season following a 2006 World Series appearance, Detroit was looking to reshape its roster and did so in a big way. Dombrowski sent star center fielder Curtis Granderson to the Yankees and 25-year-old righty Edwin Jackson -- coming off an All-Star season -- to the D-backs. In a blockbuster that also involved Ian Kennedy (New York to Arizona), the Tigers snagged four players: Scherzer and lefty Daniel Schlereth (from Arizona), plus Jackson and lefty Phil Coke (from New York). In Detroit, Scherzer blossomed into a Cy Young Award winner, while Jackson immediately became a capable, younger replacement for Granderson. The Tigers made the playoffs every year from 2011-14.
Dec. 4, 2007: Tigers acquire Miguel Cabrera from Marlins
At the time, Cabrera was a 24-year-old, four-time All-Star who already had 138 career home runs and a .929 OPS. When such a special player became available, Tigers owner Mike Ilitch encouraged Dombrowski to pounce. For Cabrera and left-hander Dontrelle Willis, Detroit sent six youngsters to Miami, including two who were Top 10 prospects heading into 2007, according to Baseball America: center fielder Cameron Maybin and lefty Andrew Miller. Neither panned out for the Marlins before finding success later. Willis also struggled, but Cabrera became a two-time AL MVP winner and remains a franchise cornerstone.
May 1998: Marlins acquire Mike Piazza from Dodgers; trade him to Mets
In 1997, Dombrowski's Marlins won the World Series. They then embarked upon an ownership-driven sell-off, trading the likes of Moises Alou, Devon White, Robb Nen, Jeff Conine, Kevin Brown and Al Leiter before the start of the '98 season. The payroll-cutting culminated in a one-two punch of moves involving the future Hall of Fame catcher. On May 14, the Marlins acquired Piazza (a pending free agent) and Todd Zeile from the Dodgers for five players, including Gary Sheffield, Bobby Bonilla and Charles Johnson. Eight days later, after Piazza played five games for the Fish, he was flipped to the Mets for three young players. The haul included outfielder Preston Wilson and pitcher Ed Yarnall, whom Dombrowski used to acquire Mike Lowell the following year.
June 24, 1993: Marlins acquire Sheffield from Padres
Dombrowski left Montreal to join the expansion Marlins in September 1991. Less than three months into the franchise's inaugural '93 season, he landed lefty reliever Rich Rodriguez and Sheffield for three young pitchers. Sheffield, 24 at the time, had won the NL batting title the year before. He became a mainstay in the middle of the Marlins' lineup and later helped lead the team to a championship. Unfortunately for the Fish, one of the young pitchers they relinquished was Trevor Hoffman, who had two career saves at the time, but eventually finished with 601.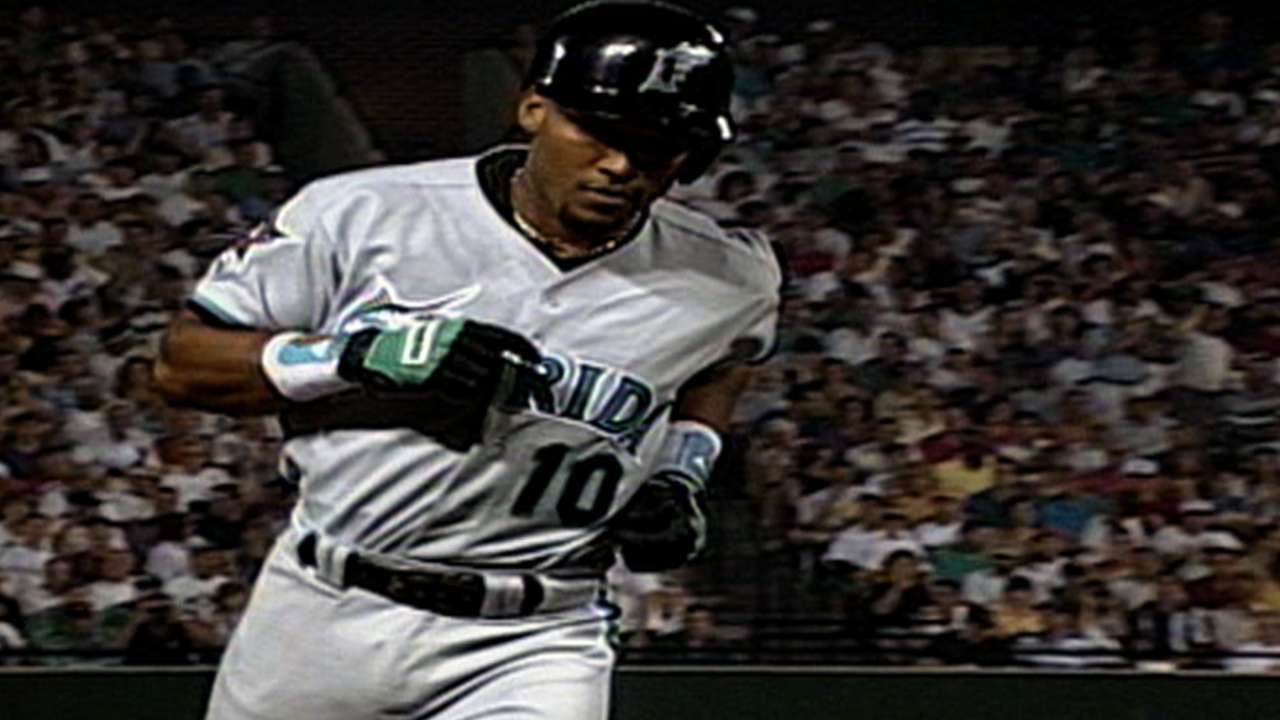 May 25, 1989: Expos trade Randy Johnson to Mariners
Dombrowski had not yet turned 33 when the Expos promoted him to GM in July 1988. Less than a year later, he made what turned out to be one of his biggest mistakes. Looking to contend, Montreal acquired established left-hander Mark Langston and a player to be named later from Seattle for three players. Langston was terrific (2.39 ERA in 24 starts), but left as a free agent after Montreal finished at .500. Meanwhile, Johnson transformed from a wild 25-year-old with 10 big league starts under his belt into one of the best pitchers of all time.
Andrew Simon is a research analyst for MLB.com. Follow him on Twitter @AndrewSimonMLB. This story was not subject to the approval of Major League Baseball or its clubs.