Rays may gauge value for Archer at Meetings
Neander says Red Sox trade for Sale is 'reference point'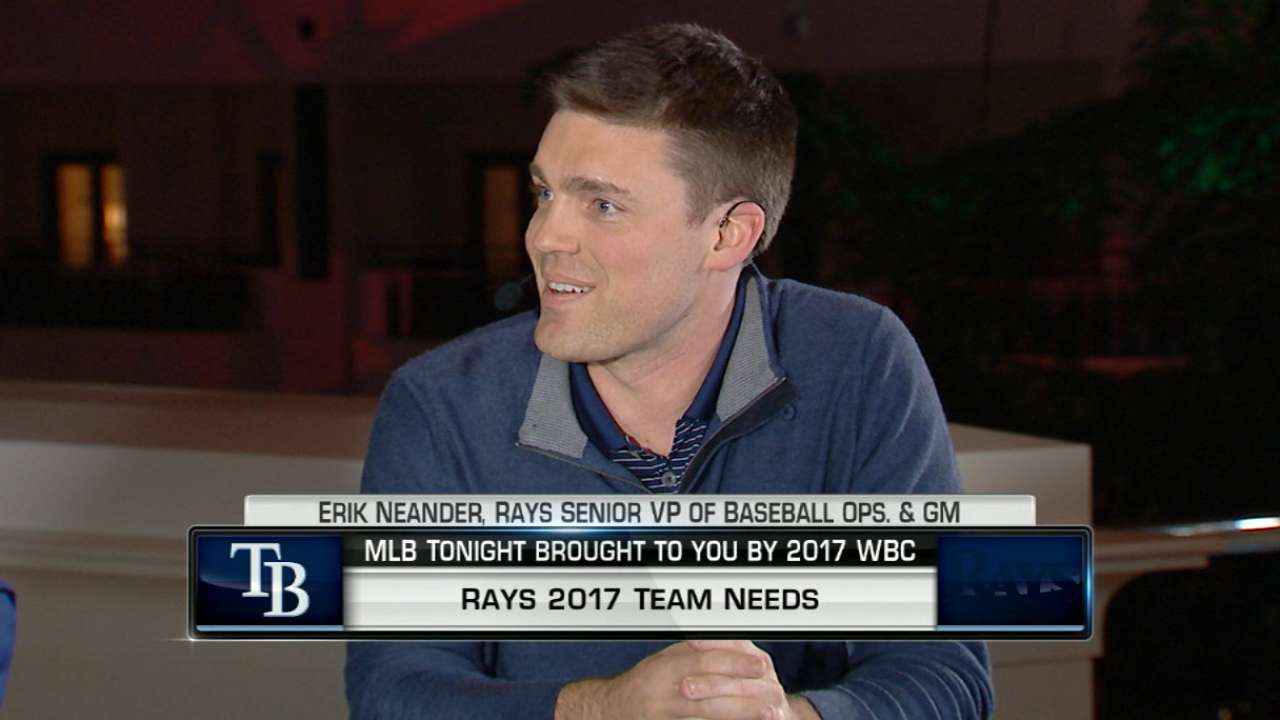 NATIONAL HARBOR, Md. -- The Rays did not trade Chris Archer on the second day of the Winter Meetings. Life in the American League East did become a little more interesting, though, on Tuesday.
The Red Sox made a bold move to acquire lefty ace Chris Sale from the White Sox for four prospects, thereby giving the Rays' division rival a huge boost with its starting pitching.
"It's an impact pitcher that's found a home," Rays senior vice president of baseball operations/general manager Erik Neander said. "How that changes things for us, like I said, it makes a team in our division better. In terms of what it does from our end, we have our evaluation of our players, how we feel about them. None of that changes by way of the decisions that are made by other clubs. It's entirely up to them."
Given what the Red Sox gave up to land Sale, it's evident that the price point for quality starting pitchers is sky high, which, ultimately, should affect what the Rays are able to ask for Archer.
When asked if the Sale trade defined the market, Neander allowed, "It's certainly a reference point."
"It's hard to suggest anything else otherwise," Neander said. "You're talking about a top-end talent with three years of control. The price to get those guys is not cheap."
Rumors have been swirling involving Archer. Clubs said to have interest include the Rangers and Braves. Along with those rumors have been reports that the Rays want too much in return.
But the Red Sox might have countered that line of thinking with a four-prospect package to the White Sox that included infielder Yoan Moncada, who is the top-ranked prospect in baseball, according to MLBPipeline.com. Also in the deal were highly-touted pitching prospect Michael Kopech, outfielder Luis Alexander Basabe and right-hander Victor Diaz.
When discussing the Sale trade, a reporter remarked to Neander that the narrative has been that the Rays are holding everybody ransom with their demands.
Smiling, Neander said, "Shoot." He allowed himself a brief chuckle then continued. "Look, we have players. We want to be competitive. We want to make up a lot of games in the standings. We're very fortunate to have the pitching we have and we value it considerably."
The Rays need to add depth to the outfield and bullpen, but, according to Neander, the club's top priority continues to be an upgrade at catcher.
"There's less catching than there are relievers, than there are outfielders," Neander said. "That certainly makes that more challenging, just because of the numbers.
"I wouldn't necessarily handicap any one particular area. We've had a lot of conversations that I think have been productive. Whether it leads to anything here or not, it's hard to tell. But it can happen at a moment's time in any of those areas right now."
The Rays appeared to have found their catcher Tuesday night, signing Wilson Ramos to a two-year contract, pending a physical, according to sources.
Rays starters Alex Cobb, Drew Smyly and Jake Odorizzi have also reportedly drawn interest. The Rangers have expressed interest in all three in the past, and the Pirates are said to be fond of Odorizzi.
On the surface, the Rays have been cavalier about not having to make a trade. Neander seemed to indicate that's not exactly the case for a team that won just 68 games in 2016, even if a lot of positions seem to be filled.
"Yeah, I think the way that we look at it is, we like a lot of the players that we have," Neander said. "But I think we also need to be realistic with where we finished in the standings and where we've been the last couple of years.
"I think at minimum, we need to create greater competition for the various spots for playing time with our club. I think that's something that will make our guys internally better. And I think just overall it will make our team better by doing that. So I think it is something that we would absolutely like to do, to create a sense of greater competition and to let things play out that way."
However, the Rays do not sound close to narrowing down their trade options at this point.
"I wish [the Rays were close to being at just a couple of options]," Neander said. "I think it's still pretty wide open in terms of which way it can go. But I do feel we've put in the time to prepare and we'll just see what opportunities present themselves. But I do feel like we're going to at least have a chance to improve some of those areas."
Bill Chastain has covered the Rays for MLB.com since 2005. This story was not subject to the approval of Major League Baseball or its clubs.