Yanks offer contracts to Chapman, Jansen
Cashman on free-agent closers: 'They're both exceptionally talented individuals'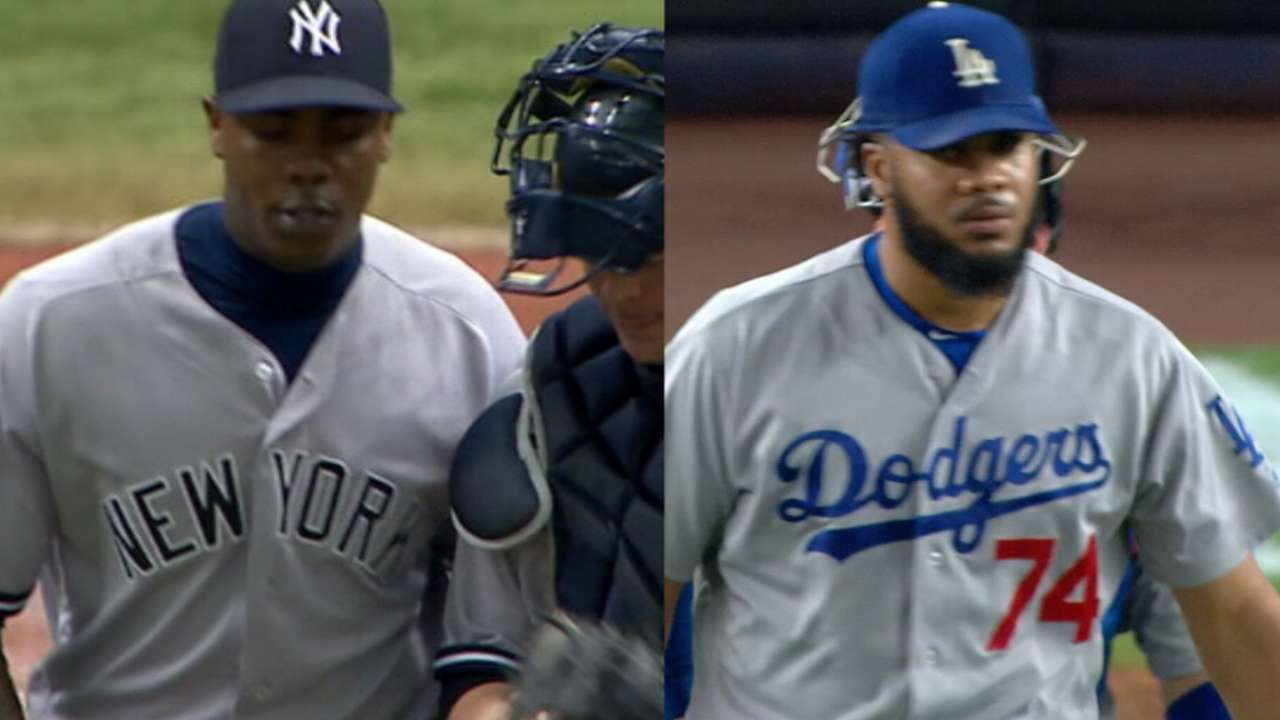 NATIONAL HARBOR, Md. -- The Yankees are placing the ball in the court of the two elite closers remaining on the free-agent market, as they have tendered contract offers to both Aroldis Chapman and Kenley Jansen, general manager Brian Cashman said on Tuesday.
Cashman would not speak to the length of the commitments offered to the pair of prized relievers, but both Chapman and Jansen are expected to land pacts exceeding the four-year, $62 million deal that Mark Melancon received from the Giants on Monday.
"They're both exceptionally talented individuals and they're both going to be well-rewarded for that talent, regardless of where they decide to play," Cashman said. "It would be nice if somebody picks us at some point. If not, we'll adjust."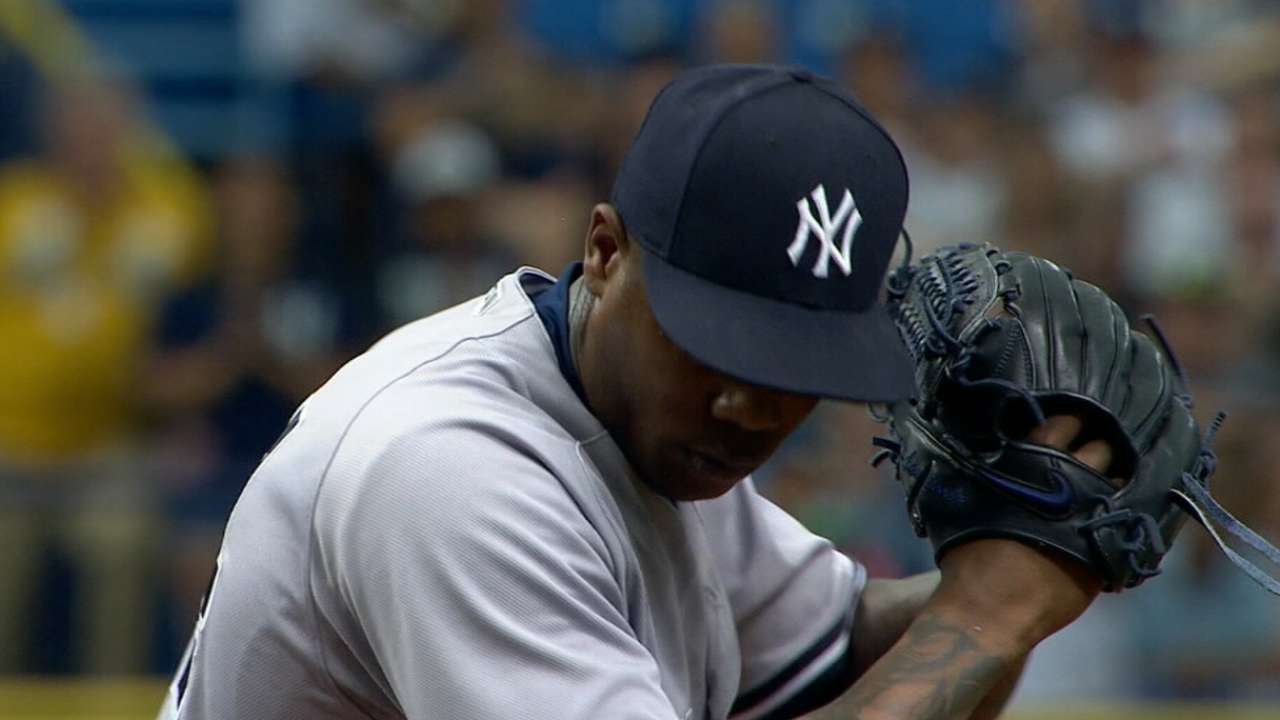 Should Chapman and Jansen fall through, the Yankees have engaged the trade market for potential bullpen help. Former Yankee David Robertson is among the hurlers they have expressed interest in, though the White Sox and Yankees have not yet been able to find a match.
Chapman told ESPN that he is seeking a six-year deal, and Cashman declined to say if that length is prohibitive for the Yankees, who are seeking to upgrade the bullpen and push Dellin Betances back into a setup role. He also said that it was "not in his best interest" to say if the Yankees have tendered offers to any other players.
However, Cashman said that a combination of the Draft compensation attached to Jansen and Chapman's success with the Yankees last year -- he was 3-0 with a 2.01 ERA and 20 saves in 31 appearances before being traded to the Cubs -- would make a Chapman reunion their preferred course of action.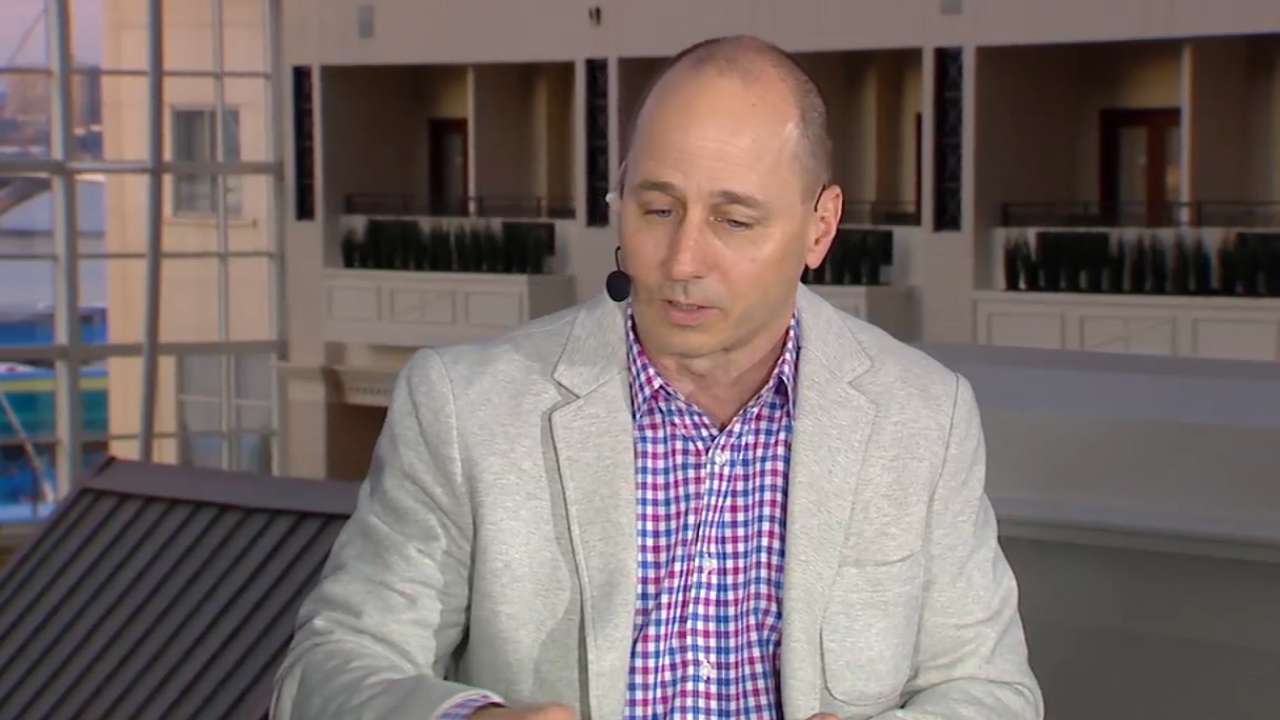 "The preference, yes, would be to retain our Draft pick if possible," Cashman said. "We know that Chapman pitched in New York. I don't believe that Jansen would have any issues pitching in New York either, but it's nice to have that box checked, too."
Cashman has said that the Yankees will compete "to a certain extent" for Chapman. Cashman said that the Yankees are continuing to maintain dialogue with Chapman's agent, Barry Praver, as well as Jansen's agent, Adam Katz.
"Whether it leads us to a positive resolution from our perspective or not remains to be seen," Cashman said. "They're still active with a whole bunch of people."
The Dodgers and Marlins are also in the mix regarding Chapman, who has received multiple offers exceeding $80 million, according to MLB Network Insider Jon Heyman. The Marlins have been said to be leaning more toward Jansen than Chapman, though.
Cashman said that he did not know if either pitcher would make a decision before the Winter Meetings conclude on Thursday.
"It's their dance tune that we're dancing to," Cashman said. "I can't predict when this thing is going to finish. They're setting the dance tune, so we're dancing to it."
Bryan Hoch has covered the Yankees for MLB.com since 2007. Follow him on Twitter @bryanhoch and on Facebook. This story was not subject to the approval of Major League Baseball or its clubs.