Royals aren't rushing to deal during Meetings
Moore looking for right return, while balancing payroll and winning in '17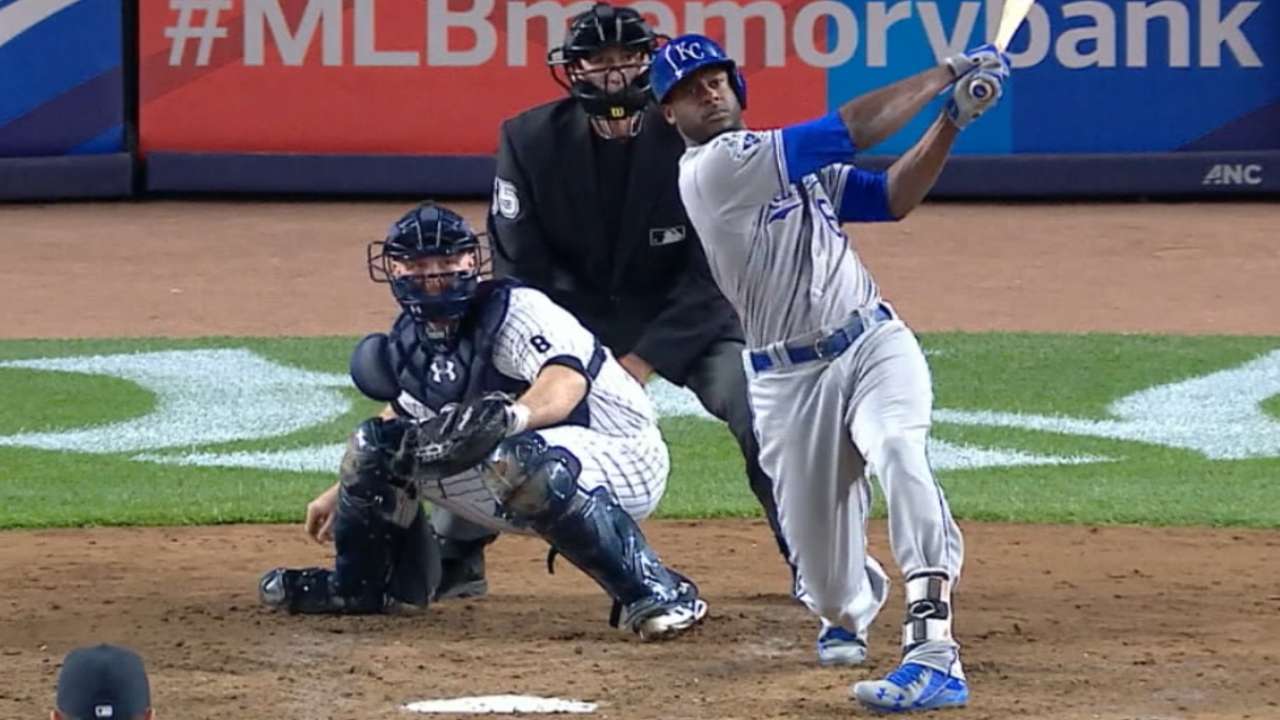 NATIONAL HARBOR, Md. -- There has been some speculation that the Royals would be the team rocking this year's Winter Meetings with a blockbuster trade that would include perhaps closer Wade Davis or possibly center fielder Lorenzo Cain or maybe even third baseman Mike Moustakas.
But on Tuesday, the deal that shook the Winter Meetings came from the American League Central-rival White Sox, who dealt superstar left-hander Chris Sale to the Red Sox for top prospects.
"Good baseball deal for everybody," Royals general manager Dayton Moore said from his suite at the Gaylord National Resort & Convention Center. "I think that deal made [the White Sox] good for next year, too."
But that Sale trade will not speed up the urgency in Moore's mind to make a deal here.
"What we have to offer, what we have in our talent pool is what it is," Moore said. "[The Sale trade] doesn't change our strategy. We have to focus on who we are and what we do. We can't make decisions or moves that are reactionary.
"With where we are payroll-wise, with where we are with the control of our players, with this opportunity we have to win [in 2017], we're not reacting to anything that other clubs do."
• Royals will benefit from full offseason routine
The Royals remain in the same position: they need to balance the desire to compete for a title in 2017 with the fact that they need to trim payroll while getting something in return for seven core players who could be potential free agents after '17 -- Davis, Moustakas, Cain, Eric Hosmer, Danny Duffy, Alcides Escobar and Jarrod Dyson.
So far, the Royals simply don't feel they are getting enough in return to pull off a trade.
Interest level in the Royals' assets is not the issue, Moore said.
"There are perfect teams for our deals, but would we be able to get what we want?" Moore said.
On Tuesday, reports surfaced that the Dodgers were possibly interested in Moustakas or Davis. But Moore indicated he wouldn't be shocked if he and his staff left the Winter Meetings without a deal.
"No. ... When we did the [Zack Greinke] deal [in 2010], we did it after the [Winter Meetings]," Moore said. "If it's good and if it feels right, we'll do it. But we're not going to rush something. We're not in a hurry to break up the team. But as is the case in every single Winter Meetings, there's deals on the table. There just is. It is just a matter of timing when people execute them or are comfortable with them.
"There's nothing we're prepared to announce or that we're close with right now. That could change."
In other developments, the Royals appear to be ready to move beyond former closer Greg Holland, who reportedly was near a deal with the Cubs. Moore said he has not had any discussions with Holland's representatives since the General Managers Meetings in November.
Holland missed all of 2015 recovering from Tommy John surgery and had a showcase for scouts prior to the GM Meetings. His fastball velocity, though, hovered between 89-92 at the showcase.
Jeffrey Flanagan has covered the Royals since 1991, and for MLB.com since 2015. Follow him on Twitter @FlannyMLB. This story was not subject to the approval of Major League Baseball or its clubs.