Winter Meetings interview with Mike Matheny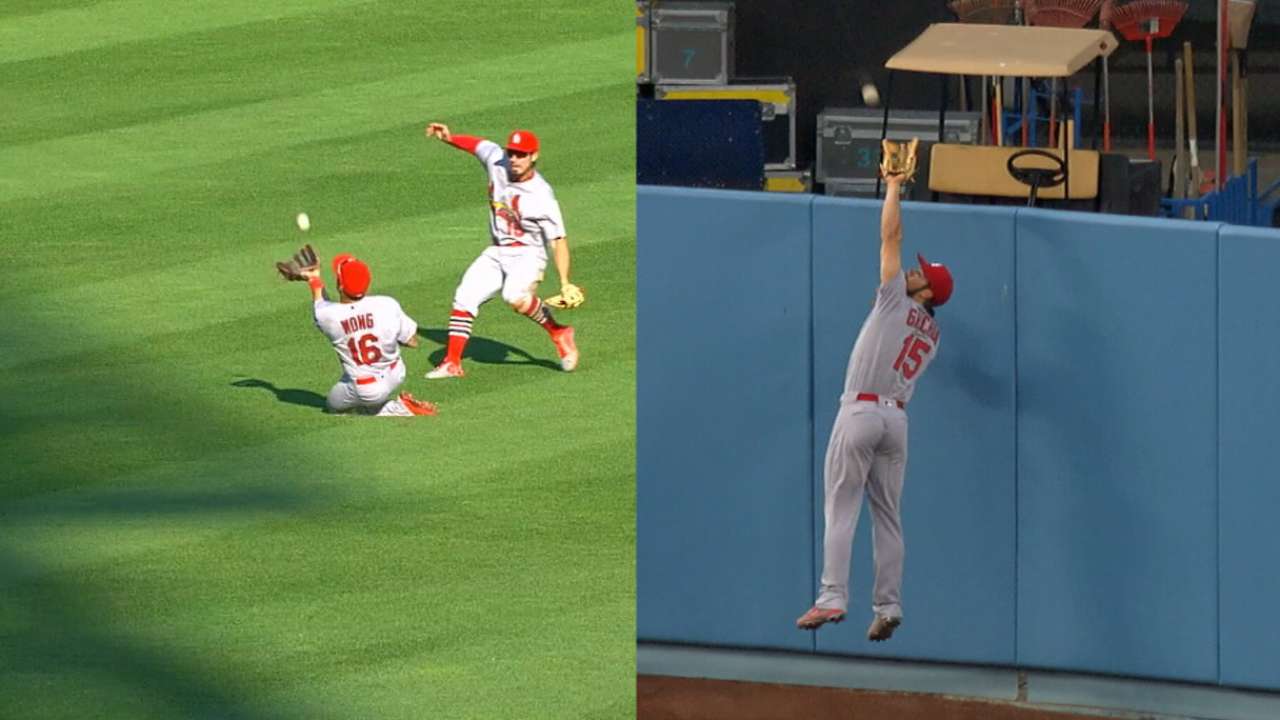 Q. Mike, in your previous Winter Meetings, and you've come in here coming off playoff years and great years, do you think in one way this is like one of the more important ones you've been a part of in trying to catch your team now, and how do you view this in terms of importance of winter meetings?
MIKE MATHENY: I think all of them are important. You're always going to have transition. You've seen some of our guys going, and already been able to make additions.

We started this off-season with pretty clear roles that we needed to get better and some things that we felt that we could do to get better, and some of those pieces are moving now and we'll see how it all kind of falls into place.

As far as urgency, I think there's an urgency every year when you're part of an organization that demands from ourselves what our fan base demands, and that's for us to show up with a great-looking product that is consistent with what the expectations are.

Q. What kind of player are the Yankees getting in Matt Holliday?
MIKE MATHENY: Holliday, we start talking about transition, you're talking about one of the pillars in our organization, and Matt has done a great job for a number of years now, not just production on the field, but the kind of leader that we needed in the clubhouse. Whenever we were bringing young players in, he was one of the guys that we could depend on to teach the game the right way and then go out and compete the right way.

Statistically I think everything is there to be seen for what this guy has been able to do through a great year, and I know him and Leslie and the family are excited about the opportunity in New York, and I know they are going to make the most of it.

For us, there's a void. There's a void in the leadership component, and it's a great opportunity for some of the other guys to step up.

Q. Position he's played much of his career --
MIKE MATHENY: Surprisingly comfortable for the little reps that he's had. Mechanically, I think he had some very quick adjustments that he made, but there's nothing that can replace the game's speed. If that's something they are going to do with him, imagine the process of Spring Training, giving him more opportunities would be helpful.

But as far as how he's just using his athleticism, for a big guy, he moves very well, and he seems kind of fluid, so it's not a stretch.

Q. Mo talked about the need to be more athletic, and that seems to be the focus defensively, and also on the bases a little bit. What do you see stylistically as the way you need to play next year?
MIKE MATHENY: There's no question the athleticism is something that you can see when you play a team that has that. It's the aggressiveness on the bases.

I think on the defensive side, what we'd like to see more of is just the consistency. I think that's pretty universal with everybody. We understand that we have some players with some great talent and I think you also have to be pretty realistic that we're still talking about quite a few players that are young in this game. When you have youth, you have inconsistencies, but you see some of the athleticism, and when you start talking about a Kolten Wong and you talk about the capabilities that he has and how he moves; you talk about a Randal -- whether he's in center or left or right, wherever you put him, the athleticism is there, but the consistencies that led to two players like that having time in Triple-A.

You talk about a Diaz who stepped in, his first year in the League, taking on a position like shortstop on a competing team; all of those things lead at times to some learning curves. So with the influx of new talent and trying to figure out how to get better with bringing in other guys, and then adding on to some of the experience and athleticism we see, it's going to be kind of pushing that needle forward.

As far as the base, it's all there.

Q. What do you see at the commitment to Kolten at second? Do you see a similarity with what you did with Randal, give him a chance to play? Do you see some similarity?
MIKE MATHENY: Yeah, I see where you're thinking. I think we actually kind of made that move last spring, when you give him a multi-year deal as a young player. It's still early in his career, we showed him what we think of him.

I see last year as one of those tough lessons learned, kind of situations, and watch how kids take that adversity and respond and how they grow. We've watched that happen I think with both those cases with Randal and with Kolten, how both went down and gave the right response. They went down with an idea to get better; Kolten to the point where he was out working in the outfield. That's a great adjustment and I think a great attribute to have, the fact that he's willing to do what he has to do to help our club.

But in the meantime, none of us have shied away from the fact that this should be a top-tier defender at second base and we're never going to back off that, and neither should he, and the expectation he has for himself. He has the whole winter to take some of the lessons he learned, I had some good conversations with him last year about what are the things that he's learning and what are the experiences he can use to help him in the future. He was getting what he was supposed to get.

I think you add all that, just the maturity, and then hopefully some success. Hopefully you have success, and things seem to take off in a different direction.

Q. Do you think that Kolten, maybe find his way offensively because of the difference he can make defensively?
MIKE MATHENY: This is a game which value means more at any particular time. Especially with a young player like last year; is there a chance for us to insert somebody else so he can to figure it out and he can be the guy we need him to be for a long period of time.

Kolten has had success at every level offensively, and that doesn't disappear. It's just part of the process for a young player. I think he's a Gold Glove-caliber second baseman. And he's going to have to go out there and he's going to have fight through some of those lulls that the game just brings. I saw him grow up last year through the adversity, and I see some exciting things ahead for him.

Q. How active, if at all, are you in these Winter Meetings? Do you call potential free agents or get involved?
MIKE MATHENY: You know, there have been times when I've been asked to call. There have been times when I've served as an intermediary and connected some of the players with potential free agents. We kind of follow the lead of whatever the free agent, wherever they take us and be available to do whatever. This year, there were a lot of different things out there, trying to figure it out.

Q. Do you tell Mo what you want, or how does that work?
MIKE MATHENY: We talk about that, really the day following the season, we all sit down. Everybody kind of tries to be honest evaluators, not just of players, but of ourselves; honest evaluators of where we're headed and what it looks like and the adjustments that need to be made.

Once again, it's a lot of reflection on what we feel that we could do to help our players. Yeah, you talk about where you think things are going to head and maybe losing key players like we've lost, and how do you rebound from that and what are going to be some of those openings and how can we get creative to figure out how to not just fill spots but improve along the way.

Q. The goal of getting better defensively and on the bases, that might be addressed by what you do the next few weeks, but in terms of it improving within, do you see changes to how you run Spring Training and how do you address those areas and in what way?
MIKE MATHENY: We have kind of been gathering still information as much as we can, not just about individuals but our team as a whole, and also the rest of the league, and always looking to use some of the great minds that we have in the organization, whether it's in the staff or front office, to help push a little bit further what our work looks like and what our rest looks like.

This year it's going to be more about work management and efficiency and not falling into maybe some is of the traps that are considered consistent with how things were run in the past, whether it's Spring training or whether it's your work period before you play a 162-game season. Trying to think outside the box a little bit.

But we're going right back to the drawing board when it comes down to the basics of baserunning, when it comes down to how we can be that defensive team that we need to be, which we know internally influences our pitching. They go hand-in-hand. We believe there's just improvement -- and this is being fed, also, as we finished last season and talking to the guys on the team and having them really be evaluators of not just themselves but the club. When we get buy-in, we know there could be some wholesale changes. We've had those discussions. We've given guys opportunities to weigh in as well, and we believe there's another level of baseball for us, and just the consistency, the excitement that we're talking about of playing the game the right way.

And that's something that I know this organization has taken a lot of pride in in the past. And I can't go through this interview without saying, there were a lot of positives that we took from last year. You can't teach a team to compete like our team competed. You can't teach the fight and the heart that our club had. And that is, has -- it's not just had; it's something that you don't lose. It's something we need to build on.

There's many positives that we had, but I think a team that's been accustomed to playing into October, well into October, you have the fortunate position of seeing what it looks like to get where you want to go, and then be able to see that there are some deficiencies in certain spots.

I thought the guys did a real nice job of being honest with themselves and with us of where they felt we can get better, and we were all on the same page.

Q. With the thumb injury, what kind of progress did you see in him defensively as a shortstop, new position to him, from when he first started toward the end of the season where he got a lot better?
MIKE MATHENY: He did improve. There's an adjustment to this league. You talk about a big jump from a seasoned player at Triple-A to the Big Leagues; you talk about a kid with just a handful of Triple-A, being in AA, and a huge cultural change, being one of the first Cuban players to be over here; one of the many challenges that add to the position of shortstop for a contending team. All of that, I don't know if we really give enough weight to how that can slow a kid down.

And then early on, there were a couple things that happened that actually, as we talked about with some of the other players, you start going -- it starts going in a little bit of a negative direction or you have some results that don't look quite positive, and you don't have that reservoir of experience to lean on to say, hey, you know, I do belong here and I should be the shortstop for the St. Louis Cardinals.

As much offensive success as he was having, the defense is it's own animal for a position like shortstop. I think it was compounded a little bit.

I think he wore it well, but he wore it, and that does, it wears. It wears you down. I thought he did a great job of staying the course, and then improving. He's going to be a good defender. And we've all got work to do. He knows he has work to do. But this is a driven kid. He's an impressive kid, and I'm excited to watch him come in with the experience that he's had over this last year and figure out how to take his game to another level, as well.

Q. Do you feel you have to come away from these meetings or a week from now with a legitimate center fielder, or do you think it could be a corner and Randal could still play in the middle?
MIKE MATHENY: I think we are going to continue to make the best move possible to help.

Q. Alex Reyes last year, where do you see him in 2017, rotation, bullpen, moving forward?
MIKE MATHENY: Alex was phenomenal as a starter. He should be a starting pitcher. We'll see how it plays out through Spring Training. We love the healthy competition of spring, bringing in as many players as we can, and trying to figure it out. But there's certain guys who have slotted innings set for them, and now Alex is going to have those. He's earned that. He's deserved it and he's shown us exactly what we were hoping for and then some.

Impressive kid all the way around, and stuff was impressive enough on its own, but a lot about Diaz being thrown right into a big spot; there was a lot of expectation thrown on Alex Reyes the day he showed up in St. Louis. The kid never batted an eye. We threw him in situations you would normally not throw a kid into, and he not only survived, but he excelled.

He's going to be fun to watch. I really admired and appreciated how he took on so many things over this last year and handled them like a man, and stood up when he needed to stand up, and also go out and compete, and just be able to compartmentalize many things. He did that exceptionally well.

Q. (Indiscernible)?
MIKE MATHENY: We like to compete, and we show up to Spring Training ready to earn our job, every single one of us. We don't make that mistake of telling anybody they are going to be hitting any particular spot. They don't necessarily say we are going to have anybody at a particular position. There are obviously guys you have a little bit of history with guys closing out games or guys or setting up -- Adam Wainwright is not fighting for a bullpen position. He's been around here for a long time.

But for the most part we bring these players in with the idea that I'm going to go out and earn it, and that not only I believe builds up their own worth and their own spot on that club, it also earns the respect of their teammates, when they come in without expecting anything given to them. They come out and earn it, and every bullpen, every side session, every time they get on the mound, they have to go out and deserve it. We don't want them any other way.

Q. With Molina playing in the tournament, do you see Carson Kelly getting a lot more work in Spring Training?
MIKE MATHENY: We typically have nine in a typical spring. We'll have to prepare. We're fortunate with the camp that we have. We'll have a couple catchers in proximity that we can bring over at any time. We support what's going on with the Classic and realize it's a big deal for everybody that gets to wear their country's name across their chest. I know it means a lot to Yadi and happy for him, Carlos, and whatever other guys end up playing. We'll figure the rest of it out as we go.

It does always create some extra opportunity for guys that might not get it otherwise.

Q. What does your rotation look like, with the competition going forward, and how comfort table are you with the guys you have competing?
MIKE MATHENY: It's all the usual suspects, and I'm very confident in the starters that we have. I think it's nice to be in a spot where you bring a Lance Lynn back into the mix and the workhorse that he is. You have the opportunity to let the other guys go out and figure out where they fit. It could be guys that are on the bubble and could end up having long roles in the bullpen, or maybe guys that are retooled and have a completely different role than they have ever had before.

I don't think at this point we look any further past, we're going to have certain guys we're going to try and stretch out and we'll just kind of see how the competition goes.

Q. When you watch how bullpens were used in the post-season, did that change how you look at any of your pen, or is that sustainable during the regular season?
MIKE MATHENY: It's something that I think we've seen kind of evolve over time, and when you have the pleasure of having multiple days off in a week and you get the rest that you need, it's actually fun to be able to use those guys in that way.

But as far as a 162-game season goes -- you can get creative with your roster and you can get creative with all different kind of things to make that happen. It would be nice to have that many options available to go off as what you use in the post-season, but it's a hard model to sustain.

Q. What do you make of the rotation with so many right-handers? Would it be appealing to have a lefty in there at some point?
MIKE MATHENY: Yeah, to us, it's right-handed, left-handed, whoever is going to be our best shot. I think there's some teams we've lined up against that you'll see, that might be a little bit of an advantage to have a lefty in there. There's lineups that you'll face that might be the opposite. I don't think you can pull that all together -- certainly wouldn't be opposed to a solid left-handed starter. We've got some guys that have shown success because of the repertoire of pitches that they can be successful against both.

Q. What are your thoughts about Dexter and his skill set for what you guys are looking for?
MIKE MATHENY: Yeah, he's an exciting player and we've seen him from the other dugout enough to realize he's the kind of player that can make a difference, especially at the top of the order. You watch a Matt Carpenter-style at-bat, going in and grinding and figuring out a way to get on base and figuring out what that does to an opposition and what it does to a pitching staff and how it elevates pitch counts and how it does create a sense of rhythm in your offense. To be able to have a player like that in your team, we've seen the benefits when Matt Carpenter is going right, how our offense works. The more players that you can have like that, I think the better off you're going to be.

Q. Were you involved in his recruitment? Is he one of the guys you can make a call on or have you?
MIKE MATHENY: I know about Dexter. Yeah, there's no question that he's one of the guys out there that not just the Cardinals but other teams are interested in. I'm always available for whatever the recruiting process needs.

Q. Have you spoken to him through this?
MIKE MATHENY: Have not.

Q. Is his recruitment similar to what you got when you were coming out of high school in Michigan?
MIKE MATHENY: Oh, yeah. Everybody knocking on the door. Yeah, not quite like that.

Q. Do you guys pay as much as Michigan football players?
MIKE MATHENY: Wow. I think we're about done yet.

Q. With Rosenthal, how do you see his fit being in the bullpen? Can he offer you some unique flexibility?
MIKE MATHENY: I've explained it to Trevor, prepare this off-season to come in to throw multiple innings. What that looks like, we'll wait and see.

You start listing out all the guys who had some starting experience on our club and have had some starting success, it's a tough fight. But we're not afraid to let Trevor come in and at least show what he can do, and not saying that he's going to come out and start a game, but we're going to have him built up and we'll see how that plays out.

We believe he has that ability, and I think he deserves that, too. It's something that he's talked about for a number of years to you all, and to me, and you know, watching him come in last year, I thought what a great shot in the arm that was for us to watch him late in the season, come in and be able to soak up some innings and do it extremely well.

So we'll build on that, and kind of see where this plays, and how it all goes.

Q. In terms of the closer position, is there a certain mentality needed, rather than another reliever? Is there a difference in what kind of approach they take to a game?
MIKE MATHENY: I think there's some traits. But as soon as you say that, you finds another guy who has had success pitching in the ninth inning with the lead, and he's wired completely different than the next guy.

You know, some of the consistencies that we've been able to see is an inherent toughness, whether you look at a Trevor Rosenthal, you look at a Seung Hwan Oh, you look at some of the other closers we've had in the organization that have had success, they are typically quick to take the blame and quick to forget about it and quick to take the ball the next day. I think those are great qualities.

There is an inherent toughness that comes with that, and there is an ability to want that pressure and to want that position and to want to be the guy that you're team has relied on in those situations. You come across those style of players, and they are special. You try to figure out to continue to help them grow. We've been fortunate to have some good ones.

Q. Is there any specifics you can offer about what you guys are discussing for Spring Training?
MIKE MATHENY: No, still in process. For us, we love the definition of trying to push the game forward, there's usually change involved. So what can we do, and we also enjoy incorporating the guys and their opinions; give us your feedback. And, again, once you have buy-in and something that they are helping to build, truly get their involvement.

So we're looking forward to putting all those pieces together and seeing how we can work more efficiently, and what are some of the things that we can carve out every year. There are some times -- is there time wasted, is there time that we can invest better. But those are all conversations that we're having and we're taking down all barriers and walls and trying to see if we're missing something, and then not denying the things that we're doing well. I mean, let's take it for what it's worth. We got down to the last 20 minutes of the season still in this thing. So, I mean, that's pretty impressive, considering some of the adversity that we had last year, and there are some things that we've been doing right. Sometimes you need to make some major overhauls, and there's other times that you just need to keep improving on what you're doing.

Q. Mike Shildt (indiscernible). Is that his job description?
MIKE MATHENY: His job description is being defined as we go, as well as David Bell, the whole staff is involved. Mike Shildt and how this all plays out with his new position is being defined kind of as we go. We have some things we'd like to see him have a say in and have some -- have his mind all over, and we've already thrown all that to him. The day he got the job, we gave him a list and he took off running. He and Ollie are both very conscientious, very consistent baseball people that love this organization and want to see us try to figure out how we can get better.

Q. Would you anticipate it being a more noticeable change than we've seen year-to-year? You always tweak little things each spring. Will it be more noticeable?
MIKE MATHENY: Could be. Once again, we're just getting data and ideas, and it's possible, but you can't really -- until you have all the information, until we really have a good idea of what it is -- the end game and what we are looking to accomplish through spring, and we still have to make sure -- we have to see all the pieces we have in place, too. Those kind of things are kind of slow in motion, but we are not opposed to doing something very noticeable.

It could be minor things we are doing even before we're putting out the schedule, things that we're trying to get off the field to do on the backfields, nothing covertly, but just whatever is going to be best for the club.

Q. Did you watch the playoffs, and if so, do you watch it as a fan, do you watch it as somebody saying, okay, these are the guys I have to try to knock off next year?
MIKE MATHENY: You know, it's really hard to watch the game as a fan, only because we spend so many hours watching the game, breaking it down. It was obviously a good year for the game of baseball. And to be able to have the excitement and the following that we had this year.

With that being said, I'm happy for the game of baseball. But I constantly watch it, and I'm scouting it; I can't help it. I can't turn that off. I'm watching to see what's going on, trying to find some tendencies, but also with the learning cap on, too, seeing how different managers are handling certain situations, and being able to ask myself, why, where they might go next.

It was almost like managing games. I tell you all that a lot. When I'm in the middle of a game, I'm trying to think, obviously, like every other manager, what is the guy across the field trying to do and why would he be doing that. You're giving yourself a chance to grow.

Yeah, I think I wear my kids out because I'm going through all the hypotheticals out loud as a family watching it, because we don't have the pleasure of doing that very often. They seemed to humor me with it. All in all it was a good post-season to watch.

Q. A general question about Otani, if your team gets him, how do you want to use him?
MIKE MATHENY: Pretty exciting player. Yeah, I don't have a good answer for you. Amazing to watch someone that's had that much success from the pitching side and the offensive side.

You have a player like that, I think you have to start all over with how you think you use players, and try and maximize that. I love the idea of being more versatile and flexible with any of our players. We had some conversations about some of our bullpen guys who were runners on off-days trying to figure out a way to incorporate them into the running game somehow. It's always trying to maximize the talent that you have, but a talent like that is pretty rare. That would be a nice problem to have, so send him our regards.