Hoffman turned setbacks into pluses
Hall of Fame hopeful started as shortstop, overcame two injuries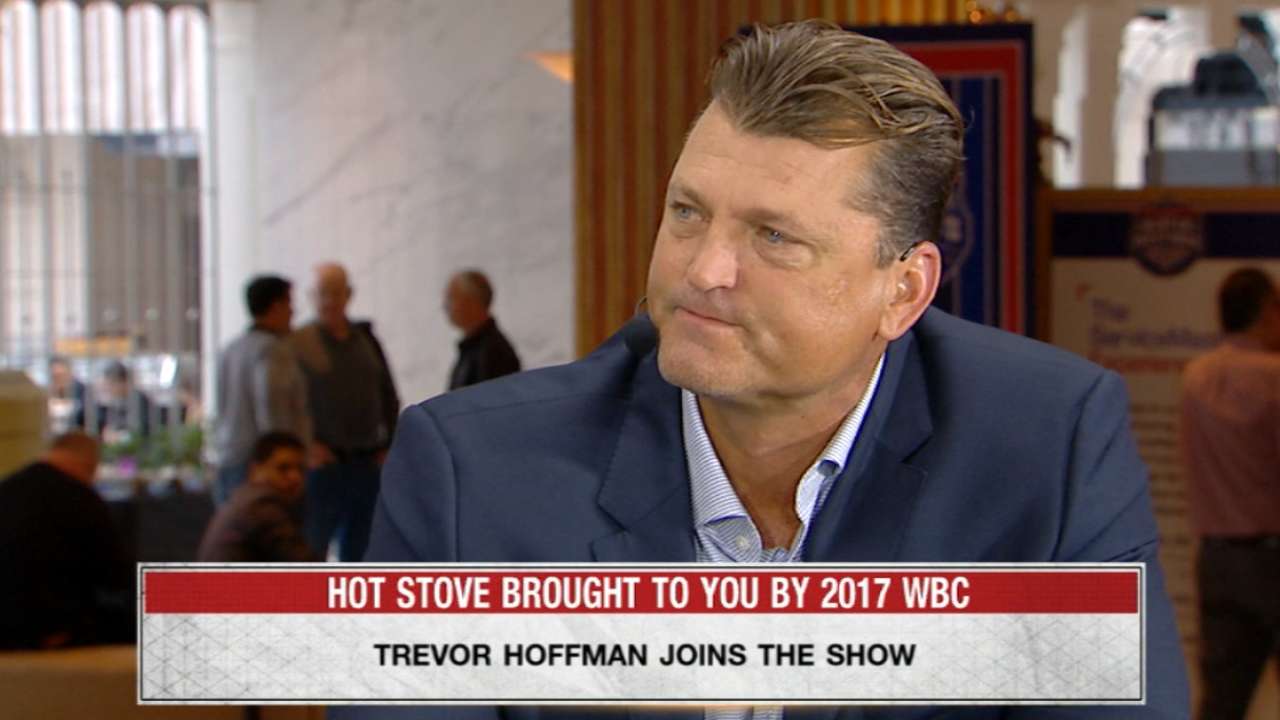 Bill Center, longtime sportswriter for U-T San Diego, is an employee of the Padres.
The mark of a great baseball player is the ability to adjust and adapt. Few players have adapted more in their careers than Hall of Fame candidate Trevor Hoffman, the first pitcher in Major League history to reach 500 and 600 saves.
First of all, Hoffman launched his professional career as a shortstop -- a position he had played since Little League.
When injury robbed him of his mid-90s fastball in 1994, Hoffman mastered what became his devastating changeup as the perfect complementary pitch in his arsenal. And as his fastball continued to decline in velocity with age and wear, Hoffman found ways to adjust his change to always keep a 10-mph split between the two pitches.
"As a player, as well as a person, you have to evolve," Hoffman said recently. "I don't think I always saw it that way as I was starting out. But overall, baseball is a game of adjustments. Some are just bigger than others."
The first change made by Hoffman was about as big as a player can make.
• Strength comes from sturdy roots
The Reds selected Hoffman in the 11th round of the 1989 Draft as a shortstop out of the University of Arizona, although Cincinnati's scouts talked to Hoffman before the Draft about possibly playing another position.
Hoffman had both a great arm and acumen for the game. The original thought was that Hoffman might be transformed into a catcher.
But Hoffman launched his career as a shortstop and third baseman. He hit .212 in 103 games at the Class A level in 1990.
"I wasn't hitting and was making some errors," Hoffman recalled. "I got behind some other shortstops in the Reds' system and some guys they drafted the next year. The Reds asked me about giving pitching a shot.
"The answer wasn't hard for me to reach. As a shortstop, I could sorta already see the writing on the wall. I wasn't going anywhere. I kind of looked at the shortstop-to-pitcher move as a positive. I felt like with [a] good arm, this could be an opportunity."
As he made the conversion to pitching in 1991, Hoffman's velocity had already clocked 95 mph as a shortstop.
At the time, Hoffman's course as a pitcher was unclear. But the possibilities became immediately apparent. He spent two seasons climbing from Class A to Triple-A with a 2.90 ERA and 169 strikeouts in 142 2/3 innings.
Hoffman's career took another turn in the winter of 1992. The Reds left him unprotected in the Major League Expansion Draft, where he was picked up by the Florida Marlins.
At the same time the Marlins were born, the Padres were going through a difficult rebuilding period. The Padres traded reigning National League batting champion Gary Sheffield to Florida for the 25-year-old Hoffman.
After a slow start with the Padres, Hoffman became the closer early in 1994 -- a season shortened by a strike. During the work stoppage, Hoffman was playing volleyball on the beach at Del Mar in California when he fell awkwardly on his right shoulder.
"The integrity of my shoulder changed at that moment," Hoffman said. "Up until then, I always felt capable of overcoming whatever obstacle I encountered."
Hoffman pitched with shoulder problems in 1995 and afterward underwent surgery. While struggling that season, Hoffman mastered what would become his legacy pitch -- the changeup.
It was not a new pitch for Hoffman. Larry Barton, the father of the scout who first signed Hoffman, introduced him to the circle changeup very early in his career. But during the long winter of 1994, Hoffman worked with Donnie Elliott on a different grip that he used throughout the 1995 season.
"I choked the grip in the back of my hand," Hoffman said. "The secret was I got it to look just like my fastball, but there was a 15- to 17-mph difference in the pitches. My changeup was fully engaged by 1995."
It wasn't always smooth sailing en route to 602 career saves. Hoffman missed almost all of the 2003 season following a second round of shoulder surgery that spring.
Already off from what it had been before the 1994 injury, Hoffman's fastball velocity continued to drop. But the pitcher continually refined his change so that it crossed the plate at least 10 mph slower that the fastball.
"Early on, I was a power pitcher," Hoffman said. "I had the fastball. But I quickly saw success was not so much in how hard I threw as it was in where I placed my pitches and how I could use the difference in speed between my fastball and changeup as long as the delivery for both pitches was the same.
"Deception, accuracy, the belief in yourself all ranked ahead of velocity."