Length of deal sticking point for Napoli, Tribe
Player, club have both expressed interest in ironing out slugger's return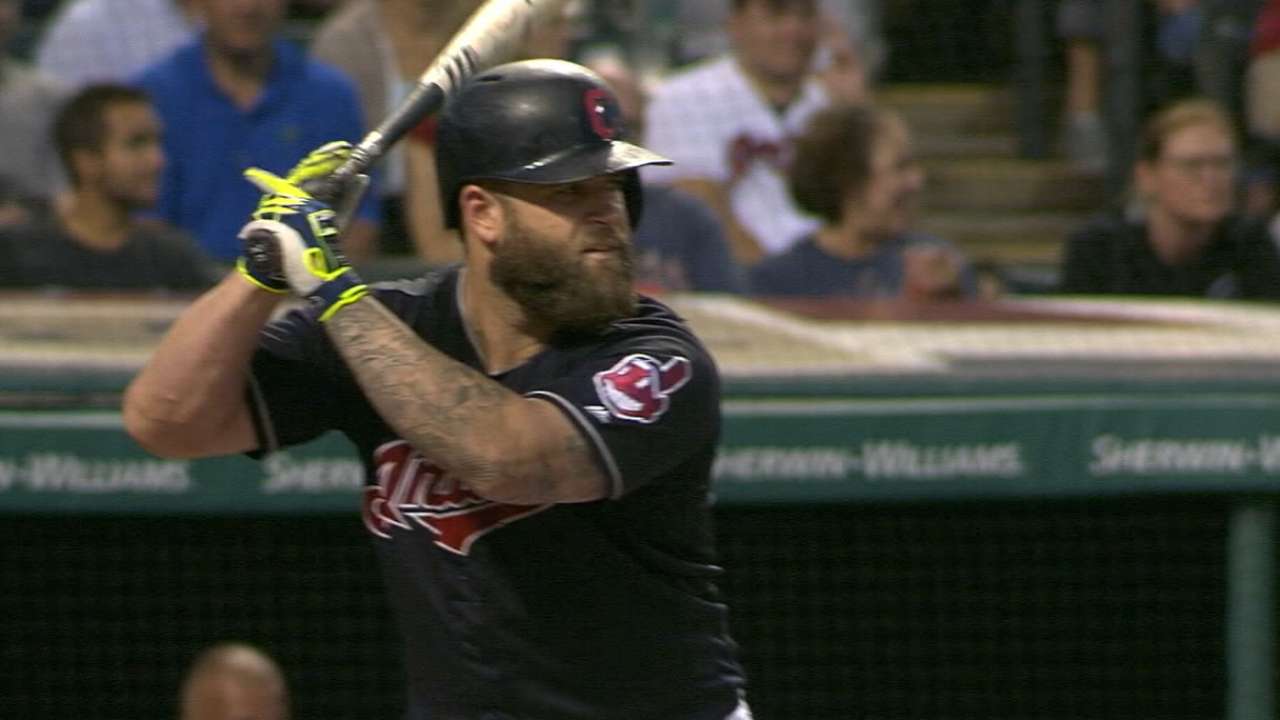 NATIONAL HARBOR, Md. -- Mike Napoli would love to keep the party going in Cleveland for two more seasons. The free-agent slugger is just waiting for the Indians to come calling with the kind of multiyear contract that will convince him to re-sign as their first baseman.
Napoli's camp met with the Indians' brass on Monday during Day 1 of the Winter Meetings at the Gaylord National Resort & Convention Center, but no follow-up meeting was scheduled as of Tuesday morning. The Indians' preference is to bring Napoli back on a one-year deal, while he is seeking a multiyear contract and is confident about securing such a deal this offseason.
"Nap made a tremendous impact on the field and off the field," Indians general manager Mike Chernoff said on Tuesday. "Getting to see him first-hand, we know exactly who he is and have a sense of what we feel like he can contribute. I think you take the totality of his season. And then, we have to weigh the conditions of the market.
"Free agency is about supply and demand in a market and figuring out what works for a player and what works for a team. We're exploring that with every player and, obviously, Nap's a part of that."
Napoli's agent, Brian Grieper, has met with a handful of teams through the first two days of the Meetings, and he's hoping to continue to progress in talks with Cleveland. There is a lot working in the Tribe's favor, too. Napoli not only loved playing for manager Terry Francona and being a part of a winning culture that resulted in the franchise's first World Series berth since 1997, but he thrived with the team's medical and training staff.
If the Indians were to offer a two-year deal, the chances of Napoli signing would increase dramatically.
Last season, the 35-year-old reached career highs in games (150) and plate appearances (645) following a few years plagued by a variety of health issues. While splitting his time between first base and designated hitter, Napoli posted career bests in home runs (34, tied for the team high with Carlos Santana) and RBIs (a team-leading 101), while posting an .800 OPS and 104 OPS+.
From the Indians' perspective, Napoli's age could be a deterrent for agreeing to a multiyear contract, as well as Napoli's diminished production down the stretch. From Aug. 16 through the end of the postseason, Napoli hit .163 with a .281 slugging percentage, compared to .266 and .530 in the previous four-plus months. So far, though, Napoli's statistical dropoff has not been a major part of the contract talks.
"Every player got tired towards the end of the year," Chernoff said. "Everyone got tired. I'm sure there were stretches where [he was battling fatigue], but Nap was a great contributor all year."
What has been brought up is the impact Napoli made on and off the field for the Indians.
Between the lines, Napoli's power was a welcome addition to the heart of an offense that finished second in the American League in runs scored. The 2016 season also marked the eighth in the past 10 that Napoli has played in the postseason. In the clubhouse, Napoli also emerged as a leader. Away from the field, the "Party at Napoli's" mantra was embraced by fans, generating money for charity through T-shirt sales.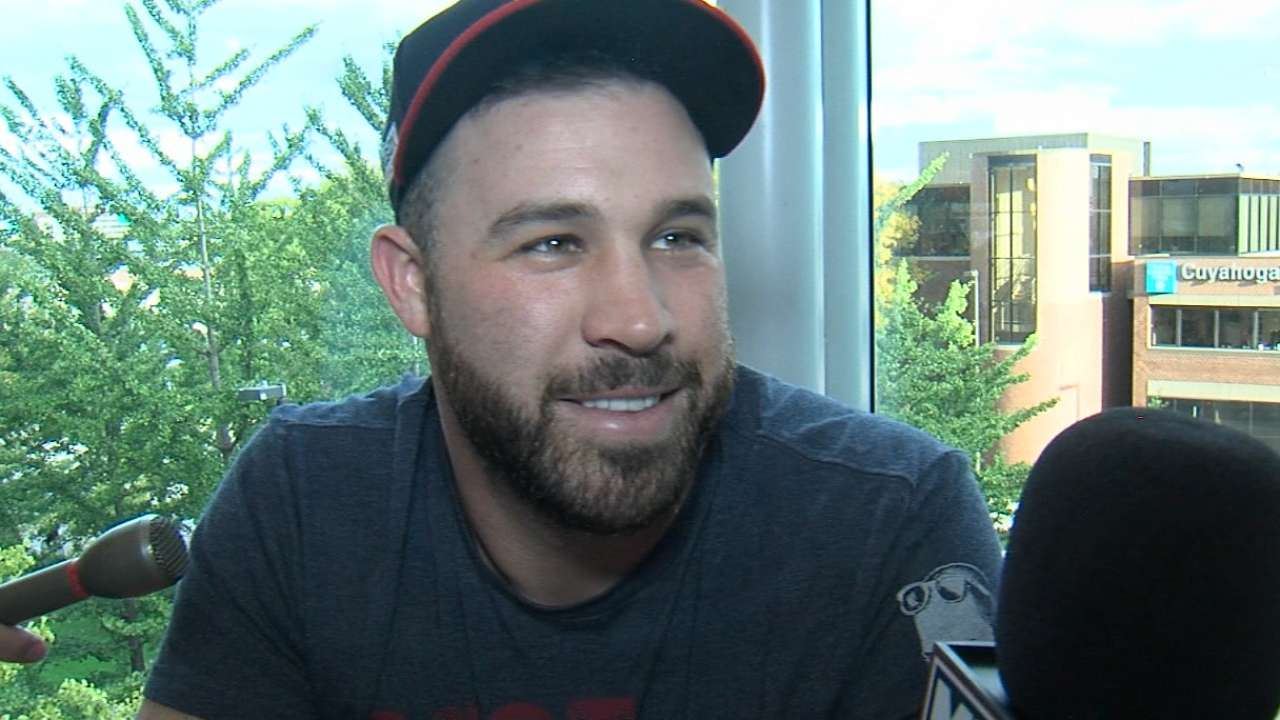 If not Napoli, the Indians could target free-agent first basemen like Chris Carter or Adam Lind. Mark Trumbo is also on the open market, though he would come at a much higher cost. Mitch Moreland's name had also been linked to the Tribe in various reports, but he reportedly agreed to a deal with the Red Sox on Tuesday night.
During Day 1 of the Meetings on Monday, reports swirled that the Indians have also been involved in talks with free-agent slugger Edwin Encarnacion. While Encarnacion presents the best fit -- he offers elite power, bats right handed and could move into the first base and DH role that Napoli filled -- the acquisition cost would not only be steep in terms of dollars, but include forfeiting the 27th pick in the 2017 MLB Draft.
The more realistic approach for the Indians would appear to be reeling in Napoli, or another player on a one-year deal. A year ago, Cleveland took a shot on Napoli on a one-year contract worth $7 million, which grew to $10 million total after the first baseman maxed out the deal's incentives. Napoli became a free agent after the Indians opted against offering him a one-year, $17.2 million qualifying offer in early November.
Napoli's camp will surely look at the fact that the Yankees signed 36-year-old Matt Holliday (.246 average, 20 homers, 62 RBIs, .782 OPS and 107 OPS+) to a one-year deal worth $13 million, and the Astros added 39-year-old Carlos Beltran (.295, 29 homers, 93 RBIs, .850 OPS and 122 OPS+) to a one-year contract worth $16 million. Kendrys Morales, 33, also inked a three-year, $33 million deal with Toronto.
"We're definitely cognizant of the production Nap brought to our team, first and foremost," Indians team president Chris Antonetti said on Monday night, "but also, the impact he had on other players. We've been pretty consistent in talking about how much we value and appreciate Nap's contributions. But, if it's not Nap, we're still going to look for ways to improve our team."
Jordan Bastian has covered the Indians for MLB.com since 2011, and previously covered the Blue Jays from 2006-10. Read his blog, Major League Bastian, follow him on Twitter @MLBastian and listen to his podcast. This story was not subject to the approval of Major League Baseball or its clubs.