White Sox dismiss concerns about Sale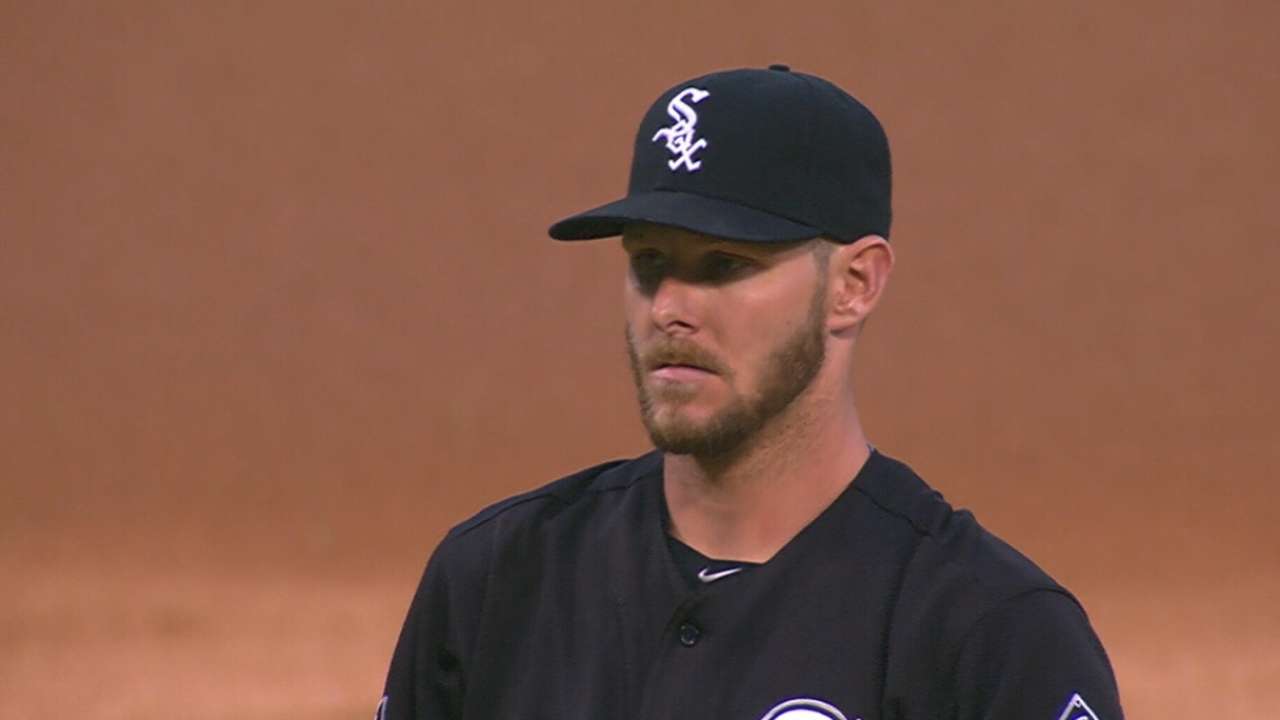 NATIONAL HARBOR, Md. -- Any concerns regarding Chris Sale's pitching mechanics or worries that the five-time All-Star with the wild delivery might eventually break down certainly aren't coming from the White Sox, as explained by general manager Rick Hahn at baseball's Winter Meetings on Monday.
"On our side? No. No. No. Come on," said Hahn. "Did you see what this guy has done in our uniform over the years?
"We're as excited to have Chris Sale in our uniform today as the day we drafted him. We realize this is an elite-level talent, a rare commodity in this league and a great, great competitor. No."
An ESPN.com report, citing sources, stated that some corners of the White Sox organization are pushed by concerns of trading Sale when he still has optimal value because of the breakdown factor. But Sale, 27, is coming off a season in which he went 17-10 with a 3.34 ERA over 32 starts. He fanned 233 over 226 2/3 innings, a career high for innings pitched, and he has thrown at least 200 innings in three of his last four seasons.
Even so, according to a report by MLB Network insider Ken Rosenthal, the Nationals now have a "legitimate chance" of acquiring Sale and are negotiating the final pieces of a trade. An industry source told MLB.com that a trade was not likely to be finished overnight Monday into Tuesday, and neither club confirmed that a preliminary deal was in place. The two sides are closer than they were entering this week's Winter Meetings, with Washington reportedly willing to part with two of its top prospects, right-handed starter Lucas Giolito and outfielder Victor Robles, as part of a package.
Garcia, Lawrie in the mix
Some fans were surprised when the arbitration-eligible Brett Lawrie and Avisail Garcia returned to the White Sox via one-year deals for $3.5 million and $3 million, respectively. Lawrie, the starting second baseman for the first 95 games last season before injury shut him down, earned $4.125 million in 2016.
"Brett still provides us with the versatility he had last year," said Hahn of the high-energy right-handed hitter. "When we acquired him, we talked about the potential of him playing second or third.
"Right now he fits in as a second baseman in that mix with [Tyler Saladino] and [Carlos Sanchez], and as this offseason unfolds, we'll see if there's other opportunities for him on the diamond. We like the cost. We like the fit. We like the energy he brings, and we felt it was worth having him around."
Outfielder Garcia, 25, has an abundance of talent, but through 1,551 career plate appearances and 409 games, he has yet to reach that potential either offensively or defensively.
"You look at Avi and he's still young, he still has that upside," Hahn said. "But he's also gotten to the point where he knows he needs to show it to start capitalizing on that ability.
"The kid works as hard as anybody and wants to be great. But he knows ... he's gotten to this point where he's gotten this opportunity with us potentially in 2017 and its time to start fulfilling some of that promise."
Quintana to the WBC
Ever since Colombia qualified for its first World Baseball Classic, All-Star pitcher Jose Quintana has expressed a desire to play for his country in the 2017 competition.
"I'm ready for them if they need me," Quintana told MLB.com.
That wish became official on Monday, when Quintana was announced as part of Team Colombia's roster. Colombia plays in Pool C in Miami with the U.S., the Dominican Republic and Canada.
"When Colombia won the qualifier last spring, I saw Jose the next morning with a big smile on his face, and he told me he wasn't going to be here next March," Hahn said. "It's great for him, and I know he takes a great deal of pride. It's great to see him getting the recognition and playing a role for his country."
Scott Merkin has covered the White Sox for MLB.com since 2003. Read his blog, Merk's Works, follow him on Twitter @scottmerkin, on Facebook and listen to his podcast. This story was not subject to the approval of Major League Baseball or its clubs.