MLB.com Columnist
Jon Paul Morosi
Encarnacion's skill set strong; timing off
DH/1B might regret turning down Blue Jays' 4-year, $80 million deal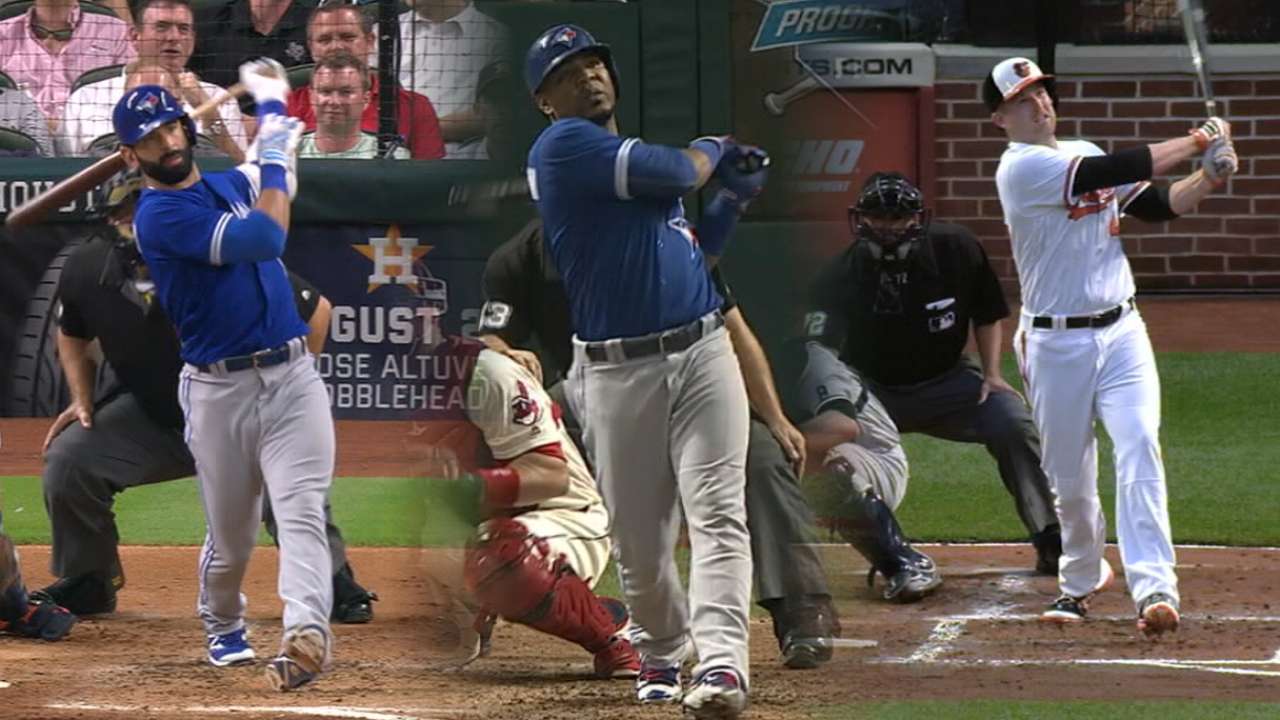 NATIONAL HARBOR, Md. -- Will Edwin Encarnacion regret turning down a four-year, $80 million offer from the Blue Jays before free agency began?
There's a good chance the answer to that question will be yes, although we can't say for sure until learning the years, dollars and destination of his contract.
But this much we know: Encarnacion is one of many options -- and, admittedly, the best option -- in a market for first basemen and designated hitters heavier on supply than demand.
Here are the available players in the above categories: Encarnacion, Mark Trumbo, Mike Napoli, Chris Carter, Adam Lind, Mitch Moreland, Brandon Moss and Pedro Alvarez.
So, eight names.
Some are true first basemen -- most notably Moreland, this year's Gold Glove winner at the position. Others are better suited for hybrid first base/DH roles, such as the one Encarnacion had with the Blue Jays.
Meanwhile, how many teams are definitely going to add a first baseman? I count three: the Rangers, Indians and Rockies.
That arithmetic is disconcerting for Encarnacion, Trumbo, Napoli and Carter.
The Blue Jays can upgrade over Justin Smoak but are highly unlikely to spend for Encarnacion with Kendrys Morales and Steve Pearce on the roster. The Yankees say they're content with a young internal option, Greg Bird or Tyler Austin.
The Angels could add a left-handed complement to C.J. Cron. The Phillies could do the same for Tommy Joseph. But those scenarios point toward Moreland or Lind, rather than Encarnacion or Trumbo.
The Red Sox and Orioles probably will add a hitter for a DH rotation, but their willingness to spend big on the role is in doubt.
Napoli, 35, and Encarnacion, 34, also have reached an age that teams increasingly approach with caution.
The combined contracts signed last winter by Daniel Murphy, Dexter Fowler and Ian Desmond -- totaling five years -- equated to less than one-third of Jason Heyward's eight-year, $184 million deal -- largely because Heyward was 26 ... and they weren't.
And so the wait continues for Encarnacion and others, who might've earned the right to free agency during the wrong winter.
Jon Paul Morosi is a national columnist for MLB.com. This story was not subject to the approval of Major League Baseball or its clubs.