Phils' Cozens collects for leading Minors in HRs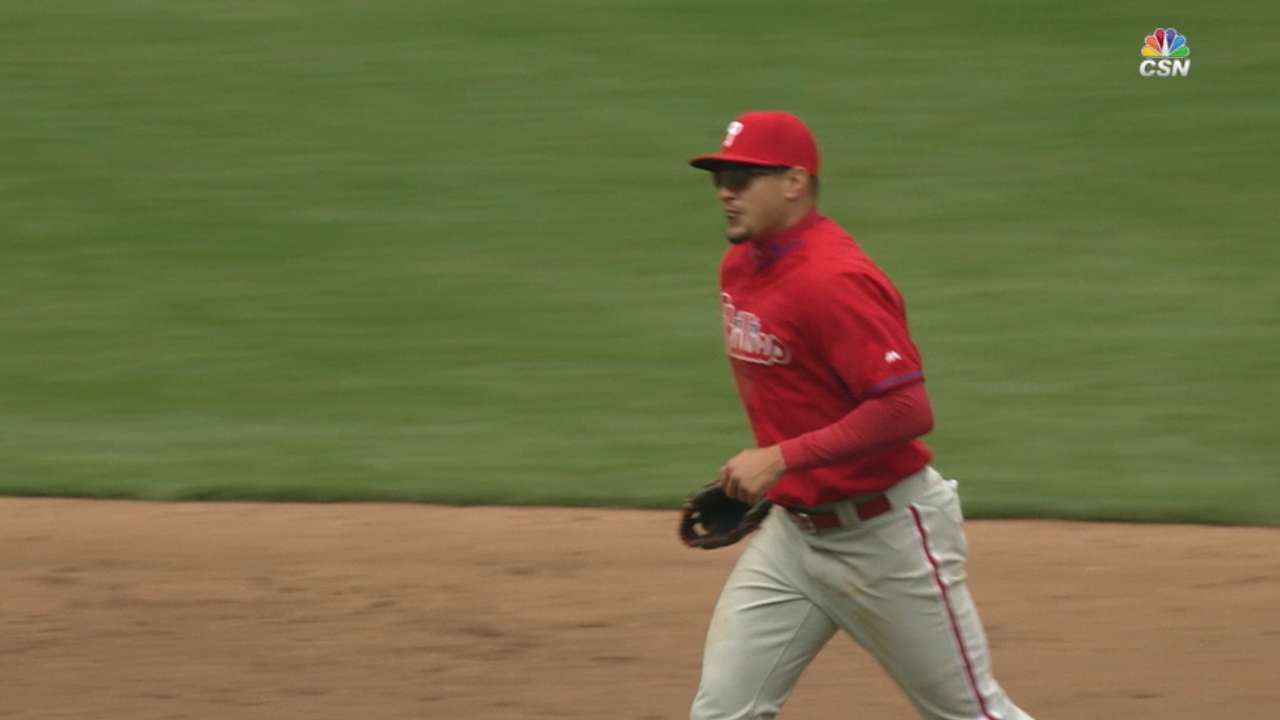 NATIONAL HARBOR, Md. -- Phillies prospect Dylan Cozens left the Winter Meetings with an $8,000 check in his pocket.
He got the cash because he won the Joe Bauman Award for leading Minor League Baseball with 40 home runs. That comes out to $200 per home run.
"Yeah, $8,000 will make shopping this holiday season a lot easier," Cozens, the Phillies' No. 6 prospect per MLBPipeline.com, said.
Cozens, 22, hit .276 with 125 RBIs and a .941 OPS in 134 games with Double-A Reading. He joined teammate Rhys Hoskins as the organization's Minor League Players of the Year. Cozens then played 25 games in winter ball in the Dominican Republic. He went home after hitting .165 with four home runs, 10 RBIs and a .621 OPS and getting into a fight with teammate Boog Powell.
Powell reportedly made fun of Cozens for struggling with breaking balls.
"Just a little boys being boys type thing," Cozens said. "I feel like it was blown out of proportion, like almost everything is these days. But, after it happened, we became good friends. It was more the level of respect there, and I'd say we're still friends, so it's good."
Phillies general manager Matt Klentak said he has no concerns about Cozens, who the Phillies selected in the second round of the 2012 Draft. Former Phillies general manager Ruben Amaro Jr. acknowledged at the time that they knew Cozens got into some "tussles" in high school.
"Dylan is an intense kid and he plays the game really hard," Klentak said. "That is a good thing. If you've watched that, you can see that in his at-bats and when he runs the bases and is running around in the outfield. That's just his style of play. That aggressive nature at times can boil over. You hope that it doesn't boil over in altercations with teammates. But we have no long-term concerns with that at all."
Cozens is expected to start the season in Triple-A, but if he plays well, he could join the Phillies before the end of the season. Of course, he knows he needs to reduce his strikeouts and walk more. He struck out 186 times and walked 61 times last season.
"I just go into camp looking to keep getting better," Cozens said. "Obviously I want to be there as soon as possible, but it's not my call. I'm just going to go out there and get better, turn some heads, make some people notice and hopefully get called up as soon as possible."
Vendor dismissed
Aramark dismissed a Citizens Bank Park vendor who had touted white nationalist views on social media and elsewhere.
Emily Youcis, 26, had been better known as "Pistachio Girl" at the ballpark. Aramark, which operates concessions at Citizens Bank Park, released the following statement about her dismissal: "A core Aramark value is treating everyone with integrity and respect always. That includes respecting our associates' right to privacy and dealing with personnel matters confidentially. We can only confirm that the individual asked about is no longer employed after publicly connecting our company to views that contradict our values."
The Phillies have sent the following email to fans who have questioned them about Youcis' presence at the ballpark: "Thank you for your recent email concerning Emily Youcis. As you may know, Ms. Youcis was an ARAMARK employee, not a Phillies employee. We have discussed the concerns raised and been informed that Ms. Youcis will not be part of the ARAMARK staff at Citizens Bank Park next season. Thank you for your support of the Phillies."
Extra bases
Former Phillies first baseman and free agent Ryan Howard no longer is represented by CAA. He has returned to his former agent Casey Close. Howard is looking for a new job after hitting .196 with 25 home runs, 59 RBIs and a .710 OPS in a part-time role. … Phillies bullpen coach John McLaren will manage China in the World Baseball Classic. Minor League catching coordinator Ernie Whitt will manage Canada. Whitt said Phillies prospect Nick Pivetta (No. 17 in the Phillies' Top 30) could be the team's No. 2 starter.
Todd Zolecki has covered the Phillies since 2003, and for MLB.com since 2009. Read his Phillies blog The Zo Zone, follow him on Twitter and listen to his podcast. This story was not subject to the approval of Major League Baseball or its clubs.