No urgency for Nats to complete a mega deal
Rizzo in talks with several clubs, but plans to be 'prudent and smart'
NATIONAL HARBOR, Md. -- The Nationals have been connected to many of the biggest names on the market and have entered the Winter Meetings prepared to pull off a blockbuster trade. However, general manager Mike Rizzo denied having any sort of increased urgency to pull off such a deal.
Washington has been interested in both Pirates outfielder Andrew McCutchen and White Sox ace left-hander Chris Sale, and while Rizzo has not completed a trade for either player, he said he has not heard anything that would lead him to believe the Nationals are eliminated from the pursuit. And on Monday night, MLB Network insider Ken Rosenthal reported there's a "legitimate chance" Washington winds up acquiring Sale.
"We've had ongoing discussions with a lot of different teams, the White Sox and the Pirates have been two of them," Rizzo said. "We've got a lot of lines in the water, we've got a lot of irons in the fire. We're going to be aggressive if the occasion arises, but we're going to be prudent and smart about it."
The reported asking prices for McCutchen and Sale are high and would require Washington to relinquish at least one of the club's best prospects. Rizzo has been reluctant to part with his top Minor League players, including at the non-waiver Trade Deadline this past summer. And he suggested Monday evening that that philosophy has not changed.
"Our strategy very rarely wavers," Rizzo said. "We've got a plan in place, we have a strategy that we've employed. Prospects are important to us for the viability of the long-term of the organization."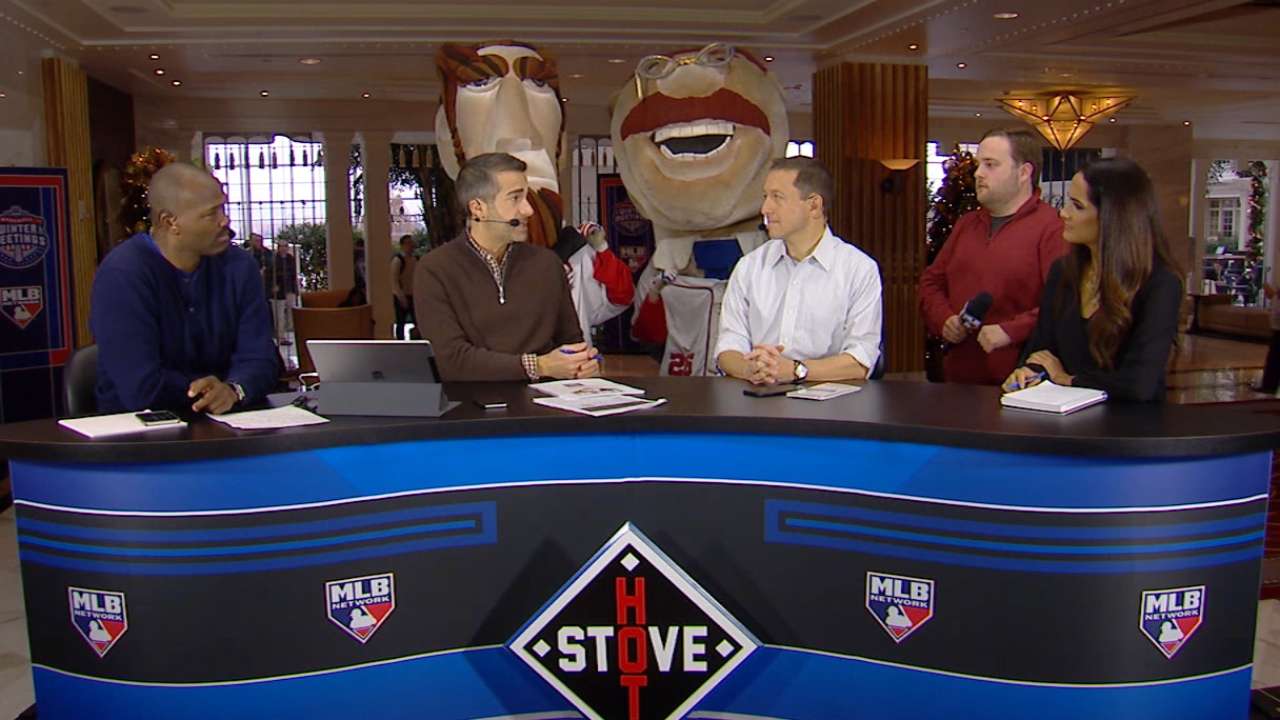 The Pirates have been targeting outfielder Victor Robles, Washington's No. 2 prospect as rated by MLBPipeline.com, as the key to any sort of deal. The White Sox have a high asking price as well, and Rosenthal reported they could be getting Robles and right-hander Lucas Giolito if they complete a trade with the Nats.
During his meeting with the media on Monday, Rizzo reiterated multiple times that the Nationals won 95 games last season, still have a core of players in their prime and a loaded farm system. So he dismissed the idea that the Nationals' proverbial "championship window" was closing soon and said that he was committed to building a competitive team for the long haul.
But the Nationals currently have the pieces to be an elite team with Bryce Harper, Daniel Murphy, Max Scherzer and Stephen Strasburg all signed and in their primes. After winning the National League East three times in the past five seasons but never advancing beyond the NL Division Series, the Nationals are trying to find ways to improve this team from a division winner to a World Series winner.
But it's unclear how much of their future they are willing to give up in pursuit of that goal.
Jamal Collier covers the Nationals for MLB.com. Follow him on Twitter at @jamalcollier. This story was not subject to the approval of Major League Baseball or its clubs.