MLB.com Columnist
Tracy Ringolsby
Schuerholz's legacy worthy of Cooperstown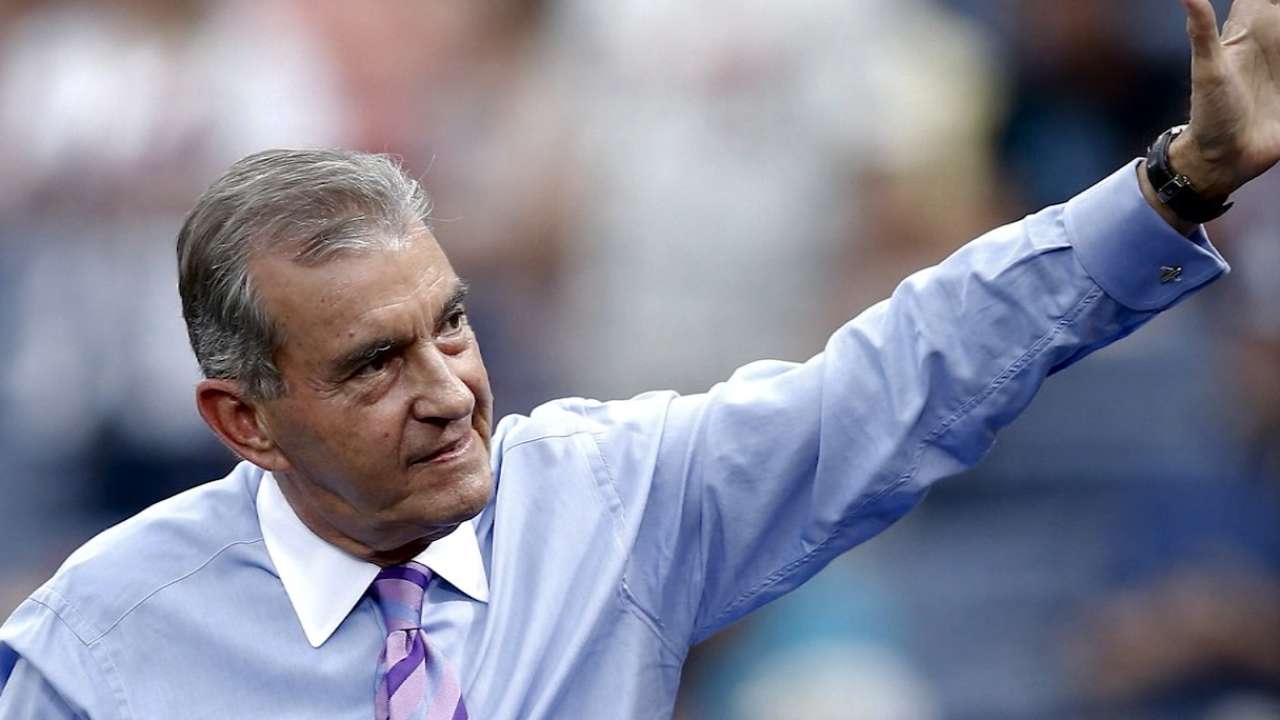 NATIONAL HARBOR, Md. -- Want to know how smart John Schuerholz is? Smart enough to know he's not the smartest guy in the room. Or, at least, he doesn't act like it.
"It is one thing to be the smartest guy in the room," said Dick Balderson, a longtime associate with Schuerholz from the days they spent in the Royals and Braves organizations. "It is another thing to be the smartest guy and let others think they are.
"John has that special ability to make everybody he is associated with feel special."
• Complete Hall of Fame coverage
Right now, it's Schuerholz who is feeling special.
Fifty years after giving up his job as a school teacher in Baltimore to take an entry-level position with the Orioles, Schuerholz was elected to the National Baseball Hall of Fame, a unanimous selection by the Today's Game Era Committee.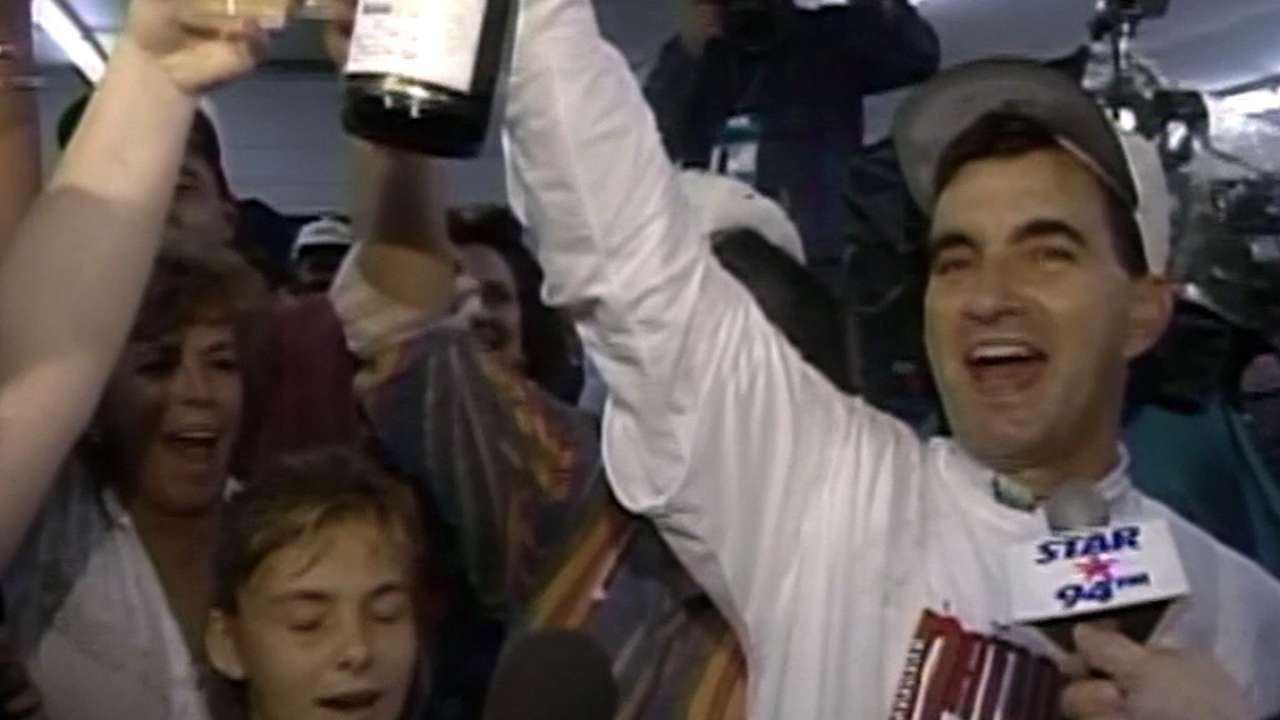 Schuerholz has become best known for his role as the general manager of an Atlanta Braves franchise that finished first 14 consecutive seasons, a streak unmatched in professional sports, but he also was the scouting director and later general manager for a Royals team that made seven postseason appearances in a 10-year stretch that was capped off with a World Series title in 1985.
Schuerholz shared the dais during a news conference at MLB's Winter Meetings on Monday with fellow Hall of Fame electee Bud Selig, the man who brought big league baseball back to Milwaukee in 1970 and then put together arguably the most impactful tenure as MLB Commissioner in the history of the game.
It was Schuerholz, however, who was named on all 16 ballots that were cast by a committee made up of former players, club executives and media members, one more than Selig.
Schuerholz was humbled by the experience. But he shouldn't be. He deserved it.
Schuerholz was a critical part of the emergence of the Royals, a team born out of expansion in 1969, as one of the game's most respected franchise during a decade of dominance in which they won American League West titles in 1976, '77, '78 and '84, an '81 postseason invite by winning the second-half AL West title in that strike-shortened season, an AL pennant in '80, and a World Series championship in 1985.
Schuerholz was an assistant farm director who was promoted to farm director in 1976, and then, following the 1981 season, the general manager of the Royals at the age of 41, the youngest GM in Major League history at the time.
"Today," he said with a big smile, "I'd be an elder statesman."
Yes, the game has changed drastically in the 50 years that Schuerholz has been an active participant, but there is one thing that never wavered -- his self-confidence while creating a working atmosphere in the organizations he oversaw in which every employee felt he/she was a critical part of success.
"He doesn't just allow everyone to speak their peace," the late Jim Fregosi once explained of the loyalty he developed toward working for Schuerholz. "He listens to what each person says."
In the end, however, there was never any doubt. Schuerholz was in charge. And he was going to make the final decision.
Balderson can attest to that. He has known Schuerholz from the bottom up. A player in the Royals' system when Schuerholz was the assistant farm director, Balderson was retired from the game and selling insurance in Des Moines, Iowa, following the 1975 season when Schuerholz was promoted to the farm director of the Royals and convinced Balderson to become his assistant.
Schuerholz eventually became the general manager, and Balderson became the farm director/scouting director before going out on his own to become general manager of the Seattle Mariners. Balderson would later work as the scouting director of the Cubs and farm director of the expansion Rockies before being reunited with Schuerholz in Atlanta, where he served initially as the farm director and later as a special assistant to Schuerholz.
"One thing John did was surround himself with good people," said Balderson. "He also is one of the better listeners I have ever been around. It is a quality not a lot of people have."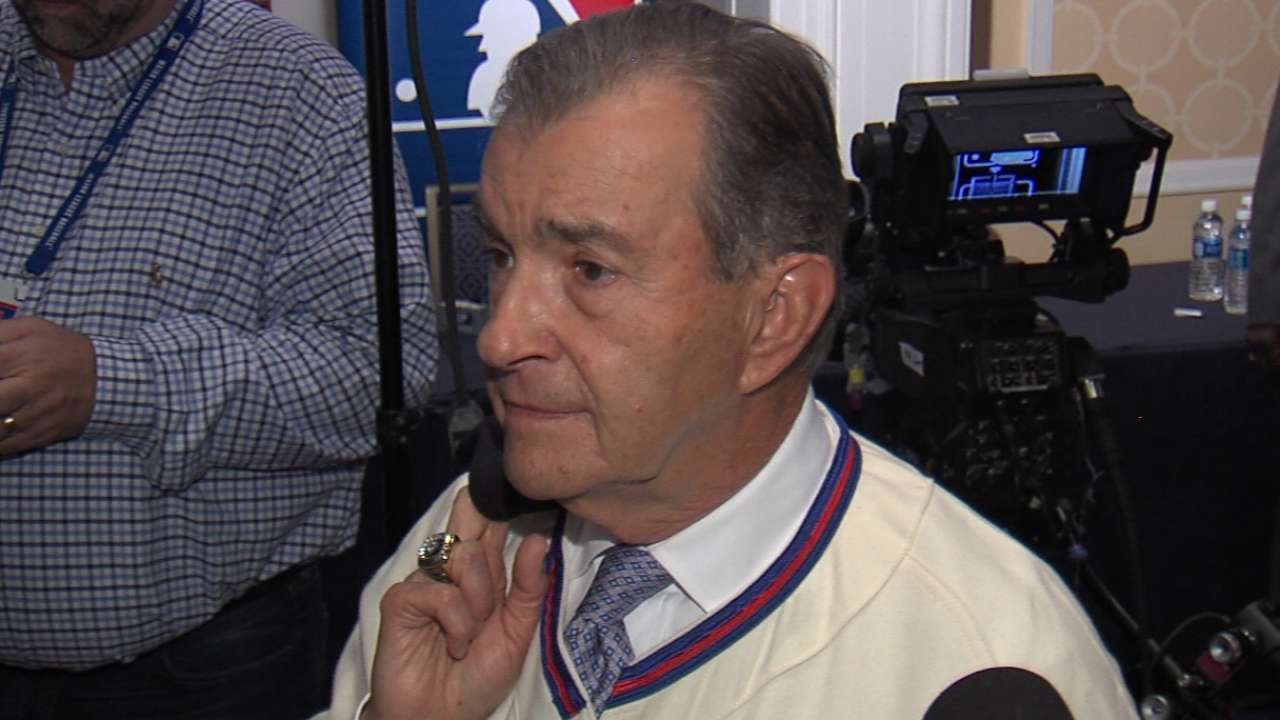 Schuerholz was such a strong figure that when he went to the Braves, the man he replaced as the general manager, Bobby Cox, became the manager. The two of them forged a strong relationship that never wavered. Schuerholz was not the slightest bit intimidated.
"Of course not," said Balderson. "He respected Bobby's knowledge and ability, and wasn't afraid for Bobby to know that, which is why the two of them had such a strong bond for nearly two decades."
But even with that relationship, there was never any question that Schuerholz was the general manager.
"He is a decisive leader," said Balderson. "He had no trouble making a decision. And he was usually ahead of the curve with what he could do."
Schuerholz, after all, has always been one of the smartest guys in the room, even if he never acted that way.
Tracy Ringolsby is a columnist for MLB.com. This story was not subject to the approval of Major League Baseball or its clubs.