Dombrowski: Top priority is 8th-inning reliever
After Boston can secure bullpen help, then Sox will look to sign bat
NATIONAL HARBOR, Md. -- Red Sox president of baseball operations Dave Dombrowski revealed Monday that his first priority is to find an eighth-inning setup man, and he won't acquire a bat until that task is accomplished.
After making significant investments in free agents the last two winters, the Red Sox likely aren't going to spend big this Hot Stove season. Instead, they will make every effort to keep the team payroll below the luxury tax threshold of $195 million.
Based on the projected payroll of their returning roster, the Red Sox have less than $10 million to spend to stay under the luxury tax threshold.
For all the speculation that the Red Sox wanted Carlos Beltran -- who signed with the Astros -- Dombrowski confirmed Monday that the club didn't seriously engage with the veteran, or with Matt Holliday, who wound up with the Yankees.
Beltran signed a one-year, $16 million deal. Holliday's contract is for one year at $13 million.
"I really haven't wanted to push that part of it yet. I figured we would wait to see what ends up taking place later on and who's out there, because really our priority is to try to get a guy that can pitch the eighth inning for us," Dombrowski said.
Boston went over the tax threshold the past two years and would face a penalty between 40 and 50 percent by going over again, per terms of the new Collective Bargaining Agreement.
"There are penalties attached that I would rather not be in a position for us to incur," Dombrowski said. "I don't want to use the word 'mandated,' because that's wrong, but I have an awareness of the penalties."
Dombrowski wouldn't go as far as saying the Red Sox will refuse to go over the luxury tax, but it is certainly the preference that they don't exceed the number.
As for where the eighth-inning setup pitcher could come from, Dombrowski said he will equally explore free agency and trades.
Joe Blanton has made a nice transition from a starter. Greg Holland, once a dominant closer for the Royals, could be a good reclamation project this offseason after missing last year due to Tommy John surgery.
The Red Sox seem inclined to go in a new direction rather than re-sign Koji Uehara or Brad Ziegler.
As for the hitter Boston eventually hopes to acquire, the preference would be someone who can play a position rather than be locked into the DH slot that David Ortiz occupied with excellence for 14 years.
A left-handed bat is preferable, but not a necessity.
"Three guys in the middle of the lineup are [Xander Bogaerts], [Mookie Betts] and [Hanley Ramirez], depending on how [manager John Farrell] does it," said Dombrowski. "We don't really have the ideal left-handed hitter to break that up at this point."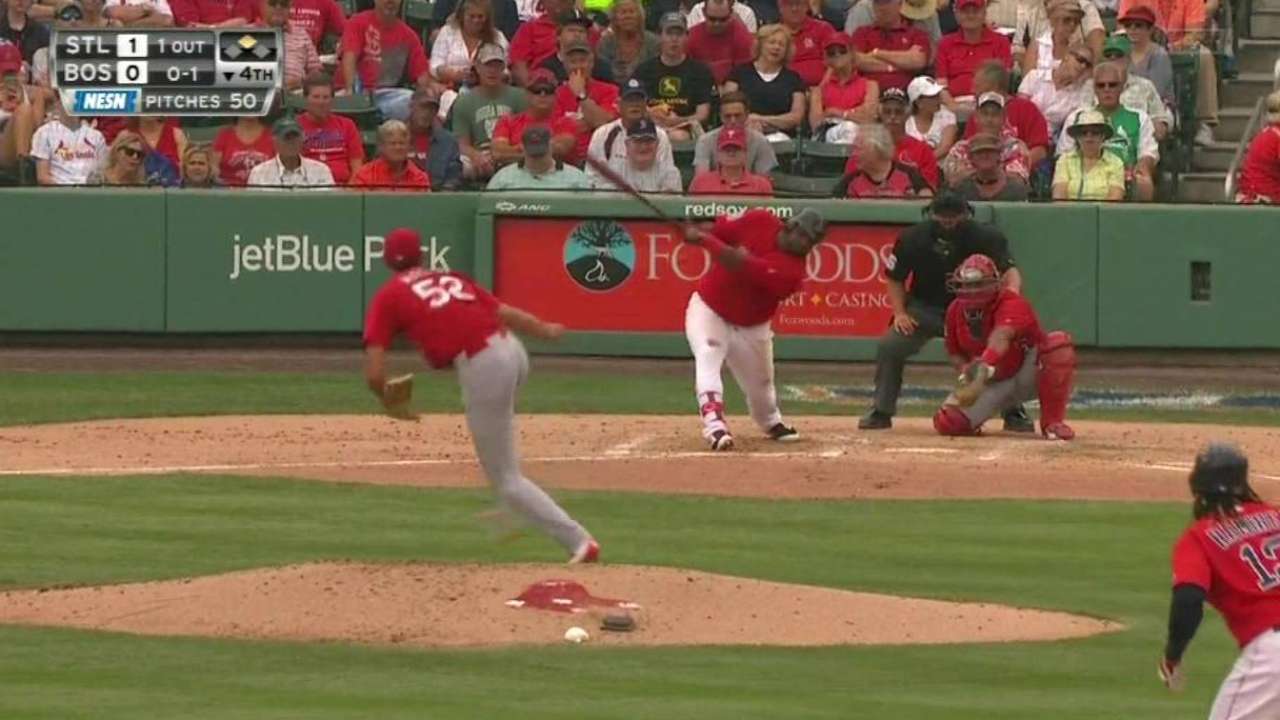 Farrell noted that Pablo Sandoval -- coming off left shoulder surgery that wiped out almost the entirety of his '16 season -- will be an important piece.
"One of the keys for us is going to be Panda," Dombrowski said. "That's not to put it all on him, but here's a left-handed bat who is a proven guy and has every opportunity to make a major impact on our team this year."
Ian Browne has covered the Red Sox for MLB.com since 2002. Follow him on Twitter @IanMBrowne and Facebook. This story was not subject to the approval of Major League Baseball or its clubs.