Bolstering offense a priority for Indians
Free agent Encarnacion an option, although he would cost a Draft pick
NATIONAL HARBOR, Md. -- Free-agent slugger Edwin Encarnacion fits precisely what the Indians need. The problem is the cost, which exceeds the range in which Cleveland typically operates.
This is no ordinary offseason for the Tribe, though. Cleveland arrived to the Winter Meetings at the Gaylord National Resort & Convention Center as the reigning American League champions, and improving its offense is the top priority. The Indians already shocked baseball by giving up a pile of prospects for reliever Andrew Miller last summer. Perhaps it should not be surprising Encarnacion's name popped up Monday as a possibility, too.
Chris Antonetti, the Indians' president of baseball operations, declined to delve into any specifics in his daily meeting with media.
"Let me say it this way," Antonetti said. "We are being exhaustive in exploring options to improve our position-player club. That is where we are spending most of our energy."
That is because Cleveland could be losing slugger Mike Napoli, who is a free agent after splitting his time between first base and designated hitter in 2016. Napoli enjoyed a career year at age 34, belting 34 home runs and leading the Indians with 101 RBIs. The Indians did not extend a one-year qualifying offer ($17.2 million) to Napoli, but they have maintained an interest in re-signing him to a short-team deal.
Napoli, however, is seeking a multiyear contract, putting the Indians in a situation where they need to look at potential alternatives. Cleveland has been linked to free agents Chris Carter, Mitch Moreland and Adam Lind. Reports swirled on Monday that the Indians were also involved in talks with Matt Holliday, who ended up agreeing to a one-year, $13 million deal with the Yankees, and Carlos Beltran (one-year, $16 million contract with Houston).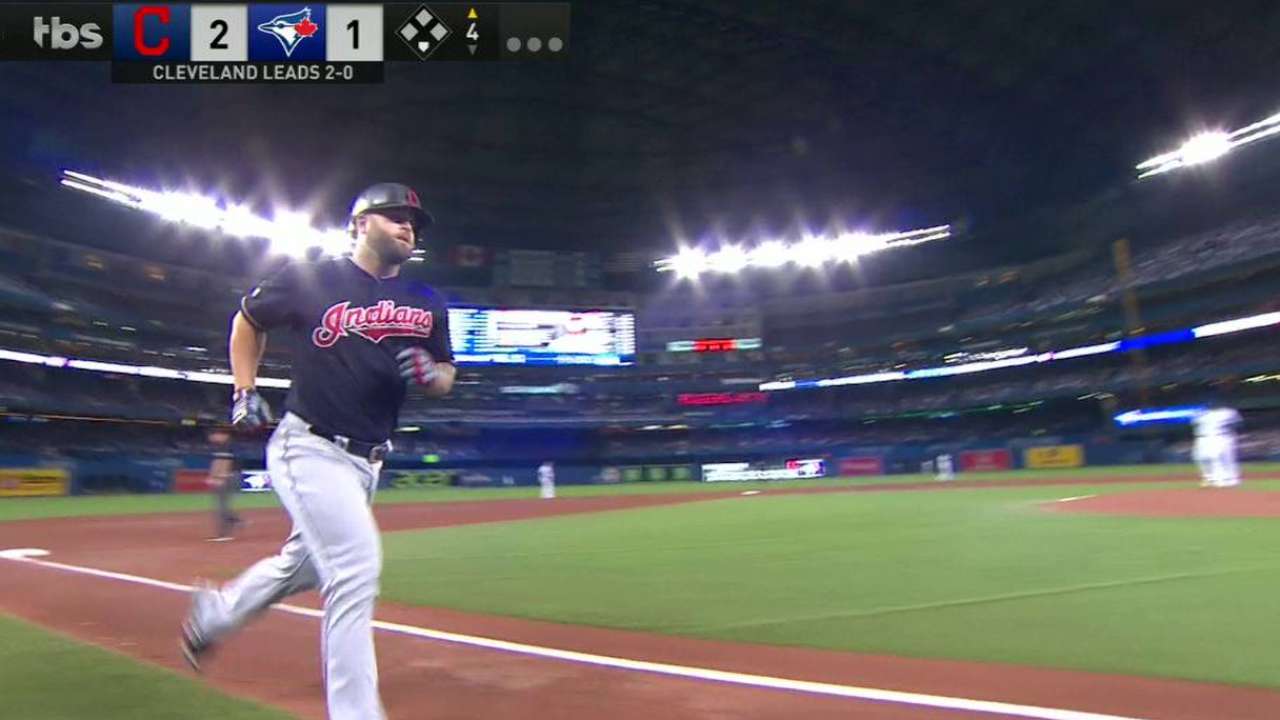 Those are the types of deals Cleveland typically makes. Last winter, for example, the Indians netted Napoli on a one-year, $7 million contract, which eventually earned the slugger $10 million total given the incentives. The Indians would prefer to find a fit in that price range once again.
All of that said, Jeff Passan of Yahoo! Sports reported on Monday that Cleveland had also "checked in" on Encarnacion, whose options appear to be dwindling. Encarnacion reportedly turned down a four-year, $80 million offer from the Blue Jays (his former team) in order to continue to explore the open market. In the meantime, Kendrys Morales (Toronto), Steve Pearce (Toronto), Holliday and Beltran came of the free-agent board.
Should Encarnacion's possible destinations continue to decrease, the possibility of him being more open to a short-term deal would seemingly increase. That is where the Indians could conceivably come into play. It would, of course, take some convincing of the team's ownership, which already projects to be on the hook for the highest payroll in club history (over $100 million) before any additions.
"Part of what we try to do," Antonetti said, "is frame for ownership what the value that the respective player or combination of players could bring to our team, and what impact that might have. And then try to estimate what that cost might be. But, in the end, we have to work with the parameters that we have to work with financially."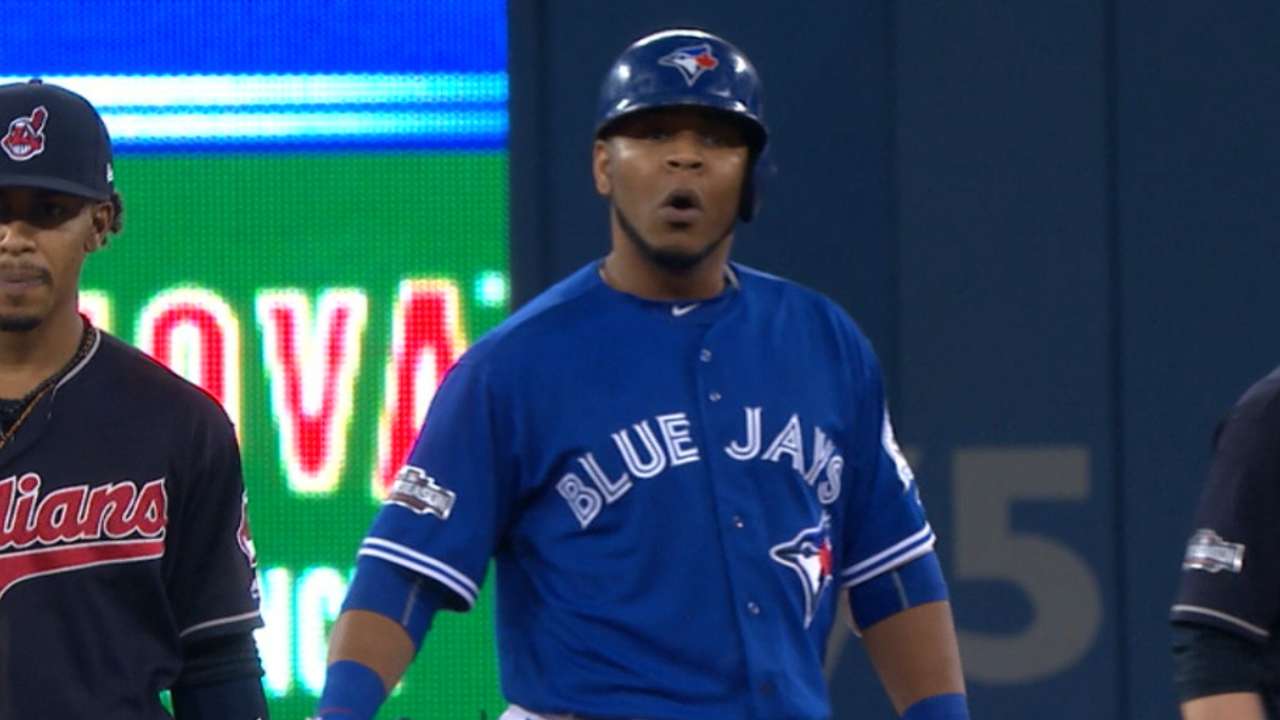 Part of the equation is the additional cost in terms of the MLB Draft.
If the Indians were to sign Encarnacion -- or another free agent who was extended a qualifying offer -- they would lose the 27th pick (that slot had a value of $2,097,200 in 2016) in the 2017 Draft. For context, the Indians took lefty Justus Sheffield with the 31st pick in the '14 Draft. He developed into a top prospect and was a key component to the July 31 trade that brought Miller to Cleveland. Sheffield is now the No. 6-ranked prospect in New York's system, per MLBPipeline.com.
Cleveland, which needs to build its core through drafting and developing, places a premium on such picks.
"That player had a lot of value to us once we got him," Indians general manager Mike Chernoff said of the Sheffield example. "So, we're going to have to determine how to value that in terms of future wins and things like that, and try to translate it to a value. But, that's essentially what you're getting. You're getting a player. It's the equivalent of trading that guy."
Added Antonetti. "We place a lot of value on the pick, so it's not something we'd take lightly. But, the players who have picks associated have picks there for a reason. It's because they're really good players. So, at some value, it could make sense."
Encarnacion would make sense in a handful of ways. Above all else, he could replace the kind of power that Napoli provided, and also from the right side to help balance Cleveland's lineup. In 2016, Encarnacion slugged 42 homers with 127 RBIs and an .886 OPS in 160 games for Toronto. Over the past five years, he has averaged 39 homers and 110 RBIs with a .912 OPS.
Beyond that, a player like Encarnacion fits perfectly into the Indians' positional puzzle. In 2016, Napoli and Carlos Santana shared the duties at first base and DH. If Napoli is not coming back, finding a replacement for the same role would be the best solution for Cleveland. The Indians could also address their offense through an outfield addition, but the team is also counting on having left fielder Michael Brantley back.
Antonetti noted that Brantley, who underwent surgery on his right biceps on Aug. 15, was re-evaluated last month and continues to make progress. The left fielder is expected to resume his hitting program after Christmas and should be healthy and ready in time for Spring Training.
There was also hope that Brantley would return this past season, but his comeback stalled multiple times and he ended with only 11 games played.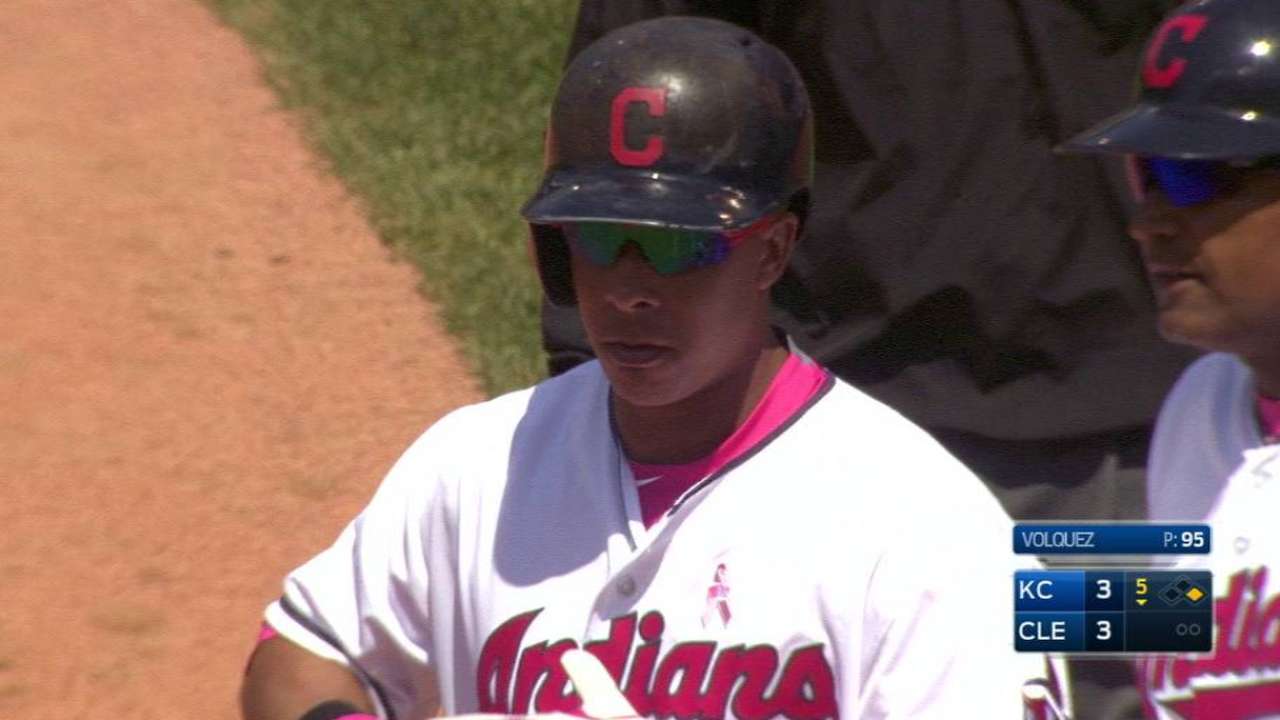 "Part of our responsibility is to try to have as many contingency plans as we can," Antonetti said. "But, you can't go out and replace a top-10 player in the league and have a comparable replacement for him. You just have to make sure you have someone else who can fill in if he's not available."
While Indians fans might like the idea of trading for Pirates outfielder Andrew McCutchen, one source noted that his $14 million salary for 2017, combined with the acquisition cost in terms of players, is too steep for the Indians. That would seemingly make Encarnacion too expensive for the Indians, too.
The Indians may at least be contemplating changing their modus operandi.
"We're definitely cognizant of the production [Napoli] brought to our team, first and foremost," Antonetti said. "But, also the impact he had on other players. We've been pretty consistent in talking about how much we value and appreciate Nap's contributions. But, if it's not Nap, we're still going to look for ways to improve our team."
Jordan Bastian has covered the Indians for MLB.com since 2011, and previously covered the Blue Jays from 2006-10. Read his blog, Major League Bastian, follow him on Twitter @MLBastian and listen to his podcast. This story was not subject to the approval of Major League Baseball or its clubs.