Braves give back in Forde's memory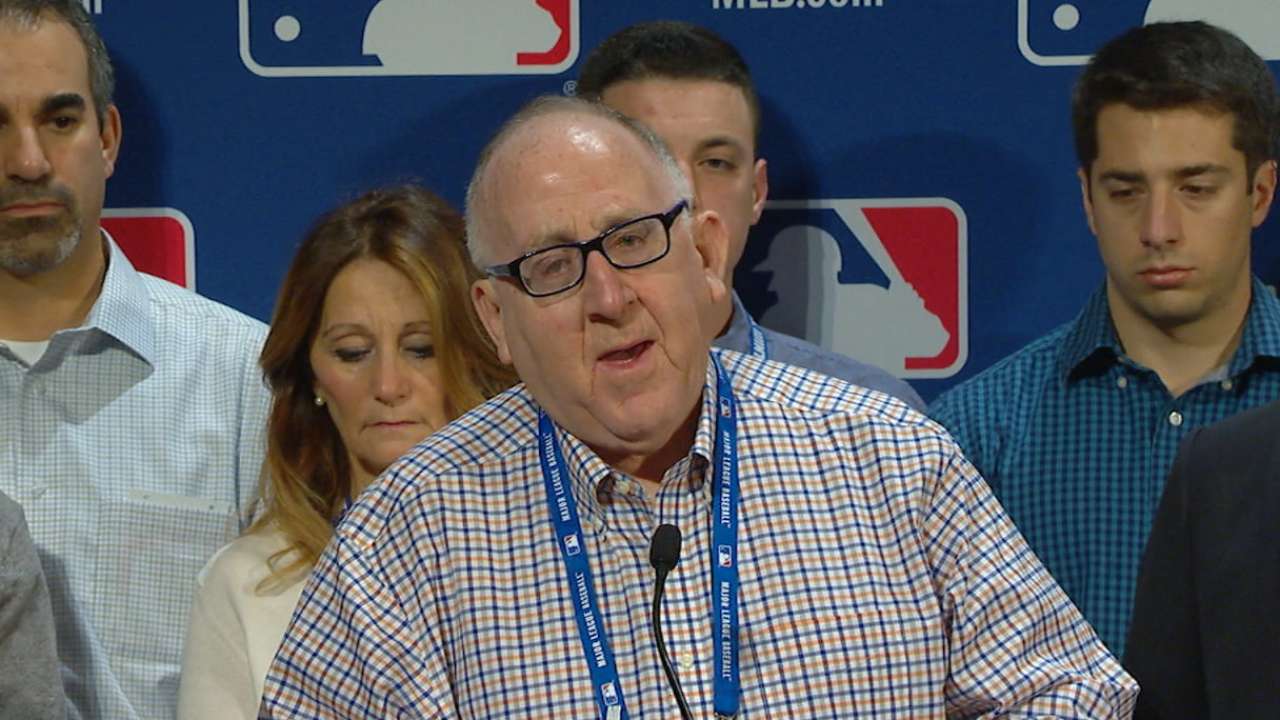 NATIONAL HARBOR, Md. -- As Major League Baseball honors former Mets staffer Shannon Forde's memory with its annual Play Ball auction initiative, Braves media relations senior coordinator Jonathan Kerber fondly remembers how Forde made him feel welcome during his earliest days within his current profession.
"I was brought in as seasonal help, and she treated me like I was a full-time employee," Kerber said. "The first day I got there, she told me I was part of the group and they weren't going to call me an intern or anything like that. That's how she was. She loved her kids more than anything, and she treated everybody like you were her kid."
Players, media members and executives who had the pleasure of knowing Forde were deeply saddened in March, when she succumbed to breast cancer at 44 years old. The beloved former member of the Mets' public relation staff left behind 8-year-old son Nick and 6-year-old daughter Kendall.
This year's MLB's "Play Ball" auction initiative will direct proceeds to dedicating a youth baseball and softball field in Little Neck, N.J., in Forde's name. Every team has donated items or unique opportunities. The auction at MLB.com/Shannon runs throughout the Winter Meetings, ending Thursday at 9 p.m. ET. Among the Braves' items up for bid are:
A Family Fun Special: It includes four Walt Disney World Park Hopper passes, four tickets to a mutually agreed upon Spring Training game and a chance to interact with manager Brian Snitker and a group of players before this selected game.
Meet Dale Murphy at SunTrust Park: It's a chance to meet Murphy on the field during batting practice before a mutually selected game (excluding Opening Day), and the winner will receive four tickets.
Braves MVP Autograph Special: The winning bidder will receive three autographed baseballs from the last three Braves players to earn the National League MVP Award, including one ball each signed by Murphy, Terry Pendleton and Chipper Jones.
Kerber joined the Mets' public relations staff in 2008 and quickly earned the respect of his co-workers, including Forde, who described him as the backbone of their department when the Braves inquired about Kerber before hiring him last year.
"Shannon truly was one of a kind," Braves media relations senior manager Adrienne Midgley said. "She had such a kind and caring heart and made a positive impact on any person she came in contact with. While many of us admired her for the tremendous work she did with the New York Mets' communications department -- and it was definitely admirable -- what I admired more was her positive approach to life and the love she had for her family, especially her two children Nick and Kendall."
Mark Bowman has covered the Braves for MLB.com since 2001. This story was not subject to the approval of Major League Baseball or its clubs.