Vizquel ready to lead star-studded Venezuela
Cabrera, Altuve among players expected to suit up for World Baseball Classic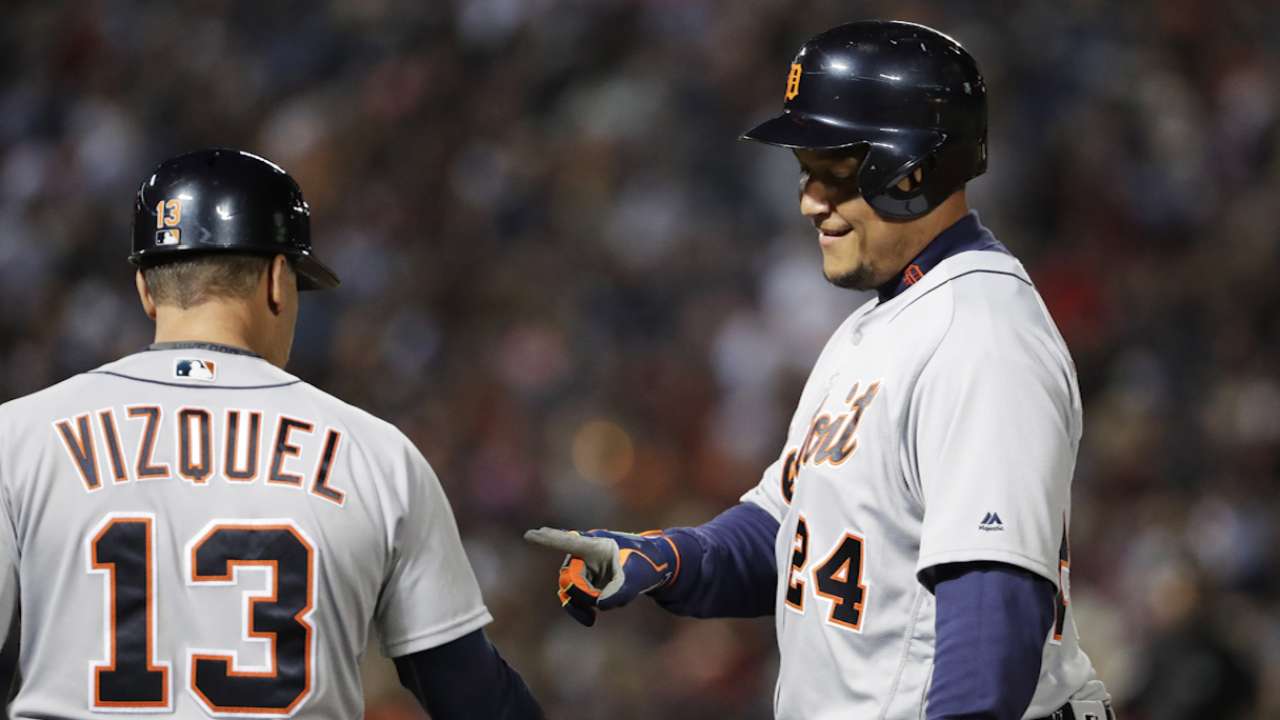 NATIONAL HARBOR, Md. -- Omar Vizquel and Carlos Guillen are two former Major League shortstops who were nearly traded for each other 13 years ago. But the Mariners and Indians couldn't resolve their differences after Vizquel's failed physical, nullifying their deal.
It's a fitting memory, given the disagreements last week that nearly scuttled their partnership as manager and general manager for Venezuela's entry in the upcoming World Baseball Classic. Yet as they sat together for a media session Monday at baseball's Winter Meetings, they characterized the week-long dispute and rally by players to support Vizquel as a misunderstanding that they had put behind them.
Get your World Baseball Classic tickets
They see the game and the team the same way, they insisted, and can put together a squad that can contend after struggling in pool play four years ago. They have the star power with Jose Altuve, Miguel Cabrera, Carlos Gonzalez, Felix Hernandez and Salvador Perez, and they say they have the chemistry.
"The best thing that we have for this Classic is the union between the players," Vizquel said. "They really have been working together. From what I see from them in pictures, they're barbecuing [together] and they're talking. They really have been talking as a group to get this going."
Now, Vizquel and Guillen have to do the same. Once they met in person last week in Maracay, Vizquel said, they hashed out the differences that threatened to derail them.
"When you work with somebody that you haven't worked [with] before, there is a new dynamic of things, how you handle things," Vizquel said. "There were a lot of misunderstandings and obviously differences between him and myself. All we had to do was sit down at the table and clear everything up: What do you want? What do I want? The only way that we solved that problem was sitting down and talking at the table, face to face. …
"I know Carlos from a long time ago. One thing is when we sit down and started talking about baseball, you can feel the chemistry between the two minds, because he also played shortstop and second base. We played against each other. It's awesome to have a guy that understands all that and to kind of play the game the same way you do. Once you start talking baseball, I think everything just came out naturally."
Neither would go into specifics on the differences. Vizquel said he might have said some things in interviews that he wasn't supposed to. Guillen compared it to a clubhouse argument that will stay in-house.
"A little bit of difference," Guillen said, "but just a little miscommunication. That's all."
One thing they agreed on Monday is that Vizquel is the sharper dresser. Another is that their roster has the chance to be stacked.
Among the five players announced, they have the last six American League batting champions in Altuve and Cabrera, a former National League batting champ in Gonzalez, a former AL Cy Young winner in Hernandez and a reigning four-time Gold Glove catcher in Perez.
One key, they agreed, was in building depth beyond that. With new rules limiting how often pitchers can be used, they need arms. Though Cleveland starter Carlos Carrasco hasn't been announced, they're hoping he can be available as another starter. Same goes for Cubs reliever Hector Rondon, who Vizquel said is interested. Tigers closer Francisco Rodriguez has expressed his interest in pitching for them again, Vizquel said, but must receive permission from Detroit. His Tigers teammate, Bruce Rondon, is also on the list, but must report to camp in shape for consideration.
For similar reasons, two potentially important player on the positional side are Astros utilityman Marwin Gonzalez and Brewers infielder Hernan Perez, who can play several different positions while providing impact bats.
But Venezuela has had such talent before and not advanced. For that reason, another key for Vizquel is preparation.
"We need to prepare better, there is no doubt," Vizquel said. "The preparation of players and the scouting reports and all that have to improve. That is something that we've been working on a long time. The preparation we think is one of the biggest concerns from everybody. …
"We're trying to spread the word that you have to prepare better for this tournament, because we've seen the advantage of other teams, that they're ready to play 100 percent and some of our guys are only going 60 percent. So they know about the challenge."
Jason Beck has been a reporter for MLB.com since 2002. Read Beck's Blog, follow him on Twitter @beckjason and listen to his podcast. This story was not subject to the approval of Major League Baseball or its clubs.