Daniels: Texas unlikely to target big-ticket FAs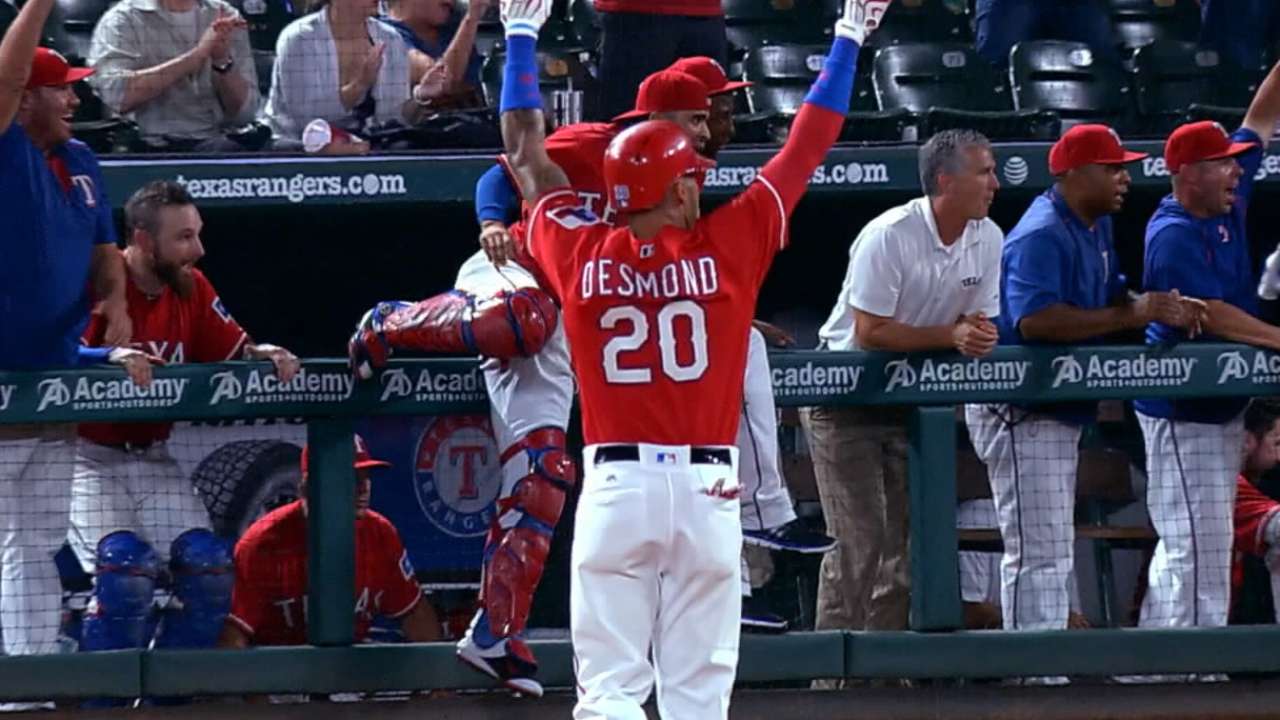 NATIONAL HARBOR, Md. -- The Rangers are operating with some self-imposed financial and prospect restraints at the Winter Meetings, restraints that are likely keeping them from serious pursuit of free-agent sluggers Edwin Encarnacion and Mark Trumbo and trading for Pirates outfielder Andrew McCutchen.
The Rangers have found the asking price for McCutchen to be too high, with the starting point being an established starting pitcher and prospects. The Rangers are already looking for starting pitching, and they aren't eager to trade prospects -- although the possible availability of Reds center fielder Billy Hamilton has them quite interested. The two sides are talking.
The fashionable rumor at the Meetings on Monday had the Rangers engaged in regard to Encarnacion and Trumbo, but general manager Jon Daniels said it is "unlikely" the team will be after big-ticket free agents.
"It's more of financial considerations than anything else," Daniels said.
The Rangers are trying to be creative in putting together their 2017 team. That's the goal every offseason, but it appears to especially be the mission at these Winter Meetings.
That's why they seem to be more interested in Cubs outfielder Jorge Soler, who became expendable because of the return of Kyle Schwarber, and Chicago is interested in Texas' bullpen depth.
Soler, a right-handed hitter, is due just $15 million over the next four seasons. He played in 86 games for the Cubs this past season and hit .238 with 12 home runs, 31 RBIs, a .333 on-base percentage and a .438 slugging percentage. He is just 24, and he could have more upside potential to tap and be an affordable alternative at designated hitter as well as a right-handed complement to Nomar Mazara and Shin-Soo Choo at the corner outfield spots.
"Anybody can benefit from time off their feet," Daniels said. "It would be nice to have that option."
The Rangers are still searching high and low for a center fielder. McCutchen appears beyond their grasp, but Hamilton is one of many center fielders Texas has investigated -- either by trade or free agency.
"We have talked about different guys on different points of the spectrum," Daniels said. "Free agents, trade acquisitions, short-term acquisitions, young players, part-timers."
Ian Desmond, Carlos Gomez and Dexter Fowler are the top free agents. The Rangers remain in contact with Desmond's and Gomez's agents, but they also have interest in Fowler. Austin Jackson could also be a Plan B possibility.
There are trade possibilities beyond Hamilton. The Royals have Lorenzo Cain available, and the Rangers are curious if the Phillies are willing to move Odubel Herrera.
How the Rangers staff center field will affect how they handle other areas, including starting pitching and the rest of the offense. Their self-imposed constraints make it a challenge.
"As we add to our priorities, it's about what our financial outlook is at that point," Daniels said. "What kind of dollars we have.
"We are expecting to win. The goal is to contend and win, but not at the exclusive expense of the future. What we believe we can do is not easy -- putting a good product on the field, playing winning baseball and at the same time, keep the wave coming."
Rangers beat
• The Rangers are trying to re-sign reliever Shawn Tolleson and outfielder Jared Hoying to Minor League contracts. The two became free agents earlier this offseason when they were taken off the 40-man roster.
• The Rangers are bringing infielder Joey Gallo to Arlington next week so they can get a better idea of how he is recovering from a strained left hamstring.
• If the Rangers make a significant trade, it's almost certain they'll have to give up relief pitching. That is their most coveted commodity.
T.R. Sullivan has covered the Rangers since 1989, and for MLB.com since 2006. Follow him on Twitter @Sullivan_Ranger and listen to his podcast. This story was not subject to the approval of Major League Baseball or its clubs.