MLB.com Columnist
Anthony Castrovince
Finding value in remaining free-agent pitchers
With Hill's signing, Nova and Hammel could be best hurlers left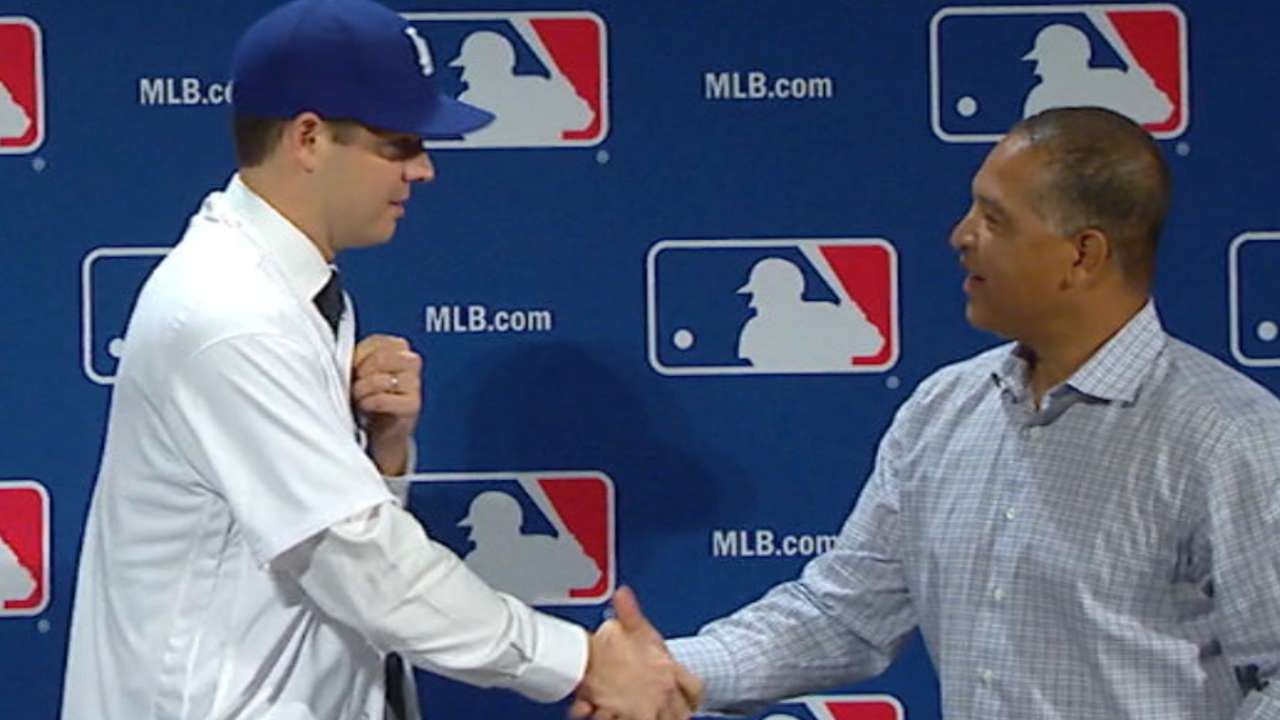 NATIONAL HARBOR, Md. -- Rich Hill officially came off the board Monday, and now a thin starting pitching market qualifies as absolutely emaciated.
The rapidity of that evolution is nothing we didn't expect going into this Hot Stove season. But the reality of the situation is that Hill, at 36 years old and less than two years removed from the independent Long Island Ducks, represented the top of this free-agent class, which, with no offense meant to a man who never quit on himself and cashed in on his amazing tale, told you all you needed to know about the class itself.
• Hill excited about LA return
And so we're at the scrap stage already after one day of the Winter Meetings, the part of the process where teams hold their noses, try to accentuate the positive and spend more money than they honestly think is reasonable for one of the arms available -- guys like Ivan Nova and Jason Hammel, who probably represent the next-best tier.
"I'm sure their agents hope so," one executive joked.
Or alternatively, the GMs can talk trade, which, for those of us on the outside, is where the fun lies.
"There's a scarcity in starting pitching throughout baseball," Indians president Chris Antonetti said. "And when there's a limit on the free-agent alternatives, it tends to increase the trade dialogue."
The dialogue doesn't have to be diabolical. It's not just an established ace like Chris Sale being discussed in the suites at the Gaylord National Resort & Conference Center, though, of course, the White Sox left-hander is attracting serious interest despite the astronomical asking price.
What we're starting to see are the seeds of opportunity bearing fruit on the rumor mill, at the very least.
The Reds, as an example, have been receiving interest in Anthony DeSclafani. Listening and acting are two very, very different things, but, given the haul the Braves received for Shelby Miller just one year ago, why wouldn't the Reds listen to what teams have to offer for the 26-year-old DeSclafani, who broke out with a 3.28 ERA and 130 ERA+ in 20 starts after a left oblique strain delayed his start to the 2016 season.
And for that matter, why wouldn't the Royals, who are looking to shed some salary and have a ton of guys entering their free-agent walk year, keep an open mind about Danny Duffy?
Yes, the Royals have interest in extending Duffy, and there is still hope that a deal can be worked out that keeps him in Kansas City a long time after his control clicked and he went 12-3 with a 3.56 ERA in 26 starts. But in a market like this, and with Duffy due to make a modest sum in his final year of arbitration (he made $4.2 million in '16), the left-hander does present the Royals with a chip that would bring back multiple controllable bodies with upside, which is where Monday's report from MLB.com Jon Paul Morosi that the Royals are "gauging interest" in Duffy comes from.
Now, bridging the gap from rumor to reality is not easily done, even in an expedient environment such as the Winter Meetings.
"It's hard to make trades in this league," Mariners general manager Jerry Dipoto said. "Really hard. As Rich Hill goes or as the market starts to unfurl, some of the free-agent market may be slow-played or delayed by the fact there are more teams talking about trades than there normally are at this time of the year."
We'll see if any of those trade discussions go anywhere.
For now, let's go back to that aforementioned next tier. Dipoto might be on to something about the market from here developing slowly, but these could be the next names to come off the board.
Nova: The quick and dirty storyline is that Nova wants to be the next J.A. Happ, turning his second-half turnaround with the Pirates into beaucoup (or is it Bucco?) bucks. Like Happ in '15, Nova was acquired by Pittsburgh midseason in '16 and found success with pitching coach Ray Searage, posting a 3.06 ERA and 137 ERA+ in 11 starts. But how much of that is attributable to the move from the AL East and how worrisome is the 1.8 homers-per-nine rate (and accompanying 4.90 ERA) in the 21 previous appearances with the Yankees?
Hard to say, but the Happ comparison is an easy one to make. Happ turned his Pirates experience into a three-year, $36 million contract with the Blue Jays.
"Both guys made an adjustment, had a connection with a coach and something clicked and they gained some confidence and they were able to sustain their roles going forward," Pirates GM Neal Huntington said. "Toronto did a good job signing Happ. We'll see where the market goes with Nova."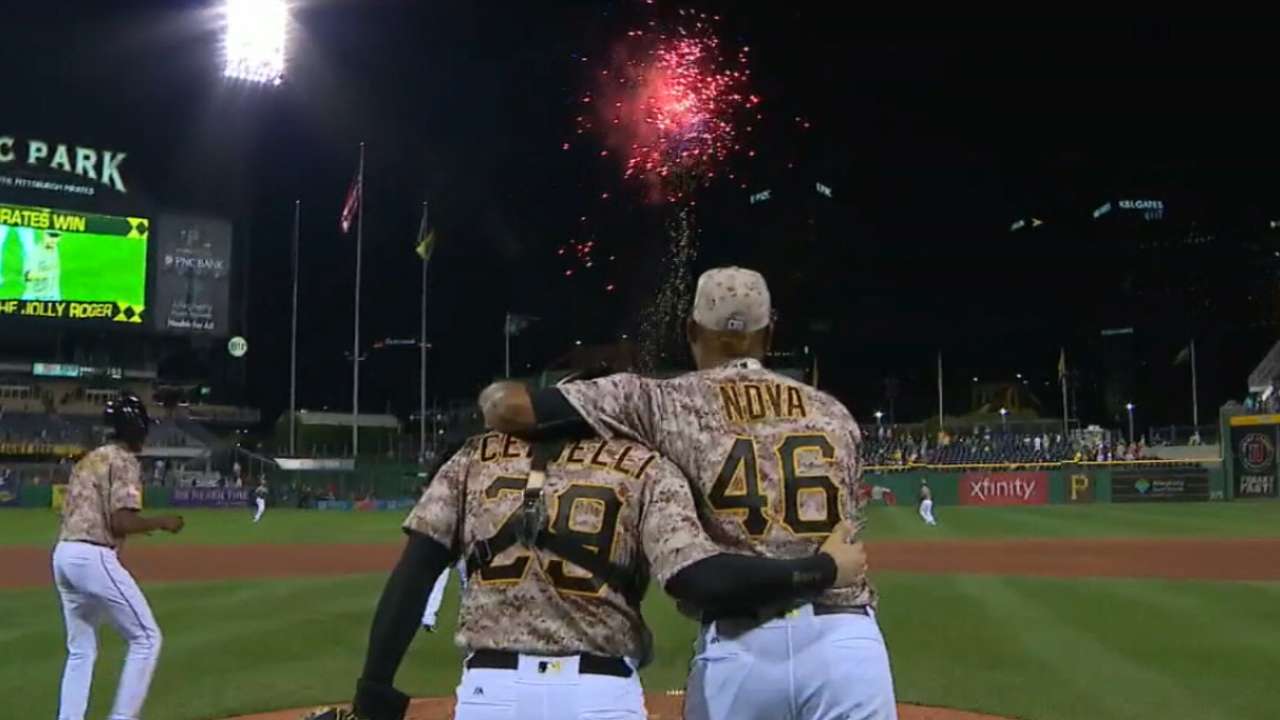 Hammel: The Cubs likely did Hammel a favor by declining his $12 million option for 2017 so that he could explore the open market. Through numbers alone and market conditions alone, the 337 1/3 innings he's pitched and 103 ERA+ he's posted over the last two years make him a candidate for a multiyear commitment. The Cubs declined the option because they had made a vow to Hammel not to pick up the option if they were going to use it to trade him, and so they did right by the player.
Of course, one question being posed in this building is how much of that decision was, in fact, altruistic and how much was related to concern about Hammel's elbow? Hammel did, after all, give up 30 runs in 32 1/3 innings in his last seven starts before he was shut down in September with right elbow tightness and left off the postseason roster. Any team looking into Hammel is, of course, going to do its medical due diligence.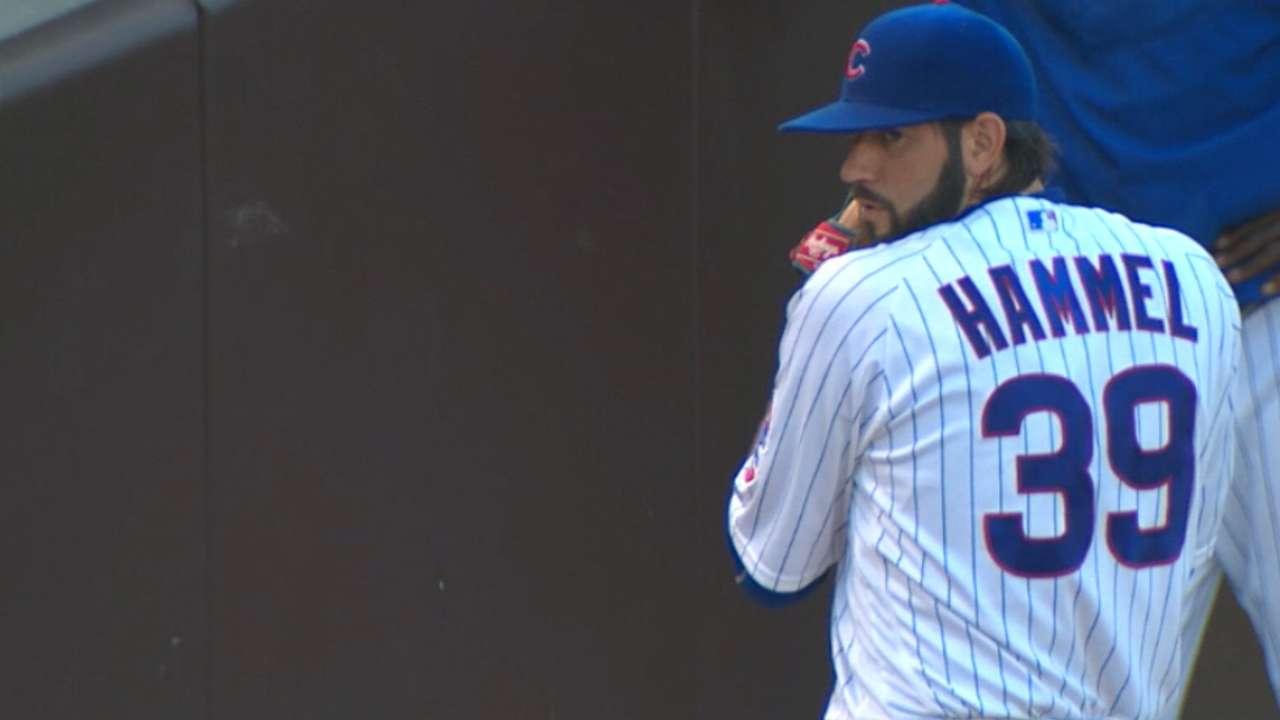 Brett Anderson: Made just three starts in '16 after back surgery cut his spring short, and that does nothing to add to the appeal of an eight-year veteran who has never logged more than 180 1/3 innings in a season (that was in 2015). But what is reasonably appealing is what Anderson did in that '15 season for the Dodgers, posting a 3.69 ERA and a ridiculous 66.3 percent ground-ball rate.
A team with a good infield defense can cross its fingers and hope Anderson can stay healthy enough to take advantage.
Derek Holland: Hey, what do you know? More medical issues. Holland is a 200-inning pitcher, but the problem is those 200 innings (203, to be exact) have been spread out over the last three seasons. In 2016, he had a 4.95 ERA and struck out just 5.6 batters per nine in 107 1/3 innings. Wherever the 30-year-old Holland lands, it will be a classic case on a club betting on a change of scenery and the potential for a mechanical or mental fix. The Pirates and Yankees are among the clubs who have been rumored to be interested in Holland.
Doug Fister: The Astros were the team that took the one-year, $7 million gamble on Fister recovering his old form in '16, and, given the cost of that investment, they were reasonably well-rewarded for the bulk of the year. Fister had a 3.60 ERA as recently as Aug. 28, but his bounceback year fell apart with an 11.74 ERA in six September starts.
Now, it's somebody else's turn to take a shot on the 33-year-old innings-eater.
Tyson Ross: More medical stuff to sort through here. Ross missed the majority of 2016 and is recovering from October surgery to address thoracic outlet syndrome, the same shoulder affliction that ended Matt Harvey's season. It's a four- to six-month recovery.
Still, the 29-year-old Ross became a name of instant intrigue when the Padres surprisingly non-tendered him last week. Obviously, the Padres know Ross' situation better than anybody, and perhaps their decision speaks volumes. But Ross, when healthy, is a 6-foot-6 power arm with a deep repertoire who, from 2013-15, compiled a 3.07 ERA, 115 ERA+ and 516 2/3 innings.
In a market that demands an open mind, it will be interesting to see where Ross lands and how quickly.
Anthony Castrovince has been a reporter for MLB.com since 2004. Read his columns and follow him on Twitter at @Castrovince. This story was not subject to the approval of Major League Baseball or its clubs.