Angels 'active' on Day 1 of Winter Meetings
Eppler begins efforts to acquire second baseman, add pitching depth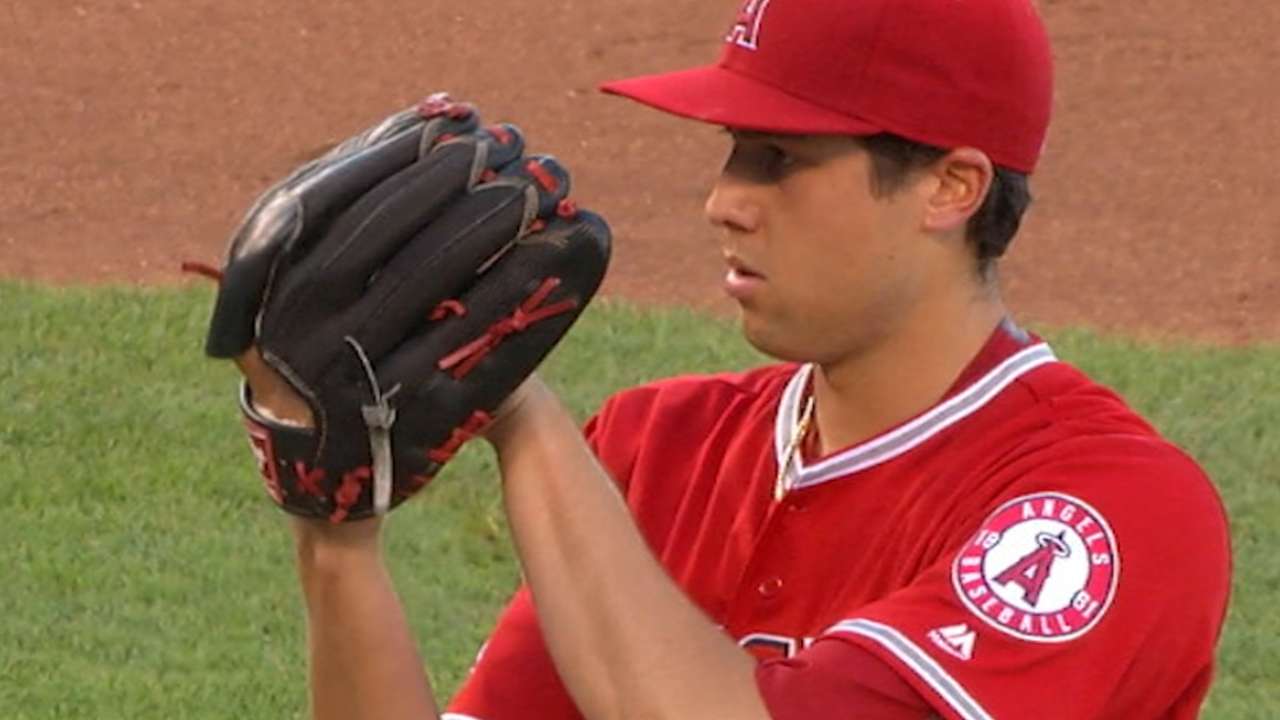 NATIONAL HARBOR, Md. -- The Angels didn't have any news to announce by the time they scooted off for dinner plans on the first day of the Winter Meetings. But that doesn't mean they don't have an appetite.
General manager Billy Eppler confirmed on Monday that the team is looking for a second baseman and also mentioned the desire for a fourth outfielder, preferably one who hits left-handed.
Other areas they are exploring include starting pitching and left-handed relief. Catcher is "not at the forefront of our pursuits right now," Eppler said. But as always, the team will be open to adjustments in its plan.
When asked if his Day 1 agenda was frenetic or slow, Eppler described it as somewhere in between, saying over the course of the day, he called it "consistent" and said conversations increased "a touch more."
"It's active on both fronts -- trade and free agent," Eppler said. "Agents typically want to get together at this point in time, so you talk to them either in person or on the phone."
Eppler has already made some moves this offseason, landing left fielder Cameron Maybin in a trade with the Tigers, signing free-agent right-handed pitcher Jesse Chavez and outfielder Ryan LaMarre, and trading for Kansas City right-hander Brooks Pounders. The Angels, whose 2016 starting pitching corps was decimated by injuries, now have more than 10 potential starting-pitching options.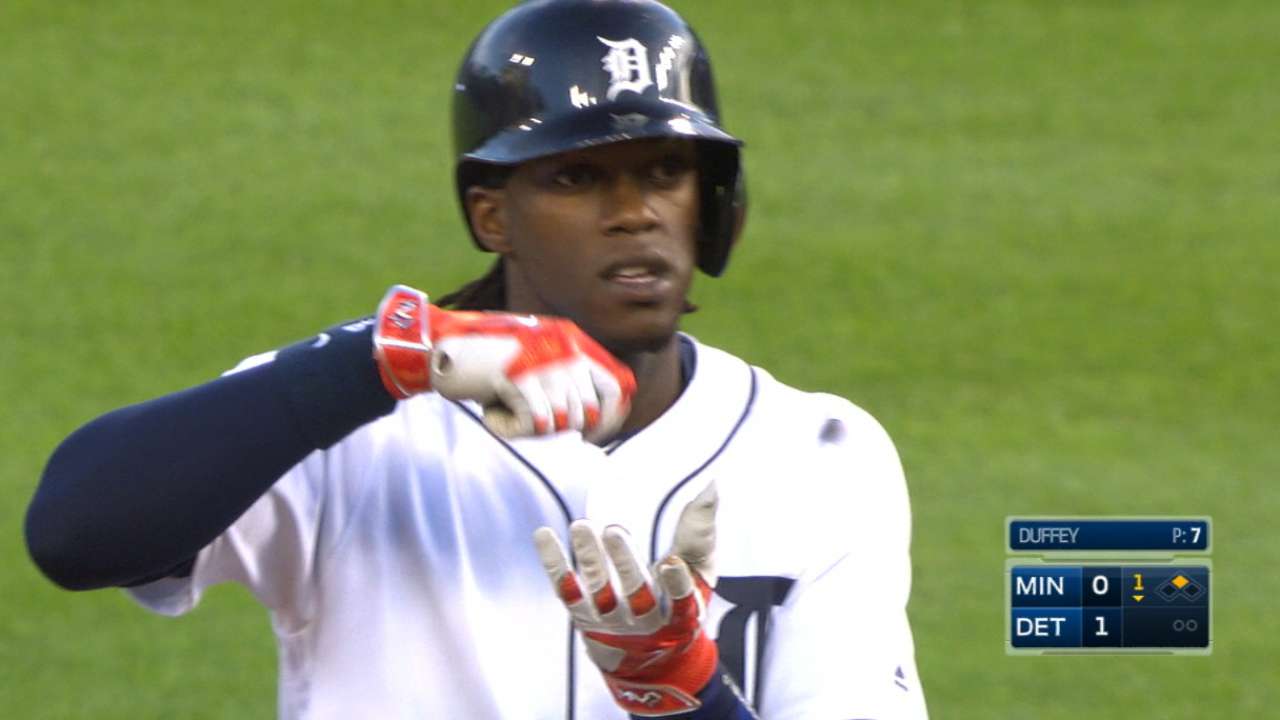 Their projected No. 1 starter, Garrett Richards, will attempt to come back from a partially torn ulnar collateral ligament. He opted to avoid Tommy John surgery. Left-hander Tyler Skaggs missed much of '16 after having Tommy John surgery, but he's expected to be in the rotation next year. Starters Andrew Heaney and Nick Tropeano will both miss the season as they recover from the same ligament reconstruction procedure.
"The impetus behind that strategy [of stockpiling pitchers] was more to build depth, because in any generic year, you can particularly bank on using at least eight [starters]," Eppler said. "And I think this year we used more than that. So you take a mindful approach of trying to accumulate as much depth as possible."
He's not the only one with that mindset, as he continued to be shown Monday as he moved about the lobby of the Gaylord Resort amongst the large contingent of industry wheelers and dealers.
"I think there's a lot of clubs still very active in free-agent starting-pitching market," Eppler said. "I do think there's a lot of clubs looking at a lot of the same names."
The Angels like where they are financially, having $40 million come off the books with the expiration of the contracts of pitchers Jered Weaver and C.J. Wilson.
"We have some operating room right now," Eppler said. "That's all I'll say."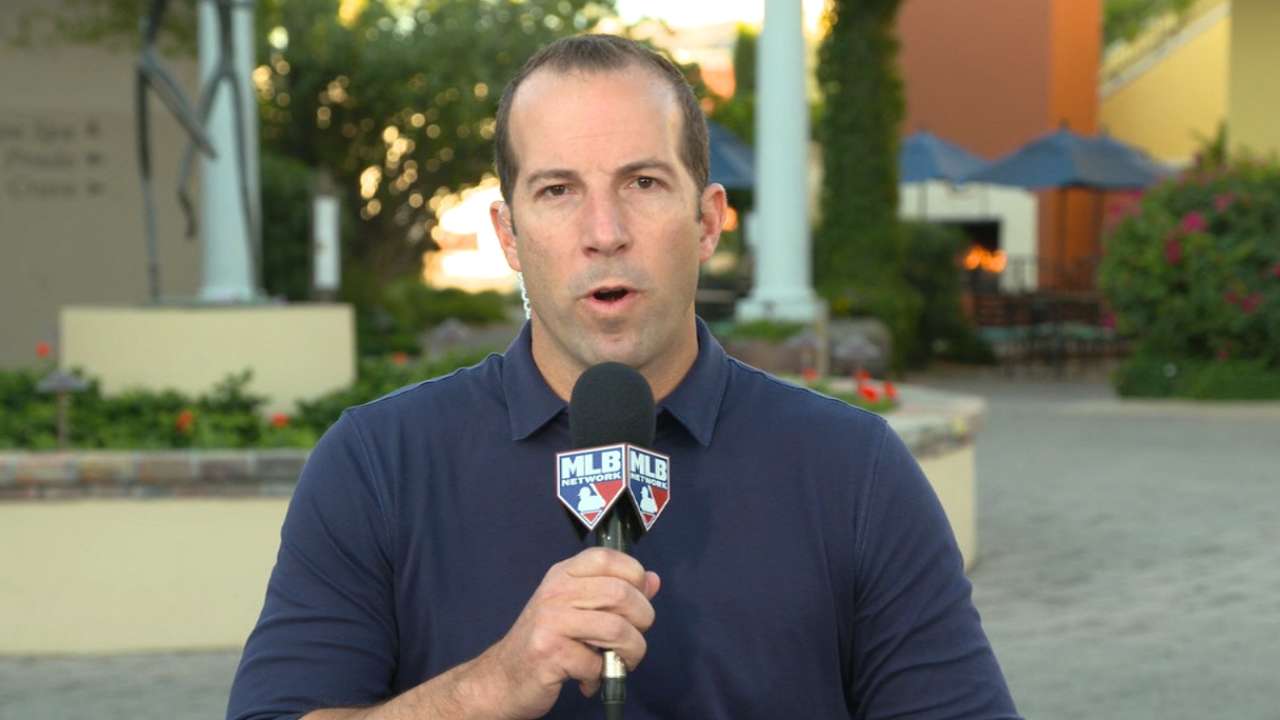 When asked for the most important key to his team rebounding in '17 with a season that could put them in contention in the American League West, Eppler didn't hesitate to answer.
"Health," he said. "Absolutely."
Eppler said the team is penciling in Maybin as an everyday player alongside AL MVP Mike Trout and Kole Calhoun, meaning an outfield acquisition would likely be a bench player.
He also said the team had hired Andrew Ball, previously in the Tampa Bay Rays organization, as director of baseball operations, and added Jeremy Reed as hitting coordinator, former big leaguer David Newhan as assistant hitting coach and Lee Fiocchi as Major League strength coach.
Other than that, as of Monday evening, Eppler seemed content being in wait-and-see mode as these Meetings progress.
"We have some blanks on the depth chart," Eppler said. "Those will be filled."
Whether that happens during the four-day Meetings remains to be seen, but the Angels are in town and open for business.
Doug Miller is a reporter for MLB.com. Follow him on Twitter @DougMillerMLB. This story was not subject to the approval of Major League Baseball or its clubs.