MLB.com Columnist
Jonathan Mayo
Israel in holding pattern for inaugural Classic roster
Opening round begins March 6 in Seoul vs. Korea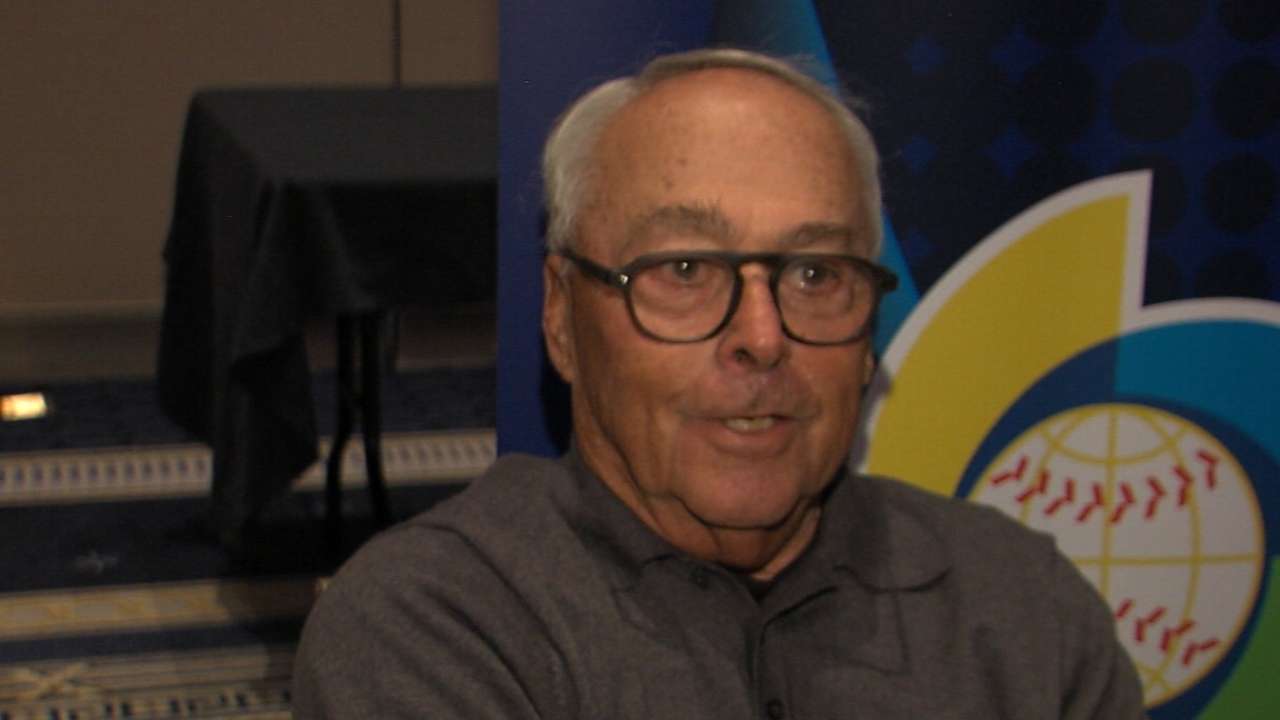 NATIONAL HARBOR, Md. -- While the World Baseball Classic released a list of 30 star players across several countries who are confirmed to be participating in the 2017 event on Monday, there was nary a Team Israel roster member to be found.
Israel, which qualified for the Classic in September for the first time in its second attempt -- it was unable to do so for the 2013 installment -- is in a wait-and-see mode as players mull over their options.
"There's not a whole lot you can do," said Israel manager Jerry Weinstein, who has years of coaching experience, most recently with the Rockies, both at the professional and college level. "You can approach guys and gauge their interest level. 'Who's playing? I'll play if that guy is playing.' I've had those conversations."
• Buy World Baseball Classic tickets
The team will be made up of Jewish-American players by way of the "heritage rule," allowing Israel to put together a team of players who would be granted citizenship under the country's Law of Return. If all who are eligible agree to play, a very competitive squad could take the field in Seoul for Pool A play on March 6 against Korea, then versus Chinese Taipei or the Netherlands. Should Israel advance, it would play in Tokyo (Pool E) starting on March 12. The championship round is set to take place at Dodger Stadium beginning on March 20.
While veterans like Ike Davis and Jason Marquis, who played in the qualifying round, are almost certain to play in Korea in March, there is the potential to add a lot more big league talent, including Brewers star Ryan Braun, the Astros' Alex Bregman, the Blue Jays' Kevin Pillar and the Mariners' Danny Valencia.
There are several variables at play as Weinstein and the Israel Association of Baseball try to put together a competitive roster. The timing of Pool A play might not be ideal for some, especially those on the brink of establishing themselves in their careers.
"It's hard with young guys, especially who are rising stars, they're just on the 40-man [roster]," Weinstein said. "At a time during Spring Training when that type of guy gets the chance to pitch in big league Spring Training games, he's not going to be there, so that becomes an issue."
That could be the case for arms like White Sox Minor League reliever Brad Goldberg or Braves lefty prospect Max Fried, both of whom were added to their 40-man rosters this offseason. Injuries are an issue as well, both in terms of players rehabbing from them -- Pillar is working his way back from a thumb injury -- and those who are concerned that going full-tilt that early in March might be too risky.
"Guys don't know if they're going to be ready that early, and they don't want to take the chance to be in a high-adrenaline environment and maybe doing something that could jeopardize their health," Weinstein said. "It's difficult."
Team Israel also has to deal with some competition. These are American players, some of whom have played for Team USA in international competition previously, and they are waiting for a potential invitation to wear that uniform.
"The overall association with Israel, they may be Jewish or may not be a practicing Jew; they don't have that nationalistic attraction," Weinstein said. "We've had that conversation: If you have a choice to play for Team USA or Team Israel, you're going to want to play for Team USA. We're in the wait-and-see mode. We'll know who we're going to have when we get on the plane and the doors close."
Weinstein is confident that whoever is on that plane will give Israel a very good chance to move on to Round 2. He maintains that belief despite being in a very deep group, with Korea and the Netherlands likely favored to advance.
"You know baseball," Weinstein said. "It's the team of the moment. [Clayton] Kershaw loses sometimes. It's being where you need to be in the moment. You don't have to have the best nine players. You have to have the best team that night. In short series, especially with pitch limits, I don't think it's unrealistic to expect to win, no matter who we're playing."
To help foster a stronger connection between Israel and the team, a group of players will tour the country in early January, visiting important sites, meeting dignitaries and helping to aid the popularity of baseball in the region.
"We are doing this to grow the game in Israel," Weinstein said. "We don't have fields, we have limited amount of players, limited staff, limited resources. Playing in the WBC is going to provide some financial resources where we can grow the game."
Jonathan Mayo is a reporter for MLBPipeline.com. Follow him on Twitter @JonathanMayo and Facebook, and listen to him on the weekly Pipeline Podcast. This story was not subject to the approval of Major League Baseball or its clubs.